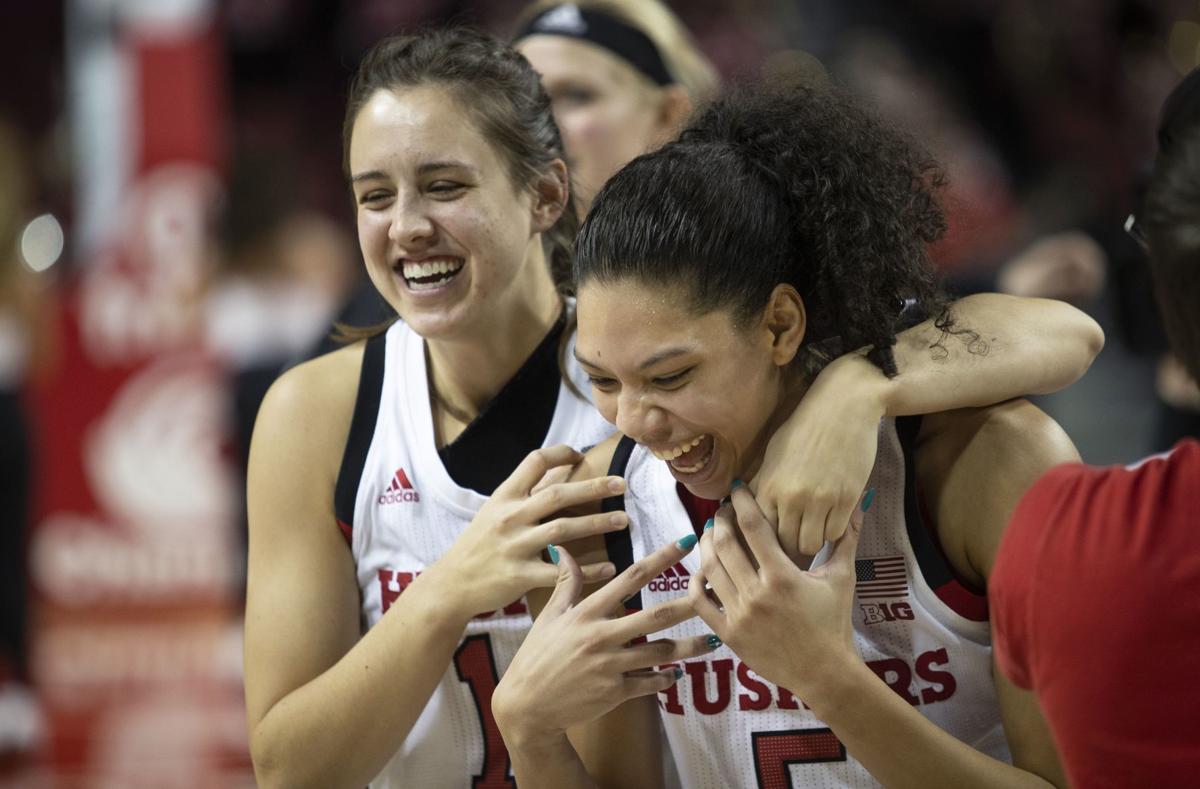 LINCOLN — They were free to leave before they even walked through the door.
This was four years ago in April. The Nebraska women's basketball team had a stunning change in coaching staffs. Connie Yori resigned. Amy Williams replaced her. Investigations. Rumors. Accusations between players. And a recruiting class of five, signed and sealed, given the opportunity to play elsewhere if they wanted.
Two left, but three — Hannah Whitish, Nicea Eliely and Grace Mitchell — decided to stay "N." And they didn't leave after a 7-22 record their freshman season.
They grew to be good friends — the kind that glance at each other and laugh. Whitish and Eliely became four-year fixtures in the starting lineup. Of all the players associated with Williams' first four years on campus, they're the two who logged the most minutes, talked most after games and took the biggest share of shots. They, along with Mitchell, were on the ground floor of the Williams' era.
That trio, along with transfer Kristian Hudson, will be honored Saturday. The Huskers play Illinois at 2 p.m. and hold Senior Day festivities after that.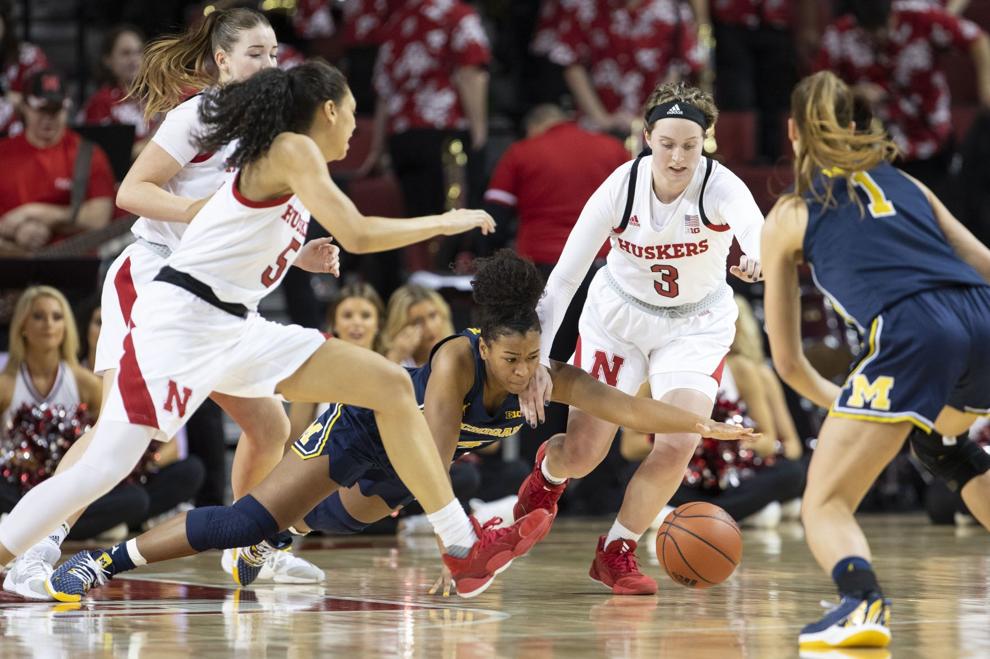 "We've helped her lay the foundation for what's she wanted this program to be and become," said Whitish, a 1,000-point scorer who has never missed a game and started all but 13 in her career. "And I think we've done a pretty good job with helping her do that, but it's also been a lot of fun coming in with her in her first year. We were all on the same page that she was."
Williams said she videotaped her thoughts on the four seniors because she didn't want to get emotional on the court. As she taped with HuskerVision, she got emotional anyway.
"They stuck together, they stuck with their initial commitment and I think that shows incredible character," Williams said. "They've been through a lot of highs and lows and ups and downs. A seven-win season and an NCAA tournament berth. That roller coaster has allowed for all three of those young ladies, who have been here with our coaching staff, to grow and mature. It's been a really fun ride."
One that included role changes.
Mitchell was a 3-point shooter in high school. She played quite a bit in the post at NU while battling injuries. Whitish, meanwhile, was recruited to Nebraska to play 2 guard, coming off screens, draining 3-pointers.
But players in her class recruited to play point guard, MiCole Cayton and Kathleen Doyle, were the two who asked for scholarship releases after Yori resigned. Cayton went to California, where she's missed most of the past three seasons with knee injuries. Doyle — as Husker fans know — went to Iowa, where she's averaging 18.6 points and 6.3 assists this season.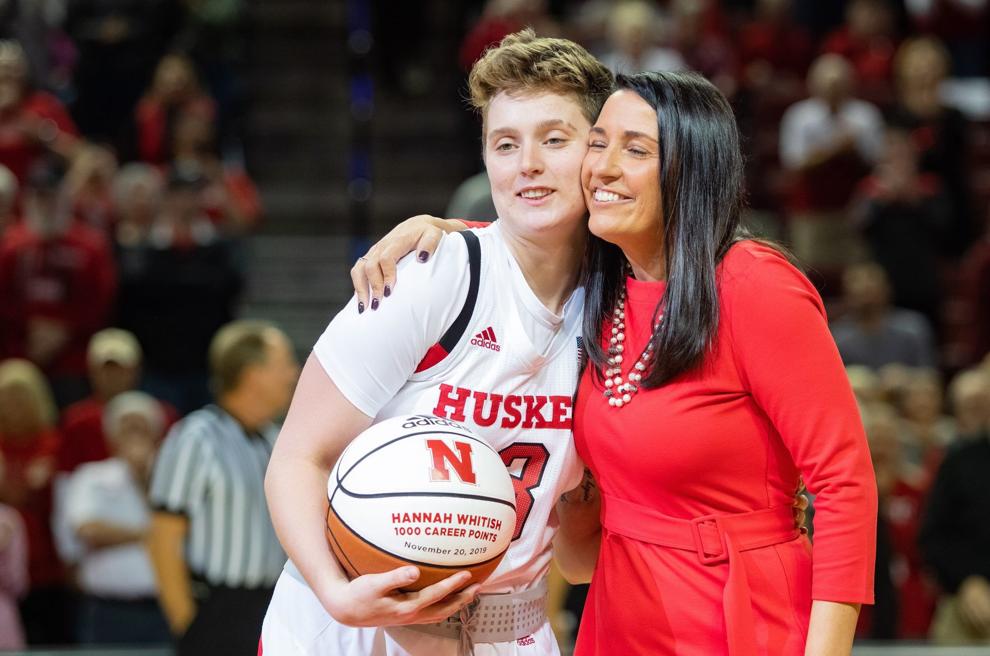 So Whitish, who knew Williams' staff from their days at South Dakota, was thrust into the spotlight. A month into her career, Whitsh led NU in scoring against No. 1 Connecticut in a 43-point loss. She spent that first year running an offense with few scoring options outside a center who'd transfer after the season.
"There were times she had to bring the ball up the floor every single possession and be hounded and that just can wear on you," Williams said.
Whitish was second-team All-Big Ten as a sophomore, when she led NU to the NCAA tournament, averaged 12.6 points per game and was confident enough to call her own number, Williams said, during a key Big Ten tournament win over Michigan. As a junior and senior, she's shared the point guard role more with Sam Haiby and has taken fewer shots per game. Williams said Friday the coaching staff has encouraged Whitish to be more aggressive offensively, that Nebraska's better when she is.
NU's record the past two seasons bears that out. In the Huskers' last seven games — six losses — Whitish has taken 21 and 39 fewer shots than sophomores Haiby and Leigha Brown, respectively.
"She's so good about getting everybody involved and being a great teammate," Williams said. "And, obviously, with all the assists she's had, she makes players better on the court. But, at times, we feel like she defers a little too much."
Eliely, NU's best perimeter defender, has started all but six games in her career, providing consistent effort, production and, Williams said with a smile, energy. Fans at Pinnacle Bank Arena can often hear a high-pitched voice screaming as a Husker shot heads toward the hoop. That's Eliely.
"The joy she has playing with her teammates, it just lights me up," Williams said. "It just makes me excited. I love it. She's really laid back — she's not a super-intense type of player — but, you get her on the court, she gets to fighting for her teammates, and she's going to leave it all out there."
Mitchell, who didn't attend a media session Friday because she was taking two tests, has long been one of the team's leaders. Hudson, who transferred from Florida International two seasons ago, is a graduate student and budding coach who will attend the Women's Basketball Coaches Association "So You Want to Be a Coach" convention at the women's Final Four.
"She asks questions around our team that I'm pretty sure she already knows the answer to, she just wants to make sure everybody else hears me say it," Williams said. "That ability to have a feel or a sense for what your team needs, it's pretty instinctive with her."
It's a group Williams won't soon forget. The players said they won't forget their experiences, either.
"In the moment, the days go by really slow, but now, when you look back, it went by really fast," Eliely said.
Said Whitish: "I think it's been a lot of fun and even the team successes we've had — maybe not recordwise, but trying to help put this program in the right direction and just doing everything we can to do that — has been very satisfying. It's been a lot of fun. Playing the game you love with a lot of awesome people, I couldn't ask for anything more."
---
Meet the 2019-20 Nebraska women's basketball team