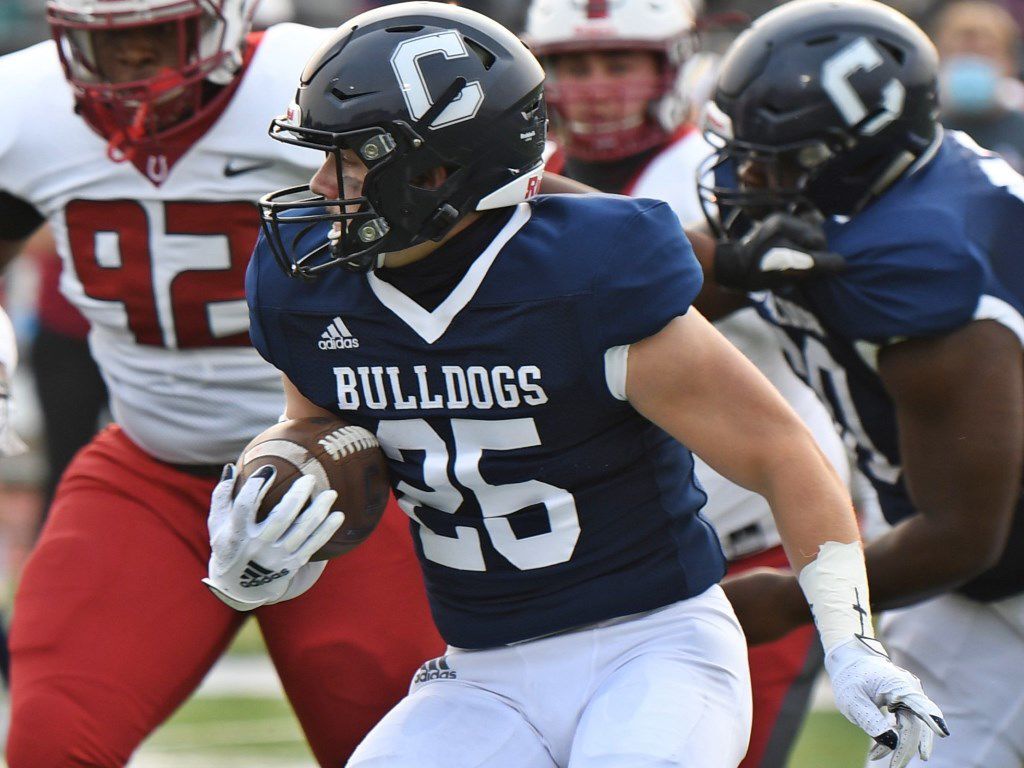 Jonah Weyand spun away from one final tackler before running into the end zone — again — as he capped a career night last Saturday.
Within seconds, the sophomore running back was being swarmed by his Concordia teammates.
"It was one of the most fun experiences I've had playing football," said Weyand, whose fifth touchdown run that night gave the Bulldogs a 34-28 overtime home win over Hastings.
It's been that kind of start to the season for Weyand and the 2-0 Bulldogs.
In its opener at Doane on Sept. 12, Weyand, a Crete graduate, ran for 152 yards and two touchdowns before halftime in a 24-7 win. He finished the night with 169 yards, but he topped that against Hastings when he ran 35 times for 177 and TD runs of 8, 1, 10, 15 and 10 yards.
"He's tough to put in a box," Concordia coach Patrick Daberkow said. "He's got great speed, but he's not the fastest back. He's got great size, but he's probably not the biggest back teams will see. He's just kind of a workhorse, a hard-working kid. And he's a phenomenal leader. He's what you want in a football player and a leader. We're really fortunate to have him as part of this program."
The past two weeks really have been a breakthrough for Weyand. At Crete, he scored a total of 13 touchdowns, never more than two in any game. His career-best rushing total in a high school game was 154.
As a freshman in 2018, he tore his ACL on a kickoff return in Concordia's opener. He said it was his first serious injury.
"Once you come back from an injury like that, it's more of a mental battle," he said. "You've been through the surgery, you've been through the rehab, you just have to trust it then."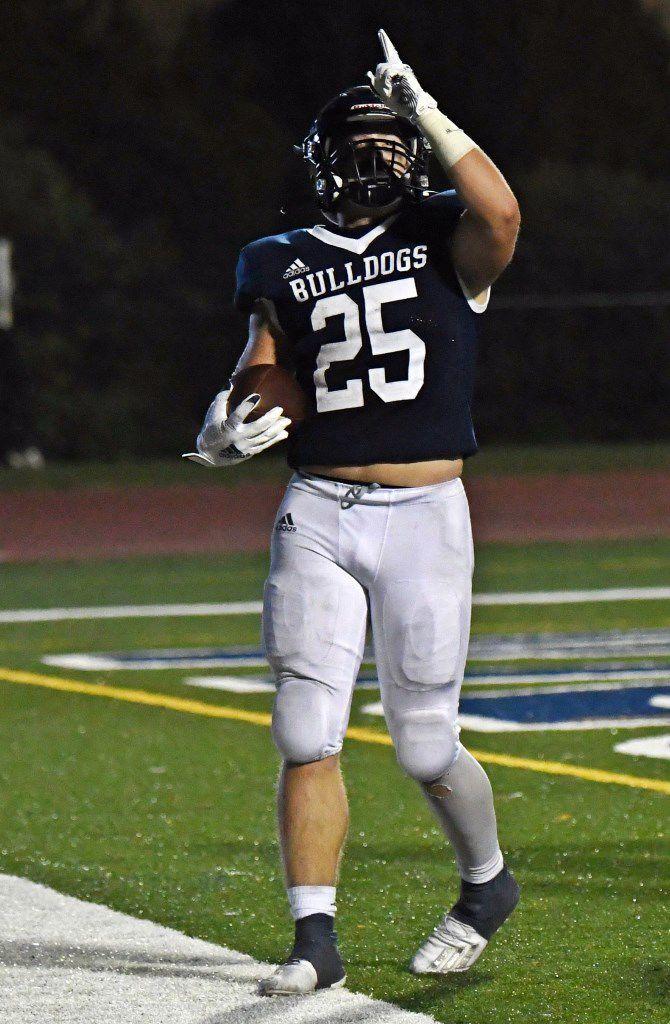 He was cleared to play last spring, but wasn't a major factor in Concordia's run game last fall. He averaged only 2.1 yards on 57 carries as a backup.
Now, heading into Saturday's 1 p.m. game at Briar Cliff, he leads the NAIA in rushing yards and rushing TDs and was the national offensive player of the week. The five rushing touchdowns equaled a GPAC single-game record.
He said he prepared to compete for the starting job in the offseason, but "all the credit goes up front."
"I've run through holes that I've never run through in my life," Weyand said of Concordia's improved offensive line. "To have that push and those guys up there, they've done a tremendous job and they work their butts off."
Daberkow is quick to credit his offensive line, as well. The Bulldogs started freshmen on the line the past two seasons, but not this year.
"Their development has been really big. ... To just have some guys with experience and game experience under their belt is huge," Daberkow said. "I'm really happy how the offense has played this year. They have a different feel compared to the past two years. A lot of that has to do with the maturation."
A year ago when it went 3-7, Concordia's offense averaged 15.6 points and 65.8 rushing yards per game. Through two games, it's averaging 384.5 total yards a game and new quarterback Blake Culbert has thrown for 365 yards to balance the run game.
Weyand said the team's other playmakers have set him up to finish drives in the red zone.
"We've got plenty of games left, we've got a lot more to prove," Weyand said. "(The Hastings win) is something we'll look back on at the end of the season and remember, but right now we've got things in front of us that we need to control."
That begins with Briar Cliff, which lost its opener last week 13-6 when Doane scored two touchdowns in the final 12 minutes. Defense is Briar Cliff's strength as returning All-America defensive lineman Robert Robinson recorded two sacks last week.
---
All-Nebraska football teams through the years
Doane (1-1) at Hastings (1-1), 1 p.m.: Hastings running back Tyree Nesmith has rushed for six TDs through two games, while Jesse Ulrich threw for 245 yards and accounted for two TDs last week. For Doane, Adam Wasserman threw two fourth-quarter TDs in a comeback win over Briar Cliff. Both teams have lost to Concordia.

Dordt (1-0) at Dakota Wesleyan (0-2), 1: Dordt returns from an off week, while Wesleyan has been outscored 95-23 in two losses.

Peru State (0-0) at Baker (0-0), 1: Both teams open their seasons after having two games postponed by COVID-19 concerns. Peru returns 13 starters, including nine on offense, for new coach Casey Creehan.
Omaha World-Herald: Local Sports
The latest sports headlines from Omaha.com.