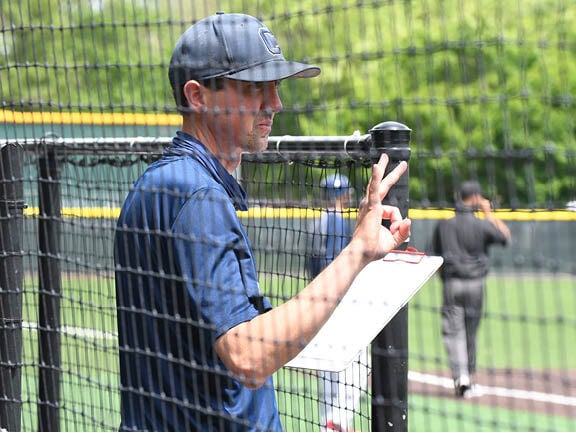 Ryan Dupic was on a recruiting trip in Georgia last week.
He could tell potential prospects about his program at Concordia — the one that played in the NAIA World Series this spring.
"Making the World Series was a big thing for us. It kind of puts your name out there," Dupic said. "That's been a big deal to kind of get your foot in the door."
Qualifying for the World Series was just the latest watershed moment for Concordia baseball since Dupic, the Midlands men's coach of the year, took over in 2015.
Before his arrival, Concordia hadn't had a winning season since 1979 and hadn't won a conference title since 1986. The Bulldogs won a total of 28 games in the 1990s.
But Concordia has been above .500 each year under Dupic and won three of the past four GPAC regular-season championships. This year the 42-12 Bulldogs hit a school-record 90 home runs while setting a single-season wins record. Concordia also had never been ranked in the NAIA poll before this season — it finished 12th in the Top 25.
The Bulldogs reached the NAIA tournament in 2017 and 2019, going 1-2 both seasons, before breaking through this spring.
"I've talked to some of our former players and told them that I don't think we could have made the World Series unless we had some of those building blocks from previous years," Dupic said.
The prospect of building a successful baseball program is something that drew Dupic to Concordia. In the 2000s, he was a pitcher at the University of Iowa before transferring to Buena Vista, where he became an all-conference pitcher.
Dupic then was hired as pitching coach at Buena Vista for Steve Eddie, who has nearly 500 wins in 20 years as the school's coach.
"I was fortunate to be part of a program at Buena Vista when things turned on an upswing and has some success and things took off pretty well. Having that experience was really important," Dupic said.
Dupic considers himself "a Type-A personality," so watching how Eddie dealt with the program's successes and failures helped Dupic when he took over at Concordia.
"Working with him helped me understand, hey, this is still baseball and you're still working with kids and it needs to be fun," Dupic said. "I think that's been a strong influence on me as we've gotten into bigger situations, really just enjoy the moment."
He was able to do that with his team this spring at the Bellevue Regional. The Bulldogs won three elimination games there, twice erasing deficits in the eighth inning with clutch home runs.
That set off a dogpile celebration on the infield when Concordia clinched a spot in the World Series. Watching from the stands was another coach who influenced Dupic's career — his dad, Rick.
His dad was a high school coach in Emmetsburg, the town in northern Iowa where Ryan grew up. Nowadays, Ryan said his parents rarely miss any Concordia baseball games.
"When I was a young boy, I just wanted to be my dad. I saw him coaching kids and competing and helping young men grow. That's something that always appealed to me," Dupic said. "He's still the one who impacted me the most."
His parents were at Bellevue to see the regional win.
"I still have flashes in my mind of seeing them for the first time after we won, and sharing an embrace after we won was pretty special," said Dupic, who also has two young sons with wife Abby.
Other finalists
Ed Fye, Doane track: Led the Tigers to their first NAIA outdoor championship in what was truly a team effort as they didn't have any individual winners. Indoor team placed sixth at nationals.
Dalton Jensen, UNK wrestling: Lopers had a school-record nine All-Americans as they finished second at the NCAA Division II nationals. Five Lopers finished in fourth place at nationals.
Jeff Oltmans, Doane baseball: Picked to finish eighth in the GPAC preseason poll, the Tigers went 35-19-1, tying Concordia for the regular-season title and reaching the NAIA tournament for the first time since 2014.