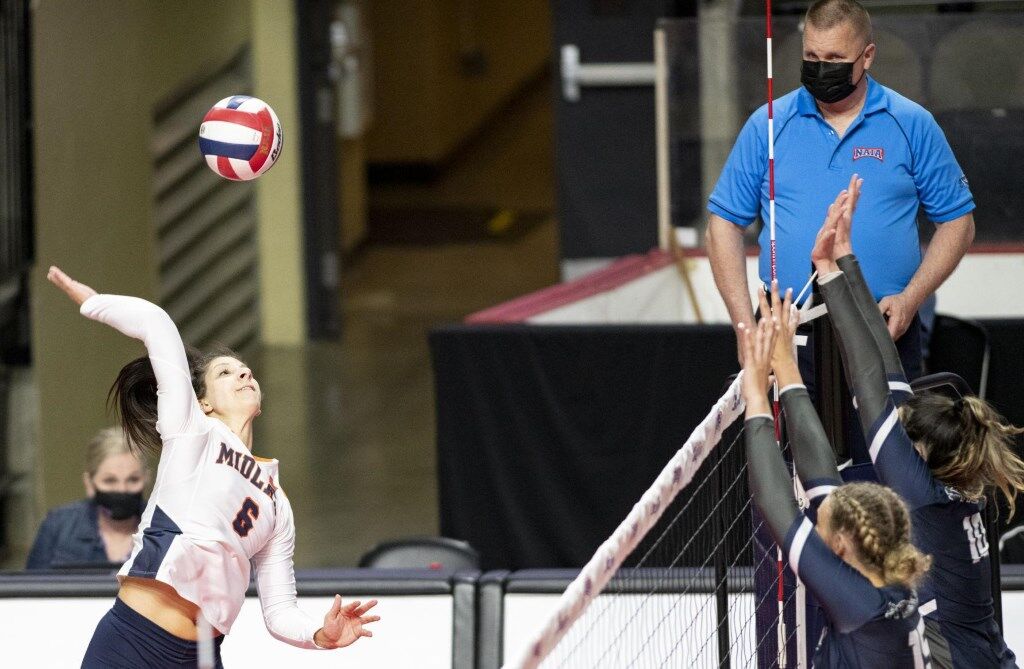 Midland didn't look like a title contender in the fall. But when the long season wrapped up last week, the Warriors were only a few points from being crowned national champions.
Midland knocked off three teams ranked in the top five before losing 15-12 in the fifth set to No. 6 Missouri Baptist in last Saturday's NAIA final in Sioux City, Iowa.
Coach Paul Giesselmann said in some respects, it's hard to describe the difference in his team between the fall and spring.
"They had an 'it' factor this spring," Giesselmann said. "They love playing for each other."
Midland was 2-5 at one point last October and finished the fall 10-8. The Warriors took 2½ months off during the winter and adjusted their lineup, moving starters to different spots.
"Once we started again in February, you could tell our team was pretty focused," Giesselmann said. "It was sort of like starting a new season."
And Midland's confidence grew as it started playing again.
It beat Dordt in four sets on the road in the GPAC tourney quarterfinal — Dordt reached the NAIA Final Four last week. At nationals, the Warriors beat No. 4 Indiana Wesleyan, No. 5 Northwestern and No. 1 Jamestown in consecutive matches to reach their first final.
Midland was up 2-1 in sets and led 10-5 in the fourth before Missouri Baptist rallied.
"The moment wasn't going to be too big for them," Giesselmann said of his team, which reached the Final Four three times since 2016. "They were great there as far as enjoying the moment and enjoying the opportunity to be on the court with their teammates one more time."
A balanced offense propelled the Warriors in Sioux City. Taliyah Flores, who moved from libero to outside hitter during the season, averaged 14.4 kills and 17.2 digs per match at nationals. The Papio South graduate was named a second-team All-American on Tuesday.
Another Papio South product, Sydney Morehouse, had a career-high 21 kills in the final. Maggie Hiatt, a Louisville grad, averaged 13 kills a match and Hope Leimbach averaged 12.5 assists per set.
"Hope Leimbach developed into a better setter as the season went on," Giesselmann said of the Lincoln Lutheran graduate.
Gretna's Jaisa Russell had 25 digs in the final, and Giesselmann said her leadership was invaluable throughout a season when the Warriors had no pauses due to COVID-19.
» Another NAIA fall sport, men's soccer, will wrap up in the coming days.
Bellevue will play in the quarterfinal Thursday, facing Columbia (Mo.) at 7 p.m. The tournament final is Monday. Bellevue is 16-4-2 this season after going 8-10-2 in 2019.
» The NAIA named its football All-Americans on Wednesday, and Morningside receiver Reid Jurgensmeier was a first-team selection. The Wahoo Neumann grad had 67 catches for 1,346 yards and 20 TDs. Concordia linebacker Lane Napier was a second-team selection, while honorable mentions included Morningside quarterback Joe Dolincheck, Doane's Riley Heithoff and Midland's Charles Barnes and Dalton Tremayne.
» The GPAC outdoor track meet took place last Saturday with Doane men and Concordia women winning team titles. The female athlete of the meet was Hastings' Lauren Tamayo, a Ralston grad who won the heptathlon and 100-meter hurdles, setting a school record with a time of 14.11. Midland's Dylan Kucera was the male athlete of the meet after winning the shot put and discus.
» The GPAC baseball tournament starts Thursday with co-champs Concordia and Doane hosting games. The league's softball tourney started Wednesday with games at Midland, the regular-season champ, and Morningside.
---