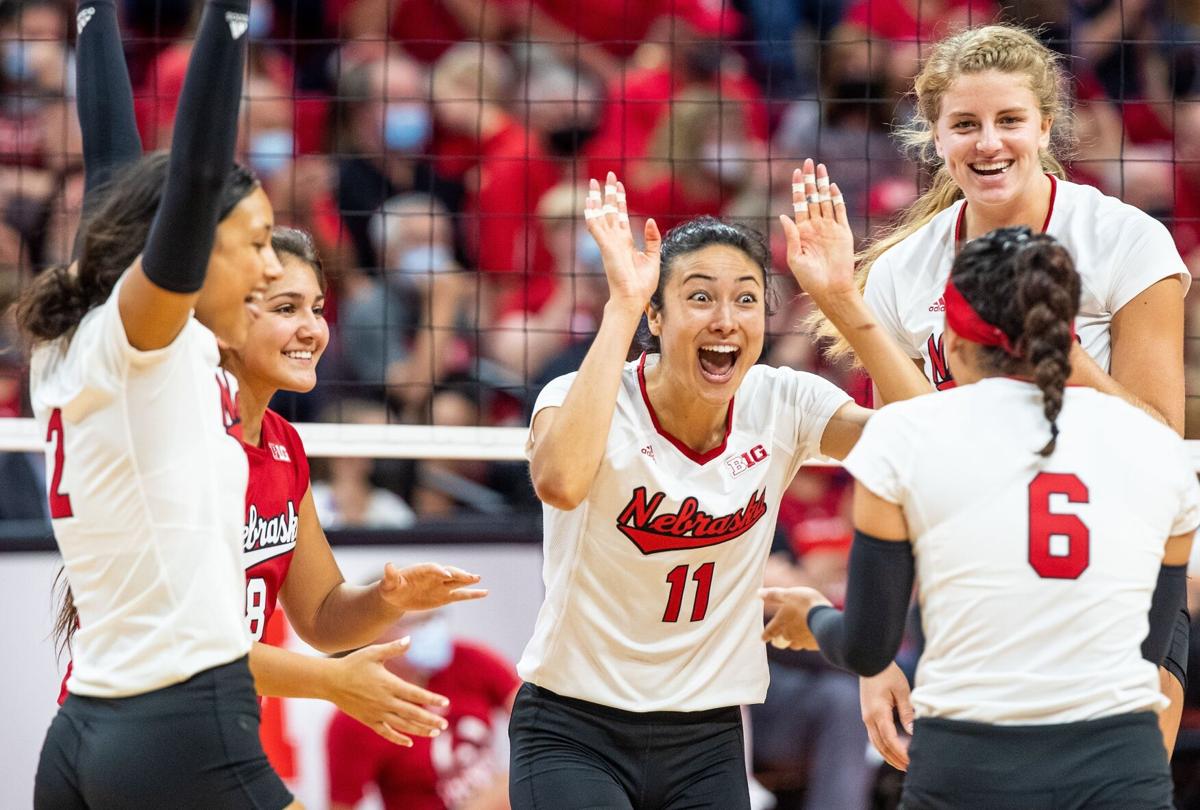 LINCOLN — Kayla Caffey thought she was going to have a leisurely afternoon at the Devaney Center.
The senior middle blocker started the Huskers' match against UNO on the bench as she was planning to rest during the first of the Huskers' two matches on Friday.
However, with fourth-ranked Nebraska trailing UNO 2-1, Caffey was pressed into action. She helped spark the Huskers' rally in a 16-25, 25-14, 16-25, 25-13, 15-7 victory at the Devaney Center.
Caffey said NU volunteer coach Kelly Hunter told her to get loose at the end of the third set. The Chicago native made an immediate impact as she had two blocks during the first three rallies. Caffey delivered six kills and seven blocks in the final two sets.
"I wasn't expecting to go in and save anything," Caffey said. "(I just wanted to) go in, be good, play my role and do what I do. I think it was a good outcome."
Senior setter Nicklin Hames said Caffey changed the dynamics of the match almost immediately.
"She's a huge weapon," Hames said. "Her personality and her energy brought a lot to our team and we really needed that."
NU coach John Cook said Caffey's athleticism and leaping ability give Hames a lot of confidence to set her. For the season, Caffey is hitting .656.
On defense, five of Caffey's blocks came in partnership with freshman Lindsay Krause. The 6-foot-4 outside hitter finished with a double-double of 12 kills and 10 blocks, of which five kills and seven blocks came in the final two sets.
"She made them pay today when they set tight so that was good," Cook said about Krause.
Despite the match going the distance, none of the sets were close. Early on, UNO was the aggressor. The Mavericks jumped out to an 8-2 lead in the first set as they recorded four kills on their first seven swings and blocked NU twice. The Huskers never got closer than three the rest of the set.
"We just started off with serving right away," Mavs coach Matt Buttermore said. "Nebraska gave us some errors and that gave us a little confidence. Then our hitters did a great job of staying high, hard and aggressive."
In the third set, the Mavs used a 5-0 run to take an 8-4 lead that they never relinquished. UNO kept Nebraska at bay the entire set by not allowing a big run. The Huskers scored just two points on its serve the entire set as UNO sided out at 87 percent.
Buttermore said he liked how they took it to Nebraska early in the match and even when they led the match 2-1, they kept their focus and kept grinding.
"We said we're exactly where we want to be and the pressure is on them. They have to win this match," he said. "We didn't make enough good plays, but I liked our mindset going into the fourth set."
Rachel Fairbanks recorded 16 kills for UNO, while Sadie Limback added 11. The Mavs' floor defense was solid all night as four players had double-digit digs, led by 18 from Claire Mountjoy and Shayla McCormick.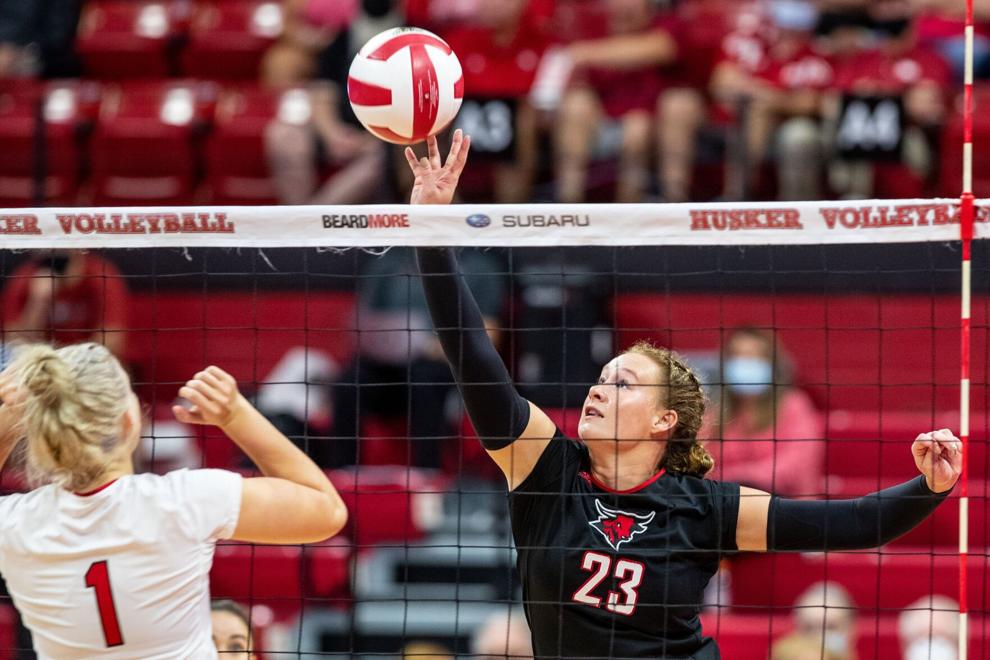 Madi Kubik paced the Huskers' attack with 16 kills and a .394 hitting percentage.
The start of the Nebraska-UNO match was pushed back by almost an hour as Georgia beat Arizona State in five sets in the first match of the day. Cook said that that delay caused the Huskers to come out low-energy and also caused the crowd of 8,318 to be flat as well.
Nebraska tried to switch up its lineup as outside hitter Ally Batenhorst and middle blocker Kalynn Meyer each earned their first career start. However, both struggled. Batenhorst didn't have a kill on nine swings and was replaced last in the first set by senior Lexi Sun, who finished with 10 kills. Meyer recorded four blocks but had just one kill on five attacks in three sets.
NU also tried to run a two-setter system in the first set to protect Hames, who was playing in her first match of the season after injuring her ankle. Cook abandoned that plan after the first set and went with Hames the rest of the way. She finished with 40 assists and 13 digs. Freshman libero Lexi Rodriguez led the way with 24 digs.
"I wanted to try to play a couple of different lineups to keep people fresh, but we had to abandon that after the first game," Cook said. "I look at their body language, how they're playing, how aggressive they are, how confident they look and so it's all just a feel (of when to take them out.) You do it long enough, you get a feel."