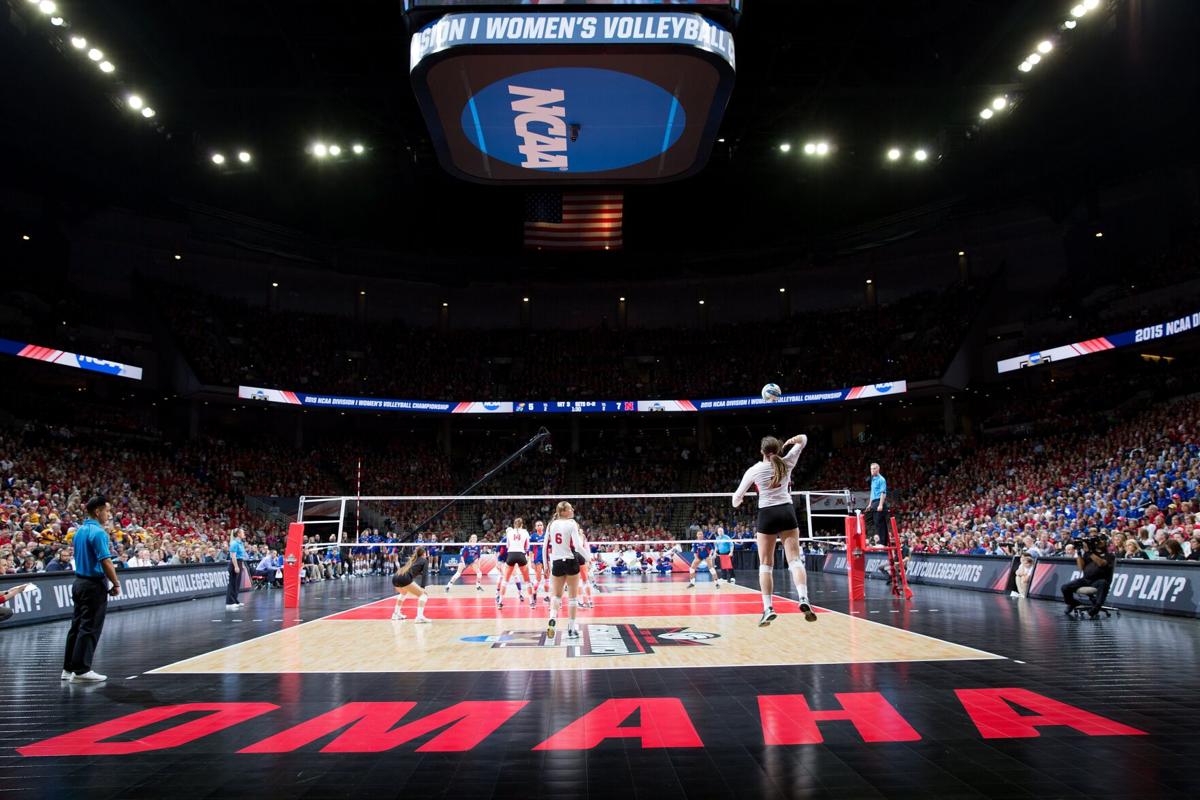 The college volleyball community, loud and proud, is speaking.
Be loud. Be proud. Make yourself heard.
Details of next week's NCAA Division I championship in Omaha are coming out. And the reviews have not been dazzling.
Here in the Big O, we do things right. When we put on big sporting events, which is every year, no detail is too small. A good experience, hospitality and the well-being of all visitors are a priority.
But the college volleyball folks also need to understand something about this 48-team volleyball bubble: It's never been tried before. And we are still in an unusual year. Things haven't been perfect in our sports world in over a year. And they aren't ready to be perfect yet.
Anyway, the NCAA heard the voices. The NCAA sent out a note at 8:04 p.m. clarifying the situation.
That said, let's go through the main issues.
1. The first two rounds of the tournament will be played in the CHI Health Center convention center. It will be tight, with four competition courts and eight practice courts set up.
So tight that the teams apparently will not have locker rooms to change or meet as a team.
I understand why the NCAA is trying to keep all the teams under one roof. It's a pandemic thing, a safety thing. But no locker rooms? Seriously?
This is your sport's championship, the crown jewel event. This is not the select 18-and-under classic, where we walk from car to court and back.
According to the NCAA's statement, "Contrary to reports, players were never expected to change clothes on the bench — each team will have a secure changing area on site."
It will be interesting to see what and where that takes place. But why not branch out?
The NCAA should be using nearby Sokol Arena at Creighton, Baxter Arena at UNO. And Ralston Arena while you're at it. Each facility has locker rooms, meeting rooms, concessions for the few family and friends who will be in attendance and are compatible for ESPN cameras and technology.
You know why they should use those? Because they just conducted the men's and women's basketball championships at multiple facilities around Indianapolis and San Antonio. In the men's tourney, only one team was unable to play because of COVID, and it was deemed they brought it with them.
If it's good enough for hoops, it's got to be good enough for volleyball.
Meanwhile, this week the NCAA announced that its 64-team baseball tournament would be at campus sites. So let's not pretend that this event needs to be wound tightly in bubble wrap.
2. The NCAA announced that the first two rounds would be streamed on ESPN3 but would not have broadcast teams. This makes no sense.
ESPN made the commitment to show every game on its streaming network. So they can find at least one, if not two, broadcasters to do the games. They might have to work multiple games each day. That's how it went with basketball, too.
If ESPN is running short of folks who know volleyball, we have a number of quality broadcasters in the area who can call a game. Heck, here in volleyball country, there are probably fans with more than sufficient knowledge of the game who would do it for free.
Now, this is not an NCAA thing. This is an ESPN thing. And if you think the NCAA can tell ESPN what to do, that's not how it works. Not at the College World Series. Or the NCAA basketball tournament. Networks run every sporting event except for one — the Masters.
Apparently ESPN is reviewing this situation.
Good idea. The volleyball folks are paying attention.
3. The traveling parties of each team are limited to 27. If this is an issue, again, it's about space in that convention center and it could be remedied by using the multiple facilities in the area.
This might be something that teams have to deal with during a pandemic year. If I can cover the games from outside the arena, so can the social media director. As for the sports psychologist, if the teams need one during the games, they're already in trouble.
4. Critics complained that the NCAA needed to use Terraflex courts to protect the athletes. And the NCAA responded that, "to address concerns about the practice court in the convention center," a felt underlayment will be applied to each court along with Terralfex for the first three rounds. After that, the championship goes into the main arena, on a traditional floor.
Key note: The NCAA addressed the concerns. Voices, heard loud and clear.
5. Teams will be quarantined in their hotels, but players will be allowed outside of the hotel for brief periods. Which was not the case in basketball.
Again, we're still in a pandemic. And coaches should be concerned about keeping their players safe and healthy. The last thing any player, coach, team or the sport needs is for a team to have to withdraw because of COVID-19. This is basically 10 days. The men's and women's basketball teams just put on a marvelous show while having to spend up to three weeks in a hotel room.
Let's hope we can do the same here.
We all want a great tournament with the top athletes in the world on display. Women's volleyball is as intense and compelling and competitive as any sport. At its highest levels, it's not only a blast, it's great TV.
And that's what the voices in the volleyball community were saying Thursday: Please take us seriously. Treat us with respect. The NCAA should heed that call.
Because when you bring the championship to Nebraska, you bring it to a place that knows and cares and loves the sport. And they're going to want everything done just right.
There's still six days remaining to make sure that happens.