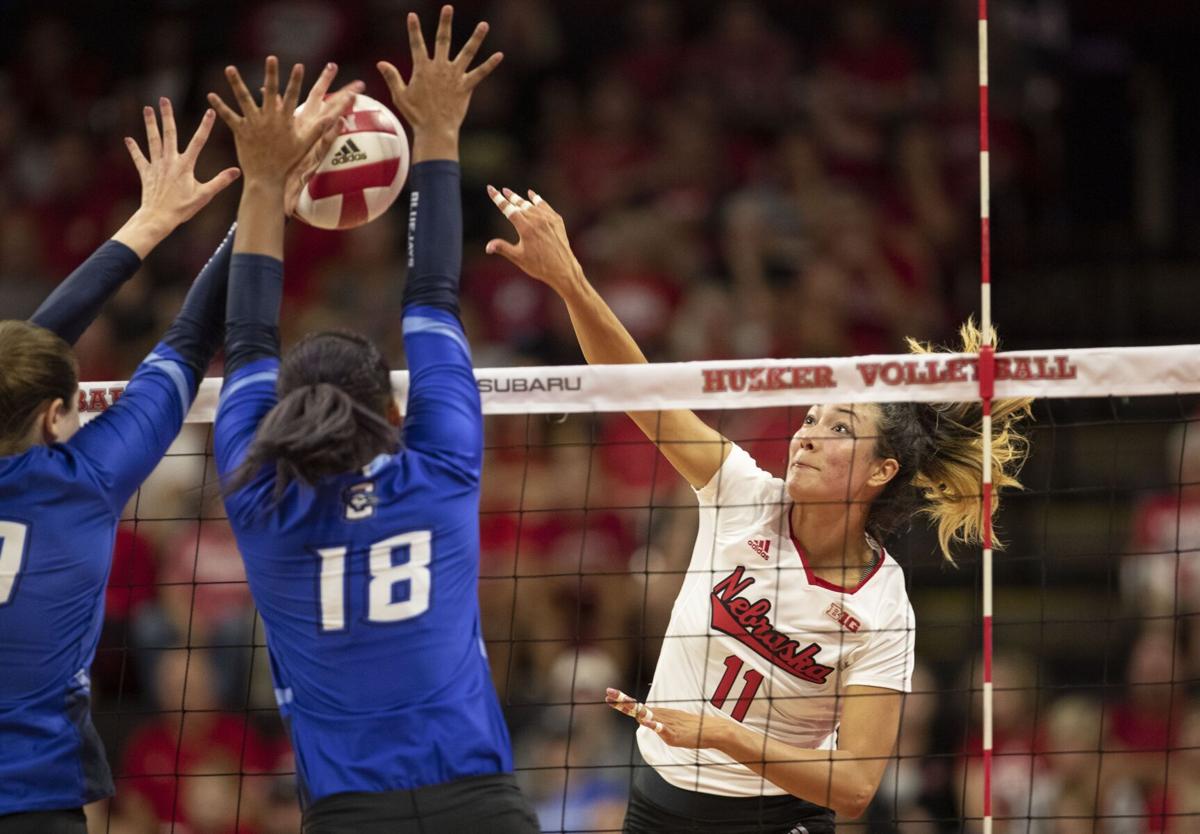 If it's January, Kirsten Bernthal Booth is usually searching for the sun.
"I'm usually on vacation right now," Booth said. "Last year we went to Mexico."
This year, she'll find her beach indoors.
Don't look now, but it's college volleyball season. The sport, pushed back to winter by the pandemic, starts Friday.
For Husker fans, just in time. John Cook's fifth-ranked power is a welcome remedy from the football and men's basketball blues.
Meanwhile, Creighton fans will have to keep one eye on their top-10 men's basketball team and another on Booth's 15th-ranked club. Both could make deep NCAA tourney runs a month apart.
It's wild. It's wonderful. It's weird.
The idea of moving volleyball from the fall to the spring has been broached from time to time. Cook has been the leader of the movement.
Now, it's actually happening. And a lot of volleyball folks will be taking notes.
How does the sport play intertwined with basketball?
What will TV ratings be for the NCAA volleyball tournament — played after the NCAA basketball tournaments crown champs — and Final Four?
Volleyball has its own stage next to college football in the fall. Does it get lost in the shuffle of basketball, wrestling, baseball and softball?
"I think it will be an interesting experiment," said Kathy DeBoer, executive director of the American Volleyball Coaches Association. "I'm not sure how much of it is a legitimate experiment."
Cook is an extremely interested party. But he admits this sample season might be tainted by games that are canceled and arenas not allowed to be full.
"I don't think it's going to get a fair look because of COVID," Cook said. "We started too early. We should be starting later and going into May. It's not really a true look of how it would work."
Through four decades of covering college athletics, I don't recall ever seeing a sport move to a completely different spot on the calendar.
College baseball has tried to push its season back to late spring and summer. But the coaches up north get shot down by the coaches down south every time.
In baseball, the idea is to provide competitive balance across the game. What would be the purpose of moving volleyball?
For starters, development. Cook says more teams play freshmen and younger players. A winter start would allow coaches to develop them during fall practice. Sort of like spring football.
"Now, we get 2½ weeks to get them ready and we're playing a top-10 team," Cook said.
Second: TV exposure. The volleyball postseason is crammed into December, one of the busiest months on the sports calendar. April and May are less cluttered on the airwaves.
"I think (networks) are looking for spots to fill because they don't have (college) football or basketball," Cook said. "Big Ten Network on Saturday in the spring will have three softball games. You're telling me people want to watch three softball games?"
Cook gave a "spring volleyball" presentation via video at the last AVCA convention. He said he got "tons of positive feedback" from coaches around the country.
Said Booth: "I know John is pushing the idea. There's definitely merit to it. The functionality of it may not be worth it."
"Club teams play all spring," Booth said. "How does that work with recruiting? And I have three or four players who coach club.
"So now you have club teams scrambling. A lot of our recruiting is done with the clubs because they have tournaments."
Said Cook: "Our recruiting season is longer than any other sport. We should shorten it like they do in basketball, where you recruit in July and that's it. But nobody wants to give up club volleyball, where they can invite college coaches to come in and have more tournaments and more teams."
One of the interesting things about a move would be to gauge where volleyball stands in the big picture.
For instance, there is a frustration among some girls basketball coaches in Nebraska with the number of girls who choose volleyball over hoops. How would attendance and TV numbers look if the two college sports went head-to-head?
As for the spring, DeBoer says there's no guarantee TV would choose volleyball over softball.
"I'm not sure ESPN is going to move a softball game where they were getting a 1.3 rating to put on a volleyball match where they usually get a 0.5 or 0.6," DeBoer said.
DeBoer says the argument that volleyball's postseason gets lost in December "is a good one." But the AVCA executive director likes when the sport is played now.
That should tell you something about the chances of it moving.
"There are seven NCAA sports that play in the fall," DeBoer said. "Fifteen play in the winter and 14 play in the spring. This season is going to be crazy. We're glad. It's a good crazy.
"But why would we do it?"
Other than college football Saturdays, DeBoer said, the autumn TV calendar is wide open for volleyball.
"ESPN doesn't make money on college volleyball," she said. "ESPN cares about volleyball — they show a ton of it. But they're not making money on it. They're televising it as part of packages with football and basketball.
"Volleyball is a relatively easy sport to televise, moves quickly, lots of action, can easily fit into a two-hour window. Softball, baseball, men's ice hockey, women's and men's basketball and football all rate better than volleyball.
"I have not found a lot of administrators who are in favor of this idea. Why do they want to add another sport to the winter or spring? They all tell me this is a terrible idea."
DeBoer has a proposal: Move the women's volleyball season up a month so that it begins at the start of August and ends before Thanksgiving.
In that scenario, volleyball would have August to itself at a time when college sports fans are hungry for sports. And not go head-to-head with college basketball.
As for Cook's concern about a preseason training period, DeBoer said, "We could open up more windows for training in the summer."
It's interesting. And, DeBoer added, it would be easier to shift a season by a month than to put the entire sport in a moving van.
Does that mean volleyball is destined to change? No. But come back in late April and take the temperature. It should be warm.