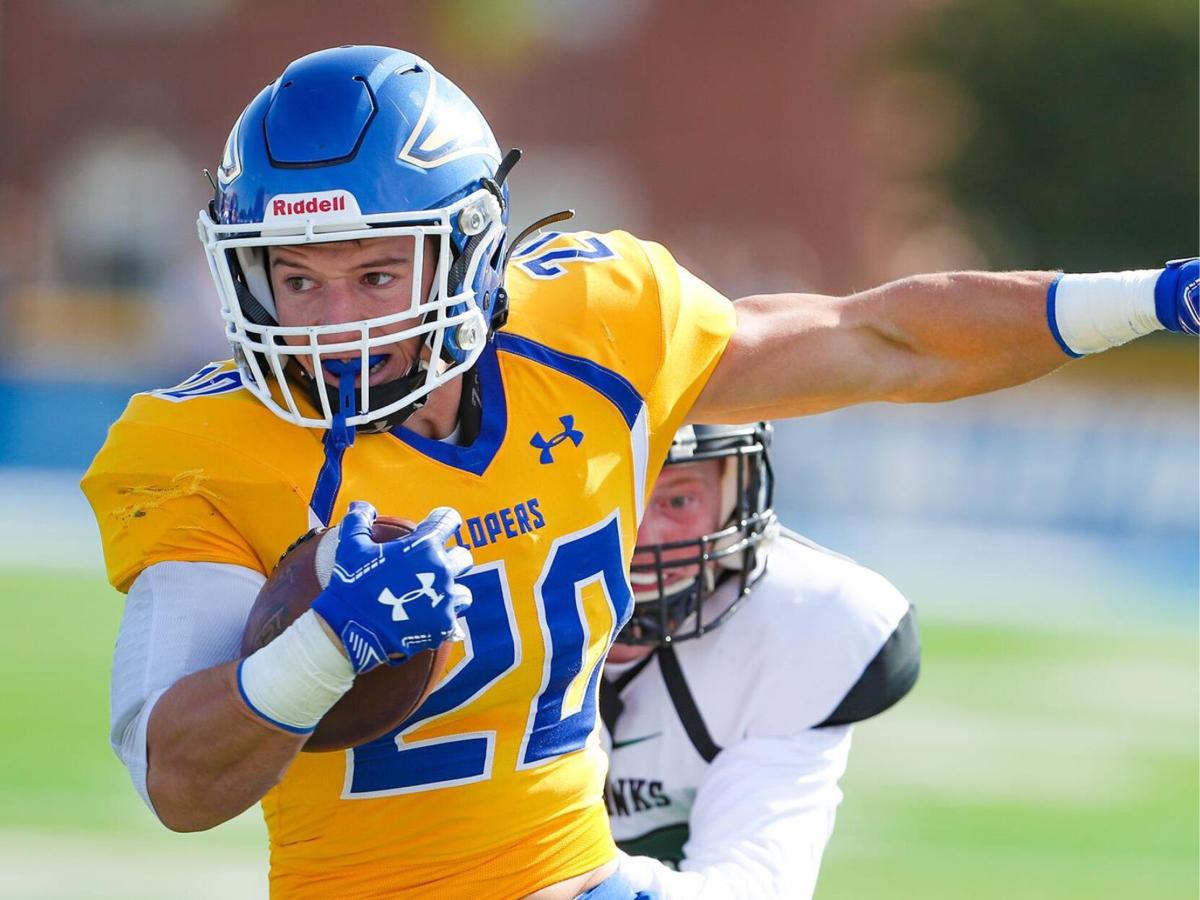 Dayton Sealey has been a part of UNK's rebuild since 2016, so waiting a few extra minutes for a milestone didn't bother him.
The senior running back sat with his teammates at a watch party last Sunday, waiting for their squad to be selected for the NCAA Division II playoffs. The bracket's 28th and final team: the Lopers.
"We were anticipating (getting) that last spot, but you're never for sure until you see your name up there," Sealey said.
It's the first time since 2011 that the Lopers have made the playoffs — that was UNK's last season in the RMAC before joining the MIAA. On Saturday in the opening round, the Lopers (9-2) play at former RMAC opponent Western Colorado (10-1) at 2 p.m.
"Definitely means a lot," Sealey said. "They recruited a ton of us my freshman year. The big selling point to all of us was you can be the group that changes the program. I think for a lot of us that's what sold us on UNK."
The Hastings St. Cecilia grad said there are about nine players still on the team from that recruiting class. UNK went winless in 2015 and 1-10 in 2016 when they were freshmen, but there's been steady improvements.
Josh Lynn took over as coach in 2017, when UNK went 3-8. The Lopers were 5-6 in 2018 and 7-5 in 2019, when they won a bowl game. They went 2-0 last fall in the COVID-shortened season before compiling a 9-2 mark this fall.
"I've been a head Division II coach for 10 years. This is my first shot at Division II playoffs," said Lynn, who was named MIAA coach of the year Tuesday. "It's exciting for our kids and the town and the university."
This edition of the Lopers came to a crossroads three weeks ago.
They were 7-1 heading into a MIAA showdown with Northwest Missouri State, but the Bearcats dominated. They led 48-7 at halftime en route to a 66-13 win.
The Lopers knew they'd have to win their final two regular-season games to have any shot at the playoffs. That's what they did.
"We did not play a good game by any means. I think everyone was sort of taken aback," Sealey said. "I think everyone knew that wasn't us that took the field that day. ... We knew (winning) conference was probably out, but we had bigger aspirations as far as the playoffs."
Added Lynn: "It really refocused us and got us back to what we are, and that's a blue-collar football team."
It's an offense led by MIAA player of the year TJ Davis, who has rushed for more than 1,000 yards, thrown for more than 2,000 and accounted for 38 touchdowns.
Western's strength has been its defense, holding six opponents to 10 points or fewer and recording 46 sacks.
Defensive tackle Will Lydle was named the RMAC defensive player of the year with 15 tackles for loss, including 9.5 sacks.
The Mountaineers are making their first playoff appearance since 1997.
"They're very good defensively. They bring it from all directions," Lynn said. "We need to be able to throw the ball on our terms."
Sealey, who rushed for 705 yards in 2019, is also UNK's leader in receiving yards this season. He has 16 catches for 491 yards, averaging 30.7 yards per catch.
"A lot of our big pass plays came off of play-action," Sealey said. "When you hit some big pass plays, it can shift momentum. I'm glad to do my part of that."
Three other Midlands teams will play first-round playoff games:
Central Washington (8-2) at Northwest Missouri (9-1), 1 p.m.: A midseason loss to Washburn seems to have refocused the Bearcats. In its four games since that loss, Northwest has outscored its opponents by a combined 209-34. Central Washington has won six straight and averages 46.9 points per game. Northwest's defense allows 9.1 points and 204.7 yards per game. Northwest's offense is led by Al McKeller, who has rushed for 1,337 yards and 15 TDs.
Ottawa, Ariz. (8-1) at Morningside (10-0), noon: Like offense? This is the matchup for you. Ottawa is second in the NAIA in scoring (51.8) and yards per game (533.2), while Morningside is first in those categories (59.1 ppg, 638.2 yards). Ottawa's Austin McCullough is second in passing yards at 302 a game, while Morningside's Joe Dolincheck is first (330 yards). Reid Jurgensmeier is a 1,000-yard receiver for the third straight season. Morningside's only loss in the past four years came in the semifinals to Northwestern last season.
Central Methodist (9-2) at Northwestern (10-1), noon: Northwestern, last year's NAIA runner-up, averages 50.8 points per game and moves the ball no matter who's at quarterback. Tyson Kooima returned from an Achilles injury five games ago and has thrown for 1,219 yards and 17 TDs. Before that, Blake Fryar threw for 2,172 yards and 25 TDs. Central Methodist, winners of six straight, is led by Paxton DeLaurent, who has thrown for 2,299 yards and ran for 475.
---