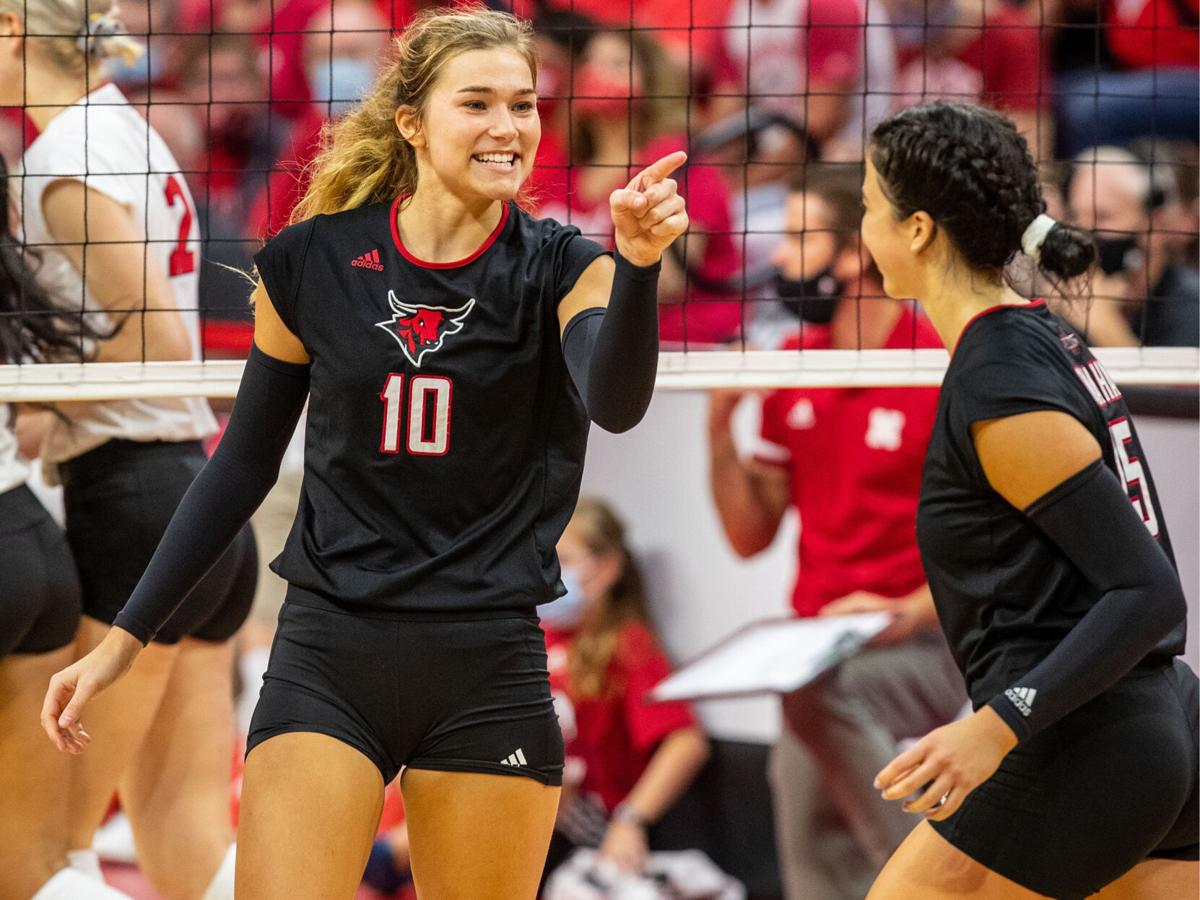 UNO's road to its first Summit League regular-season volleyball title was paved by a challenging nonconference schedule.
By the time league play started in late September, the Mavericks were 3-7. Six of those losses — and one of those wins — were against Power Five squads. Three losses came against current top-25 teams.
"The girls rose to the occasion," UNO coach Matt Buttermore said of the team's nonconference play, which included a five-set loss at Nebraska. "If you have a loss under your belt — we had seven — you have things you need to work on. Whether it's team building, tactical, technical, whatever, we're going to find out those things faster playing a tough schedule."
The experienced Mavs used that experience to compile a 16-2 league mark, winning the Summit by one game over South Dakota, which claimed the league tournament last season.
That gives the Mavs the No. 1 seed for this year's tournament, which begins Thursday in Vermillion, South Dakota. UNO has a bye on the first day and plays its opener at 4:30 p.m. Friday against either fourth-seeded UMKC or fifth-seeded Oral Roberts.
"We need to stay in the moment," Buttermore said. "The same things that have gotten us to this point are going to help us this weekend."
UNO just played Oral Roberts and UMKC within the past week. On Thursday, the Mavs swept Oral Roberts, clinching the outright league title in the process. Buttermore said the Mavs celebrated with a barbecue dinner in Kansas City on Friday.
"It was nice to wrap that up on Thursday and not have that loom over us for the next three days," he said.
UMKC then defeated UNO in four sets Sunday, which snapped a 10-match winning streak. Still, of the Mavs' 16 league wins, 12 were sweeps.
"We've been building good habits no matter what the situation is," Buttermore said.
Those habits helped UNO sweep a season series from perennial league power Denver. Denver was 19-2 all time against the Mavs before this fall.
"It was really cool for us to have the season sweep on Denver," said middle blocker McKenna Ruch earlier this season. "We feel so confident this year compared to last year."
Ruch is one of three Mav starters among the top eight in the Summit in hitting percentage. Ruch is hitting .363, Sadie Limback is hitting .335 and Rylee Marshall is at .314. Limback also is fourth in the league in kills, averaging 3.74 per set.
Sami Clarkson is second in the league in assists, averaging 10.98 a set, while Claire Mountjoy and Jaiden Centeno are among the top seven in digs.