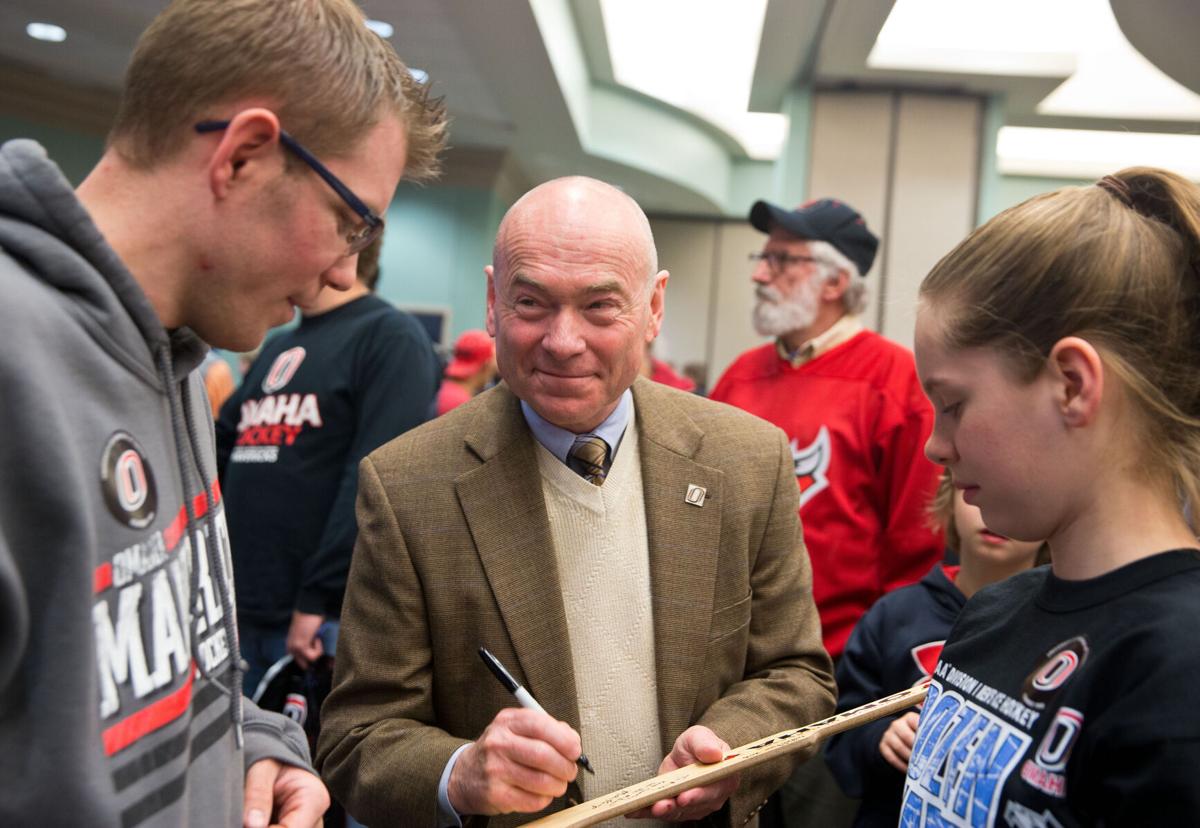 Mike Kemp has worn many hats since coming to UNO 25 years ago.
Add interim athletic director to the list, the school announced Friday. He will assume the role Monday, when Trev Alberts takes over as Nebraska's athletic director.
"This is a bittersweet time for me," Kemp said in a press release. "Trev Alberts has been a trusted friend and a great colleague for over 12 years. Together, we have gone through many challenging and thrilling experiences. He has left an indelible mark on Omaha athletics that will ink his legacy in our athletic lore."
Kemp was UNO's first hockey coach when the program started in 1996. He was associate athletic director from 2009 until 2019, when he became senior associate athletic director. In that role, he oversaw the hockey program and served as general manager of Baxter Arena.
Kemp was honored last April with the inaugural NCHC Commissioner's Award.
"It is a great honor for me to be entrusted with the responsibility to lead this department," Kemp said. "I have spent my career here at UNO dedicated to creating opportunities for student-athletes, first as a coach, then as a sport administrator, and I feel blessed that my journey has led me here.
"In this new position, student-athletes will be the center of my efforts. With the help of the campus community, and the continued support of Omaha at large, we will be able to continue the tremendous growth that Omaha athletics has experienced over the past 12 years. I look forward to the challenge."
The 68-year-old Kemp said there is no specific timetable for the length of that "interim" tag but added he was prepared to serve as long as needed.
"I don't look my age, I don't feel my age and I don't act my age," he said. "I've been hanging around 18- to 23-year-olds for a long time so that's helped keep me feeling young."
Kemp said he had been vacationing in Wisconsin the past few weeks but was aware that Alberts' name was being mentioned as a job candidate at Nebraska.
"We all know what was being reported and we knew Trev was in the mix," Kemp said. "But Trev is a private person and I didn't really know for sure until this week."
Kemp said he received a phone call Tuesday afternoon from Alberts, who was named NU's athletic director the next day.
"He told me it was probably going down," Kemp said. "That's when it became realistic."
Said University of Nebraska President Ted Carter: "Mike Kemp is a seasoned coach and administrator who has dedicated the past 25 years of his life to UNO and our student-athletes. I know Mike will lead Omaha athletics with integrity and resolve during this time of transition."
During Kemp's tenure leading the hockey program, the Mavericks became a national leader in attendance. He coached five All-Americans and had 12 All-CCHA players in the 10 years he coached in the league.
"Mike is a friend, mentor and a great leader," hockey coach Mike Gabinet said in a release. "I am very confident in his ability to continue to grow our athletic department. We are in good hands."
Kemp also serves as the chair of the six-member NCAA Division I Men's Ice Hockey Committee. He will serve one more year in that capacity because of the lost COVID-19 season of 2019-20.
In 2009, he was inducted into the Omaha Hockey Hall of Fame. He also was inducted into the Omaha Sports Hall of Fame in 2013.
"I am thankful that Mike Kemp has graciously agreed to serve as interim athletic director," UNO Chancellor Joanne Li said. "I have the utmost confidence in his abilities, experience, knowledge and character to effectively lead this department."
Kemp said that he would return to Omaha on Monday and get back to work, this time as athletic director.
"We have a lot of good things in place, thanks to Trev," he said. "I want to continue to do the work that he started."
With 25 years of service to Omaha Athletics,

Join us in welcoming interim Athletic Director Mike Kemp! ⚫️🔴#EveryoneForOmaha

— Omaha Mavericks (@omavs) July 16, 2021
---