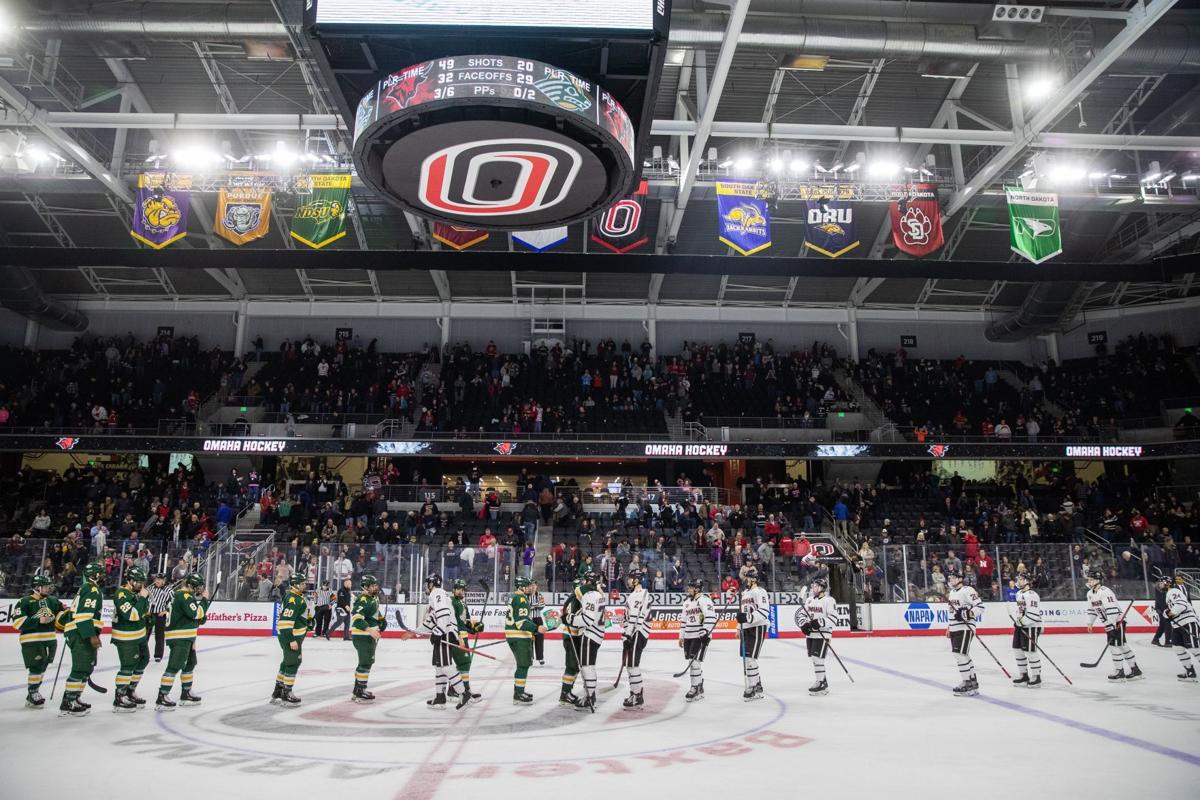 A possible "pod" scenario that might involve Omaha as a hub city is being studied by the National Collegiate Hockey Conference.
UNO Athletic Director Trev Alberts confirmed Tuesday that the NCHC is looking at such a plan in an effort to play games between Thanksgiving and Christmas. That plan would have all eight conference teams convening in one location.
"Like every other conference, we've been working hard for several months at options for how to get off the ground in a safe manner," he said. "We've tried to challenge ourselves to come up with a solution."
The article stated that both schools have provided the conference with information about hotel accommodations, coronavirus testing and arena availability. Both proposed sites — Baxter Arena and Ralph Engelstad Arena — have two sheets of ice.
Alberts said the scenario would be unlike a true "bubble" similar to the ones used by the NHL and the NBA during their recent playoffs.
"In a bubble, there's no outside exposure," he said. "Our conference teams would be staying in hotels, but we'd limit outside exposure as much as possible."
Alberts said one advantage to the pod would be limited travel expenses, though working through academic challenges would be a hurdle that needs to be cleared.
"A lot of schools aren't having students return immediately after Thanksgiving, or they're already remote learning," he said. "Missing any class time is obviously something the pro teams never had to worry about."
Although details haven't been finalized, it's hoped that teams could play several games at the hub between late November and late December. All schools would host games over the second half of the season.
"I applaud our membership for trying not to eliminate opportunities for our student-athletes," Alberts said. "Because of travel concerns, the conference feels very strongly that we couldn't start a traditional season without the possibility of a significant (COVID-19) breakout."
The Grand Forks Herald article said it was unlikely that fans would be allowed to attend games at the pod but all games would be broadcast on NCHC.tv.
The conference announced last month that the season, originally scheduled to begin in early October, would start "on or after Nov. 20." Other conferences have announced their intent to start in November.
No college hockey games have been played since mid-March when the season ended abruptly because of the pandemic.
"We're trying to create a scenario where we can get games played in a safe environment and still be fiscally responsible," Alberts said. "There are still a lot of details to be worked out, but we're trying to proactively figure something out."
He added that conference officials deserve credit for investigating the pod scenario.
"Something like this has never been done on the collegiate level," Alberts said. "We can't just sit back and hope that everything works out."
The A.D. said there is no exact timetable but that a decision needs to be made "sooner rather than later."
"This is a very unusual year," he said. "We're all trying to figure out a way to give our student-athletes the best chance to play in the safest way possible."
---
Notable moments from Trev Alberts' playing and administrative career
Omaha World-Herald: Local Sports
The latest sports headlines from Omaha.com.