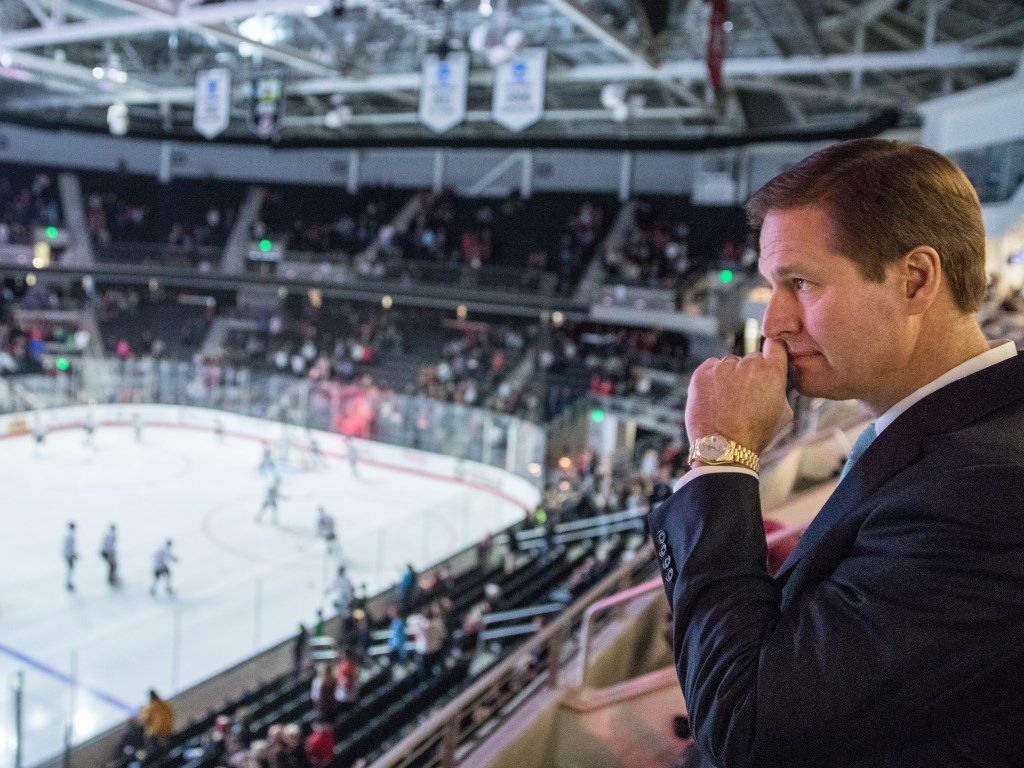 UNO Athletic Director Trev Alberts is "cautiously optimistic" winter sports will be held despite the ongoing pandemic.
But he said there are many variables in play and nothing is given.
"Athletes and coaches always have a playbook to learn and then they go out and execute," he said. "The problem with the pandemic is that there is no playbook, and that's frustrating."
UNO athletes already had their fall sports seasons postponed by Summit League officials until the spring because of COVID-19 concerns. The sports affected include volleyball and soccer.
Alberts said it remains to be seen whether those delayed seasons will be played.
"From our perspective, we're fighting as hard as we can for them," he said. "But we're never going to put anyone at risk."
The postponement of fall sports was disappointing, Alberts said, but not unexpected after the spring sports season ended abruptly in mid-March when the NCAA shut down all athletic events because of the coronavirus.
"I personally know the kind of investment that has been put in by these young men and women," Alberts said. "They have dreams of competing in the sport that they love, and it's my job to provide that opportunity."
The A.D. said the university has been "100% transparent" about keeping everyone informed about the latest developments concerning athletics and the pandemic, posting everything on the school's website.
"Protocols can change on a daily basis," he said. "There are a lot of unknowns and there can be a lot of misinformation, so we're staying on top of the situation the best we can."
Alberts said the welfare of the athletes is his main priority, which extends beyond the physical effects of the coronavirus.
"Prior to the pandemic, there was a big focus on students' health and well-being," he said. "Now you add the pandemic, and their stress is at levels we can't understand."
Alberts' optimism for a winter sports season is fueled by ongoing medical developments and daily Zoom calls as conference schools share information.
"There's some very positive momentum on the medical front, and I'm really encouraged by that," he said. "There are more accurate testing methods and we're making progress toward a vaccine, so we're all very hopeful about that."
But time is starting to become a factor for the winter sports season. The Mavericks' first hockey game is Oct. 9, less than two months away.
UNO already has canceled an Oct. 5 exhibition game against Manitoba, and that might not be the only schedule change.
"The hockey season is really long (October through March) so we have some flexibility," Alberts said. "But I am hopeful and cautiously optimistic that we can have a season."
"It's a blessing for us that Mike will be a part of that," Alberts said.
Alberts said UNO hockey players, who have begun voluntary workouts, differ from other athletes because they have options besides collegiate competition.
"They can play major junior hockey or compete in the USHL (United States Hockey League)," he said. "It's incumbent on us that games are played and that the season can go on, but it has to be done safely."
While UNO is a member of the National Collegiate Hockey Conference, it competes in the Summit League for all other sports. Alberts said there should be some clarity about basketball next month.
"I think there will be some recommendations from the NCAA about basketball in mid-September," he said. "Then we'll go from there."
Alberts hopes UNO fans will be understanding and supportive during these difficult times.
"We're nothing without our fans," he said. "We need them now more than ever and we're doing our best to try and safely move forward with our athletic events."
Photos: Trev Alberts through the years
From his Husker football playing career to his time as UNO's athletic director, here's a photo gallery of Trev Alberts through the years.
Omaha World-Herald: Local Sports
The latest sports headlines from Omaha.com.