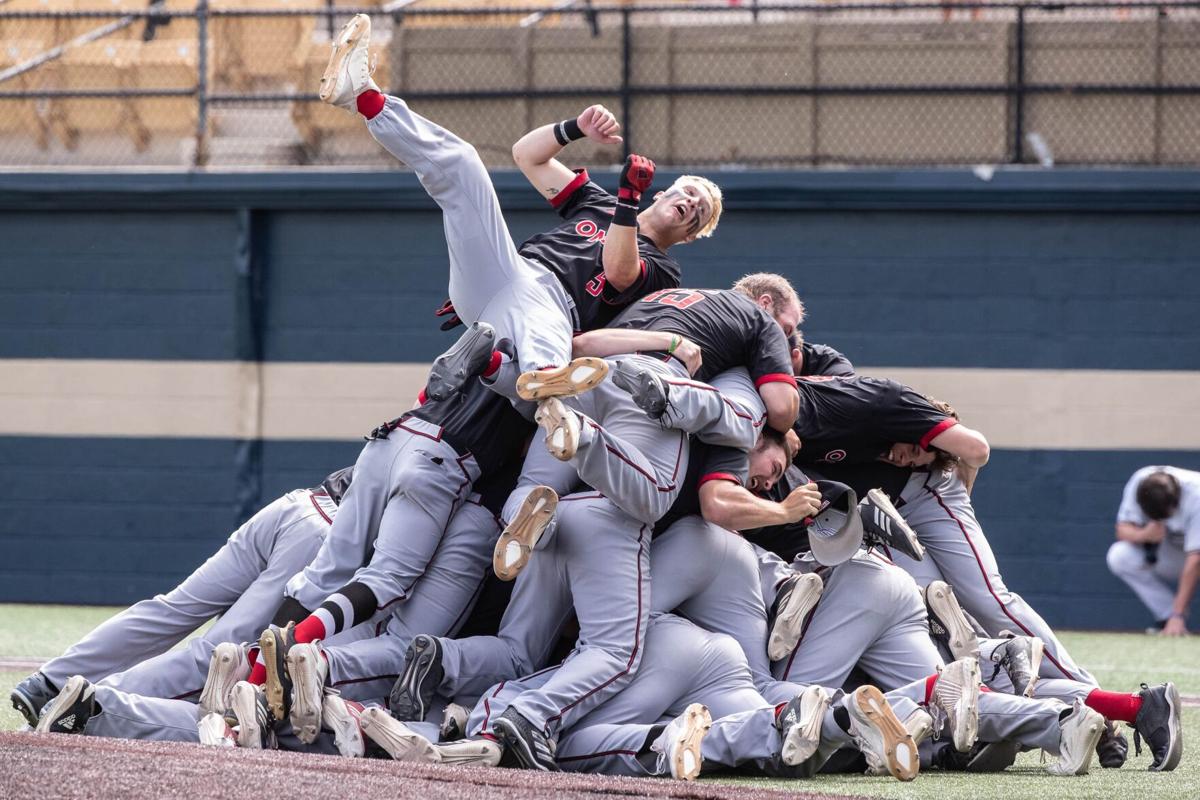 There's one indelible moment that stands out to Breyden Eckhout from the last time UNO played in the Summit League tournament.
The dogpile on the infield after the final out.
"Nothing really beats that memory for me," Eckhout said of the 2019 victory on Oral Roberts' home field.
No. 3 seed UNO looks for more of that postseason magic when it hosts this year's tournament beginning Thursday.
The tournament champ earns the right to host the next season, and since 2020 was canceled, the Mavericks are hosting during their first spring at the new Tal Anderson Field.
"I think it's a big thing for our program in general, but especially for the seniors who played games at Seymour Smith," said Eckhout, one of the team's seniors.
Eckhout made the all-tournament team when the Mavs won in 2019. Five starters from that championship game still are on UNO's roster.
"We have an experienced group of guys and they know what to expect going into a tournament setting," coach Evan Porter said. "Everything that's happened to us this year is behind us now. We're starting fresh."
The Mavs were the preseason favorite to win the conference, but they went through an uneven season, finishing 22-23 overall and 14-12 in the conference.
Six of their league losses came in games that they led after the seventh inning. Two occurred earlier this month at North Dakota State, UNO's first-round opponent this weekend. The Mavs are 3-5 against the Bison this season.
"I think if we just play with confidence we'll be fine," Eckhout said. "I know we've had ups and downs this year, but that's baseball, there's a lot of ups and downs. This time of year it's whichever team is riding high."
UNO did win its last three regular-season games and Porter likes his team's mindset entering the tournament.
"I think our guys have done a great job all year of staying the course and preparing for this week," Porter said.
The Mavs were third in the five-team league in batting (.267) and ERA (5.89).
UNO's lineup has shown the ability to string together big innings, too. Six Mavs have more than 20 RBIs. Chris Esposito leads the team in homers (8) and RBIs (37) while Masen Prososki has 33 RBIs and 20 steals. Third baseman Mike Boeve, a Summit League first-teamer, hit .322 and led the league with 16 doubles.
"Offensively, I believe we're way better than we were in '19," Eckhout said. "As long as we have that confident mentality at the plate, we can have some success during the tournament."
Porter plans to start Richie Holetz (3-4, 4.65 ERA) against NDSU. Joey Machado and Mark Timmins each have a team-best five wins this season, and Porter said matchups will dictate who starts the rest of the double-elimination tournament.
Summit League tournament
SCHEDULE
Thursday: Oral Roberts vs. South Dakota State, 1 p.m. North Dakota State vs. UNO, 6 p.m.
Friday: Winners bracket, 11 a.m. Losers bracket, 3 p.m. Game 3 loser vs. Game 4 winner, 7 p.m.
Final Saturday: 2 p.m. and, if necessary, 6 p.m.
THE FIELD
No. 1 seed Oral Roberts (28-21)
Top hitters: Ryan Cash (.327, 43 RBIs); Joshua Cox (.302, 44 runs, 11 SB). Top pitchers: Isaac Coffey (9-1, 2.69 ERA); Evan Kowalski (7-2, 3.31 ERA).
ORU leads Summit teams in batting average (.287) and ERA (4.50). ... Coffey has won his past seven starts and was named the league's pitching of the year.
No. 2 seed North Dakota State (38-16)
Top hitters: Bennett Hostetler (.394, 8 HR, 53 RBI); Jake Malec (.321, 8 HR, 56 runs). Top pitchers: Cade Feeney (6-1, 3.75 ERA); Adam Sankey (7-1, 3.89 ERA)
NDSU set a program record with 20 league wins and has an NCAA-best 24 road wins. ... NDSU is the only NCAA team with two players with seven or more saves — Parker Harm has nine, Wyatt Nelson has seven.
Top hitters: Chris Esposito (.302, 8 HR, 37 RBI); Masen Prososki (40 runs, 33 RBI, 20 SB). Top pitchers: Joey Machado (5-3, 3.66 ERA); Richie Holetz (3-4, 4.65 ERA)
Oral Roberts was 62-3 in 19 previous Summit tournament appearances before UNO beat it twice for the 2019 title. ... Mike Boeve led the Summit in doubles with 16.
No. 4 seed South Dakota State (14-30)
Top hitters: Derek Hackman (.336, 8 HR, 26 RBI); Luke Ira (.273, 22 runs, 21 RBI). Top pitchers: Drew Beazley (3-2, 2.54 ERA); Cody Carlson (2-4, 3.73 ERA)
SDSU qualified for the tournament last weekend when it defeated ORU twice. ... All eight of Derek Hackman's homers came in league play. ... SDSU is batting .228 as a team.