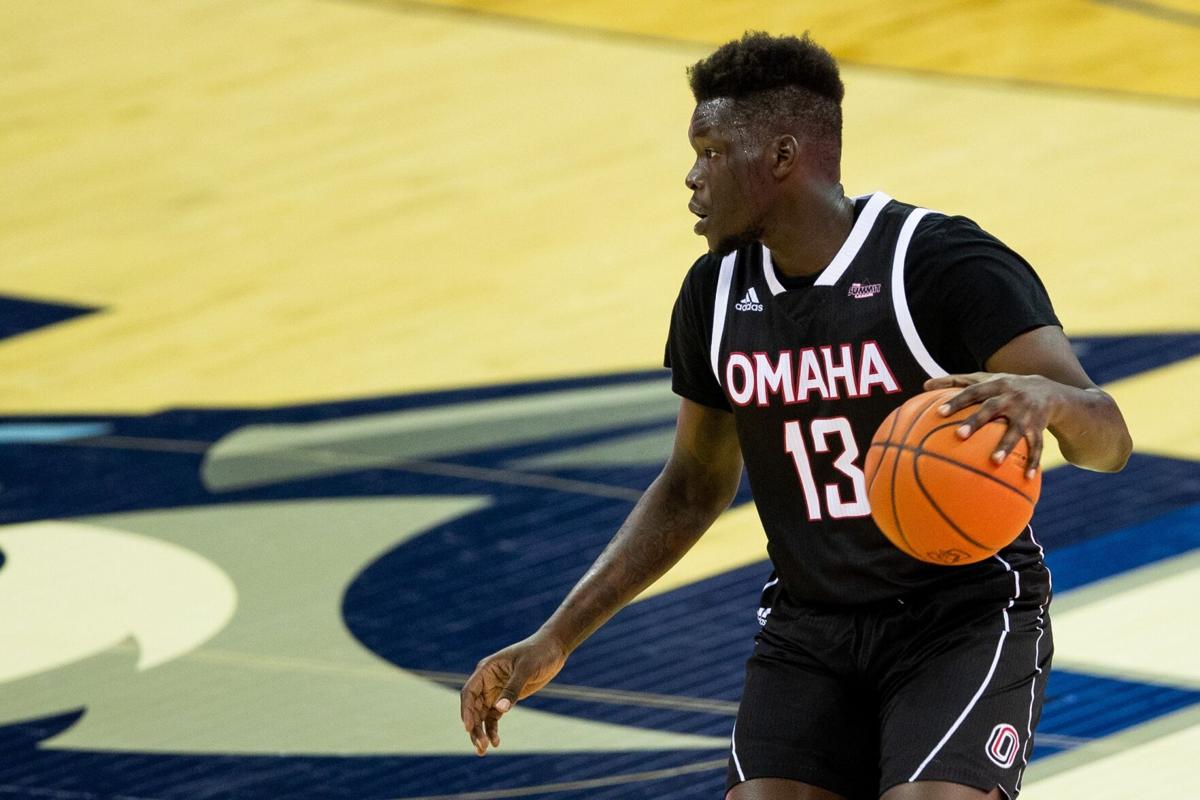 It's been a month since the Mavs last were able to enjoy a victory, yet they're entering the start of Summit League play with as much optimism as they've had all season.
That's surely a common sentiment this week within this conference, where seemingly every squad was forced to embrace a gauntlet of out-of-league tests in an attempt to fill out a schedule during the pandemic.
UNO opened the season with six games in an 11-day span, faced off against two top 10 teams (Kansas and Creighton) and never ended up playing a nonconference home game. Plus, the Mavs dealt with a handful of injuries.
But a new chapter begins this weekend. And UNO's guys are ready.
"I feel like we've gotten better as a team. We've been making strides," junior forward Wanjang Tut said. "At the end of the day, conference play is when it really counts. I think we're in the right spot, mentally and physically, going into it."
To be clear, the Mavs don't want to get in the habit of embracing the concept of moral victories.
They're 2-8. They could be 4-4, at least. They had chances to win late at Wyoming on Dec. 14 and at Kansas State Tuesday. They were within striking distance in losses to Austin Peay and Abilene Christian back in November.
But even in defeat, there have been signs of progress — certain team-wide strengths that could become more apparent once UNO's on equal footing with peer opponents.
Tut said he noticed a few encouraging things lately. He thinks the Mavs have followed through better with their scouting-report directives on defense. On offense, they are figuring what works, and Tut said the coaches have designed new ways to feature some of their go-to guys.
"When we play inside-out, we're an effective team," he said.
UNO likely will need to be at its best right away in Summit League action.
The Mavs open with six games against the three teams picked ahead of them in the conference preseason poll. They start by hosting Oral Roberts (3-5) at 4 p.m. on Saturday and at 4 p.m. on Sunday. A limited number of fans will be allowed to purchase tickets to attend those games.
It could be two title contenders going at it inside Baxter Arena this weekend.
Coach Derrin Hansen acknowledged that it's difficult to get a true read on the league — and how teams will stack up — after such an odd nonconference season.
There were tons of unconventional road swings and long layoffs. Games have been canceled. The league teams had to schedule more lopsided match-ups against high-major foes. Preseason practice stoppages delayed improvement.
South Dakota State's the only Summit League squad with a winning record. The conference is a combined 12-52 (.188) against Division I competition.
But that's why the Mavs worked so hard to avoid feeling too discouraged about their own tough start.
"It'll even out," Hansen said he told his team. "We just have to keep our head above water and keep grinding. To our credit — based on these last two games — we've grinded. We didn't get the wins. But we're playing better."
---
Meet the 2020-21 UNO men's basketball team