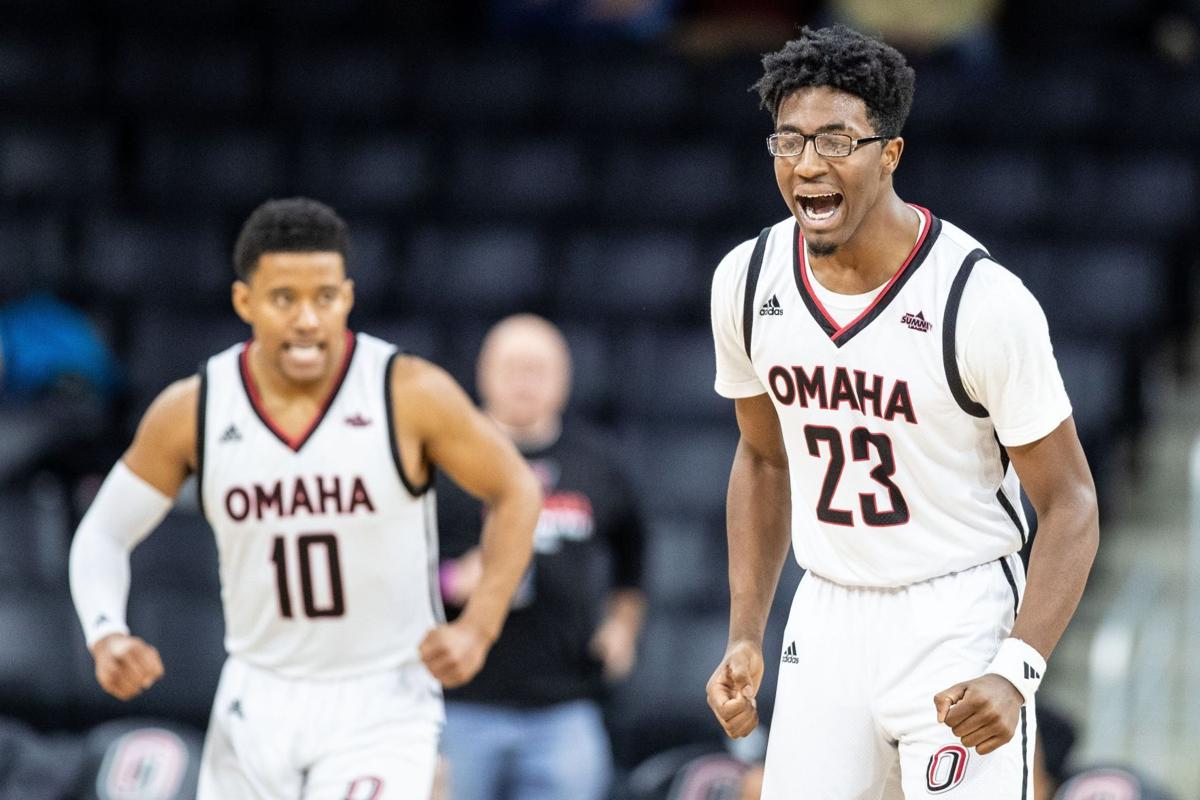 UNO's Marlon Ruffin spent the first part of his summer back home in Wisconsin, using push-ups, jogs around his neighborhood and dribbling drills to stay in shape.
So when the junior wing has sweat pouring down his face as he's gasping for air during a demanding UNO practice this month, he won't be complaining. Same goes for the rest of his teammates.
Because they're not too far removed from a routine-disrupting summer, when courts were closed and players were self-isolating due to the pandemic.
"For a lot of us, that was the longest we've been outside the game, not having access to go to the gym any time we wanted to," Ruffin said. "But breaking that barrier of being in quarantine and finally getting back on the court — especially with all the guys trying to build that chemistry — I thought it's been huge."
The Mavs have been getting taste of what they were missing during team workouts over the past few weeks.
They'll hope to take another step together starting Wednesday, the first day of official practice in Division I hoops.
For UNO's players, Wednesday marks an exciting milestone — although it doesn't eliminate the uncertainty for a season that's already been delayed by two weeks.
The Mavs still don't have a schedule. No one does. Even when dates are set, there's still the likelihood for disruption due to the NCAA's testing and contact-tracing recommendations — UNO already had to back away from team workouts for several days in August.
And off the court, the players like many across this country: they can't help but ponder the ongoing impact of COVID-19 and the other top-of-mind issues (particularly social injustice) consuming the public's discourse during an election year.
"This team is probably going to face the most obstacles than any other team that I've played on here," said senior Ayo Akinwole, a Papillion-La Vista grad. "All that stuff is something we've got to look at as a team and try to build through. But I think the more that we can be together ... that will benefit us."
Sprinting up and down the court as a group? Hustling through rebounding drills? And mastering man-to-man principles? That is one way to make it happen.
Practice isn't easy. But it'll feel normal for these Mavs. And they're ready for some normal again, even if there are some on-court questions to answer.
This UNO team last year tied for fourth place in the Summit League standings. It secured its first win over a Pac-12 team in the nonconference when it won at Washington State. It carried a 16-game home winning streak into February.
But the Mavs lost their top two scorers, playmaking guards KJ Robinson and JT Gibson. Those two combined for 28.9 points per game.
UNO does return full-time starters Zach Thornhill, Matt Pile and Wanjang Tut. Akinwole averaged the fourth-highest minute total on the team last year. And Ruffin was the Summit League sixth man of the year. Junior guard Marco Smith, freshman guard Jadin Booth, junior transfer Nick Ferrarini are among the newcomers who'll compete for a spot in the rotation.
There's enough experience on the roster to ensure the team carries the right mentality.
They like what they've seen so far.
"That first (team workout), it was like, 'it's about time,' Smith said. "We looked at each other. We were all happy, all excited. And we were like, 'let's get it.' There's no more excuses now."
Photos: Leading scorers for UNO men's basketball since 2001
Who has paced the UNO offense over the last several years? Find out in our gallery of the Mavericks' top scorers since 2001. 
Omaha World-Herald: Local Sports
The latest sports headlines from Omaha.com.