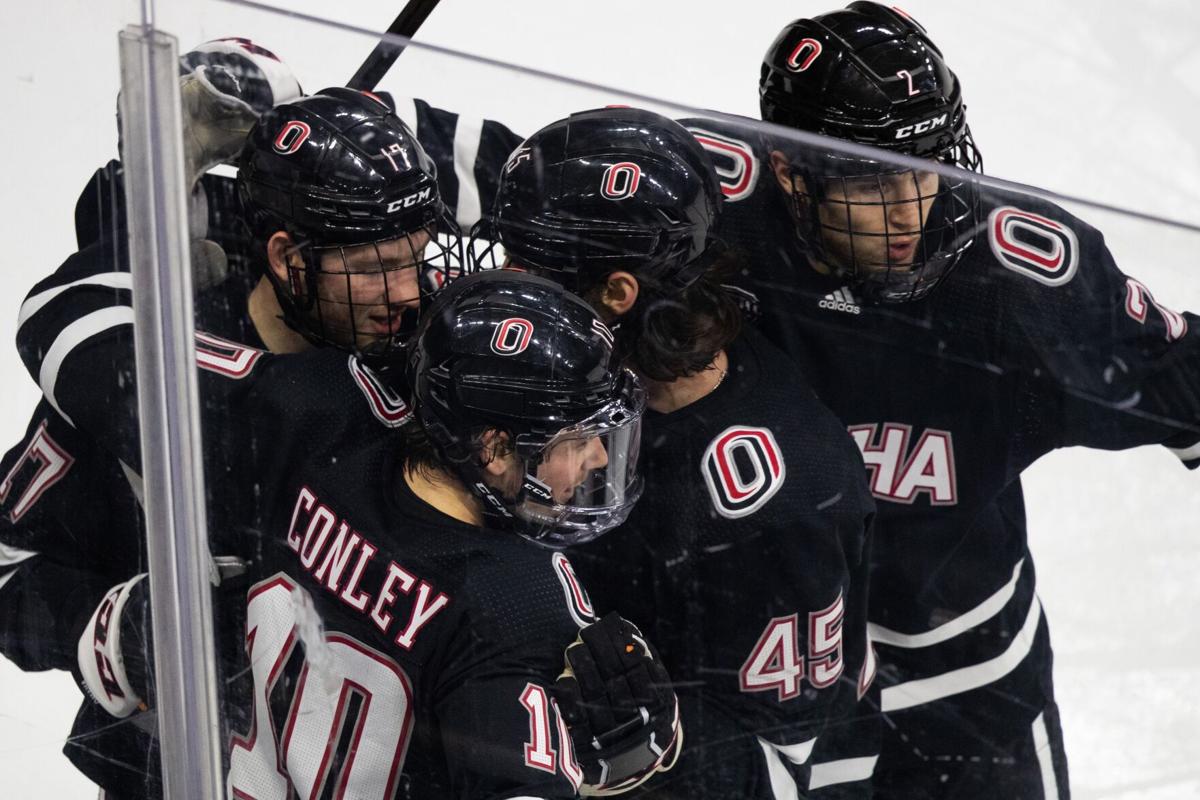 Mike Gabinet said his team will learn from Saturday night's 7-2 loss to Minnesota in the NCAA tournament.
"We're not looking for moral victories, so that's tough," the coach said. "We have to get better individually and collectively."
Despite the outcome, Gabinet was upbeat about the future.
"I think the program took a huge step," he said. "I'm proud of what we were able to accomplish this season and to put ourself in this position."
Senior defenseman Nate Knoepke said he didn't sense any nerves before the game.
"Our guys were prepared, but it just didn't go our way," he said. 
The second-ranked Gophers struck for three first-period goals and cruised to the victory, ending the Mavericks' season at 14-11-1.
"It's obviously not the result we wanted," Gabinet said. "Every mistake we made ended up in the back of our net."
UNO, making its first tourney appearance since 2015, fell behind early and never recovered. It started with a goal 5:48 in by Mason Nevers, who scored off a scramble.
The Gophers scored twice two minutes apart to extend their advantage to 3-0.
"We got pucks deep because we knew they wanted to be aggressive on their forecheck," Minnesota coach Bob Motzko said. "I felt like we could get some odd-man rushes, and we did that."
The Mavs broke through when Taylor Ward scored his first of two goals with 1:56 left in the opening period. He snapped a shot past goalie Jack LaFontaine, a finalist for the Hobey Baker Award as the nation's top player.
But the Gophers struck 41 seconds into the second period, when Ryan Johnson fired a shot through traffic that eluded UNO goalie Isaiah Saville. Minnesota scored again seven minutes later when Ben Meyers converted a 2-on-1 play.
That goal prompted Gabinet to replace Saville with Austin Roden.
"I told Isaiah that it wasn't his fault," the coach said. "He's a great kid, and I know that he's going to keep working hard."
The switch didn't slow Minnesota, which made it 6-1 late in the period when Nevers scored his second of the game.
Ward scored his second and team-leading 13th goal early in the third period when he tucked a shot between LaFontaine's pads. The Gophers got that back when Finland native Sampo Ranta, Minnesota's leading scorer, beat Roden.
Brock Faber finished with five assists, tying an NCAA tournament record.
Motzko, who was celebrating his 60th birthday, said he wasn't certain what to expect Saturday.
"It seems like we've been here two weeks and then we had the late game tonight," he said. "We had to do a lot of sitting around, but we were ready to play."
Gabinet said Minnesota, champion of the Big Ten, compared favorably with the top teams in the NCHC.
"They make you pay for your mistakes," he said. "They've got a lot of talent."
The seven goals allowed by UNO tied a season high. The Mavs lost 7-1 at North Dakota on Feb. 20.
---
Photos: UNO hockey faces Minnesota in the NCAA regionals