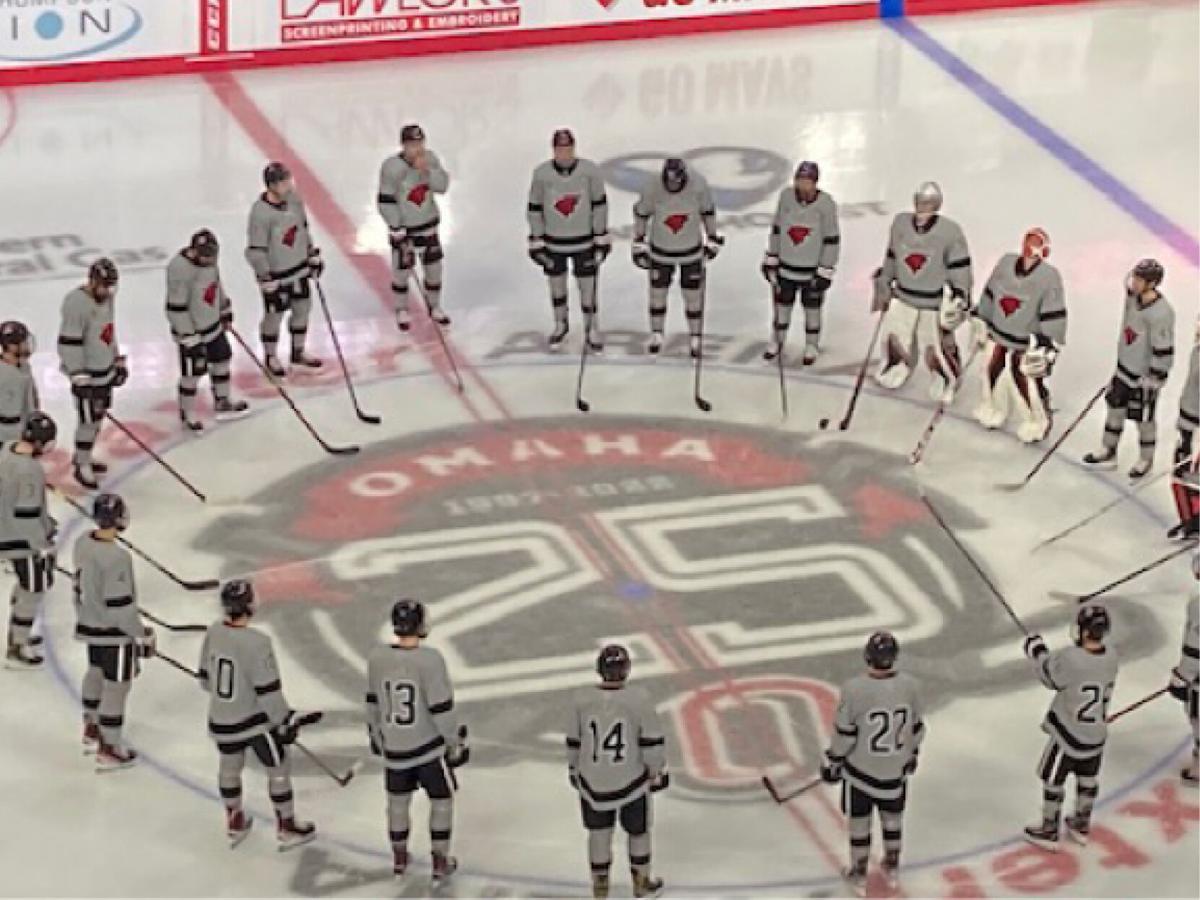 Lake Superior State played spoiler to perfection Saturday night in its hockey season opener against UNO.
The Lakers tied the game with 1:04 left in regulation and won it in overtime to grab a 4-3 win in front of 3,397 stunned fans at Baxter Arena. The teams will play again Sunday at 4:07 p.m.
The loss spoiled a special night for the Mavericks, who saw their 2021 NCAA Regional banner unfurled from the rafters before the game. The team also was wearing new season-opening gray uniforms, but none of that mattered to Lake Superior State.
"They hung around and then ultimately capitalized on their opportunities," UNO coach Mike Gabinet said. "We didn't close them out, so that's a tough one for us."
Making the setback even more difficult was the Mavs' domination on the stat sheet. UNO outshot the Lakers 40-18, including an 18-3 advantage in the second period.
Credit for keeping Lake Superior State in the game goes to 6-foot-5 goalie Seth Eisele, who made several tough saves.
"Their goalie played extremely well," Gabinet said. "I thought we deserved a better fate but we have to stick with the process."
The Mavs started strong and led 2-0 less than seven minutes into the game. Matt Miller tallied the first goal of the season and newcomer Brannon McManus, a transfer from Minnesota, scored on a penalty shot.
"I've been working on a move since last summer," McManus said. "I gave it a shot and got a good outcome."
The Lakers tied it later in the period on goals by Brandon Puricelli and Dawson Tritt.
The score remained 2-2 until late in the second period when Chayse Primeau put the Mavs back on top. He tapped home the rebound of a shot by Taylor Ward.
It appeared UNO was headed for the victory but after pulling their goalie with 90 seconds left in regulation, the Lakers got it tied. Harrison Roy scored off a scramble, firing a shot from the side of the net past UNO netminder Isaiah Saville.
That led to a 3-on-3, five-minute sudden death overtime. Puricelli ended it with his second goal of the game, taking advantage of a miscommunication between two Mavs to come in alone and fire home the game winner.
"You can either play man on man there or you can call for a switch," Gabinet said. "They capitalized on the open ice."
Sophomore Jimmy Glynn, who had several scoring chances for the Mavs, said the team won't dwell on the loss.
"It's the first game and there are going to be some hiccups," he said. "We made some little mistakes that we'll have to clean up."
Gabinet said he was confident UNO would bounce back.
​"It's not going to be an easy road this season," he said. "We've got to take the positives out of tonight and continue to build on what we need to get better."
Lake Superior State (1-0) ... 2 0 1 1—4
First period: 1, UNO, Miller 1 (Randl,), 3:14. 2, UNO, McManus 1 (penalty shot), 6:33. 3, LSS, Puricelli (Boudon), 7:34. 4, LSS, Tritt (unassisted), 17:49.
Second period: 5, UNO, Primeau (Ward, Proctor), 18:23.
Third period: 6, LSS, Roy (Willets, Mucha), 18:56.
Overtime: 7, LSS, Puricelli (Henrikson), 1:52.
Goalies: LSS, Eisele (37 saves); UNO, Saville (15 saves).
Penalties: LSS, 4-8; UNO, 3-6.
Power-play conversions: LSS, 0-3; UNO, 0-3.
Three stars: 1, Brandon Puricelli, LSS. 2, Isaiah Saville, UNO. 3, Chayse Primeau, UNO.
---