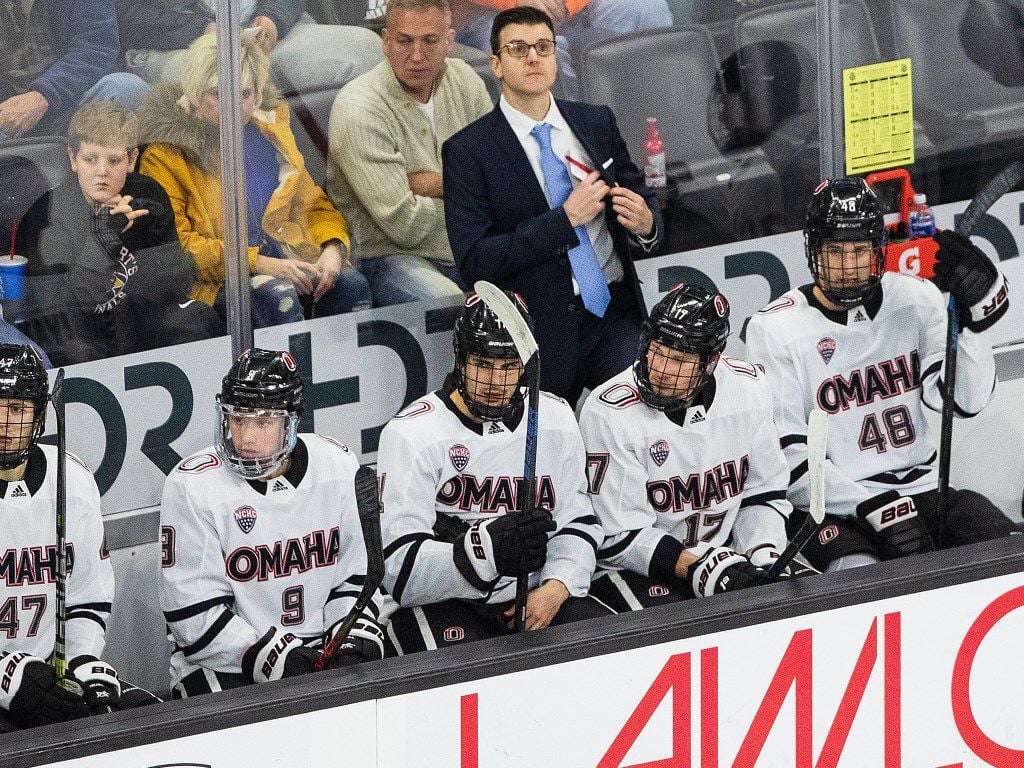 UNO hockey fans have eight new players to cheer.
Coach Mike Gabinet recently announced the incoming class for the 2020-21 season. The group includes two players with collegiate experience and six freshmen.
"It's another exciting class for us to build on," he said. "Our staff is working very hard to identify high-character student-athletes with strong work ethics and skills."
The incoming class includes defenseman Jonny Tychonick, who transferred to UNO from NCHC rival North Dakota. He's a junior and has two years of eligibility left.
Forward Jack Randl played at Michigan during the 2018-19 season but played most recently for the Omaha Lancers of the USHL. He's a sophomore.
Four of the true freshmen are forwards — Kaden Bohlsen, Brock Bremer, Jimmy Glynn and Matt Miller. The other two first-year players are defensemen Jake Harrison and Nolan Krenzen.
Five of the newcomers competed in the USHL last season, including two for the Lincoln Stars and two for the Lancers.
Gabinet said this class, along with last year's class that consisted of 12 freshmen, will strengthen the Mavs this season and beyond.
"I think both of those classes give us a great foundation," he said. "We went after kids who believe in what we're doing and are committed to our team concept."
The addition of three defensemen will help UNO shore up perhaps its biggest area of need following the graduation of ironmen blueliners Dean Stewart and Ryan Jones.
"Those two will be very difficult to replace," Gabinet said. "But I'm confident the guys who are coming back and the newcomers we've got will step up for us."
The coach added that players with previous collegiate experience can provide immediate help.
"We're not going to shy away from finding transfers that for whatever reason it didn't work out for," Gabinet said. "I know that both of the guys we got this year will be great fits in our program."
Perhaps one of the most interesting newcomers is Bremer, who will be the smallest player on the team at 5-foot-5 and 140 pounds.
"Brock might be a little undersized but he makes up for it with his strength and determination," Gabinet said. "He's going to use his quickness, and guys like that can be very elusive."
The Mavs are continuing voluntary workouts in hopes the season will begin as scheduled in early October. The college sports season this fall was postponed by many conferences because of the pandemic.
"We're all in a holding pattern right now," Gabinet said. "We're waiting to hear from the NCAA and the medical experts, but until then we're keeping it positive and continuing to work."
The coach added that the cancellation of last year's hockey season in mid-March because of COVID-19 will serve as motivation this season.
"It all ended so abruptly," Gabinet said. "I'm sure there are a lot of teams like us who have that sense of unfinished business."
» Kaden Bohlsen, 6-3, 192, Willmar, Minnesota: He played in 44 games with Fargo of the USHL last season and had 13 goals and 19 assists. In 126 career league games with Fargo and Des Moines, he had 26 goals and 27 assists while racking up 190 penalty minutes. He was named to the 2019 USHL/NHL Top Prospects Game, scoring one goal.
» Brock Bremer, 5-5, 140, Forest Lake, Minnesota: He was third in team scoring last season for the USHL's Lincoln Stars with 19 goals and 24 assists. In 105 career games with Lincoln and Muskegon, he had 35 goals and 42 assists. Prior to juniors, he played high school hockey for Hill-Murray and helped the Pioneers reach state twice.
» Jimmy Glynn, 5-10, 168, Lemont, Illinois: He played in 45 games for Dubuque of the USHL in 2019-20 and had seven goals and 11 assists. He spent the prior two seasons in the NAHL with Philadelphia and Jamestown and had 15 goals and 33 assists in 106 games.
» Matt Miller, 6-2, 194, Leo, Indiana: He comes to UNO after spending four seasons in the USHL, most recently with Lincoln. In 47 games with the Stars last season, he had 13 goals and 17 assists. In 180 USHL games with three teams, he had 33 goals and 37 assists. He also represented the U.S. in the 2016 Ivan Hlinka Tournament, an international event named after a prominent Czech player who was killed in a 2004 auto accident.
» Jack Randl, 5-10, 175, Carpentersville, Illinois: He played 50 games for the Omaha Lancers last year, finishing with 12 goals and 37 assists. In 158 career USHL games, he had 41 goals and 59 assists. He played in the Ivan Hlinka Tournament in 2016-17 and the next year was named to the CCM USA Hockey All-American Prospects game. He played 22 games for Michigan during the 2018-19 season and had one assist.
» Jake Harrison, 5-9, 179, West Colowna, British Columbia: An injury limited him to just one game last season for West Colowna but he appeared in five playoff games, scoring one goal and tallying three assists. In 166 career games with West Colowna of the British Columbia Hockey League (BCHL), he had 18 goals and 65 assists. In 2018-19, he played 49 games for Fargo of the USHL and had 10 points — two goals and eight assists.
» Nolan Krenzen, 5-9, 180, Duluth, Minnesota: He split time last year between Omaha and Sioux City of the USHL, compiling five goals and 18 assists in 44 games. In 105 career USHL games, he had nine goals and 25 assists. He was named to the U.S. Junior Select team for the World Junior A Challenge in 2019 and helped the Americans win the bronze medal.
» Jonny Tychonick, 6-0, 187, Calgary, Alberta: He transfers to UNO after two seasons at North Dakota, where he scored 15 points in 52 games. He played the previous two seasons for Penticton of the BCHL, and in 2017-18 he had nine goals and 38 assists. He earned a spot on the league's All-Star team and also played five games for Canada in the World Junior A Challenge. He was Ottawa's second-round pick (No. 48 overall) in the 2018 NHL Entry Draft.
Omaha World-Herald: Local Sports
The latest sports headlines from Omaha.com.