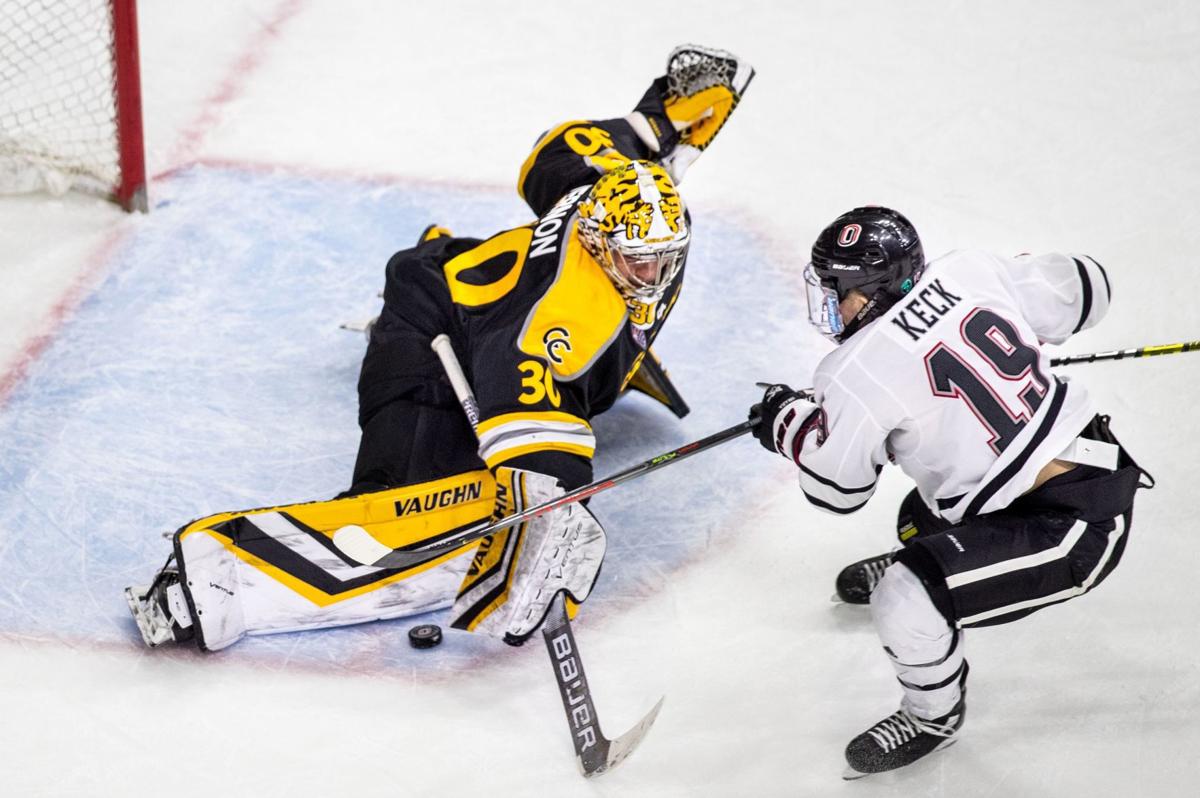 UNO captain Dean Stewart drives Colorado College's Sam Renlund into the boards. Stewart contributed an assist in the Mavs' four-goal flurry in the third period.
UNO was holding on to a one-goal advantage when it stepped on the ice for the third period.
That's when an avalanche of goals propelled the Mavericks to a lopsided win.
UNO scored four times in the first 14 minutes of the period as it pulled away to a 5-0 win over Colorado College on Friday night at Baxter Arena.
"I thought in the second period we got a little away from our identity by forcing some pucks. We got back to work in the third period and got some big-time goals," UNO coach Mike Gabinet said.
Both teams attempted 17 shots on goal through the first two periods, but the only one to find the net was a shot by UNO's Jason Smallidge in the first period.
The Mavericks took command early in the third period.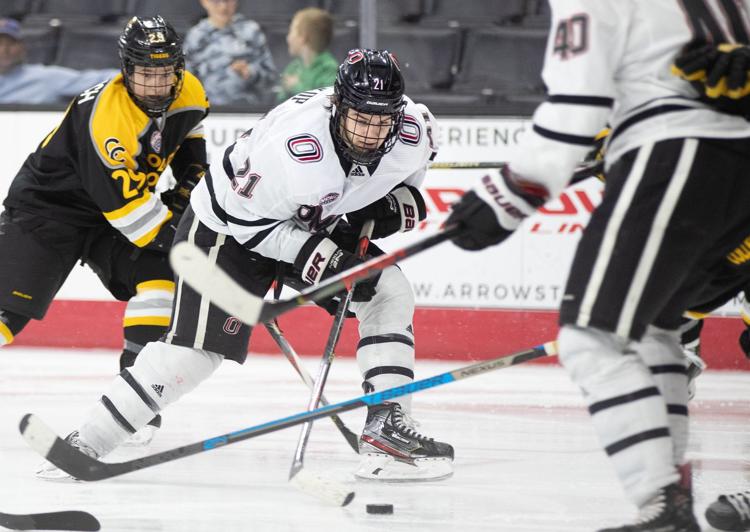 Martin Sundberg gave them some breathing room with his fifth goal of the season 2:28 into the period. Ryan Brushett and Nolan Sullivan had assists.
The Mavs put it away when Noah Prokop and Kevin Conley scored in a 36-second span. It was the 11th goal of the season for Conley, who also had an assist on the night.
Brandon Scanlin finished the scoring barrage with 6:07 left.
"With our players playing that well and getting those insurance goals, you don't really feel so much pressure compared to a one-goal game," said goalie Isaiah Saville, who made 22 saves for his first collegiate shutout. "That definitely eases my mind and honestly it helps me stay more composed."
"I thought he was really sharp in practice Thursday and that carried over into tonight. I thought he was zoned in from the start and I'm really happy for him," Gabinet said.
The win improves UNO to 13-13-5 overall and 7-9-3 in NCHC play. The Mavs have 24 points and are one point behind fifth-place St. Cloud State in the standings.
UNO and Colorado College square off again at 7:07 p.m. Saturday at Baxter. UNO will be going for the season sweep, having defeated the Tigers 6-4 and 4-1 in Colorado last month.
Colorado College (10-17-2, 3-14-2-1)....0  0  0—0
At UNO (13-13-5, 7-9-3)........................1  0  4—5
First period: 1, UNO, Smallidge (Conley, Primeau), 16:49, PP.
Third period: 2, UNO, Sundberg (Brushett, Sullivan), 2:28. 3, UNO, Prokop (Jones, Brushett), 6:58. 4, UNO, Conley (Knoepke, Stewart), 7:34. 5, UNO, Scanlin (Primeau), 13:53.
Colorado College.....9  8    5—22
UNO....................12  5  11—28
Power plays: CC 0-5, UNO 1-5.
Penalties-minutes: CC 7-22, UNO 7-14.
Goalies: Colorado College, Matt Vernon (28 shots, 23 saves, 60:00). UNO, Isaiah Saville (22 shots, 22 saves, 60:00).
Photos: Omaha Hockey hosts Colorado College
Be the first to know
Get local news delivered to your inbox!