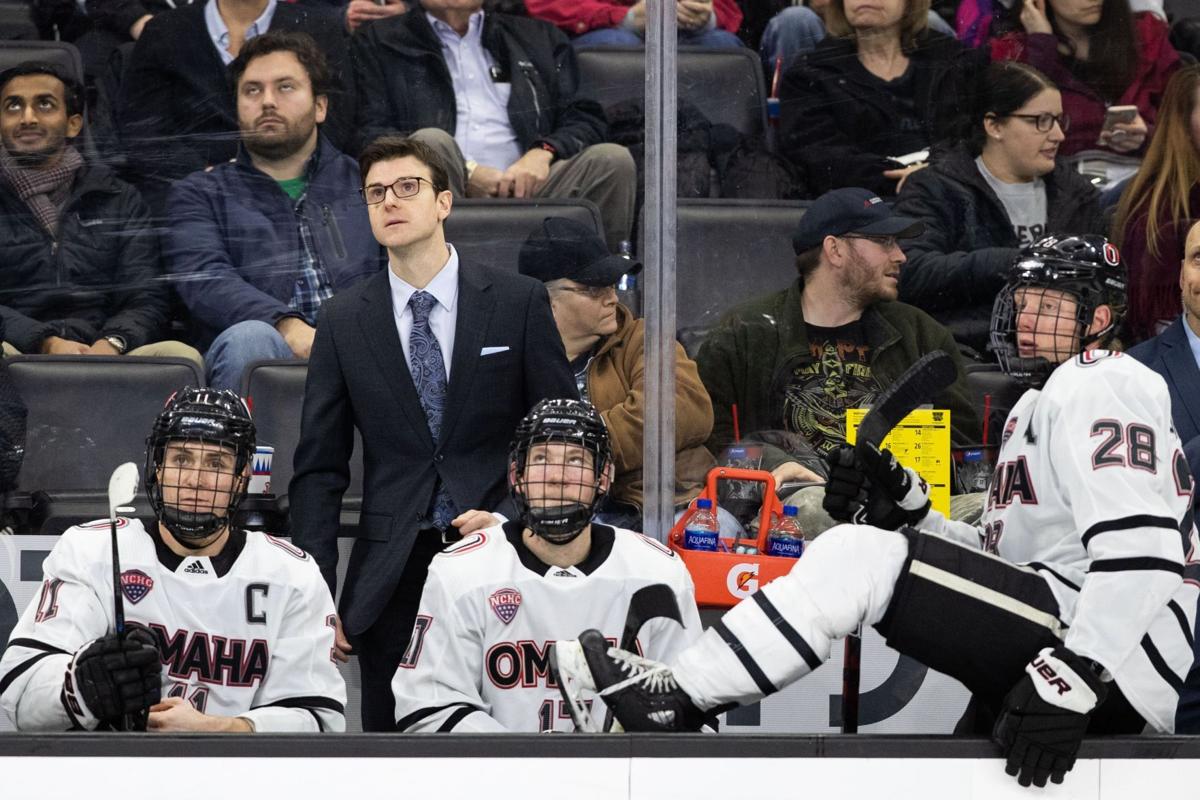 Coach Mike Gabinet said team depth and conditioning will be major factors as UNO tries to navigate the pod portion of its schedule.
Four games in the first week is an immediate challenge, and 10 games in 20 days is the second.
"It's going to be a very tough schedule," Gabinet said. "But we're just happy to get the opportunity to play."
UNO opens the season Dec. 1 at Baxter Arena against Colorado College. The Mavericks then play Thursday, Saturday and Sunday the rest of that opening week.
Gabinet's squad will play three games each of the next two weeks, finishing with a Dec. 20 game against Minnesota Duluth. The team then will have a 10-day Christmas break before resuming play Dec. 31 at home against North Dakota.
The pod portion of the schedule was formulated by the NCHC to allow games to be played in one location due to COVID-19 concerns. The plan is that league teams will resume a normal home-and-away schedule during the second half of the season.
"This is something that's never been done in college hockey," Gabinet said. "It's new for all of us, but our guys are excited about it."
Gabinet said that early crush of games definitely will test his squad.
"It's going to put a strain on the body," he said. "We're working closely with our strength coach to make sure that we're ready for it."
He added that team depth also will play a major role.
"I think that will be a positive for us," he said. "There's not a lot of difference between our top guys and our bottom guys."
Gabinet added that the home-ice factor probably wouldn't give a decided edge to the Mavs, especially if fans aren't in attendance.
"Maybe it will be a mental thing more than anything else," he said. "We'd like to think that we have a little bit of an advantage playing at home."
Mavs name Conley captain
Gabinet recently announced that senior forward Kevin Conley would serve as team captain.
Senior defenseman Nate Knoepke, junior forward Taylor Ward and sophomore forward Nolan Sullivan are alternate captains.
All four were selected by a vote of their teammates and the coaching staff.
"I am very excited to have such a strong leadership group this season," Gabinet said. "They are players who set a very positive tone in the way they prepare for practice and games."
Conley, an alternate captain last season, played in all 36 games in 2019-20. He tied with Ward for the team scoring lead with 12 goals and 15 assists for 27 points, all career highs.
The native of Wausau, Wisconsin, is entering his third season with the Mavs after transferring in as a sophomore.
Televised league games
The NCHC finalized plans regarding the conference's digital network (NCHC.tv) that will broadcast every league game this season.
For fans without an NCHC.tv subscription, there will be multiple passes available. For those only interested in watching games in the pod, that pass is available for $44.95.
The NCHC annual pass is $112.95. That provides access to all games on NCHC.tv for one year.
For fans only wanting to watch their favorite team, a school annual pass is $99.95. An NCHC day pass also will be available for $16.95.
NCHC and school monthly passes will become available after the conclusion of the pod games. For subscription questions, contact nchctv@sidearmsports.com.
Omaha World-Herald: Local Sports
The latest sports headlines from Omaha.com.