When Coach Todd Samland recently called a meeting of the University of Nebraska at Omaha women's swimming and diving team, some of his athletes feared the worst.
After all, the University of Iowa had weeks earlier eliminated both its men's and women's swim teams due to financial fallout from the COVID-19 pandemic. Was the Maverick program being axed?
As it turned out, quite to the contrary. Samland informed the swimmers — much to their excitement — that the school had decided to launch a new men's swim program.
Indeed, UNO on the surface would seem to be swimming against the tide in college athletics in announcing the launch of a new sport. The move comes at a time big financial shortfalls are prompting schools across the country to eliminate hundreds of sports programs — including at least seven NCAA Division I schools that have cut men's swimming.
But UNO officials said the addition of the sport represents some new thinking in the way athletics can contribute to the campus.
Only a few of the 30 to 35 new swimmers and divers will be on scholarship. The vast majority will pay their own way. And the school already maintains a pool for its women's team and other campus uses.
Netting it all out, UNO believes that by creating the state's only Division I program for men, it will gain a little revenue, give enrollment a boost and provide an opportunity for area swimmers to stay here and compete beyond high school.
And in the big picture, they say, the move could also contribute to Nebraska's efforts to attract and retain the young people who represent tomorrow's skilled workforce.
"We know there are a lot of students who are very capable in this area — and not only athletically capable, but academically capable — who are forced to leave the state," said Dr. Jeffrey Gold, UNO's chancellor. "That's all part of the calculation in moving this program ahead."
The college swim coaches association says UNO officials aren't all wet in suggesting the new sport could produce tangible benefits for Nebraska that go beyond sports.
Consider that roughly 60% of Division I male swimmers nationally major in science, technology, engineering or math, the STEM fields whose graduates are in high demand from coast to coast.
"These are kids that universities want," said Greg Earhart, executive director of the College Swimming and Diving Coaches Association of America. "If a public university is dialed into the needs of the state, adding swimming makes a lot of sense."
UNO is uniquely able to start a new men's athletic program.
It's among a minority of Division I schools nationally where female athletes currently outnumber males. That gives the school room to add a men's sport without running afoul of the federal Title IX gender equity law.
The new program also has a unique backstory, more than four decades in the making, whose featured players include:
USA Swimming, the sport governing body that later this year will bring the U.S. Olympic Swim Trials to Omaha for the fourth straight Olympiad.
An Omaha native who made it his personal mission to convince his hometown university to adopt men's swimming.
A former football star who a decade ago decided UNO needed to drop its football team, launching the school's ongoing athletic transformation that made the new swim program possible.
And a man who 40 years ago thought he'd swim for UNO's first varsity swim team — but instead will be its first coach.
In 1979, UNO opened its sparkly new Health, Physical Education and Recreation (HPER) Building, soon to become known to most on campus as the "Hyper Building." And one of its most impressive features was Nebraska's most modern swimming pool.
The facility boasted the state's only 50-meter indoor pool, with the latest electronic timing system and tiered grandstands that could hold 800 fans.
With such an impressive pool, the thought was that UNO could at some point start varsity swim programs for men and women. To take a step in that direction, school aquatics director Paul Cerio in fall 1980 launched club swimming teams for men and women.
One of the students to join Cerio's club team was Todd Samland.
The UNO student hadn't been a swim standout in high school, but Cerio could see he was tall and gangly with big feet that turned slightly outward — a perfect breaststroker body. Samland soon became one of the best swimmers on a UNO team that competed against other local colleges.
Cerio recalled one year talking the leaders of the North Central Conference — the Division II league in which UNO's varsity sports teams competed — into letting his club teams swim unofficially in the conference championships. His swimmers performed very well. Other coaches weren't pleased.
"You guys aren't coming back here again," Cerio was told afterward.
Despite such promise, budget realities would ultimately throw cold water on any idea of creating varsity swimming at UNO. Due to funding cuts from the Legislature, UNO in 1985 cut a number of sports, including men's track. The club teams eventually faded away.
Then in 1996, searching for an athletic identity of its own in the considerable shadow of Big Red football, UNO announced it would start the state's first Division I hockey program.
The school already was badly out of compliance with Title IX, so to add hockey UNO launched several new women's sports, including swimming and diving.
The new swim coach: Samland.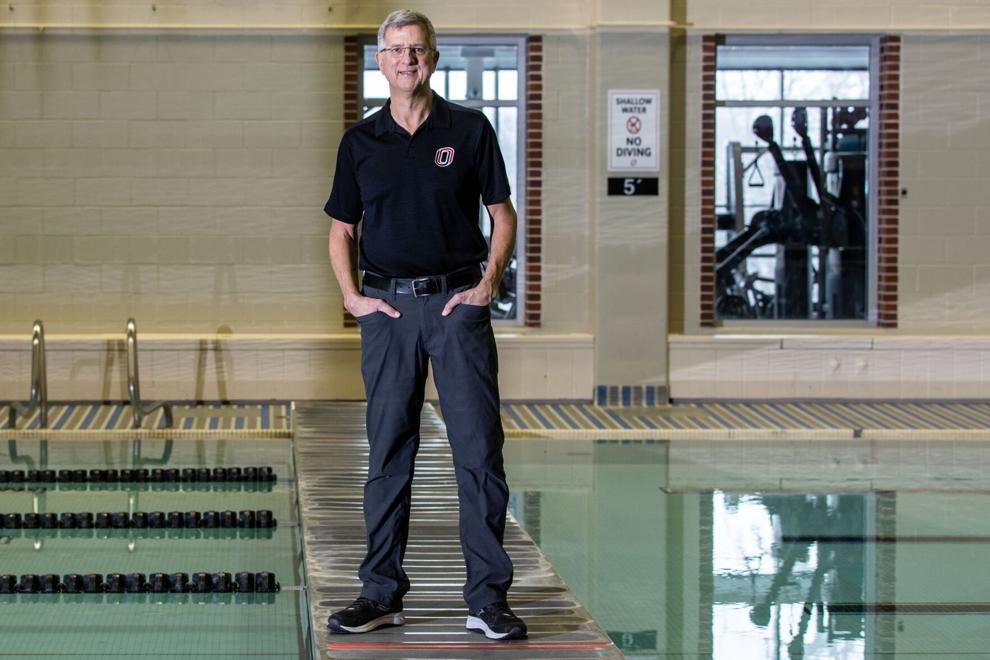 After graduating with a master's degree years earlier, Samland had taken a position in the school's aquatics department, including leading its successful master's swimming program for adults. More than two decades later, he remains the only coach the UNO women's team has ever had.
UNO's hockey team was a wildly popular draw, regularly selling out the 8,000-seat Civic Auditorium. But a decade later, the athletic department was struggling again, largely tied to the hockey team's move from the Civic to Omaha's new downtown arena. The school saw a $1 million drop in hockey profits due to smaller crowds, higher rents and loss of the beer sale proceeds.
It fell on Trev Alberts to sort out the financial mess.
Best known in Nebraska as an All-American defensive end on UNL's football team in the early 1990s, Alberts was hired as UNO's athletic director in 2009.
Alberts soon saw that other than hockey, UNO athletics had almost no profile in the community. UNO drew few fans in football and basketball; the public was little interested in Division II athletics.
Alberts thought it might help UNO gain some traction if its other teams joined hockey in Division I. But the former football star also concluded that if the school was going to move up, it couldn't take football with it. To compete at even the lowest levels of Division I would have required adding nearly 30 additional scholarships, more assistant coaches and offsetting new scholarships for women, at a cost of well over $1 million.
Alberts announced in March 2011 that UNO would be moving up to Division I. But in the process, the school would also be cutting its football and wrestling programs.
The move remains controversial to this day, but it also had one impact that was little noticed at the time.
Without the school's 120 football players, UNO now had more female athletes than men, making it among a minority of schools in total compliance with Title IX's proportionality clause.
No one knew it then, but nearly a decade later, that would open a new door for male swimmers and divers.
Mention the word "Omaha" to top national swimmers and they start dreaming of the Olympics.
The sport and the city became synonymous in 2008 when USA Swimming, the sports' governing body, announced it would stage the Olympic Swim Trials in Omaha.
Those first Swim Trials proved a rousing success. There's a reason the Trials since then have remained rooted in the city, with the pandemic-delayed 2020 Swim Trials set to be held here June 13-20.
USA Swimming promotes the sport at all levels, realizing that a kid taking swim lessons today could become the next Michael Phelps. And as part of that effort, it also supports swimming at the collegiate level — the main training ground for Olympians.
Overall, college swimming has been growing. Between 1982 and 2020, the number of NCAA programs sponsoring men's swimming increased from 377 to 450, while women's programs grew from 348 to 566.
But most of that growth has been at small private schools that don't offer any scholarships.
Meanwhile, often for budget reasons or to meet Title IX's requirement of showing progress toward gender equity, dozens of Division I schools have dropped men's swimming, including UNL in 2001 and Creighton University in 1990.
Between 1982 and 2020, the number of Division I men's swim programs dropped from 181 to 132 — even as the total number of Division I schools grew by 75. The percentage of Division I programs sponsoring the sport fell from 66% to 38%.
Women's Division I swimming moved in the opposite direction in that time, growing from 161 programs to 193.
Seeking to stem such concerning tides, USA Swimming in 2015 provided a grant to the college swim coaches association to hire a new director of research and programs. And one of the new employee's primary jobs would be to sell colleges on the benefits of adding swimming teams.
As it happened, the man hired for the new job was a 44-year-old Omaha native.
Greg Earhart had been a swimmer at Ralston High School. He went on to swim at a small college in Iowa and then went into college coaching.
From the day he started his new post as a swim program salesman, Earhart had in mind he wanted to one day get a Division I men's team started in his hometown.
"I will just say I had a little more skin in the game in this proposal than in other places," Earhart said recently.
Neither Earhart nor Samland remember exactly the first time they talked about it. But at some point about five years ago, the two began informal discussions about starting a men's team at UNO.
To Earhart, it seemed a natural fit: the only Division I program in the state, and in the city that hosts the Olympic Trials.
Of course, finances were the biggest hurdle. But a big part of Earhart's job was providing individualized business plans showing schools why swimming could make sense financially.
The NCAA allows a maximum of 9.9 scholarships to be split among the members of a men's swim team. But generally, only the schools in the "Power Five" major football conferences tend to fund the sport at that level. Across other Division I schools, the average number of men's scholarships is about two.
Given that swim rosters typically run between 25 and 35 swimmers, that means more than 90% of the cost of tuition and room and board for swimmers at those schools is covered by the athletes themselves. Earhart said those dollars can more than offset the operating costs of the program, making swimming a financial winner.
Earhart said private schools, which tend to rely more heavily on tuition, particularly understand the value of attracting students that way. Almost all the schools that have added programs under his watch in recent years are small private schools.
By 2018, the data-driven Earhart had put together a formal proposal pitching Alberts and other UNO leaders on the advantages of starting men's swimming.
He included how the average college swimmer scores 6 points higher on the ACT than their high school peers, and how they often study in STEM fields.
How these well-above-average students are typically willing to pay their own way for the chance to compete at a good college like UNO.
How being in the home city of the Swim Trials would give UNO a recruiting advantage.
How a men's team could make the UNO women's team better, too. Female swimmers prefer to attend schools that have both teams.
The pitch ultimately found sympathetic ears among UNO administrators.
When Gold became UNO's chancellor in 2017, he invited out-of-the-box thinking that could advance the campus. In that spirit, Alberts brought Gold a formal department proposal for men's swimming and diving.
The business plan Alberts laid out showed there would be some added costs for athletics.
While Samland would coach both teams, he'd need a new men's assistant, and the schools' current part-time diving coach would go full time. There would be travel costs, too, as well as the cost of the three scholarships that would be spread among 30 or more swimmers.
But the program would also attract a net of 27 or more tuition-paying students, including some who would pay the higher out-of-state rate.
Alberts said his "conservative" estimates, based on a total squad of 26, found that team operating costs of about $200,000 would be more than offset by $350,000 in tuition, fees and room and board.
In addition, Alberts said he expects the school to attract more private support, calling Samland one of the department's best fundraisers. The two are hoping to tap some of the community backing that has made the Olympic Trials such a success in Omaha.
"This community has made a very big investment in swimming," Alberts said.
Alberts also pointed out how the sport would actually balance athletic opportunity at the school, leaving it with roughly 165 male athletes and 165 on the women's side. Scholarship dollars would also become balanced.
"We worked hard to create a strong business case that swimming will increase overall revenue and fit well within our sports offerings," Alberts said. At UNO, he said, athletics are an integral part of the university and its broader goals.
Gold was soon convinced, and he and Alberts ultimately sold a regents committee and the university's central administration, too. In fact, the original plan called for the school to announce the team last spring and have it initiate competition this past fall.
But when the coronavirus suddenly shut down the country and wracked university budgets, the plan was put back on the shelf. With the university system facing a $43 million budget shortfall, the optics and timing just weren't right.
The pandemic has likewise been devastating for Division I swim programs across the country, particularly at big-time schools that give full complements of scholarships.
The Big Ten's Iowa and Michigan State dropped both their men's and women's programs. Western Illinois, which competes in the Summit League with UNO, dropped both its programs, too.
In all, Division I schools last year announced cuts to seven men's programs and six for women. But Earhart said the carnage could have been worse.
His association has spent much time in recent months making the case for the value of swimming, helping coaches stave off a number of program cuts. A judge last month also subsequently blocked the elimination of the Iowa women's team on Title IX grounds, and East Carolina backed off on cutting its women's program in the face of a Title IX challenge.
Gold said UNO still has work to do to bring its budget into balance. A big infusion of COVID-19 emergency aid recently passed by Congress should help a lot.
In the end, with widespread coronavirus vaccines on the horizon, university leaders decided last fall it was time to launch the new swimming and diving program. Gold said he has no trouble defending its benefits to the state.
"We're all always concerned about the optics," he said, "but I'm more concerned about doing the right thing."
The low-key announcement through a press release Dec. 11 belied how unique the school's move was: UNO became only the second public university nationally in the last 35 years to launch a brand new Division I men's swim team.
Now Samland is at work recruiting, announcing last week on Twitter he had secured the new team's first commitment. With UNO offering the only Division I program in Nebraska, Iowa and Kansas, he's finding a lot of interest.
The coach has orders from Alberts to recruit at least 13 swimmers by next fall — the minimum figure required for the program to at least break even its first year. He's hoping for more than that.
Last week, the 58-year-old Samland recalled his own days on the school's original club team, and the hope back then that the school would soon have a varsity team.
"We finally got there," he said.
---
Notable moments from Trev Alberts' playing and administrative career