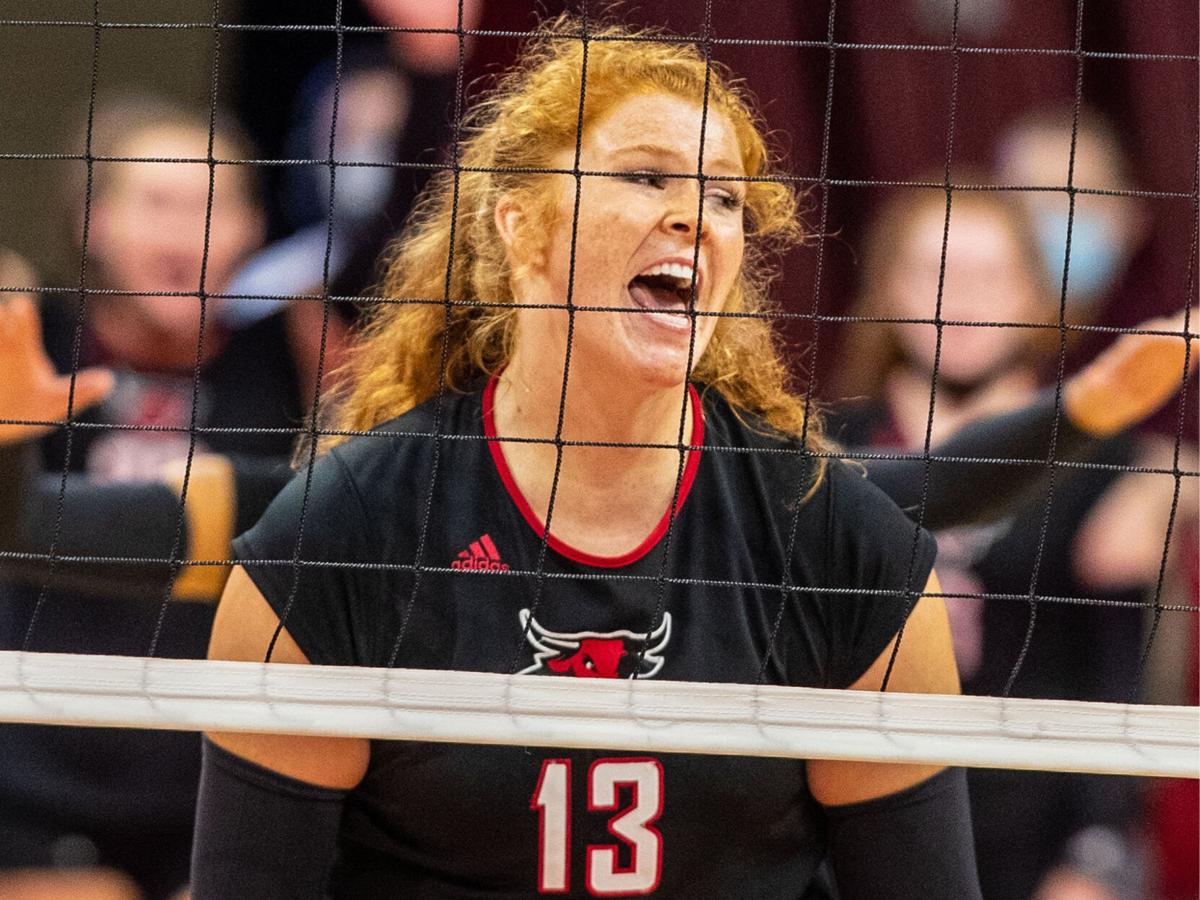 UNO set the tone for Saturday's Summit League sweep of South Dakota State with a 12-0 run in the first set.
An ace block by Rylee Marshall and Sami Clarkson started the run, making the score 10-7. That duo combined for another block to make it 20-7 near the run's end.
That's nothing new. The Mavericks have been productive with their block during league play, with 11.5 blocks Saturday — their most in a three-set match this season.
Marshall, a senior middle blocker from Fort Calhoun, has been in the middle of a lot of those. A three-year starter, Marshall has been playing her best volleyball this season.
"She's doing a lot of things well right now," coach Matt Buttermore said.
Marshall was in on a season-high eight blocks Saturday and is averaging 0.99 blocks per set. That number is 1.21 in Summit play.
She also has the team's second-best hitting percentage at .263. She trails only right-side hitter Sadie Limback, who leads the league in kills at 3.76 a set.
Marshall said familiarity with her teammates — Limback and setter Clarkson have also started at least three years — and the coaches has helped elevate her play. Just as important, she thinks she's playing with a better tempo than earlier in her career.
"He's slowed down my timing (on attacks)," Marshall said of Buttermore. "And I have confidence. That's helped me become a better attacker."
Three weeks ago, Marshall even picked up her first weekly league honor: defensive player of the week. For the award, she had 11 blocks in a pair of sweeps, and in one of the wins, she had eight kills in 11 attempts for a .727 hitting percentage.
Marshall was pleasantly surprised by the honor.
"I don't really think of myself as a defender, but I am a middle blocker," she said with a smile.
UNO finishes a three-game homestand at 7 p.m. Tuesday with a key match against UMKC. UNO and Denver are tied for first place in the Summit at 7-1, followed by South Dakota (7-2), which lost to Denver on Saturday after beating UNO last Thursday, and UMKC (6-2).
The Mavs and Kangaroos split a pair of five-set thrillers last season, with UNO winning the final set 16-14 on the first night and UMKC winning 15-13 the second.
"That's going to be a tough one," Buttermore said. "We're going to get ready to play a tough match."
Tuesday's match also marks the midway point of the Summit regular season. UNO will play seven of its final nine matches on the road.
---