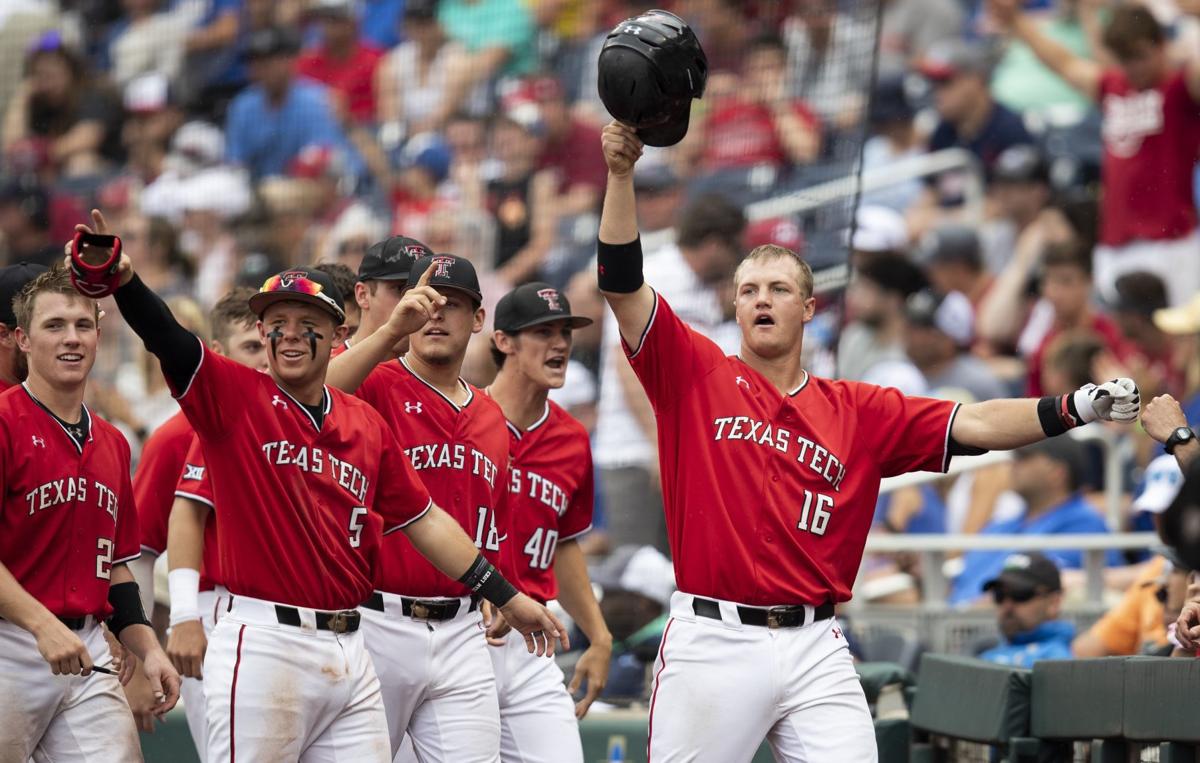 Texas Tech coach Tim Tadlock had a hunch his team would respond well in Monday's College World Series elimination game.
His intuition was correct.
Cody Masters laced a two-out triple to right-center field in the bottom of the eighth that scored Cameron Warren to put the Red Raiders (45-19) ahead, then reliever Taylor Floyd pitched out of a two-on, no-out jam in the ninth to preserve a 5-4 win over Arkansas.
Texas Tech will face Florida State in an elimination game Wednesday.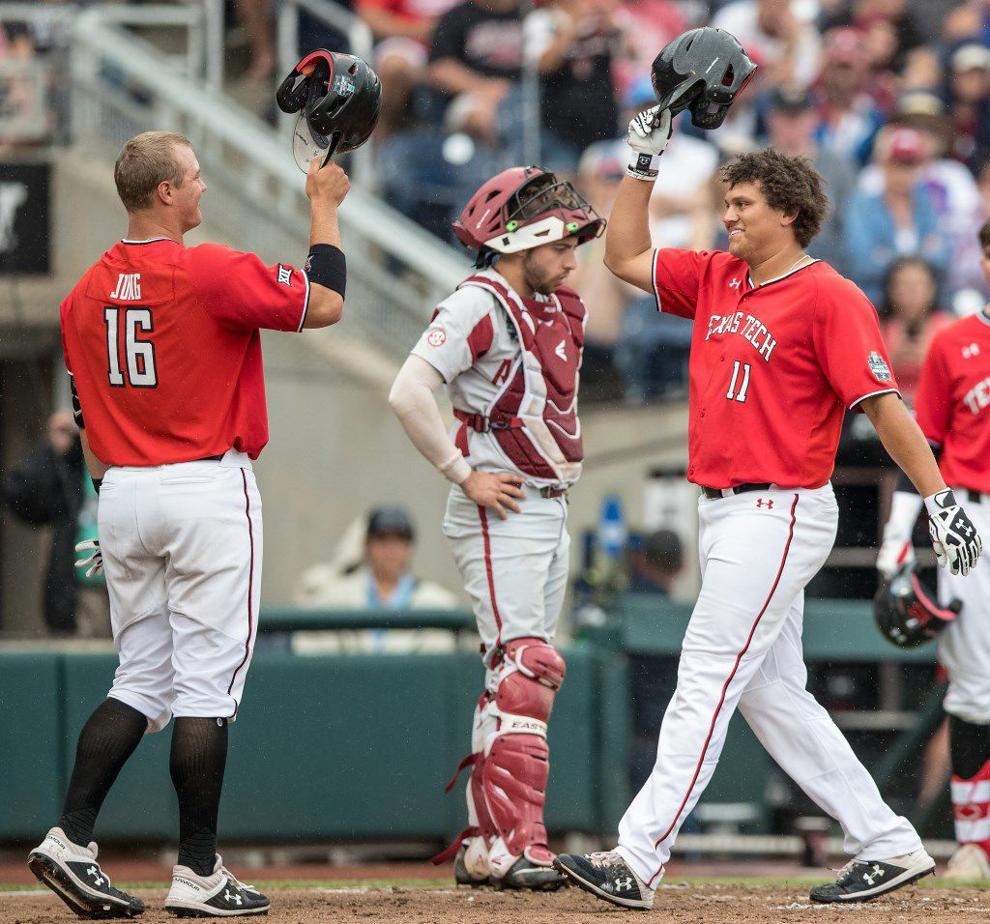 "We just kind of had a hunch after the other day these guys — they're going to be fun to watch with their backs against the wall," Tadlock said. "They like playing baseball, and they like preparing. It's just one of those deals; it's going to be fun to watch them."
Warren drew a two-out walk to start Tech's eighth-inning rally. With a 3-1 count on Masters, Warren took off on the pitch and was able to score on Masters' triple.
"It got so loud, and I heard it off the bat, and I was like, 'I think it's gone,' but I was like, 'I've got to run,' " Warren said. "Then I saw (coach) J-Bob (Thomas) at third base telling me to go, so I was like, 'Come on, big boy, you've got to score.' "
Masters, who was retired in his first three at-bats, changed his approach against reliever Cody Scroggins before his triple, which hit off the wall and just missed being a home run.
"All day I was kind of getting myself out on the change-ups and the sliders," Masters said. "So early on I was kind of looking to hit that, I guess, and I got up 3-1, so I kind of scooted up. (Scroggins) was missing away a little bit, so I figured he'd go there again and I got ahold of a low-and-away pitch, I believe."
The Razorbacks (46-20) put the first two runners on in the top of the ninth, as John McMillon hit Jacob Nesbit with a pitch, and Floyd, who came on in relief, gave up a bloop single to Christian Franklin.
Floyd retired the next three hitters, getting Trevor Ezell on an infield pop-up, striking out Casey Martin and retiring Matt Goodheart on a flyout to left field to end the game and keep Texas Tech's season going.
"Well, Floyd came in and did a great job," Arkansas coach Dave Van Horn said. "He had an opportunity to let that thing slip away, and he didn't. ... You know, but it was looking good, but you've got to get them over and in, and we didn't."
Texas Tech starter Caleb Kilian went seven innings and allowed three runs and six hits while striking out nine.
"I just felt like I was commanding my pitches from the very beginning, so I just kept doing the same thing," Kilian said. "I didn't let it get in my head that they were hitting me or anything."
After a Goodheart infield single scored Martin to put the Razorbacks ahead 3-0 in the third, Kilian retired 13 of the next 17 hitters.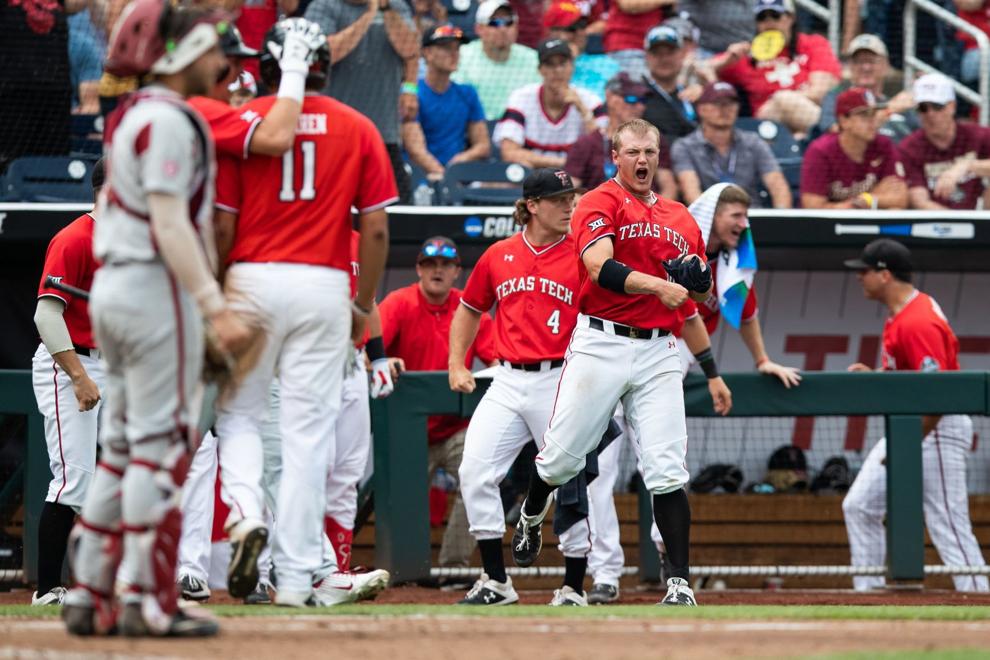 "Caleb Kilian gave us an opportunity today that the way he pitched gave us an opportunity to come through late in the game," Tadlock said.
The Red Raiders scored their first four runs on home runs. Warren hit a two-run shot in the fourth to cut Texas Tech's deficit to 3-2. Easton Murrell's first home run of the season tied the game 3-3 in the fifth, and Josh Jung gave Texas Tech its first lead of the CWS with a solo home run to right-center in the sixth.
Heston Kjerstad, who started the scoring with an opposite-field solo home run in the second, and Franklin had two hits apiece for the Razorbacks.
Arkansas dropped a pair of one-run games and has lost four consecutive CWS games.
"You know, one swing of the bat in either game for how close they were could have changed the outcome," Kjerstad said. "You know, it didn't happen for us, but we'll get back after it."
Spotlight
Cody Masters lined a 3-1 pitch from Arkansas reliever Cody Scroggins off the wall in right-center that drove in Cameron Warren from first with the go-ahead run and gave Texas Tech its first lead at the CWS. Masters had been 0 for 3 up to that point, and he just missed hitting a home run.
While he did not factor in the decision, Texas Tech starter Caleb Kilian had nine strikeouts while scattering six hits and giving up three runs. His nine strikeouts matched a season best, which he had recorded twice in starts against West Virginia. After allowing three early runs, Kilian retired 13 of the final 17 hitters he faced.
With runners on first and second and no outs in the top of the ninth and his team down a run, Arkansas coach Dave Van Horn elected not to have leadoff hitter Trevor Ezell bunt. Ezell was second on the team with 83 hits. After the game, Van Horn said, "I just didn't feel good about bunting one of my best hitters."
In a collision that might have reminded some in attendance of a running back colliding with a linebacker, Arkansas' Heston Kjerstad, 6-foot-3, 200 pounds, collided with Warren, Texas Tech's first baseman (6-3, 230) as Kjerstad was running to first after a dropped third strike. Kjerstad was safe. Neither player appeared to be injured, and both remained in the game.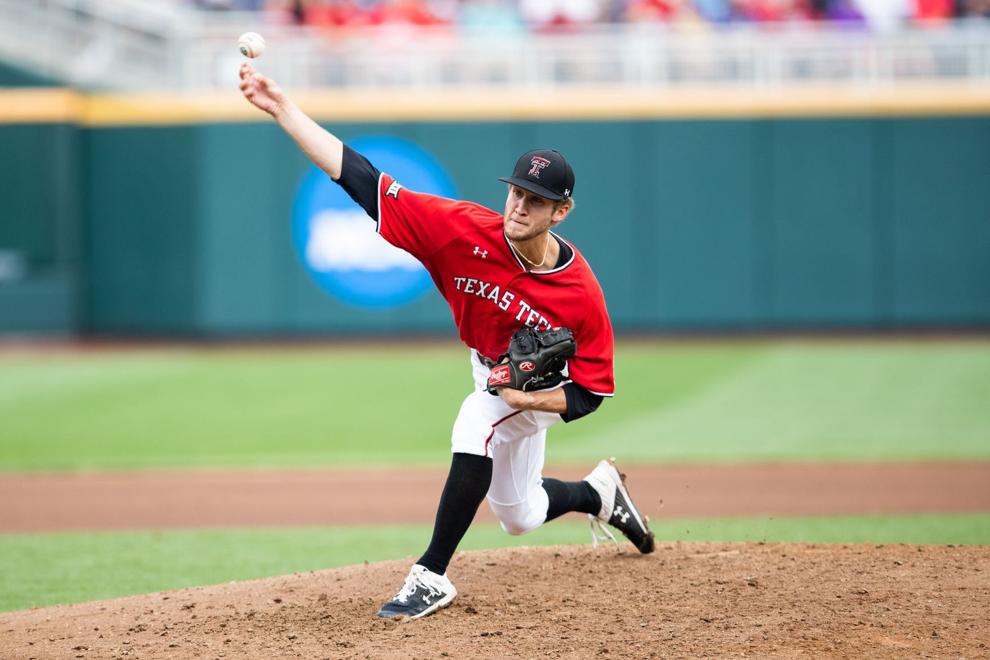 The game's four home runs — by Kjerstad, Warren, Easton Murrell and Josh Jung — tied a TD Ameritrade Park record. Monday was the sixth time teams had combined for four homers at the park and the fifth time it had happened in the College World Series. Most recently was Game 9 of the 2018 CWS, an 11-6 win for Oregon State over North Carolina.
Texas Tech's win was its first at the CWS over a team other than Florida. In four CWS appearances, the Red Raiders are 2-0 against Florida and 1-7 against any other team.
The Red Raiders bounced back from an opening-game loss as well as from an early three-run deficit in this game. Texas Tech coach Tim Tadlock thought his team would be loose and would play well in an elimination setting, and there's no reason to think his team can't keep that going.
"You know, just really proud of the team. Told them that after the game. Told them to walk out of there with their heads high. We were real close to winning two games. We ended up losing two one-run games, kind of hard to swallow. But overall, it was a really good year." — Van Horn
Texas Tech first baseman Cameron Warren: "It was probably more fun to hit it out (for a home run). I'm still kind of tired still probably a little bit (from scoring on Masters' triple in the eighth)."
Photos: 2019 CWS Day three: Arkansas, Texas Tech, Florida State, Michigan