Can you take your purse in the stadium? How late can you tailgate? When's that fireworks show again?
There's lots to know before the first pitch. Whether it's your first time attending, or you're a College World Series veteran, here's a run-down guide and everything you need to know to prepare for the CWS.
Saturday: Game 1, Oregon State vs. North Carolina, 2 p.m.; Game 2, Mississippi State vs. Washington, 7 p.m.
Sunday: Game 3, Arkansas vs. Texas, 1 p.m.; Game 4, Florida vs. Texas Tech, 6 p.m.
Monday: Game 5, 1 p.m.; Game 6, 6 p.m.
Tuesday: Game 7, 1 p.m.; Game 8, 6 p.m.
Wednesday: Game 9, 6 p.m.
Thursday: Game 10, 7 p.m.
Friday, June 22: Game 11, 2 p.m.; Game 12, 7 p.m.
Saturday, June 23: Game 13, 2 p.m.; Game 14, 7 p.m.
Sunday, June 24: 8 a.m., Road to Omaha Run benefiting the Omaha Parks Foundation; to register, go to ncaa.com/cws
Monday, June 25: CWS Finals Game 1, 6 p.m.
Tuesday, June 26: Finals Game 2, 6 p.m.
Wednesday, June 27: Finals Game 3 (if necessary), 6 p.m.
» Fan Fest presented by Capital One will be open every day of the CWS. It features food trucks, vendors, a Ferris wheel and more. It opens two hours before each day's first game in Lot C at 10th and Mike Fahey Streets and runs until the day's second game of the day starts.
» The annual College Home Run Derby is June 30 at 7 p.m.
What's planned for the Opening Celebration?
» Open team practices are 9:10 a.m. to 5 p.m. Friday. New teams will take the field every hour. Players will be available for autographs for 45 minutes, starting 30 minutes after team practice. For a list of team practices, go here.
» Parade of Teams starts at 8:30 p.m. Friday at Creighton's Morrison Stadium. All eight teams will march east from Mike Fahey Street to TD Ameritrade Park.
» Opening ceremonies start about 8:45 p.m. Friday at TD Ameritrade Park. The free event will feature team introductions, U.S. Golden Knights parachute team, LOCASH concert and fireworks.
» Parking is available near TD Ameritrade Park in Lot A, for $10, or the CenturyLink Center garage for $12. Don't try parking in Lots B or D unless you have premium seats or are a season ticket holder. Accessible parking is available free-of-charge in Lots A and B on a first-come, first-served basis.
» All stadium lots will open at 8 a.m. on CWS game days and will close 90 minutes after the event. There's no overnight parking allowed at any TD Ameritrade Park or CenturyLink Center lot.
» No motor homes (or other RVs) will be admitted at the TD Ameritrade Park/CenturyLink Center lots either.
» City surface lots, garages, metered spaces and Creighton University are available for parking. If you leave your quarters at home, you can use the ParkOmaha app to pay the meters. Sunday is free at meters.
» There is a bicycle valet on Mike Fahey Street between 13th and 14th. For motorcycles, park on Mike Fahey Street along 14th.
» Tailgating is allowed at all TD Ameritrade Park, CenturyLink Center and Creighton University parking lots
» Tailgaters must stay within parking stalls and can't stake any tents into the ground. For safety purposes, all tents and equipment must be put away before entering the stadium. For more information, go here.(tncms-asset)53f4559a-6f37-11e8-87c8-00163ec2aa77[0](/tncms-asset)
what about shuttle buses?
Want to get to the game but not worry about parking? The City of Omaha offers a few options every day of the tournament, including a Stadium Circulator shuttle bus, regular Metro bus routes and a rent-a-bike program with drop-off and pick-up stations throughout Omaha.
For 25 cents a ride, the Stadium Circulator bus might be the best option, looping through downtown.
» For the Opening Celebration, it will run from 9:30 a.m. to 30 minutes after the festivities end; on game days, it will run two hours before the first game and two hours after the last out of the last game of the day.
» Pick-up and drop-off locations include downtown hotels, the Old Market, CWS Fan Fest and the ballpark. For more, go here.(tncms-asset)5f7706b6-6f27-11e8-9c5b-00163ec2aa77[1](/tncms-asset)
On opening weekend, check in at any Grab A Buick tent for a free ride.
» Grab A Buick vehicles are available 10 a.m. to 8 p.m. Friday, noon to 8 p.m. Saturday and 11 a.m. to 7 p.m. Sunday.
» Locations are 322 S. 10th St. and outside of CenturyLink Center, 455 N. 10th St.
» Rides must be within a 7-mile radius of hubs, and can't take fans to private homes. Drivers won't wait for fans to run inside an establishment. No eating or open containers in the vehicles.
» Only single reserved seats are still available to purchase directly from the NCAA in advance. More seating options can be found on secondary ticket sites, such as the NCAA Ticket Exchange or StubHub.
» General admission ticket books are also on sale online, by phone and in person at the CenturyLink Center box office. A $90 ticket book includes 10 tickets, which can be used all at one game or at separate games.
» General admission seating is in the outfield bleachers in sections 125 to 136. The first 5,500 people will get seats. Additional ticket holders may be allowed in as standing room only. Accessible seating is first-come, first-served.
» Trying to find last-minute tickets? Every day during the CWS, a limited number of reserved seats can be bought at 10 a.m. at the TD Ameritrade Park box office. Tickets are limited to four tickets per person, per game, and are sold through a random drawing.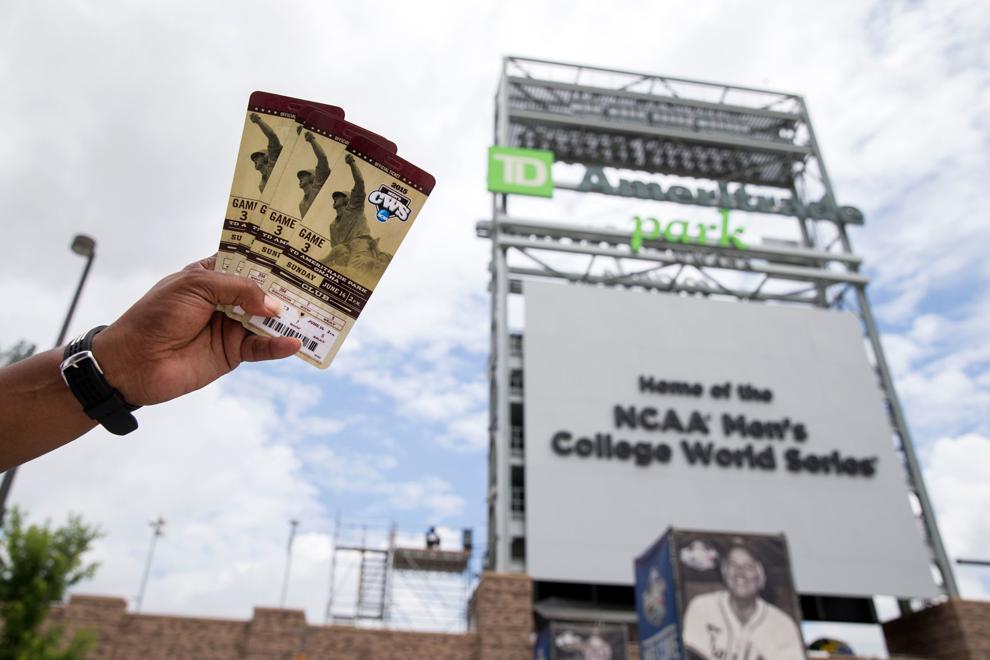 Yes. Beer, wine and alcohol will be sold inside the stadium. You'll need your ID and will be able to order up to two drinks at once for $6 to $9. Alcohol won't be served after the seventh inning, and customers who seem overserved will be cut off.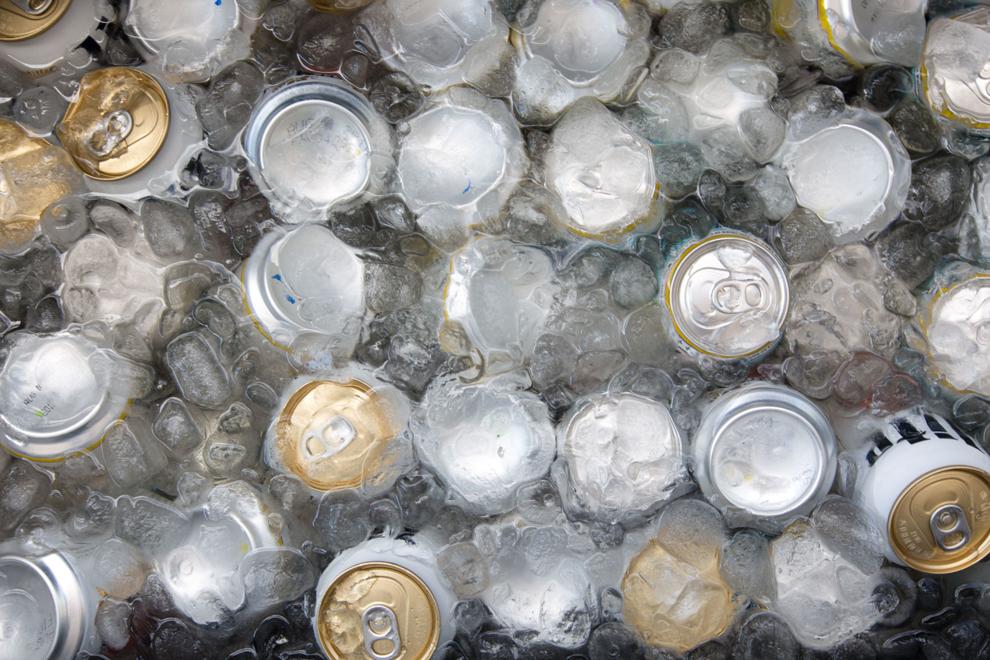 Can you tour the stadium?
Yes. Fans can tour the park, including the clubhouse, batting cage, dugout and radio booths, at 9:30 a.m. daily, Monday through Friday and 10:30 a.m. Wednesday and Thursday. Tickets are $7 and may be purchased at the box office. Tours will meet at the Road to Omaha Statue on the corner of 13th and Cuming Streets.
What security is in place?
Fans entering the stadium can expect bag checks and metal detector wands. Local law enforcement will be at all entrances of the stadium and inside the stadium, along with event security staff. Concrete barriers have also been installed along the sidewalks by TD Ameritrade Park to protect pedestrians.
Additionally, the Omaha Police Department asks the public to immediately report any suspicious behavior or unattended items to nearby officers, or by calling 911.
What CAN you bring into the stadium?
» Clear bags and small clutch bags not exceeding 4.5-by-6.5-inches. For more on the clear bag policy, go here.
» Cameras are allowed in the stadium for personal use, but must have a lens shorter than 1 inch. No extra detachable lenses are allowed.
» One empty clear plastic bottle per person, 20 ounces or smaller.
What CAN'T you bring into the stadium?
» Other bottles or cans, outside food or drink or coolers.
» Purses, backpacks, camera bags, binocular cases, fanny packs and opaque bags of any kind (with the exception of medically necessary bags).
» Frisbees, beach balls, large umbrellas or noise-making devices (i.e. bells, whistles, horns, etc.)
» Illegal drugs or alcohol, weapons of any kind, including lawfully concealed firearms, or any item deemed to challenge public safety.
» Commercial signs or banners (without the prior approval of MECA).
» Drones, fireworks, laser pointers, selfie sticks, hoverboards.
» Gates open two hours before game time; parking lots open at 8 a.m. all game days.
» Don't have a bag? Jump in the express line at Gate 4.
» People can leave and re-enter the stadium during a game, but they must be screened again for re-entry.
» Fans must leave between games. Gates will reopen either two hours before the next game or, if less than two hours, once the stadium had been cleared.
» TD Ameritrade Park is a smoke-free facility. Smokers must stay 20 feet away from the gate entrance. Electronic or vapor cigarettes are also prohibited.
» Per Nebraska law, open containers of alcohol are not allowed on public streets. Officers will be enforcing "open container" and "minor in possession" violations.
» Temporary radio station, AM channel 1670, can be heard within 3 miles of the stadium and will broadcast CWS info.