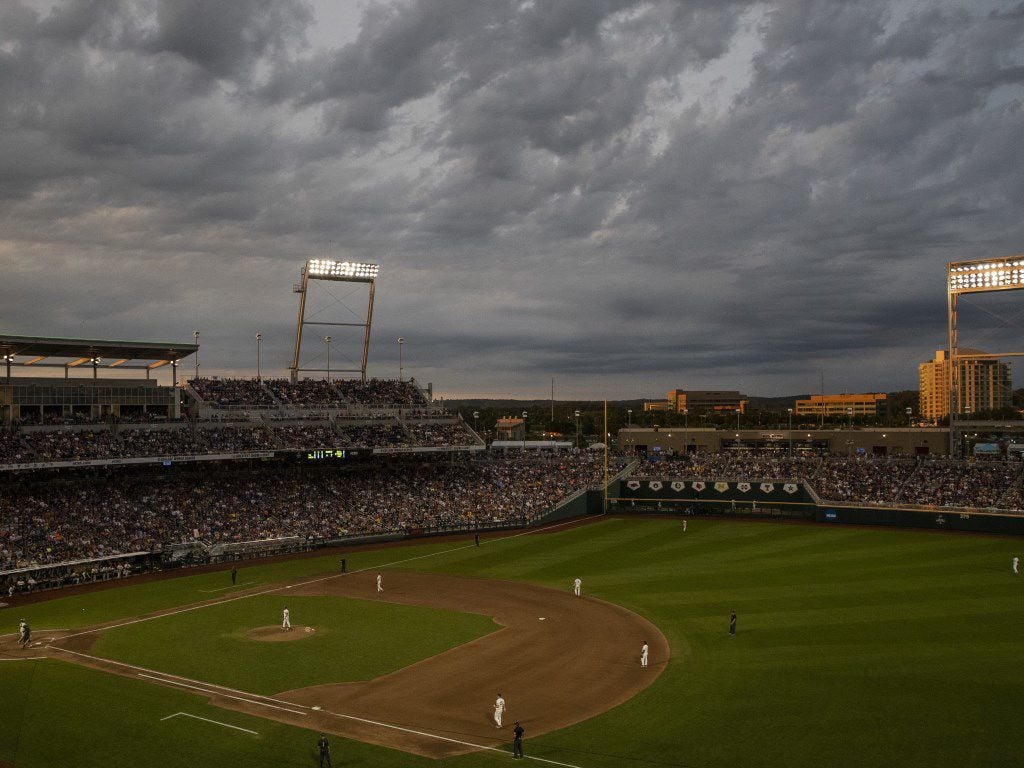 Imagine the final College World Series dogpile happening in late July. Think of regular-season home games in June and opening day in mid-March.
These aren't necessarily new ideas. But because of a global pandemic — and the financial mortality that athletic departments are feeling as a result — all of it could become reality for NCAA baseball in a few years.
John Anderson's 39th season as Minnesota coach was his most abbreviated because of the coronavirus. Even before the season ended prematurely, he wondered about the future of the college game. It's been stuck at a limit of 11.7 scholarships for years. Programs can't get legislation passed to allow their third assistant coach — currently a volunteer — to be paid. Roughly 5% of nearly 300 Division I programs are profitable.
Then COVID-19 struck and thrust unexpected free time upon college coaches like Anderson. Michigan coach Erik Bakich created the "New College Baseball Model," a 35-page proposal that calls for a later start to the season and lays out reasons for the change, including money, academics and student-athlete health. His counterparts around the country have been able to give more feedback and thought to the future of college baseball than they ever could normally.
"We're trying to be proactive," Anderson told The World-Herald. "Our game has gained so much momentum lately — but if it doesn't happen now, I don't know where our sport goes long term."
For once, the winds of change aren't howling just from Northern schools pointing at the competitive advantage that warm-weather teams enjoy when the season begins in mid-February and only they can play home games. Regardless of geography and conference, every baseball program could stand to make more money — or, in most cases, lose less.
With college football revenue and athletic department budgets in total flux, that urgency has never been stronger.
"We know we're going to have a short-term impact with decreased budgets," Bakich told reporters during a video conference last month. "But we may not like some of the long-term impact if we don't do something to get ahead of this."
A pricey pastime
How much of a drain can baseball programs be on athletics budgets? Just look at some of the brands most familiar to Omaha in recent years.
Florida won the CWS in 2017 but generated $1.46 million in total revenue that fiscal year against $5.03 million in total expenses — a net loss of $3.57 million. Texas Tech qualified in 2018 and 2019 and lost a combined $5.6 million. LSU and Arkansas were both profitable in 2019, but their respective gains of $464,109 and $855,055 are not major assets for department-wide bottom lines that benefit from surpluses in the tens of millions from football and millions more from men's basketball.
Still, lucrative television money from the major sports has spilled over and helped embolden baseball programs to spend. Florida will debut a $65 million baseball stadium next spring. Oklahoma State opened a $60 million park this spring — though the season was halted before the Cowboys could play there. Kentucky broke in a new $50 million venue in 2019. Most Big Ten schools, though not traditional baseball powerhouses, have undergone significant facility renovation or construction in the last few years.
With college football facing an uncertain immediate future, baseball is among the other sports paying the price within athletic departments. Furman eliminated its program last month. So did Bowling Green, until local alumni spearheaded a fundraising effort to reinstate it. Chicago State cut its team Monday. Some Power Five programs have long since moved on from baseball including Wisconsin, Colorado, Iowa State and Syracuse.
"I would tell my friends I'm afraid there are going to be 100 college baseball programs discontinued because of the virus," LSU coach Paul Mainieri told The Advocate last month. "I hope I'm wrong, but I'm afraid we're just seeing the tip of the iceberg."
The directive from athletic administrators nationwide has been clear — cut costs or generate extra cash flow. That's how college baseball moves forward.
More and more coaches believe the answer could simply be playing baseball when it was intended to be played.
Raising revenue
Kyle Peterson has been to college baseball diamonds all over the country — a perk of his job as ESPN's lead analyst for the sport.
But the Omaha native says there's a myth that needs debunking when it comes to visiting blue-blood programs in mid-February. Most cities — he named Nashville (Vanderbilt), Louisville, Charlottesville (Virginia) and Chapel Hill (North Carolina) — aren't all that much more enjoyable than frigid Midwest locales.
"From a fan standpoint, it's not comfortable in most of the country that first month we play baseball," Peterson said. "These places that are seen as 'warm weather' … I mean, I got iced out in Fort Worth (Texas) a few years ago in early March."
Perhaps the most persuasive argument for the new baseball model is how it would bring more fans to the stands. D1Baseball.com examined monthly attendance of the 16 postseason hosts from the 2019 NCAA tournament. Of the group — reps included six from the SEC, three ACC, three Big 12 and three Pac-12 — 11 reported even or better paid attendance in May than February. Oklahoma State, for example, averaged crowds of 1,401 in February and 3,710 in May. Louisville jumped from 630 in February to 2,538 in May.
"The reality is you have 10 weeks of an outdoor sport from practice to games before the first day of spring," Louisville coach Dan McDonnell told the hometown Courier Journal last month. "And it's not like the first day of spring is 75 and sunny. Unless you're in Miami or San Diego, it's very easy for a college baseball coach to go, 'Man, (a later start) would be great.' "
Nebraska in March averaged 4,452 in paid attendance from 2016-19, according to World-Herald analysis. The number jumped to 5,578 in May. Creighton's March average in 2018 and 2019 was 1,955 and rose to 3,710 in May. The in-state rivals play twice a year at TD Ameritrade Park — the average attendance of their first clash in those two seasons was 3,831 while the second averaged 9,758.
Beyond paid attendance, bigger crowds also mean more revenue for concessions and merchandise. Premium ticket sales can account for close to half of generated revenue for some teams, according to financial reports. LSU and Arkansas, for example, make millions through available club seating options.
Perhaps the biggest concern raised by administrators is the increased expense of keeping student-athletes on campus for four extra weeks when school is not in session. That cost — along with the finances required to host an additional couple of home series — could offset the benefit of more fans in the stands for some programs. As Bakich likes to say, the proposal fits most teams, but not all.
Another perk to a later start is essentially eliminating the overlap with college basketball — a fight that baseball has lost repeatedly in the minds of fans and TV executives. Viewing windows open up in April, and the CWS could have a national audience in late July when it wouldn't compete with the NBA Finals. Regular-season contests would gain television viewers, too, expanding on a largely untapped aspect of the college game.
"Even in warm-weather places it's still cold in March," Bakich said. "But it's also basketball season. A collegiate fan can only invest their energy in so many places."
Lowering costs
Northern teams take some unique road trips early in the year. They also run up the tab quickly for athletic departments.
Big Ten teams, for example, hosted a combined 12 home games last February while many Southern programs held that by themselves. Nebraska trekked to Texas, California and Arizona. Creighton went to Seattle, Las Vegas and San Jose State. Recent CWS champion Oregon State opened in Arizona, Mississippi and California. Most cold-weather schools don't make their home debuts until a month into the season in mid-March.
Less travel with a later start could mean big savings, Bakich's proposal suggests. His research indicates that a Big Ten or "competitive Northern team" spent an average of $232,728 on travel during the first month of the last five seasons. Conversely, it says, a similar period at the end of the season when conference action is playing out costs teams an average of $88,864.
Southern teams, while not nearly as affected, wouldn't have to pay guarantees in the range of $10,000-$20,000 to teams coming to them.
Nebraska coach Will Bolt told The World-Herald last month "everything is on the table" as the program seeks to trim expenses. It lost $1,361,522 for the 2018-19 year, according to university financial reports, marking its largest deficit in at least the last seven years.
"Regardless of what goes on, I think we're all going to be much more mindful when it comes to making sure we're financially responsible," Bolt said.
Other elements of the proposal make sense to coaches as well. Nine weeks of preseason ramp-up time instead of five while shortening the fall practice window. More offseason recovery time for athletes. Fewer missed classes.
The next step, Bakich said, is to find athletic directors who will join the cause and help get the proposed changes into the NCAA legislative process. A realistic hope is that they could become reality by 2022 or 2023.
But all parties agree the primary motivator is money. Which is why — unlike with past issues like competitive advantage or scholarship increases — real change could be coming to college baseball.
"The financial challenges for everybody across the country are similar in some ways," said Anderson, the Minnesota coach. "Athletic departments are going to sit down and look at what the expenses are and take a closer look at how we're doing business. Our level of support has been strong. I think (the model) has a good chance going forward."
Photos: College World Series through the years
Check out the best photos from the College World Series, dating back to the 1950s.