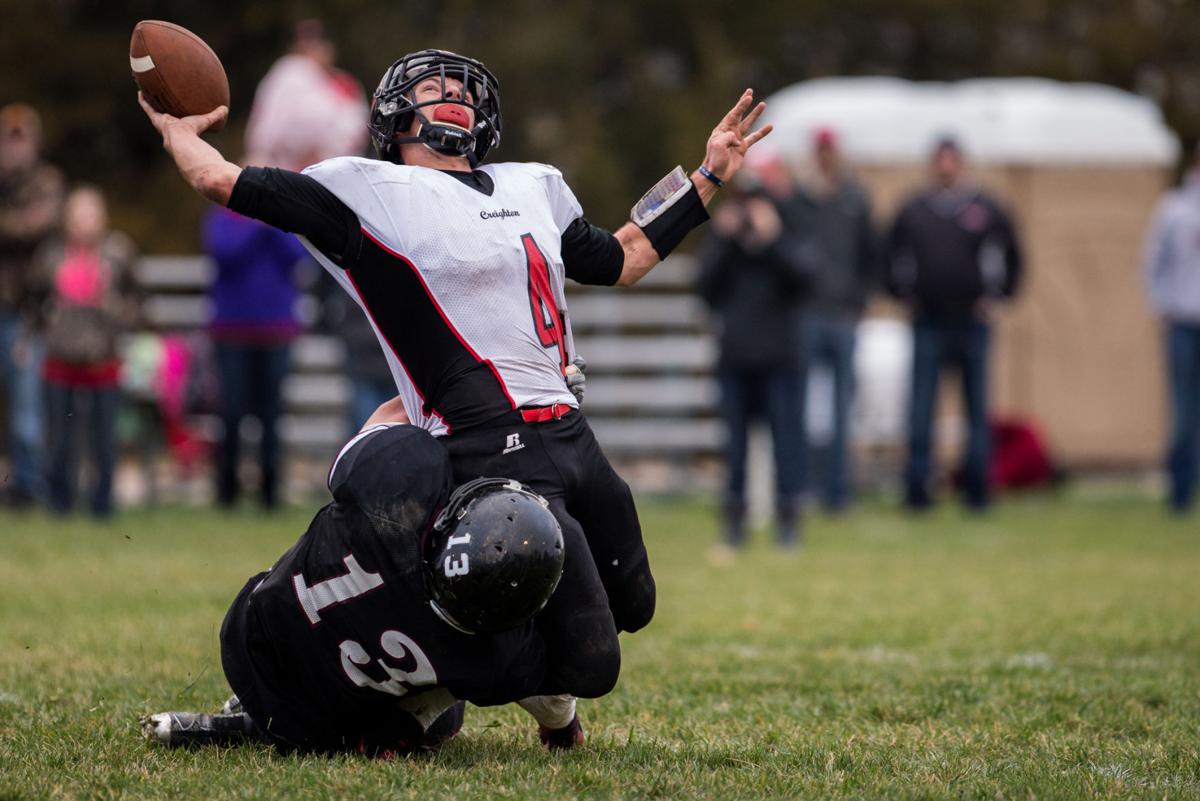 Losing last year's Eight Man-1 state championship game hasn't been the main motivating factor for BDS returning to Memorial Stadium.
Mark Rotter said it was the way the Eagles lost last November to Hemingford that has driven his team.
"We had to become much more physical because they brutalized and humiliated and pushed us around in every single way," said Rotter of the 52-8 loss to the Bobcats. "That's the lesson we learned."
The No. 3 Eagles are back and bring an unbeaten record into the championship game against No. 8 Burwell (11-1) at 10:45 a.m. Monday. Burwell is playing in its first state final.
BDS graduated all its starting linemen from last season, but after the Hemingford loss, Rotter said his players hit the weight room in the offseason, and as a result the lines are bigger this season.
"We had to improve the physical nature of our team. Teams ran the ball (for big yards) against us last year, but we've been much tougher against the run this year," said Rotter, who is the team's co-head coach along with Chris Ardissono. "It's been surprising that we lost all those guys and we've been able to function at a high level."
BDS' line mainly paves the way for Kale Kleinschmidt, who has 1,113 yards rushing, and quarterback Riley Tegtmeier, who has 845 yards rushing and 1,403 passing and has accounted for 41 touchdowns.
Sam Christensen is BDS' top tackler with 126, and that defense looks to slow Burwell's balanced offense.
The Longhorns are spearheaded by quarterback Victory Sikes, who has rushed for 1,053 yards and 26 touchdowns and thrown for 2,019 yards and 28 touchdowns. Sikes accounted for all nine touchdowns when Burwell rallied from 21 points down to beat Amherst in the quarterfinals.
"He's big, he's fast, he throws a great pass. He's an excellent quarterback," Rotter said.
The 6-foot-1, 190-pound Sikes is in his third season as the team's starting quarterback.
"That's huge, too," Burwell coach Luke Gideon said. "He's got a ton of experience. Everything I'm saying to him from the sidelines, he's grasping. He's a coach out there on the field."
Burwell has plenty of other offensive weapons. Tori Huffman has 866 rushing yards and 15 touchdowns, while Ty Chaffin and Tyler Gideon have combined for 87 catches for 1,587 receiving yards.
"That's been our theory every year," coach Gideon said of having a balanced attack. "It makes it tough for teams to line up against us and know what to expect."