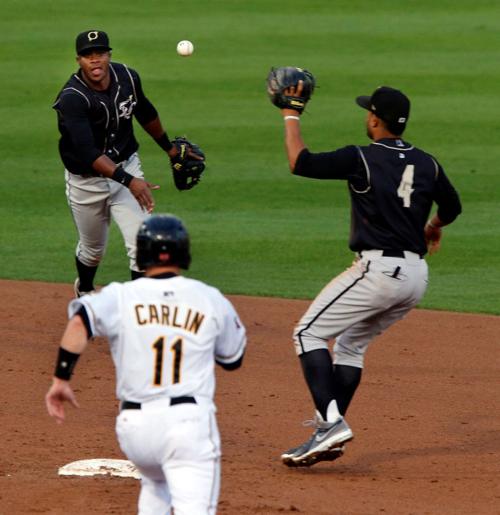 SALT LAKE CITY — Delayed by only a day, Omaha completed its improbable two-week dash to the end of the season with its second Pacific Coast League championship in three years.
The Storm Chasers weren't able to complete a sweep of the best-of-5 series Friday but delivered a decisive 10-5 victory over Salt Lake in Game 4 Saturday night at Spring Mobile Ballpark.
Omaha advances to Tuesday's one-game Triple-A national championship, where it faces International League champion Durham in Allentown, Pa.
Omaha took a 3-0 first-inning lead Saturday night, saw the lead shrink to 3-2 on a fifth-inning homer by Efren Navarro, but got a run back in the sixth and eventually delivered a knockout blow with a six-run eighth inning.
Lane Adams — whose three-run triple keyed the eighth and gave Omaha an 8-2 lead — had three hits and drove in four runs. Rey Navarro had three hits and three runs, Ben Broussard and Manny Pina also had three hits and Brian Fletcher drove in three.
The Chasers' chances of reaching the postseason were literally down to the last strike — twice — with two days left in the regular season, but a four-run, two-out rally by Oklahoma City in the ninth inning led to an extra-inning win over Memphis that night.
Then the RedHawks beat Memphis again on the final day of the season with another walk-off victory. Those two Memphis losses, plus two Omaha wins, were required for the Chasers to even reach the playoffs as division champions, despite their 70-74 record.
Omaha then swept Oklahoma City, which had posted the best record in the PCL, in three games in the American Conference playoffs. Omaha won the first two games of the finals against Salt Lake — with the seven-game winning streak representing a season-high. The series-clinching win against the RedHawks and the first two wins against Salt Lake were decided as Omaha scored on its final at-bat.
"We got into a situation where we needed help to get into the playoffs, but once we did we felt like things were just going our way and these guys just took off," Omaha manager Mike Jirschele said. "They had so much confidence, they felt like they were going to win the tight games if we just stayed close. Everything was going our way. When you're winning, things go your way."
There was still some drama in Game 4, just not quite as much.
After managing just two hits in Friday's 9-0 loss, Omaha came out firing with five first-inning hits to produce three runs. The Chasers had 19 hits Saturday night, two more than Salt Lake's Friday total, and scored 10 runs for the first time since July 3.
Irving Falu led off the game with a single, then was out at second on Christian Colon's grounder. Anthony Seratelli struck out, but then the next four hitters — Broussard, Navarro, Fletcher and Adams — all singled.
Navarro's single drove in Colon with the game's first run, then Fletcher's single drove in Broussard, and Adams' single scored Navarro. Fletcher was thrown out at third on the play to end the inning.
Omaha extended its streak of singles to six when Pina and Paulo Orlando led off the second with back-to-back hits, and they moved up on Falu's sacrifice. But Salt Lake starter Matt Shoemaker escaped that jam and didn't allow another run until the sixth.
"We jumped on them early, but then we had second and third with one out and couldn't get them in," Jirschele said. "Instead of being up by five it was only three, and I was thinking, 'Oh boy.' "
Also escaping a jam was Omaha starter Brian Sanches in the first. And the second, third and fourth.
In the first, the Bees had runners at first and second with one out, but hot-hitting Efren Navarro grounded into an inning-ending double play.
Salt Lake loaded the bases with three two-out hits in the second, but Sanches got the final out.
The Bees had two hits in the third inning, but didn't score. Salt Lake couldn't cash in a leadoff single in the fourth.
Finally, in the fifth, Efren Navarro hit a long two-run homer after Roberto Lopez had drawn a one-out walk to make it 3-2.
But Omaha got a run back in the top of the sixth as Rey Navarro doubled and scored on a Fletcher single.
"That was huge," Jirschele said. "They had gotten within one, but when we answered, I was feeling pretty good at that point."
Sanches, who hadn't pitched since his spot start in Game 1 against Oklahoma City on Sept. 4, pitched five innings, allowing two runs on nine hits. He walked one and struck out one for his second postseason win.
"He battled and got us through five," Jirschele said. "He was in trouble in a few innings, but he pitched his way out of it. I figured if he could get us through five that we'd be all right."