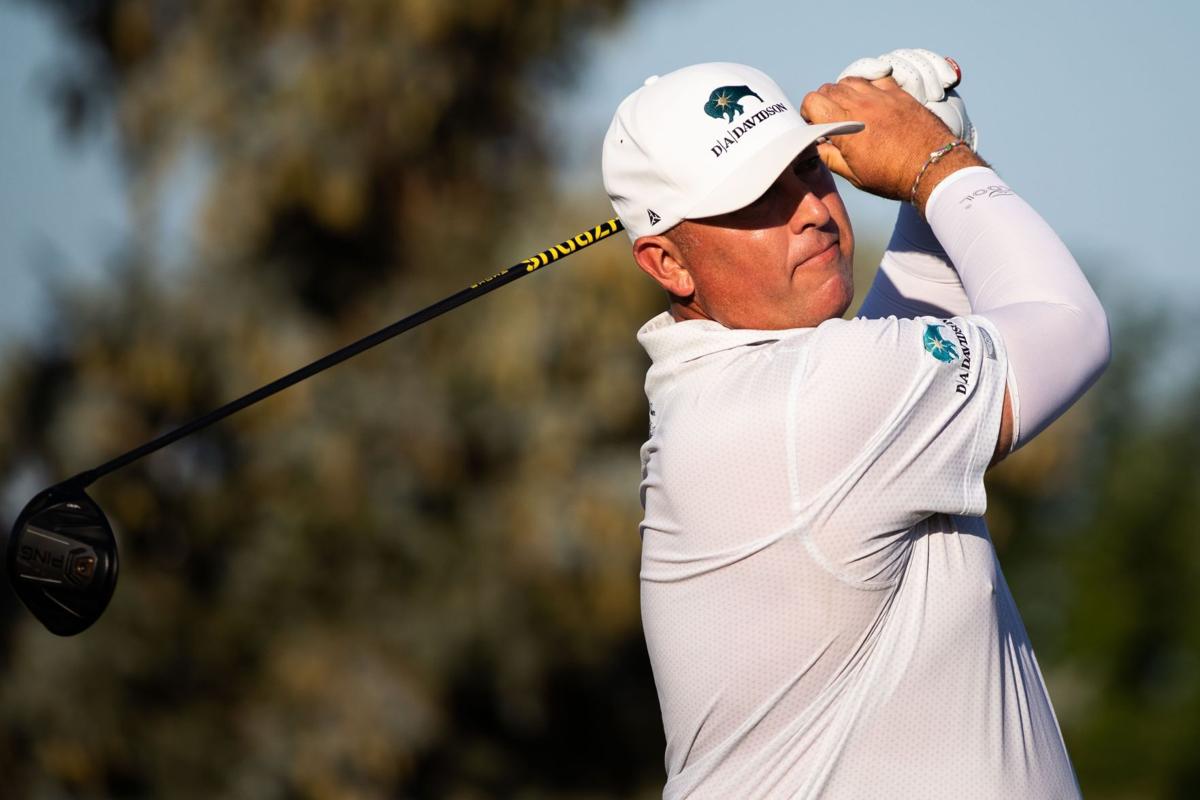 Life on the bubble is commonplace for guys on the Korn Ferry Tour.
This year, it's life in the bubble.
As the coronavirus pandemic continues, pro golf has been able to resume and keep going while Major League Baseball couldn't go a week before needing to shut down the Miami Marlins because of an abundance of cases.
The PGA Tour has strict protocols for players and caddies. COVID-19 tests are required upon arriving at a tournament, then it's daily temperature checks and screenings.
This week at the Pinnacle Bank Championship, the bubble is the Indian Creek clubhouse. Players have their own entrance, their own dining room (once they clear COVID testing), their own restrooms. There's no private housing this year. Takeout food is encouraged over sit-down dining.
Spouses can be on the course for the first time this summer but not inside the bubble. Few others will be allowed on site. Players' swing coaches have to get prior tour clearance. Reporters can walk the course, but must keep their distance. Of the 200 volunteers still needed for tournament operations, only half will work each day.
Omaha's Scott Gutschewski has been in the bubble since the Korn Ferry Tour picked up again in Florida last month. He said that mentality isn't new for him on the road.
"I guess I'm kind of low-profile. That's kind of how I typically do my stuff,'' he said. "If that's what we have to do to play, we'll do it."
But he's at home this week, a couple of miles from the course. Gutschewski said his family has practiced social distancing. His mother was hospitalized with non-COVID-related pneumonia more than six weeks ago, "so we were pretty scared there for a while. We're outside a lot and we're not too close, trying to wear masks and all that stuff. And I've been tested weekly."
You don't have to tell him about nose swabbing, then. But this week, the tour has switched to saliva tests. Gutschewski said those take longer to get processed.
His home bubble extends to the outdoors: "It's always nice to be able to catch up on my yardwork."
Last week's Price Cutter Charity Championship in Springfield, Missouri, was the first Korn Ferry event since the tour's resumption to have pro-am tournaments. It was to be the first to have spectators, a limited number, but that got nixed when the Memorial Tournament on the PGA Tour the week before went without fans. Omaha's no-spectator decision was made a month earlier, a day before the state relaxed some of its outdoor capacity guidelines.
PBC's tournament director, Jessica Brabec, said Omaha and Springfield "had to rip the bandage off and work through things and work with the tour closely the last few weeks to just see how it was going to change."
Wednesday's Aetna Pro-Am has 18 teams playing in the morning and 16 in the afternoon. Recent changes to Douglas County's directed health measure now allow two players to a cart, but mask wearing is encouraged. The amateurs also have to go through health screenings.
The attention to detail, Brabec said, extends to wiping down carts and disinfecting the range balls and buckets after each use. Caddies keep their bibs for the first two days.
"Everyone has been working hard to make sure that we are following safety protocols," she said. "I know the players really appreciate the safety measures that have been put in place and just our community welcoming them and abiding by their safety measures, too."
The Nebraska 100: Our greatest athletes
The Nebraska 100, originally selected in 2005 and then updated and re-ranked in 2015, came from a pool of nearly 500 names from the ranks of high school, college, amateur and professional sports from the past 140 years. Assistance came from a panel of veteran sports observers from across the state, with the newspaper's sports staff determining the final rankings.