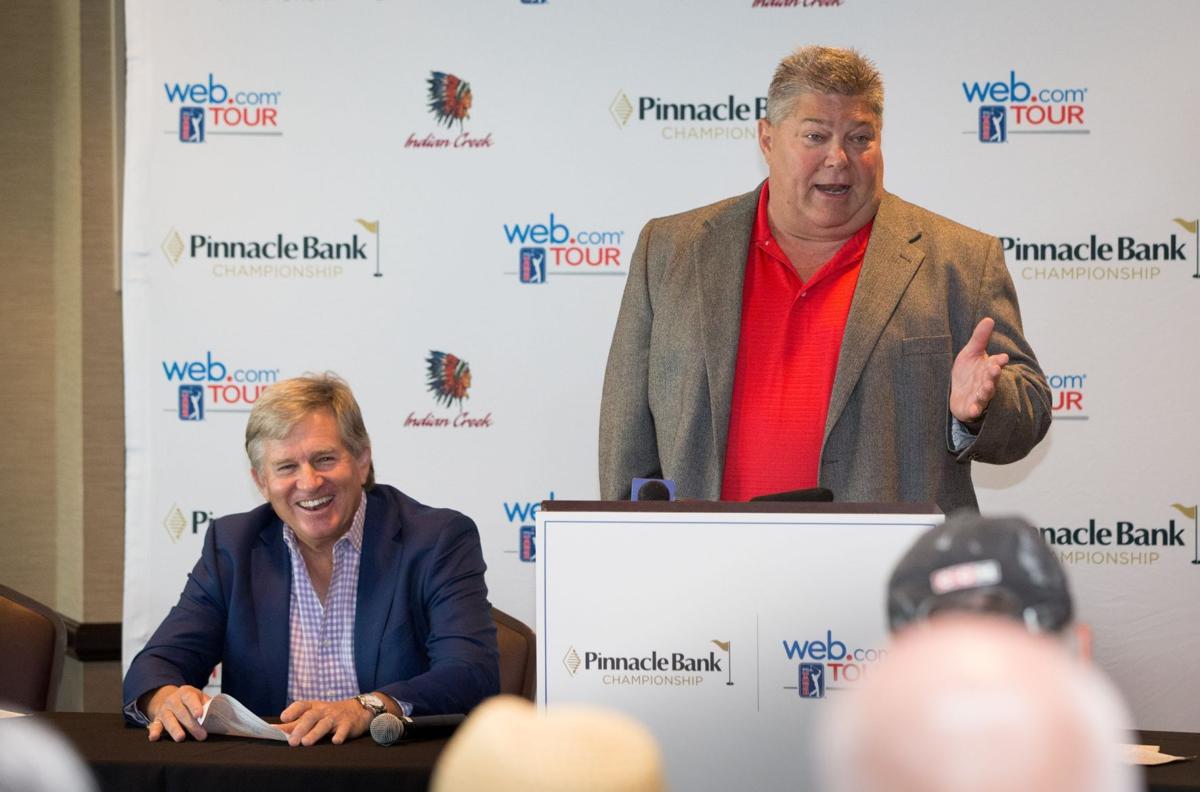 See what you started, Bob?
The Club at Indian Creek shines like a jewel this week. The PGA Tour trucks and some of the best golfers in the country have invaded the Elkhorn course. The stage is set for the Pinnacle Bank Championship, the area's annual pro golf tourney.
This wasn't so much a vision as a dare.
Bill Gottsch laughs as he tells the story of how Indian Creek was born one day in 1990 in the Gottsch family living room.
"Sometimes our family motto is shoot, then aim," Gottsch said.
"My brother Brett and I were sitting at home and complaining about not being able to get a tee time around Omaha. Back in the late '80s and early '90s, it was so crowded you couldn't get one.
"My dad looked at us and said, 'Why don't you build your own?' "
Bob Gottsch Sr. didn't have to ask his sons twice. Bill and Brett bought the land from their uncle Pat — a collection of rolling hills and trees near 204th and Maple. Which in 1991, looked more suited for the family cattle feed business.
By spring 1992, the Gottsch brothers opened Indian Creek, which has matured into a tough track and one of the top golf facilities in Nebraska.
Today Bill and Brett remain co-owners. Brett played in the PBC pro-am on Wednesday. Bill, saddled with a bad back, hasn't hit a golf ball in several years. He led me to a vacant office in the clubhouse, where he could tell me the story of Indian Creek and how the public track came to host a Korn Ferry Tour event.
This place of modern golf is deep-rooted in an old-fashioned Nebraska story.
Q: How did your family get into the cattle feed business?
A: "It started with my dad. He was born in Kennard, and grew up on a farm near Mount Michael High School. When he came back from World War II, he and his brother Pat had a fuel station, which is still in downtown Elkhorn, called Fred's Conoco.
"They did that and they shelled corn. Dad had some cattle and he eventually leased a feedlot and began buying cattle and feeding them."
Q: Is that what you wanted to do?
A: "After high school, I got my PHD. That's Post-Hole Digger.
"I wanted to work for my dad. There were four of us boys. As soon as we were out of diapers, we went to work for my dad. My older brother and I were driving when we were 7. Tractors, trucks. You grow up on a farm, you can do that. It was different then. You learned."
By the mid-'80s, Bill and his brothers joined their father. The Gottsch Cattle Company was well known throughout Nebraska. It was hard work. Golf was how they played.
Building and owning a golf course was never part of the plan. Now, Indian Creek is the centerpiece of the West Maple corridor, with housing developments, businesses and a new high school set to open this fall.
"The year we built it was the year they completed the four lanes of Maple," Gottsch said. "Thank you.
"Its (growth) probably would have happened anyway. We did envision (some houses) but we told the architect, 'This is a golf course first, then we'll fit the houses in.'
"We wanted to build a place that was nice for every Joe Smith that wanted to play. You didn't have to join a club."
Indian Creek joined the Korn Ferry Tour in 2017. The former Omaha Classic took a three-year hiatus after Champions Run ended its involvement in 2013.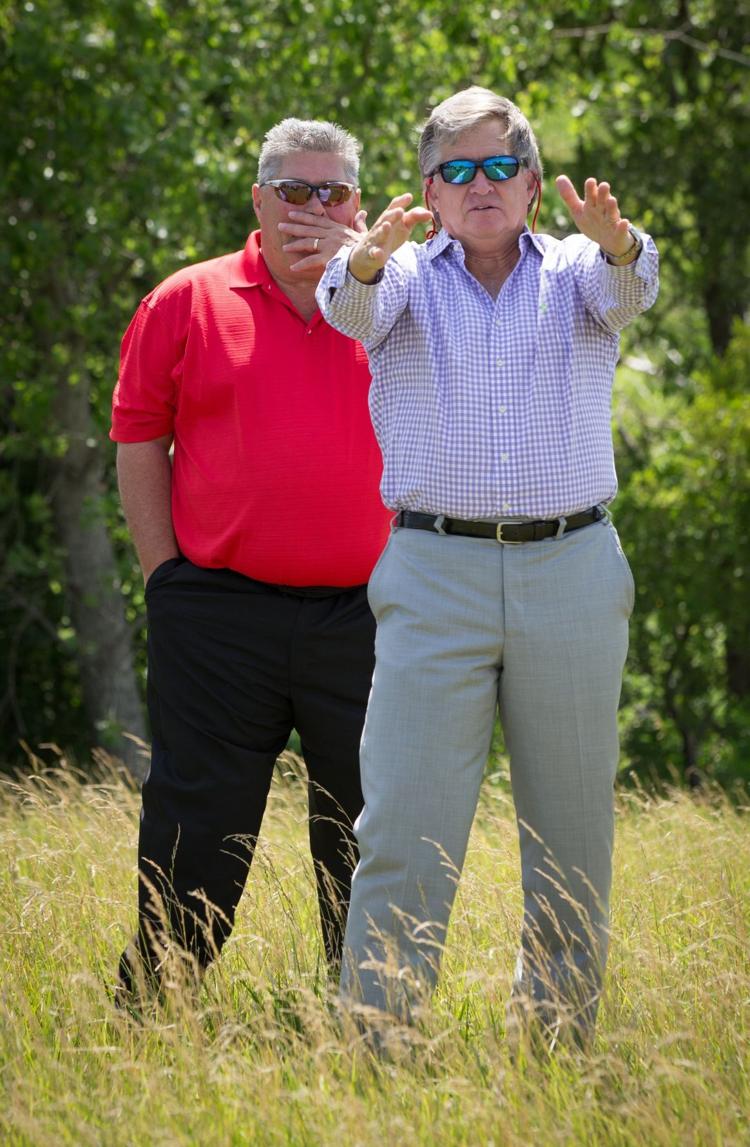 The PGA Tour continued to pursue Omaha for that tour, even enlisting Commissioner Tim Finchem for help. There were no takers, though Indian Creek was high on the list.
Could the pro tourney work at a public facility that didn't have the locker room or banquet facility of a private club? It had more than enough course. First, the tour had to convince the owners.
"I had heard a lot of horror stories," Gottsch said. "You could drive by Champions a month later and tents would still be up. Heard from people that the tour stole the employees at the club, did whatever they wanted.
"I didn't know how all this tour stuff worked. The first meeting I had with someone from the tournament, he handed me a piece of paper and said sign this by the end of the week. I looked at it and said, 'See ya.' They lowballed me.
"Money is not important. It was more about will they do what they say? The tour has been great. I talked with Tim Finchem. Everything they told me would happen has happened."
Q: The Cox Classic was a party at Champions. This is more of a golf tournament. Is that by design?
A: "That was one of the things Sid Dinsdale at Pinnacle Bank said they didn't want to have happen here, with people waking up on someone's lawn from the night before. That's not us. We have fun. It's more about golf. That's what they want."
Q: Do you have any pushback from your regulars?
A: "We give up the course for a week in the summer. That's a lot of rounds. It's professional golf. Can't have professional football or basketball. It's good for the city. We've had 50,000 people. There's been an uptick in business, sure."
Q: Has the course held up the way you thought against these players?
A: "When we signed up, we did a three-year renovation of the greens, bunkers and re-grassed the whole course. We built some new tees. It was par 71, 7,600 yards. Then the first year the winner shoots 21-under. I kind of like it tough, U.S. Open tough. The players like the course, it challenges them. But these guys are good."
Q: Has the name of your course come under question by anyone?
A: "Yeah, we had some concerns. But I'll be 100 percent honest with you. My dad respected the Indian culture. He just loved it. We have Indian artwork throughout our clubhouse and some of it was his. It is total respect.
"We had a name-the-course contest back then and that's what we ended up with. It's a (nod) to my dad.
"Someone called the office about changing the name. We've been here 30 years and it's out of respect. It's not the Tomahawk Chop or whatever."
Q: So did you and Brett get the first tee times in 1992?
A: "We did not have a problem. We won't come out and push anyone out of the way. I shot a 71 about 10 years ago, from the tips. I have witnesses. I don't play anymore."
These days Bill watches golf. And from the top of the hill, the view is spectacular.
The Nebraska 100: Our greatest athletes
The Nebraska 100, originally selected in 2005 and then updated and re-ranked in 2015, came from a pool of nearly 500 names from the ranks of high school, college, amateur and professional sports from the past 140 years. Assistance came from a panel of veteran sports observers from across the state, with the newspaper's sports staff determining the final rankings.