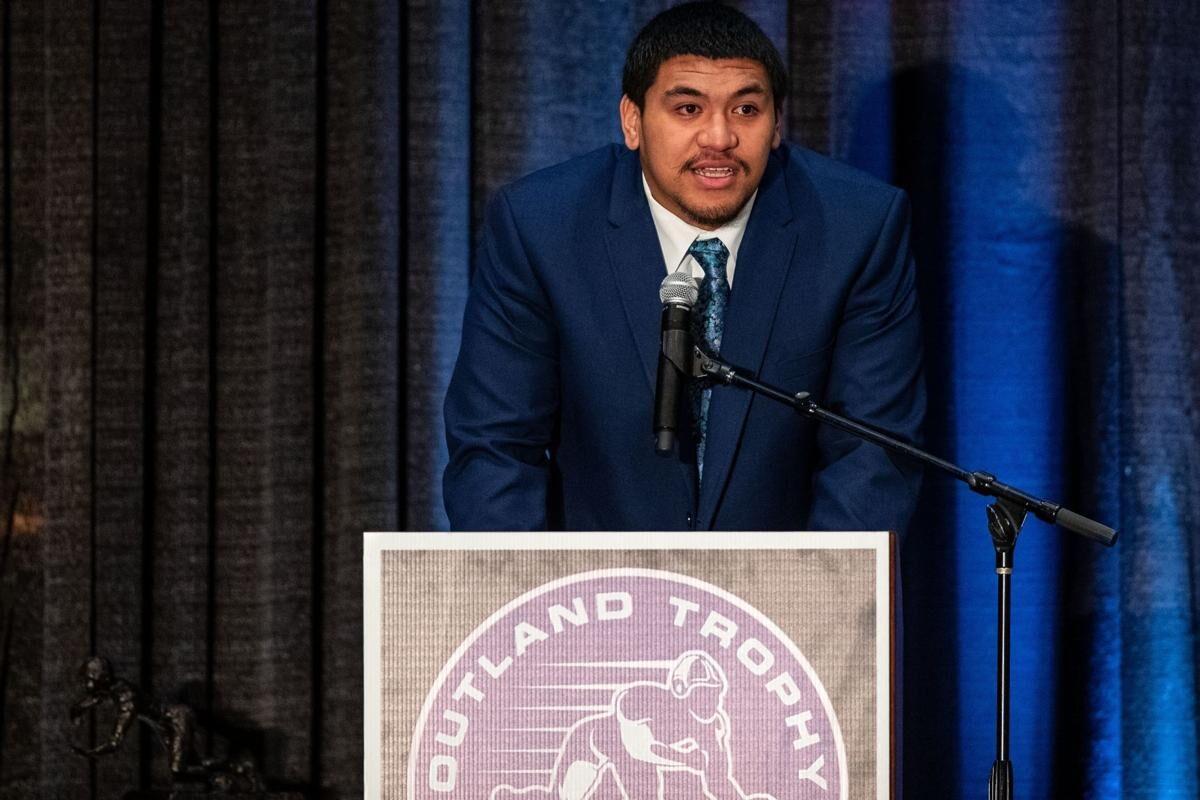 A group of Pac-12 football players over the weekend began a media campaign that threatens a boycott of practices and games unless a long list of demands, outlined in a post to The Players Tribune, is met by the league's commissioner, administrators and coaches. 
The list of players includes 2019 Outland Trophy winner Penei Sewell, who is likely to be a first-round NFL Draft pick. The social media campaign is using the hashtag #WeAreUnited to generate support.  
"Because NCAA sports exploit college athletes physically, economically and academically, and also disproportionately harm Black college athletes, #WeAreUnited," part of the group's letter read. The letter says the NCAA is "systematically exploiting Black athletes nationwide." 
The group is being advised by National Collegiate Players Association Executive Director Ramogi Huma, an organizer who tried and failed to unionize the Northwestern football team in 2014. In recent months, he's been testifying in state legislatures in support of bills that allow college athletes to financially benefit from their name, image and likeness. Huma testfied at the Nebraska Legislature in February in favor of Legislative Bill 962. Lawmakers passed the Nebraska Fair Pay to Play Act on July 21. 
The demands are wide-ranging. They include safety protocols for playing during the coronavirus pandemic, the creation of a Pac-12 Black College Athlete Summit to address racial injustice, setting aside 2% of the Pac-12's budget for players to direct toward financial aid for low-income Black students, community initiatives and college athlete development programs and guaranteed medical coverage for six years after the end of a college athlete's eligibility. 
Other demands revolve around Pac-12 Commissioner Larry Scott and all league coaches taking voluntary pay cuts to "drastically reduce excessive pay" — drastic is not defined in numerical terms — the end of all performance bonuses and a 50% redistribution of the Pac-12's total revenue away from the schools and toward the student-athletes, to be spread evenly among them, like a salary, according to the revenue generated by each sport. 
According to a study commissioned by Huma, the fair market value for every Pac-12 football player is $274,454. In the Big Ten, every football player would be paid $412,099 in fair market value. 
Salary payments to student-athletes would be in direct violation of NCAA rules and would, in effect, make college football either a direct professional competitor of the NFL or a salaried minor league for the NFL.
The group did not contact the Pac-12 or any of its coaches directly with its requests, the league said Sunday. 
"Neither the Conference nor our university athletics departments have been contacted by this group regarding these topics," the Pac-12 statement. "We support our student-athletes using their voice and have regular communications with our student-athletes at many different levels on a range of topics. As we have clearly stated with respect to our fall competition plans, we are, and always will be, directed by medical experts, with the health, safety and well being of our student athletes, coaches and staff always the first priority. We have made it clear that any student athlete who chooses not to return to competition for health or safety reasons will have their scholarship protected."
The Husker Camp Countdown of Nebraska's most important players
Our Husker Camp Countdown highlights the 50 most important players on the Nebraska football team.