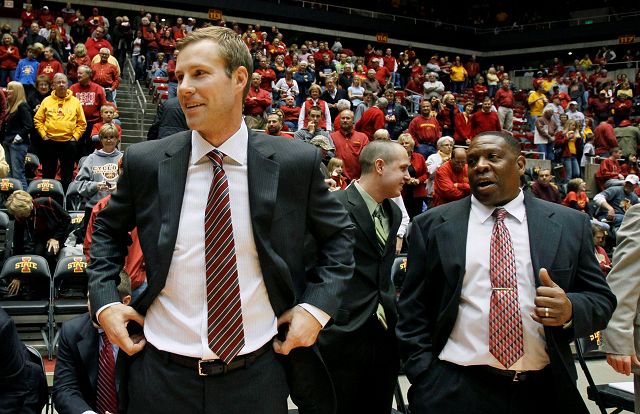 When Iowa State brought Keith Moore back as a student assistant in 2010, the university was hoping for another high-profile success in a program that helps former athletes return to finish their degrees.
Instead, it may get sanctioned for major NCAA recruiting violations for the first time in 27 years.
University officials say their well-intentioned effort to allow Moore to assist the team while he completed a bachelor's degree went wrong, leading to a two-year NCAA investigation that could result in sanctions for the school and coaches found to have improperly contacted recruits.
The university has since discontinued the practice of assigning former players as student coaching assistants and is facing questions about whether it properly vetted, trained and supervised Moore during his eight-month stint in Fred Hoiberg's program. The NCAA infractions committee is likely to closely scrutinize the program's relationship with Moore — who had previously worked as an Amateur Athletic Union coach with top Iowa high school players — when deciding on the punishment, experts say.
"Where they are vulnerable is the former player they brought back that has a relationship with the AAU. That raises a red flag to me," said B. David Ridpath, an NCAA compliance expert at Ohio University. "If they do bring former players back, they have to be fully educated and aware of what's going on. If I'm the NCAA, I look at this and say, what did you do to train this man to be part of the staff?"
Moore, 50, who played for the Cyclones from 1979 to 1981, had kept in touch with the athletic department, including Athletic Director Jamie Pollard, and expressed an interest in returning to graduate, said Steve Malchow, senior associate athletic director. The department's continuing education program covered the cost of Moore's tuition, fees and books. The department assigned Moore to work with the team, focusing on player development.
Cyclones track star Danny Harris, a silver medalist in the 1984 Olympics, worked as a track assistant before finishing his degree in May 2010. His graduation was widely praised as a story of redemption because he had been banned from track after struggling with substance abuse. Former basketball star Jeff Grayer had also returned to finish his degree under the program, which improves the university's academic progress rate, tracked by the NCAA.
Moore had been a fan favorite, a guard who set a school single-season record for assists. But he fell on some hard times in the 1990s and early 2000s. According to court records reviewed by the Associated Press, he struggled to hold a job, was jailed for refusing to pay court-ordered child support and twice faced drug charges that were dismissed.
University policy calls for background checks for full- and part-time regular employees. The university did not conduct a background check on Moore because it considered him a student and nothing in his past precluded him from being enrolled, Malchow said.
"Lefty was not an employee," Malchow said of Moore.
Moore was charged in Des Moines in 2002 with possession of methamphetamine with intent to deliver after a criminal complaint alleged that he had electronic scales and more than 5 grams of a powder that tested positive as meth. The case against Moore was dropped after a co-defendant pleaded guilty and gave a statement exonerating him. Moore had been charged in 2001 with possession of cocaine after an Ames traffic stop, but that case was dismissed after he disputed that the substance was cocaine and police lost it, records show.
Moore was ordered to serve 15 days in jail in 2001 after he fell more than $25,000 behind on support obligations for two children he fathered with an Ames woman, records show. A judge criticized Moore for a "willful and intentional disregard" of his obligations, and months before rejoining Iowa State in 2010, the state's child support recovery unit took steps to seize some of his income — including funds from a bank account of Elevate Basketball, a nonprofit he had founded in North Carolina.
Otherwise, Moore's coaching career was looking up. He had worked as an assistant for the Iowa Energy, an NBA developmental league team. He was also head coach for an AAU team for 15- and 16-year-olds based in Ames, the All-Iowa Attack. He developed a particularly close relationship with Des Moines standout Peter Jok, who already was drawing interest from Iowa State and other colleges.
A university report released last week found that Moore stayed in contact with several former AAU players in violation of rules that limit contact with recruits. His activities — 160 text messages and 12 phone calls to five players, including two who were being recruited by the Cyclones — were uncovered in 2011 when Hoiberg ran into Moore at one of Hoiberg's son's AAU games.
The school found that its staff made 79 impermissible calls and failed to log an additional 1,400 calls during a three-year period, which were considered major violations because of the number of calls and inadequate monitoring by the university. The school, Moore and five current and former assistants could face sanctions.
Moore told university investigators he knew he had to reduce contact with AAU players, but he wasn't clear on NCAA rules governing texting and didn't view his contacts as recruiting. He did not respond to inquiries from NCAA investigators and has not granted interviews.
The university said it stopped recruiting players that Moore had contacted (Jok has committed to the University of Iowa), and relieved him of his duties. Its report characterizes the violations as inadvertent and not an attempt to gain advantage.
Malchow said the department has decided that it will no longer allow former players to work with specific teams as they finish degrees.