The complete listing of all Nebraska girls high school basketball players honored with all-class recognition.
* designates honorary captain
Class A
* Alexis Markowski, Lincoln Pius X, 6-3, Sr., 23.3
Taylor McCabe, Fremont, 5-9, Jr., 23.6
Mya Babbitt, Millard South, 5-8, So., 14.5
Jillian Aschoff, Lincoln Pius X, 5-7, Sr., 8.3
Taryn Wharton, Bellevue West, 5-6, Jr., 18.4
SECOND TEAM
Cora Olsen, Millard South, 5-8, So., 14.5
Aaniya Webb, Omaha Central, 5-10, Jr., 15.6
Inia Jones, Omaha Central, 5-6, Fr., 12.5
Gracie Haneborg, North Platte, 5-8, Sr., 18.6
Kaysia Woods, Lincoln High, 5-11, Sr., 16.0
Class B
* Britt Prince, Elkhorn North, 5-10, Fr., 23.4
Maddie Portwine, York, 6-0, Sr., 16.5
Brianna Stai, Norris, 6-0, Sr., 10.0
Hannah Newton, Crete, 5-11, Sr., 13.2
Mak Hatcliff, Beatrice, 5-9, Sr., 16.1
SECOND TEAM
Kiara Libal, Ashland-Greenwood, 5-8, Sr., 20.5
Masa Scheierman, York, 6-1, Jr., 8.7
Cece Behrens, Omaha Skutt, 5-9, Sr., 16.3
Lindsay Krause, Omaha Skutt, 6-4, Sr., 13.3
Reilly Palmer, Elkhorn North, 5-9, Jr., 12.5
Class C-1
* Bailey Kissinger, Hastings St. Cecilia, 5-6, Jr., 15.5
Kaitlyn Emanuel, North Bend, 6-0, So., 16.8
Sidney Swanson, West Point-Beemer, 5-6, Sr., 20.1
Sydney Emanuel, North Bend, 5-7, Jr., 15.0
Keisha Snyder, Winnebago, 5-10, Sr., 18.5
SECOND TEAM
Lily Vollertsen, Syracuse, 6-0, Jr., 19.0
Kya Scott, Broken Bow, 5-7, Jr., 13.3
Katharine Hamburger, Hastings St. Cecilia, 5-11, Sr., 10.4
Taryn Wagner, Central City, 5-6, Sr., 18.9
Alyssa Fortik, Malcolm, 5-2, So., 14.1
Class C-2
* Lacey Sprakel, Crofton, 5-9, Sr., 17.5
Ruthie Loomis-Goltl, Bridgeport, 6-2, So. 20.0
Caragan Tietz, BRLD, 5-9, Sr., 15.0
Boston Boucher, Wood River, 5-9, Sr., 14.6
Ashlyn Kingsbury, Ponca, 5-11, So., 11.9
SECOND TEAM
Olivia Loomis-Goltl, Bridgeport, 5-10, Fr., 17.8
Sam Ehlers, Ponca, 6-0, So., 12.0
Brenna Rief, West Point GACC, 5-6, Sr., 16.0
Kate Hirschfeld, Centennial, 5-10, Sr., 13.7
Kylie Baumert, Sutton, 6-0, Sr., 16.4
Class D-1
* Grace Cave, Weeping Water, 5-9, Sr., 21.4
Kaci Pierce, Pleasanton, 5-8, Sr., 12.4
Katy Lindner, Pleasanton, 6-0, Sr., 10.5
Lauren Baker, Fremont Bergan, 5-10, Sr., 17.0
Addison Schneider, Humphrey/LHF, 6-1, Jr., 19.5
SECOND TEAM
Brynn Wortmann, Hartington CC, 5-9, Sr., 16.6
Brenna Wagner, Summerland, 5-10, Sr., 19.4
Autumn Dickmander, South Platte, 5-7, Sr., 18.0
Tonja Heirigs, North Platte SP, 5-6, So., 21.3
Macy Kamler, BDS, 5-10, Sr., 11.8
Class D-2
* Allison Weidner, Humphrey SF, 5-10, Sr., 25.8
Samantha Moore, Mullen, 6-0, Sr., 17.0
Morgan Ramsey, CWC, 6-1, Sr., 20.2
Erison Vonderschmidt, Falls City SH, 5-10, Jr., 16.3
Jaycee Widener, Maywood/HC, 5-10, Sr., 17.5
SECOND TEAM
Alissa Kosch, Humphrey SF, 5-7, Sr., 11.4
Karley Heimes, Wynot, 6-0, Jr., 12.7
Rachel Magdanz, Falls City SH, 5-10, Jr., 10.2
Elle Ravenscroft, Cody-Kilgore, 5-9, Sr., 21.5
Macy Richardson, Sterling, 5-7, So., 15.0
Honorable mention
CLASS A 
Bellevue East: Mya Skoff, Baylee Egan, Riley Jensen, Catie Conover. Bellevue West: Dani Peterson, Kenzie Melcher, Grace Schaefer. Columbus: Addie Kudron, Ellie Thompson. Elkhorn South: Rylee Gray, Lauren Kohl. Fremont: Charli Earth, Macy Bryant, Sarah Shepard. Gretna: Avery Kallman, Grace Huntwork, Emma Schweigart, Sydney Zabloudil, Allison Marshall. Kearney: Aspen Rusher, Lily Novacek, Kierstynn Garner, Tatum Rusher, Sidney Province. Lincoln East: Olivia Kugler, Haley Peterson, Mati Campbell. Lincoln High: Kiana Wiley, J'unti Franklin, Yelaniya Bradley. Lincoln North Star: Abby Krieser, Kylie Shottenkirk, Dyvine Harris, Sammy Leu. Lincoln Pius X: Adison Markowski, Miriam Miller, Charlee Hagedorn. Lincoln Southeast: Brittany Wulf. Lincoln Southwest: Kennadi Williams, Kate Dilsaver, Skylar Pieper, Katie Carpenter, Freddie Wallace. Millard North: Kaylee Kesssler, Sidney Anderson, Megan Chambers, Kayla Preston, Darian Winkelbauer. Millard South: Khloe Lemon, Megan Belt, Lexi Finkenbiner, Juliana Jones. Millard West: Laney Schipper, Reese Peterson, Libby Hoffman. Norfolk: Hailey Kleinschmit. North Platte: Carly Purdy, Abby Orr. Om. Benson: Nataya Lockett, Kiera Estima, Jesani Green, Ahnica Russell-Brown. Om. Burke: Aanaya Harris, Hailey Ingram, Bre Schneidewind, Kara Stricklin, Emma Hanke, Nayja Oneal, Mackenna Bush. Om. Central: Claire Williams, Aniah Wayne, Nyanuar Pal, Ital Lopuyo, Nya Gatkek. Om. Marian: Ary Harrison, CeCe Hacker, Ashley Wilwerding. Om. North: Kionna Moton, Brooklyn Patterson. Om. Northwest: Taniya Golden, Brooklyn Busby. Om. South: Skye Giddings. Om. Westside: Olivia Kraft, Kaitlyn Hanna, Madilyn Siebler, Adriana DiPrima, Lucy Schonlau. Papillion-La Vista: Jenna Hoelscher, Caitlyn Ryan, Anna Fitzgerald, Brooklyn Wrice, Maggie Vasa. Papio South: Tate Norblade, Lydia Hodges, Savana Solomon.
CLASS B
Ashland-Greenwood: Saige Craven, Chloe Bergsten. Aurora: Cassidy Knust. Beatrice: Nevaeh Martinez, Chelsea Leners. Bennington: Abby Boyes, Maddy Elwood, Taylor Sedlacek, Emma John. Blair: Makayla Baughman, Ella Ross, Mya Larson. Crete: Leah Jurgens, Alexis Mach. Elkhorn: Tia Murray, Haley DeBuse, Lexi Knott, Ella Dalton. Elkhorn North: Hannah Nadgwick, Grace Thompson. Gering: Cloey Fries, Sydnee Winkler. GI Northwest: Shanae Suttles, Claire Caspersen, Addy Esquivel. Hastings: Dacey Sealey, McKinsey Long, Maddie Hilgendorf. Holdrege: Alexis Bliven, Taylor Wiser. Lexington: Sarah Treffer. McCook: Tiara Matson, Shawna Wilkinson. Nebraska City: Madi Mitchell. Norris: Delaney White, Molly Ramsey, Maddy Collier, Kalli Kroeker. Om. Duchesne: Nicky Huss, Caroline Shanahan. Om. Gross: Theo Mba, Rachel Culhane, Sydney Herren, Jenna Skradski. Om. Mercy: Willavena Tokporo, Abby Krehbiel, Sydney Crampton, Marissa Vargas. Om. Skutt: Peyton McCabe, Addison Burt, Victoria Van Dyke. Platteview: Ally Kuhl, Baylee Tex, Kyra Gray. Plattsmouth: Kennedy Miller. Ralston: Alex Johnson. Scottsbluff: Sabrina Harsh, Payton Burda, Mariyah Avila, Emma Foote. Seward: Hannah Benedict, Abbey Ringler, Tanya Miller. South Sioux City: Kyra Fischer, Hannah Strom, Khaia Herron, Jalen Galvin. Waverly: Paige Radenslaben, Abigail Carter, Leah Rasmussen. York: Destiny Shepherd, Mattie Pohl.
CLASS C-1
Adams Central: Libby Trausch, Rachel Goodon, Jessica Babcock. Arlington: Kailynn Gubbels, Kylee Bruning. Auburn: Sydney Binder, Jaeleigh Darnell, Leah Grant. Battle Creek: BriAnna Zohner, Paytyn Taake, Lindsey Bolling, Zoey Reeves. Broken Bow: Kali Staples, Kailyn Scott, Kassidy Cyboron, Halle McCaslin. Central City: Jade Erickson. Chadron: Jacey Garrett, Anika Burke. Columbus Lakeview: Reese Janssen. Columbus Scotus: Grace Mustard, Janae Rusher, Camille Pelan. Conestoga: Myah Cummings, Lindee Watson, Taylor McClatchey, Sophia Ackerman. David City: Lauren Vandenberg, Neely Behrns, Emily Johnson, Payton Andel. Douglas County West: Ellie McCarville, Avery Wright, Grace Hohm. Fairbury: Jordan Tracy. Falls City: Eryn Snethen, Madison Jones. Fort Calhoun: Tessa Skelton, Bria Bench. Gibbon: Yahyda Castaneda, Samantha Walker, Jalyssa Gillming. Gothenburg: Kynlee Strauser, Annica Harm. Grand Island CC: Chloe Cloud, Lucy Ghaifan, Alyssa Wilson, Jenna Heidelk. Hastings St. Cecilia: Addie Kirkegaard, Shaye Butler. Hershey: Tahlia Steinbeck. Homer: Bradie Johnson, Emily Rasmussen. Kearney Catholic: Ashlyn Wischmeier, Ashley Keck, Liv Nore. Lincoln Christian: Makylee Ailes, Ashlynn Ailes, Emerson Crist. Lincoln Lutheran: Katelynn Oxley, Abby Wachal, Shanae Bergt, Addi Ernstmeyer. Louisville: McKenzie Norris, Avery Heilig, Ella Johnson. Malcolm: Emma Brown, Joslyn Small, Ashlynn Sehi. Milford: Hannah Kepler, Kaitlin Kontor. Minden: Sarah Hultquist, Sloane Beck, Abby Rehtus. Mitchell: Jayden Kanno. North Bend: Cierra Kluthe, Hannah Williams, Ally Pojar. Oakland-Craig: Sadie Nelson, Chaney Nelson, Sydney Guzinski. Ogallala: Milan Coggins, Taylor Trumper, Makayla Kirchner. Om. Roncalli: Claire Wilson, Abby Bennett, Mia Stoffel, Morgan Mancuso. O'Neill: Alyssa Eichelberger, Meg Schluns, Lauren Young. Ord: Megan Benton, Nikie Nelson, Kloe Severance, Payton Hackel. Pierce: Kenzie Moeller, Morgan Moeller, Abby Meier, Faith Lubischer. Sidney: Karly Sylvester, Morgan Jaggers, Alecca Campbell. St. Paul: Olivia Poppert, Amber Kosmicki. Syracuse: Jessie Moss, Halle Wilhelm. Valentine: Kailee Kellum. Wahoo: Autumn Iversen, Kelsie Sears, Karley Golladay, Taylor Luben, Toni Greenfield, Kharissa Eddie. Wahoo Neumann: Kali Jurgensmeier, Lauren Thiele, Kinslee Bosak, Mary Chvatal, Paisley Douglas, Bailey Maly. Wayne: Brooklyn Kruse, Rubie Klausen, Kendall Dorey. West Point-Beemer: Reece Snodgrass, Rachel Growth, Brooklyn Weddle. Winnebago: Natasha Deal, Madeline Cleveland. 
CLASS C-2 
Ainsworth: Kendal Delimont, Brin Delimont, Kaitlyn Nelson, Madelyn Goochey, Elizabeth Wilkins. Bayard: Grace Burry. Blue Hill: Brooklyn Kohmetscher, Abigail Meyer. Bridgeport: Sydney Nein, Brooklyn Mohrman, Mackenzie Liakos. BRLD: Jordan Snyder, Alyssa Buchholz, Isabel Freemont. Burwell: Carlie Helgoth, Hannah Gurney. Centennial: Asia Nisly, Daylee Dey, Kierra Green. Centura: Sydney Davis, Katelyn Fanta, Sydney Perez. Clarkson-Leigh: Chloe Hanel, Cassidy Hoffman, Kennedy Settje, Alissa Kasik. Creighton: Maycee Zimmerer, Bryna Fanta, Averi Diedrichsen. Crofton: Kaley Einrem, Alexis Folkers, Ella Wragge, Jayden Jordan. Cross County: Erica Stratman, Cortlyn Schaefer, Josi Noble, Shyanne Anderson, Chloe Sandell. David City Aquinas: Madisen Jelinek, Bethany Emswiler, Emma Sellers. Elm Creek: Whitney Bauer, Ashley Brown. Fillmore Central: Jackie Schelkopf, Lexi Theis, Jordan Boman, Abby Nichols, Faith Engle. Freeman: Kaylee Bures, Taylor Anderson, Dakota Haner. Fullerton: Alyssa Reardon, Hanna Plumbtree. Gordon-Rushville: Jayla Brehmer. Hi-Line: Gretchen Hodge. Howells-Dodge: Jaedyn Ratzlaff, Cassie Pieper. Johnson County: Zadie Plager, Saylor Rother. Laurel-Concord/Coleridge: Kinsey Hall. Madison: Whitney Zessin. Morrill: Ilycia Guerue, Libbie Schaefer, Jaiden Steiner. Nebraska City Lourdes: Aspen Meyer, Gina McGowen, Brianna Fulton. Norfolk Catholic: Avery Yosten, Mary Fennessy, Elly Piper, Carly Marshall. Norfolk Lutheran: Mia Wiederin, Mia Furst, Becca Gebhardt, Chloe Spence. North Central: Hunter Wiebelhaus, Brielle Bussinger, Jenna Hallock, Adisyn Anderson. Om. Brownell Talbot: Josie Petrulis, Katherine Thaden, Molly Clark. Om. Christian: Codie Wirges, Belle Wirges, Emma Blum. Overton: Rachel Echlund, Haley Fleischman, Paetyn Florell, Maeli Meier, Addison Luther. Palmyra: Holly Wilen, Jami Gabriel. Pender: Ashley Ostrand, Zoey Lehmkuhl, Caitlyn Heise. Perkins County: Kailee Potts, Dani Burge. Ponca: Alyssa Crosgrove. Ravenna: Tori Sklenar, Allyson Larsen, Kennedy Hurt. Shelby-Rising City: Allie Neujahr. South Loup: Landyn Cole, Megan Donegan, Ava Pandorf. Southern Valley: Ann Bose, Kynlee Marquez. Stanton: Sylvia Cunningham. Superior: Shayla Meyer, Sierra Blackburn, Ella Gardner. Sutherland: Faith Stewart, Mataya Roberts. Sutton: Xtlaly Bautista, Dayvie Perrien. Tekamah-Herman: Maggie Sheets, Preslee Hansen, Halle Olsen. Thayer Central: Natalie Tietjen, Chloe Souerdyke. Wakefield: Jordan Metzler, Alex Arenas. Aishah Valenzuela. West Point GACC: Sophia Hass, Brandi Doernemann, Isabel Hass. Wilber-Clatonia: Nevaeh Honea, Abby Rezny, Rylee Sand. Wisner-Pilger: Lindsey Kneifl, Emma Heller, Adison Meyer, Macy Stuhr. Wood River: Kiernan Paulk.
CLASS D-1 
Alma: Addison Neal, Addison Siebels, Carlee Stuhmer. Amherst: Hannah Herrick, Tenley Hadwiger. Anselmo-Merna: Jaide Chandler, Kaitlyn Jacquot, Hadlee Safranek, Shaylyn Safranek, Kirsten Myers, Claire Cooksley. Arapahoe: Hope Koller, Emerson Swanson, Tracy Roskop. Axtell: Jesse Bertrand. BDS: JessaLynn Hudson. Bloomfield: Alexandra Eisenhauer, Madison Abbenhaus, Brynn Bargman. Boyd County: Lauryn Hoffman, Amelia Hoffman. Cambridge: Autumn Deterding, Breelle Miller, Paige Klumpe. Central Valley: Neleigh Poss, Vanessa Wood. Dundy County-Stratton: McKinzie Baney, Maggie Lutz, Alyssa Schneider. East Butler: Addie Sullivan, Allie Rigatuso. Elgin/Pope John: Ashlynne Charf, Keyera Eisenhauer, Kirsten Krebs, Allyson Selding. Elkhorn Valley: Carney Black, Kenzie Mosel, Bria Gale. Elmwood-Murdock: Lexi Bacon, Jayden Halferty, Bailey Frahm, Ella Zierott. Fremont Bergan: Kaitlyn Mlnarik, Summer Bojanski, Jadin Ostrand. Hartington CC: Brooklyn Kuehn, Megan Heimes. Hartington-Newcastle: Kayden Jueden, Alivia Morten. Harvard: Ashley Nierman. Heartland: Cassidy Siebert, Kaelyn Buller, Felicity Johnson. High Plains: Brooke Bannister, Brianna Wilshusen, Hailey Lindburg. Humboldt-TRS: Katilyn Glathar, Natalie Novak. Humphrey/Lindsay Holy Family: Paige Beller, Lexi Frauendorfer, Riley Jurgens, Halle Beller. Johnson-Brock: Jordan Koehler. Kenesaw: Rylee Legg, Cassidy Gallagher, Kaylee Steer. Kimball: Megan Spicer. Maxwell: Jordan Miller, Harley Kuenning, Mataya Stubbs, Myah Essman. McCool Junction: McKenna Yates. Mead: Emily Hebenstreit, Emily Quinn, Rebecca Halbmaier. Meridian: Ally Kort, Jaslyn Ward, Kim Schropfer. Neligh-Oakdale: Paige Furstenau. Niobrara/Verdigre: Josilyn Miller. North Platte St. Patrick: Kate Stienike, Mae Siegel, Rachel Heiss. Osmond: Kiera Moes. Palmer: Clara Kunze, Joslynn Donahey. Plainview: Abbie Kromarek, Peace Akinnigbagbe, Teya Boyer. Pleasanton: Natalie Siegel, Chelsea Fisher, Isabelle Paitz. Sandhills Valley: Jaylen Dimmitt. Shelton: Makenna Willis, Halie Clark. Silver Lake: Kerigan Karr, Katelyn Karr, Amanda Ehrman, Georgi tenBensel. South Platte: Kerstin Brown, Marian Koenen, Lauryn Stanley. Southern: Kaylee Klover, Callie Cooper. Southwest: Caylin Barnett, Bailey Truksa. Summerland: Adyson Mlnarik, Avery Cheatum, Hadley Cheatum. Tri County: Jordyn Carr. Twin River: Katie Paczosa, Delaney Reeg, Whitney Schmidt. Wausa: Morgan Kleinschmit. Weeping Water: Reagan Aronson, Jamison Twomey, Karley Ridge, Reba Wilson. Yutan: Haley Kube, Maura Tichota, Laycee Josoff.
CLASS D-2 
Arthur County: Gracie Wenzel, Emma Ohm. CWC: Michelle Koenig, Ryann Haburchak, Rachel Dierks. Cody-Kilgore: Tehya From, Abi Donner, Jayda From. Diller-Odell: Addison Heidemann, Karli Heidemann, Mad Meyerle. Dorchester: Jacee Zoubek. Elba: Angel McKoski, Maycee Radke. Exeter-Milligan: Jaiden Papik, Cameran Jansky, Emma Olsen, Cammie Harrison. Falls City Sacred Heart: Olivia Eickhoff, Danielle Bippes. Franklin: Abigail Yelken, Bryanah Hindal, Bailey Lennemann. GI Heartland Lutheran: Jessica Zehendner, Madelyn Graham. Hampton: Lexie Wolinski, Rorie Loveland, Xaya Stuart, Lillian Dose. Hay Springs: Joce Varvel, Samantha Toof. Humphrey St. Francis: Kaylee Stricklin, Emma Baumgart, Hannah Baumgart. Hyannis: Ashlyn Henderson. Lawrence-Nelson: Emily Miller. Lewiston: Katelyn Sanders. Leyton: Ella Draper. Lincoln Parkview: Aleziah Anderson. Loomis: Alexis Billeter, Hanna Stewart, Sam Schemper, Georgia Crandall. Maywood-Hayes Center: Olivia Hansen, Ashlin Broz, Stevie Handsaker. Medicine Valley: Acelyn Klein, Stella Heapy, Kaylyn Roblee. Mullen: Taylor Svoboda, Shelby Welsh, Kylie Licking. O'Neill St. Mary: Mya Hedstrom, Hope Williamson, Lorissa Reiman, Alissa Brabec. Paxton: Jacelyn Jorgensen. Randolph: Jaiden Taylor, Gracie Eledge. Riverside: Haley Munn. Sandhills-Thedford: Madison Marten, Tenley Rasmussen. Santee: Destinee Tuttle, Dawayna Wabasha. SEM: Mikah O'Neill, Abbie Rohde, Faith Hernandez. Sioux County: Karlee Juhnke, Kailey Klein, Kodie Rempp, Beth Krein. Spalding Academy: Brooke Keber. St. Edward: Emma Olson, Jean Cumming. Sterling: Dakotah Ludemann, Katy Boldt, Kaity Wusk, Ella Wingert. Stuart: Lexi Schroder, Taya Schmaderer, Cadence Kramer, Sydney Estill. Wallace: Mariah Gardner. Wauneta-Palisade: Haylee Sandman, Cali Cox, Alexa Sandman, Peyton Cox. Wilcox-Hildreth: Brooke Quadhamer, Sarah Jensen, Natalie Billington. Wynot: Edyn Sudbeck, Autumn Lawson.
---
Celebrating past All-Nebraska basketball teams
Photos: Celebrating past All-Nebraska basketball teams
2021: Showstoppers
2020: The Legion of All-Nebraska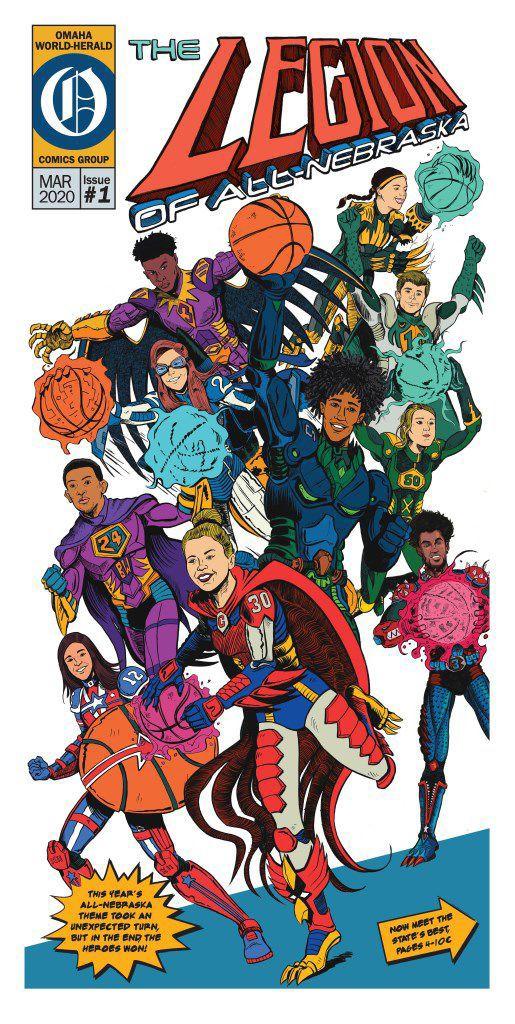 2019: Masterpiece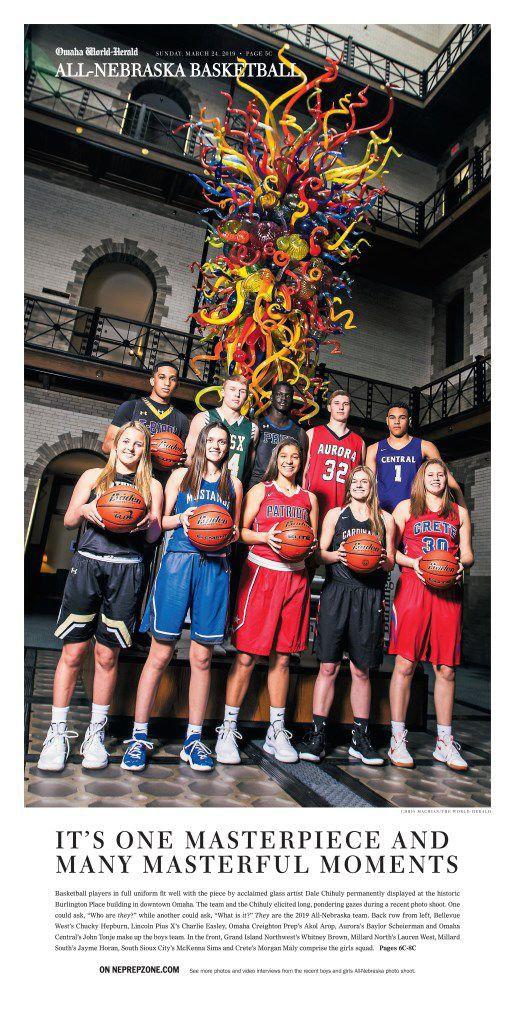 2018: Monumental
2017: Royal Court
2016: Hang Time
2015: Shooting Stars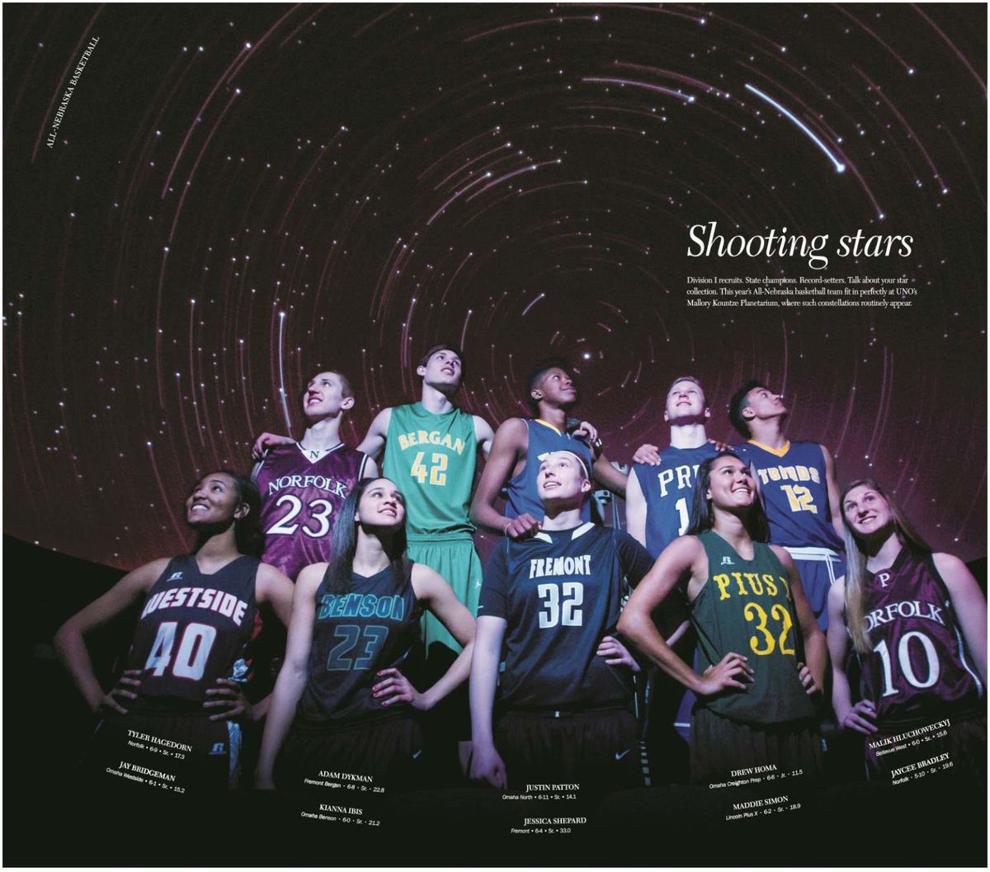 2014: Full-court Press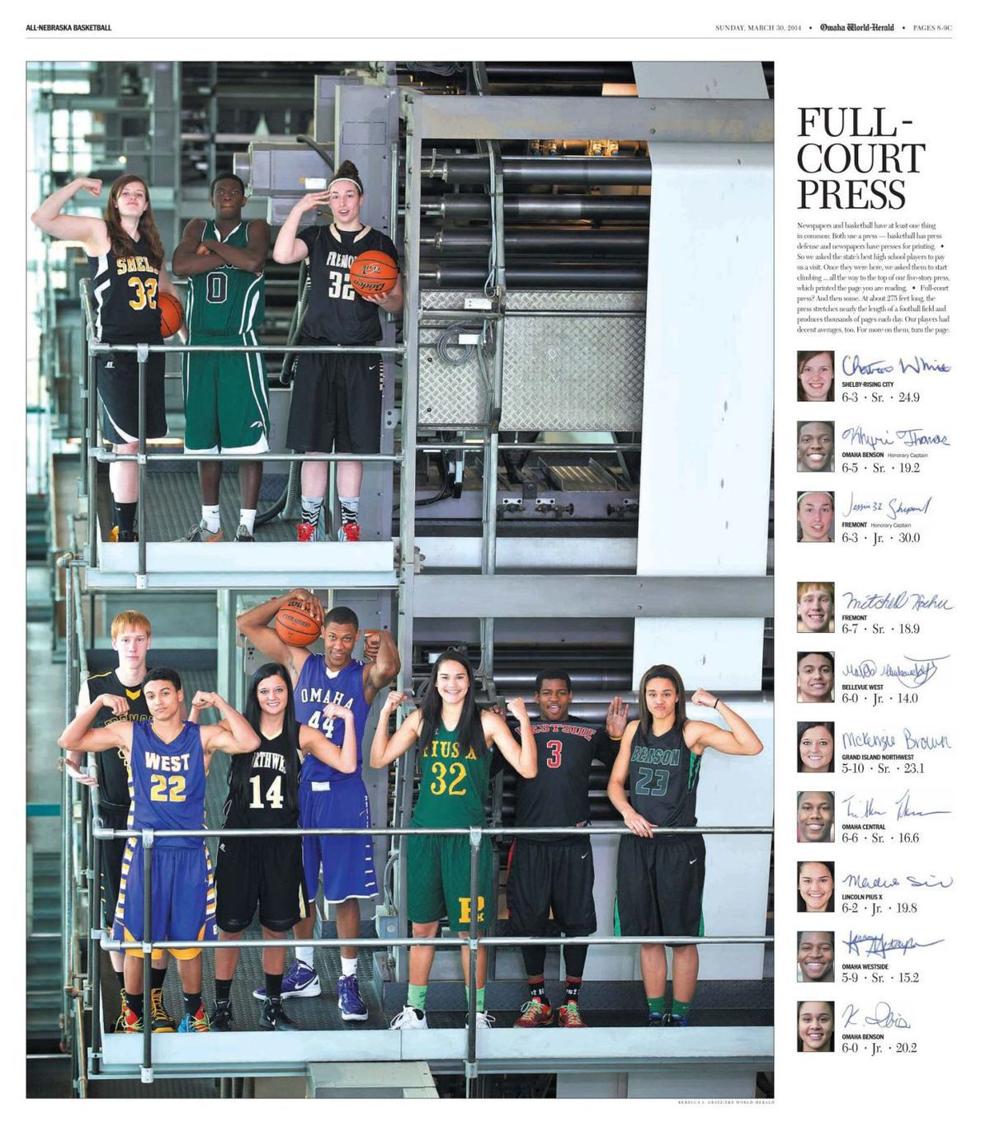 2013: All-Shake
2012: Old School
2011: Showstoppers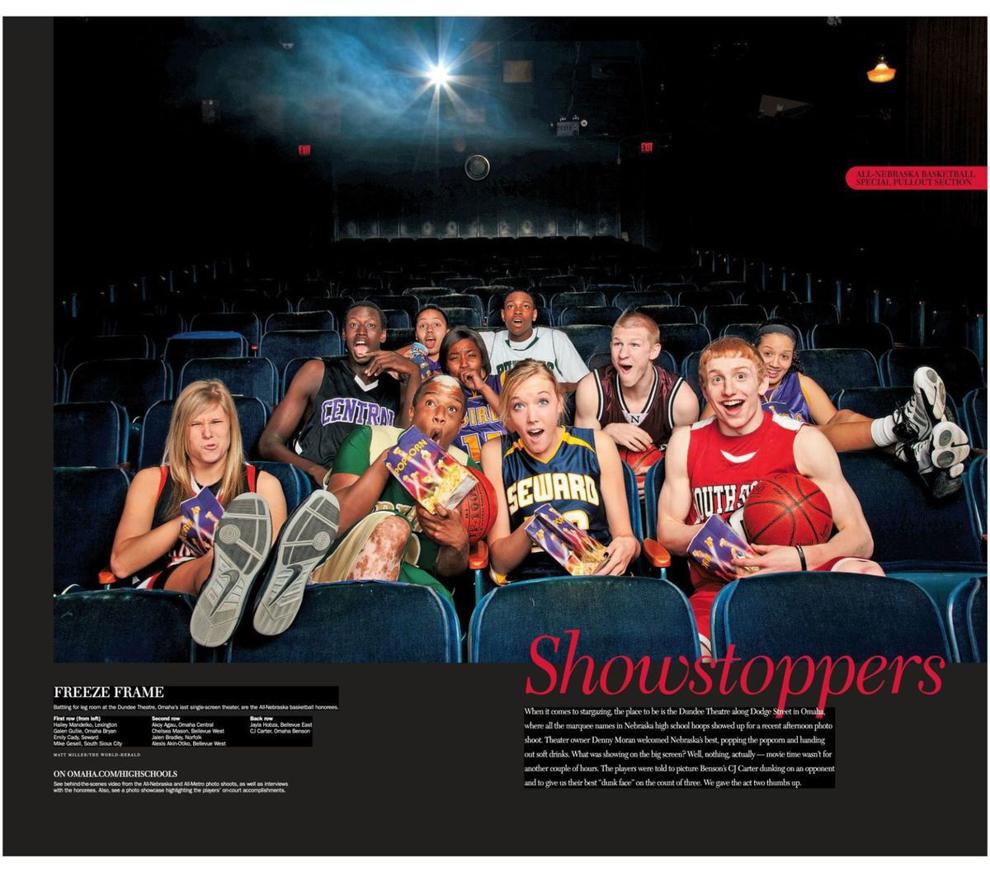 2010: Good to the End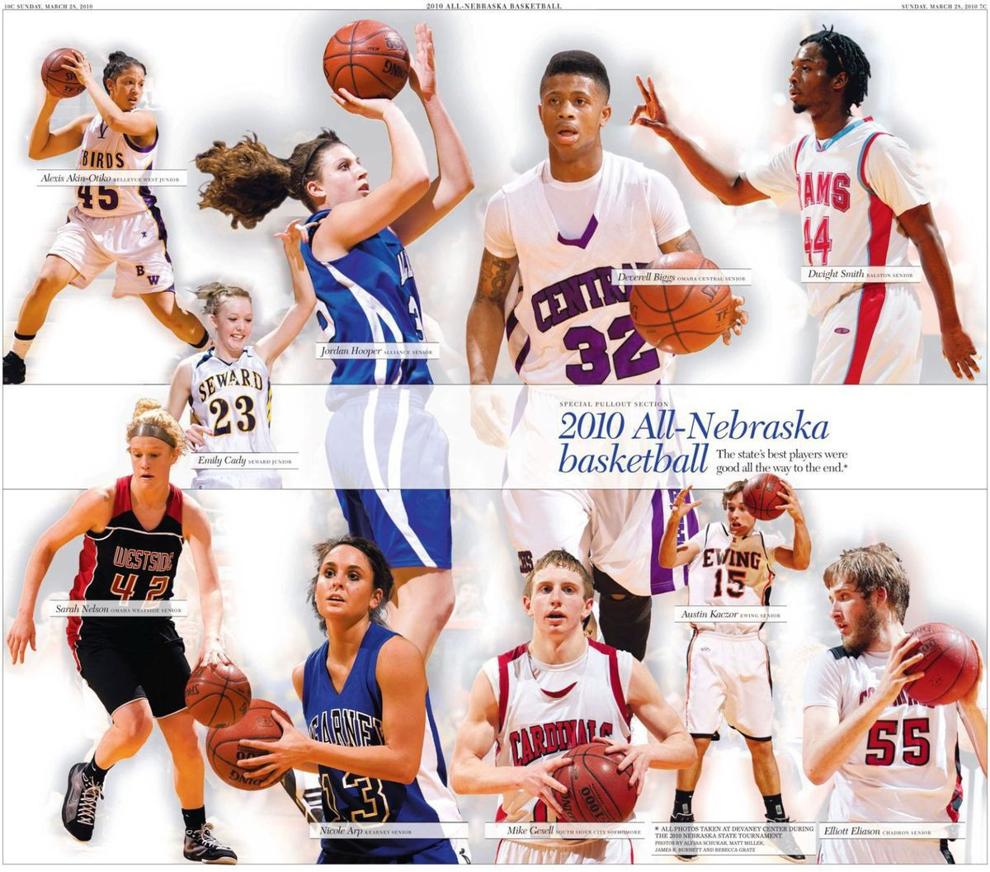 2009: From All Directions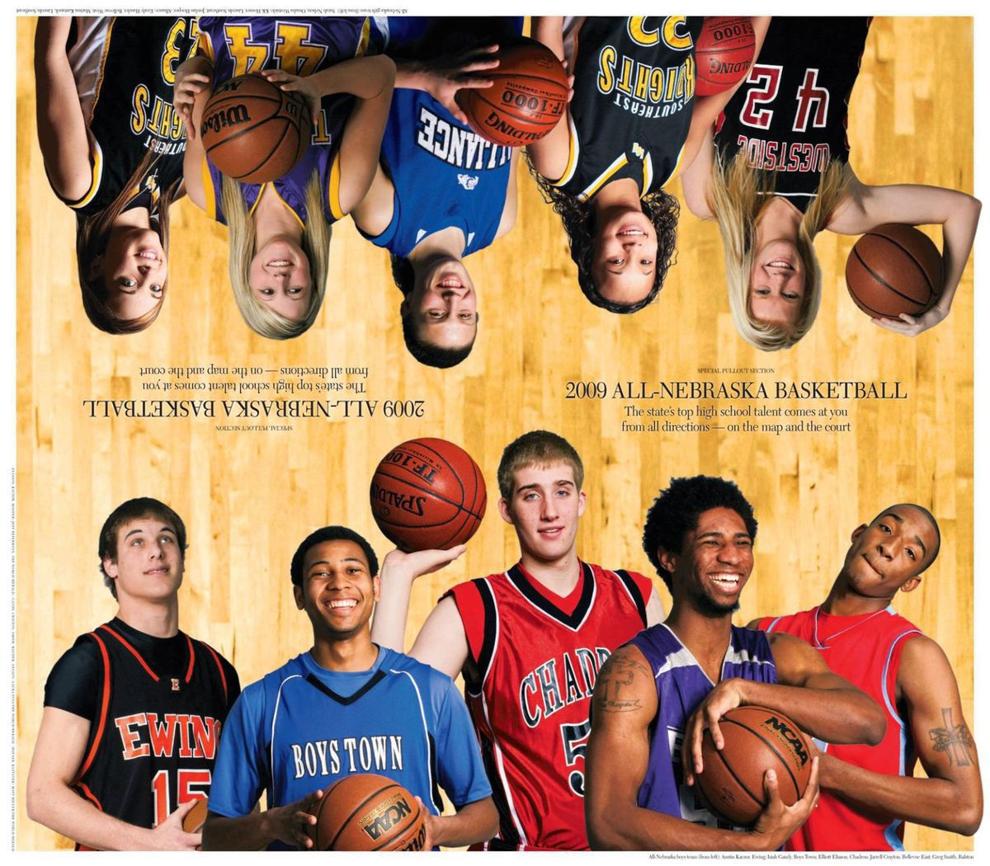 2008: Rare Collection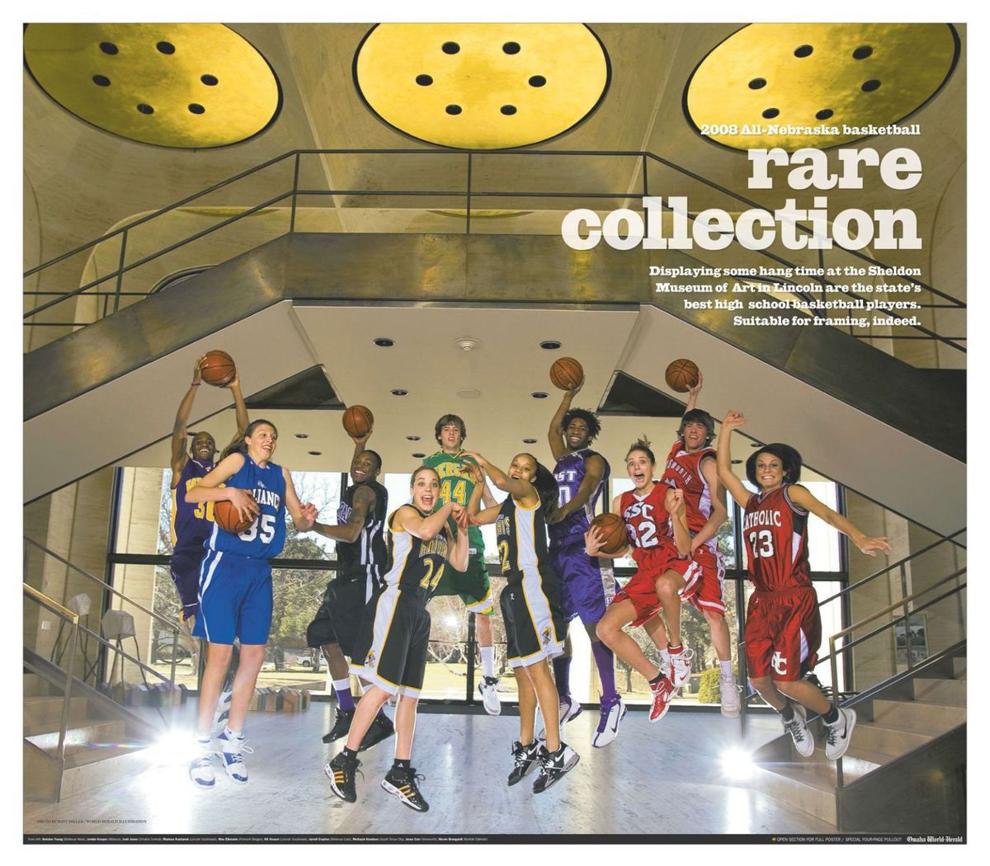 2007: Big Game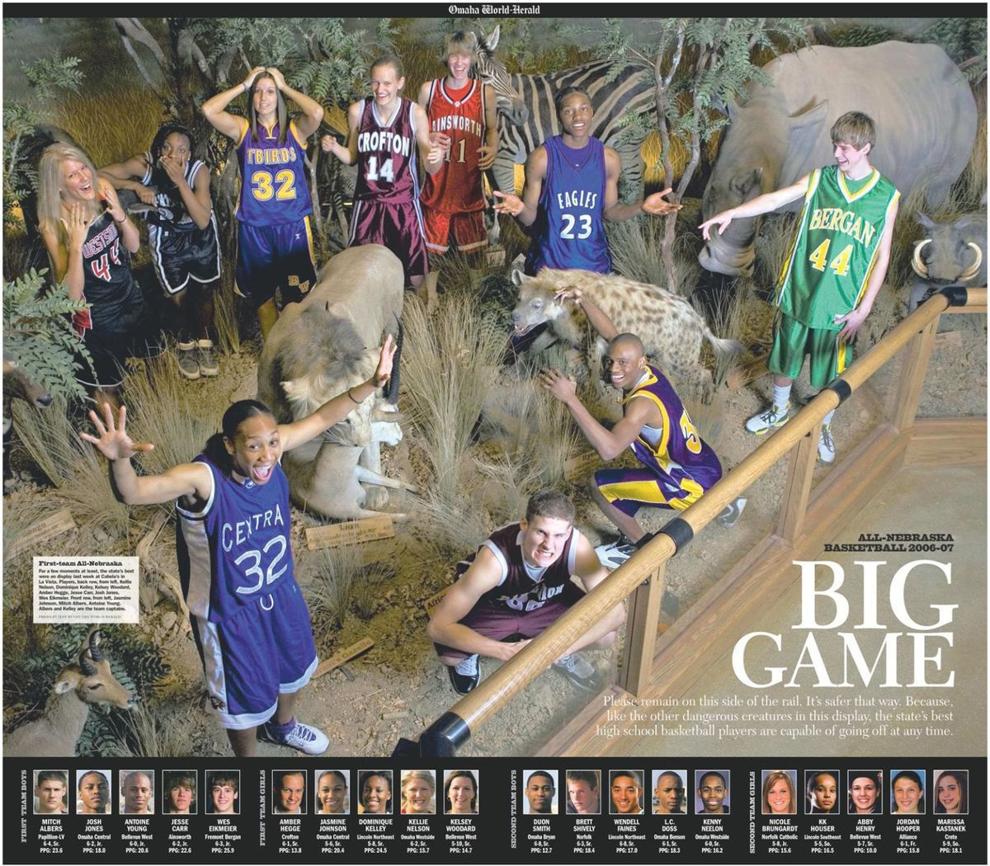 2006: A Cut Above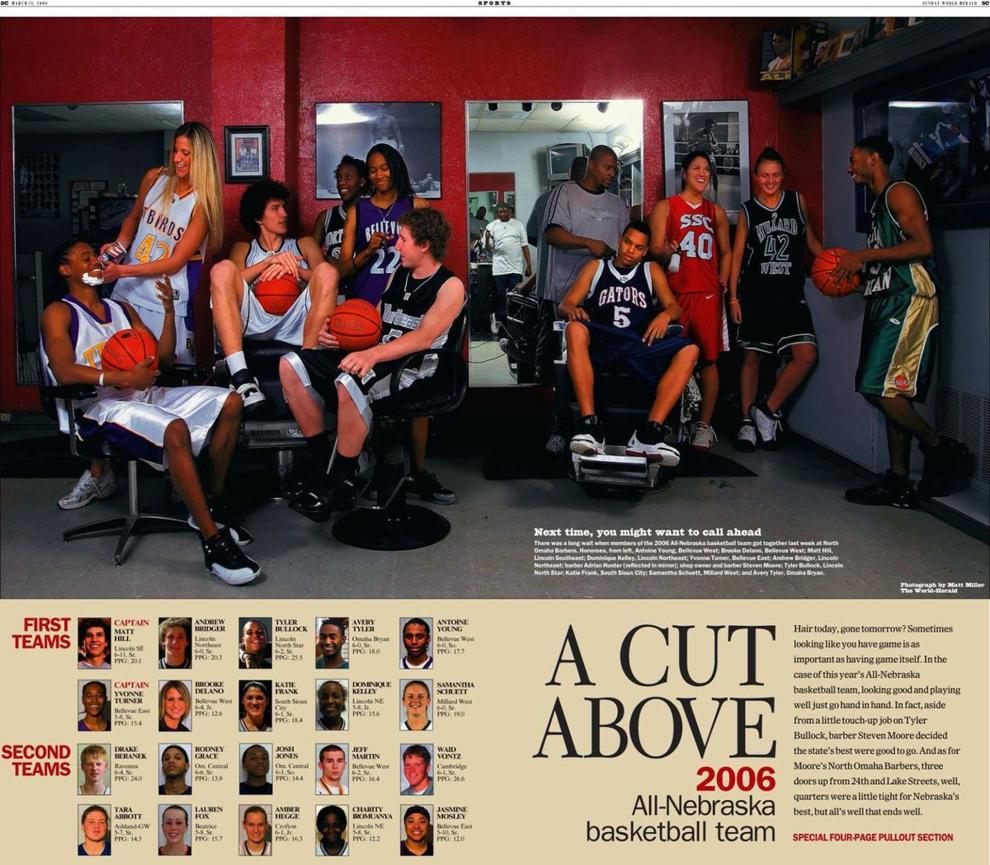 2005: All-State Oasis