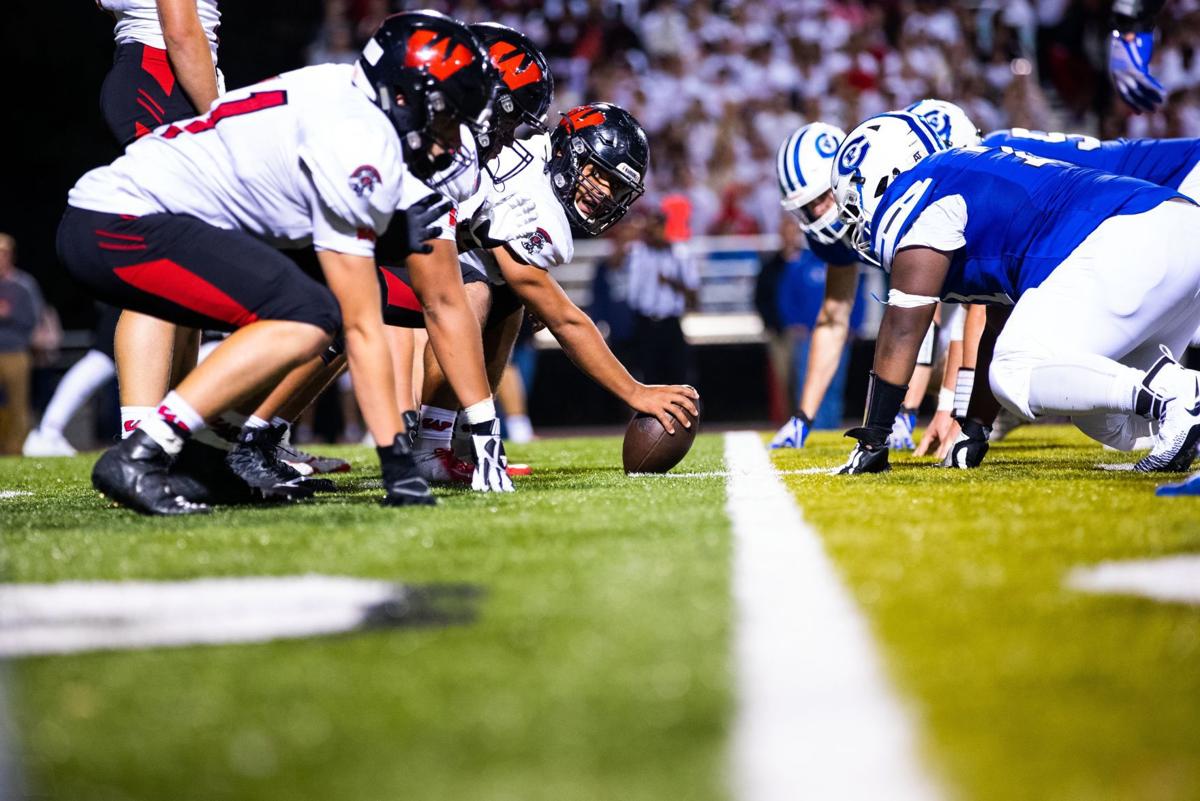 No, it's not a typo on the Omaha Westside football roster.
Starting center Nolan Miller-Johnston — known to all as "Deuce" — really is 5-foot-7. But opposing coaches have learned not to underestimate the 185-pound senior because of his stature.
"He's one of the most unique individuals I've met in my 26 years here,'' Warriors coach Brett Froendt said. "It's obviously pretty uncommon for a lineman to be that size but he keeps getting the job done.''
Sign up for daily headlines from NEPrepZone
Get a daily roundup of game recaps, player features and more in your inbox.
Froendt said he had reservations about playing Miller-Johnston two years ago but the then-sophomore rewarded his coach's faith. He's been starting ever since on both the offensive and defensive lines against players who might outweigh him by 100 pounds.
"That just doesn't happen in the Metro Conference," Froendt said. "But Deuce is special, and he proves it every game."
The coach added there are several reasons why Deuce — nicknamed by his mother because he's Nolan Miller-Johnston II — not only has survived but prospered against those bigger players.
"He puts in a lot of work in the weight room so he's very strong,'' Froendt said. "He's also a wrestler, so he knows all about leverage."
Deuce has something else going for him.
"He's got a huge heart," Froendt said. "He never takes a play off and he loves to prove that he belongs out there."
Miller-Johnston also gives credit to his coaches who taught him the techniques he needs to be successful.
"They showed me how to stay low and use my quickness," he said. "And how to use my strength to drive guys backward."
Froendt said teammates have seen how hard Deuce has worked to hold onto his starting positions. He is the two-time lifter of the year in his class, so opponents square off against him at their own risk.
"He goes against some really big ogres every Friday night," the coach said. "They think they can push him around but he ends up taking care of not one but two guys."
Deuce said he remembers a game his sophomore year against Omaha Northwest when he was still trying to prove himself in the trenches.
"They had a nose tackle and I remember thinking, 'This dude is big,' " he said. "But I felt like I did a good job against him and that really helped my confidence."
The Warriors have been a confident bunch this season, winning their first five games by an average of 36.8 points. That includes a 37-2 victory last Friday night over their biggest Metro rival, Omaha Creighton Prep.
Miller-Johnston said that victory was particularly satisfying, not just for him but for many of his graduated former teammates. Westside lost its season opener in 2017 against the Junior Jays.
"A lot of them let me know how important this game was," he said. "They wished me luck and told me to make sure that we win this time.''
That team concept is something Deuce doesn't take lightly. He's a captain on the team and one of the squad's vocal leaders.
"We have a lot of guys who lead by example,'' Froendt said. "But he's really the captain of the ship."
The coach added that leadership quality also can be seen away from the football field.
"Deuce is a great role model," Froendt said. "He's the first to volunteer when I need someone to talk to kids at elementary schools."
There's just one thing that bothers the coach about his senior lineman — the fact he has gotten no attention from college coaches at any level.
"At his size, they won't look at him," Froendt said. "If he was bigger, any school would die to have him."
Miller-Johnston is resigned to the fact his football playing days could end with high school. But if that's the case, he's thankful he has gotten the opportunity.
"I'd love to be taller, but it is what it is," he said. "I'm just really proud to know that I've made a contribution to the team."