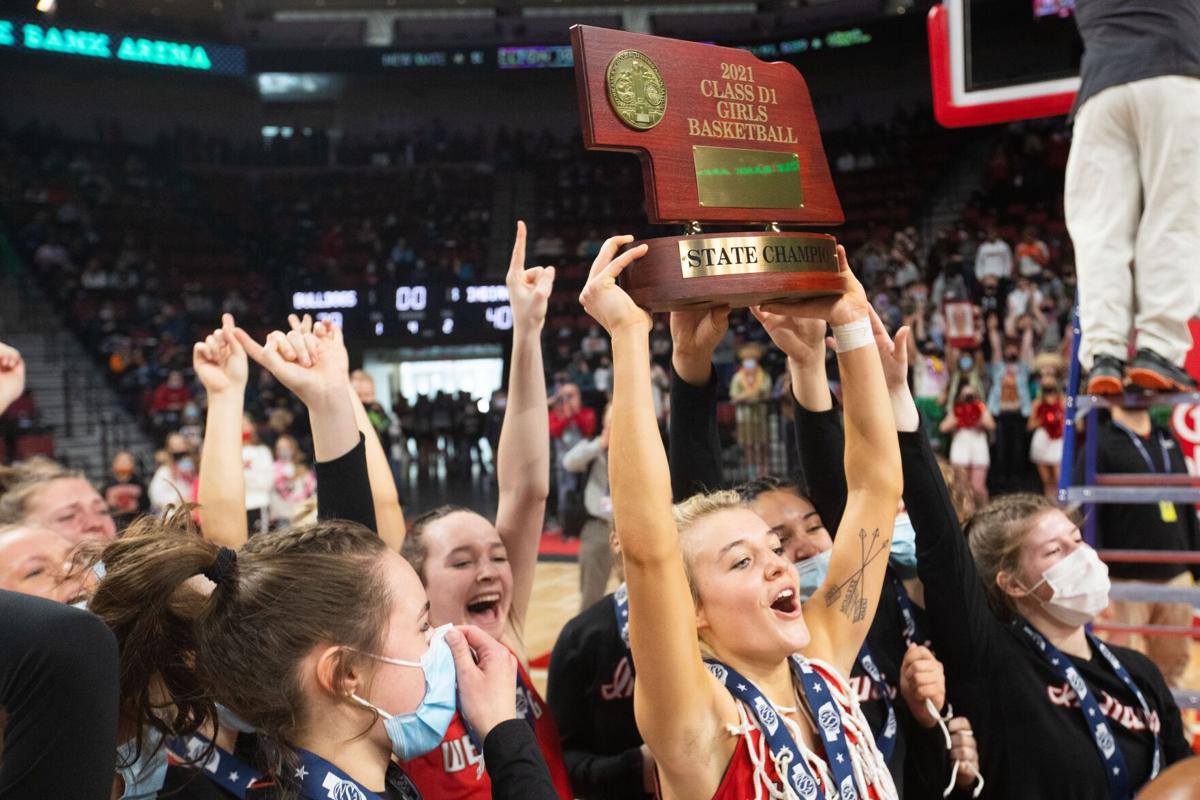 LINCOLN — The Class D-1 final of the girls state basketball tournament came down to one play Saturday, and Grace Cave made it.
Her driving layup with six seconds left boosted Weeping Water to a 40-39 win over top-ranked Pleasanton in the championship game at Pinnacle Bank Arena. It's the first title for the Indians in their fourth state appearance.
"All gas, no brakes," Cave said. "I knew I didn't have a lot of time."
Weeping Water had taken a four-point lead but the defending-champion Bulldogs rallied in the final minute. Kaci Pierce sank a 3-pointer and then made a layup with 14 seconds left to put the Bulldogs ahead 39-38.
The ball was inbounded to Cave, who drove the length of the court and hit the contested layup. Pleasanton got off one last desperation shot that was off the mark.
"I didn't think it would come down to a buzzer beater," Cave said. "I went for it and thank gosh, it went in."
Cave, a UNO commit, said making the game-winning shot at state is something she has dreamed about for a long time.
"Since I was 4," she said. "I always thought it would be a free throw, not a layup."
Weeping Water coach Joel Haveman, coaching his last game before leaving to be a men's basketball assistant at Morningside, said he wasn't about to call a timeout in those final seconds.
"Once Grace got the ball on the run, I was going to let her go," he said. "We have a ton of trust in her."
The 5-foot-9 senior guard, who averages 21 points per game, finished with a game-high 16. She also had five rebounds, five assists, two blocks and two steals.
Pleasanton, which sank 12 3-pointers in its district final, struggled offensively. The Bulldogs were 32% from the field and 55% from the line.
"It wasn't our morning," coach Jordan Arensdorf said. "We just couldn't finish around the rim."
Arensdorf said he considered calling a timeout after Cave's late layup but decided against it.
"Credit to Weeping Water and to Cave," he said. "She's a special player."
The Indians had never won a state tournament game until this season. They reached state last year but lost in the opening round, which served as added motivation.
Haveman's squad trailed by six early in the fourth quarter but a 7-0 run gave the Indians the lead. Pleasanton went back ahead on the basket by Pierce but Cave's dramatic drive to the basket won it for Weeping Water.
Brooklyn Rathe came off the bench to score nine points for the Indians and Karley Ridge added eight, all in the fourth quarter.
Pierce scored 15 points to lead Pleasanton, which finishes 27-2.
Weeping Water (24-5)........5 12 10 13—40
Pleasanton (27-2)..............7 8 11 13—39
WW: Karley Ridge 4-8 0-1 8, Reba Wilson 0-2 1-2 1, Reagon Aronson 1-9 0-0 3, Jamison Twomey 1-5 0-1 3, Grace Cave 6-14 2-2 16, Brooklyn Rathe 3-3 3-3 9.
P: Katelyn Lindner 2-6 3-5 7, Chelsea Fisher 5-8 0-0 10, Natalie Siegel 0-4 0-0 0, Isabelle Paitz 3-16 1-2 7, Kaci Pierce 6-11 1-2 15, Hailey Mollring 0-5 0-0 0, Regan Weisdorfer 0-0 0-0 0.
3-point goals: WW 4-22 (Ridge 0-1, Wilson 1-2, Aronson 1-9, Twomey 1-4, Cave 2-8); P 2-13 (Fisher 0-1, Siegel 0-3, Paitz 0-2, Pierce 2-6, Mollring 0-1). Rebounds: WW 25 (Ridge 11); P 41 (Lindner 9). Fouls: WW 12; P 15. Turnovers: WW 14; P 18. Field-goal percentage: WW .366; P .320. Free-throw percentage: WW .667; P .556.
---
Nebraska girls basketball tournament Saturday