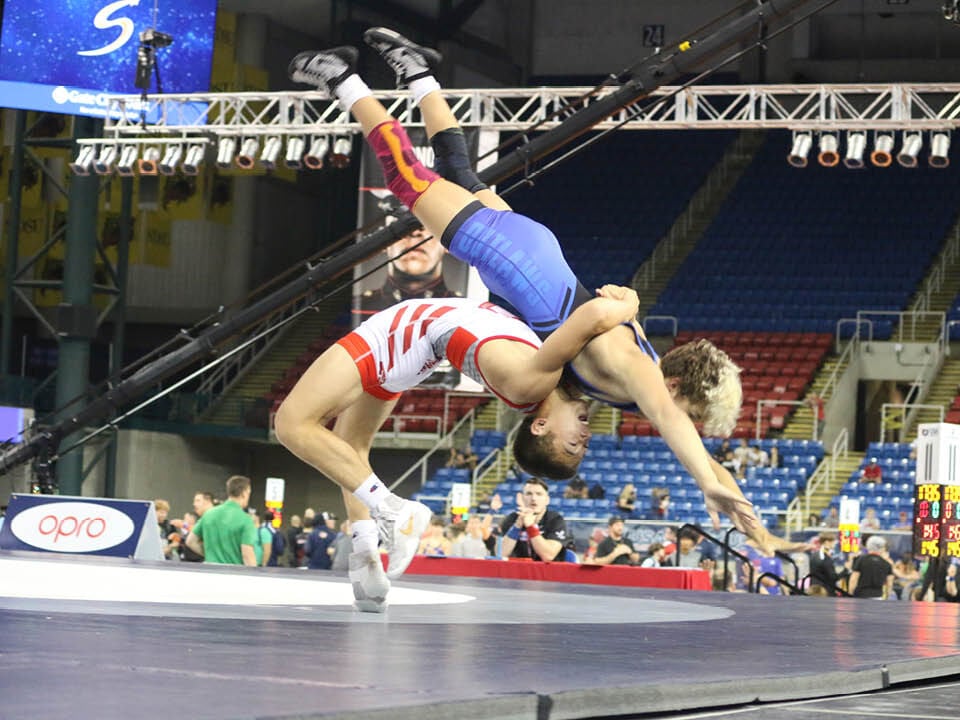 After one of the best showings on one of the biggest stages, Joel Adams had major plans to celebrate with his family.
"I don't know what they're going to do," the Millard South junior-to-be said, "but I'm going to eat a ton of food."
In a span of four days this week, Adams put together a performance among the best ever by a Nebraskan at the prestigious Junior & 16U Nationals in Fargo, North Dakota, winning a pair of national championships and an Outstanding Wrestler award.
He put the exclamation point on the week with a 12-0 win in the 138-pound Greco-Roman final Thursday. That after winning one of the famed stop-sign shaped trophies with a thrilling 7-6 win in the 138-pound freestyle finals earlier in the week.
Adams became just the second Nebraska wrestler to ever win double golds in the 16U tournaments.
"I don't know if I wrestled my best this weekend, but I do think I wrestled really, really well," Adams said. "I wrestled focused, which I think really helped me."
It was the first Fargo appearance for Adams, who last month was ranked No. 45 nationally for the Class of 2023 by MatScouts.
He beat Tyler Kasak of Pennsylvania — ranked No. 18 on that same list — for the freestyle championship. After trailing 4-0 early, Adams scored in the final six seconds to clinch the title. He's just the fifth wrestler from Nebraska to win a freestyle title in the 16U class.
He outscored Greco opponents 68-1 and was named the style's top wrestler for the entire tournament.
"What I saw was a guy that was on a mission," said Georgi Ivanov, the executive director of Nebraska USA Wrestling. "He's put in the work and he was very prepared. He showed up and he had a great week of wrestling."
Ivanov, a former Olympic wrestler, is also one of Adams' club coaches with The Best Wrestler Club in McClelland, Iowa. He's worked with Adams for the past two years, and said the talent has always been there.
"I knew there was a lot of work still to be put in," Ivanov said. "He's done that. Here we are."
Adams said he went to Fargo "fully expecting to win both styles." It's the kind of confidence, he said, that comes with friends, family and teammates who are supportive.
"They pretty much engrave that in my brain," Adams said.
An already busy recruitment — Adams has heard from the likes of Nebraska, North Carolina State, Virginia Tech, Virginia and Cornell —may only pick up after all the hardware he brings back.
"I hope the list will continue to grow," Adams said.
He'll be patient with the process.
"I understand choosing a college you have to be a little picky about it," Adams said. "A lot of people take that process for granted and rush that process too much. I definitely want to take my time."
He'll now have a break from competition, planning to spend some time with family and a couple of weeks in Japan before the summer is over. It's likely his next tournament will be the Super 32 Challenge, another of the nation's toughest fields, in late October.
Club teammate Kael Lauridsen of Bennington also won a national title Thursday, capturing the 120-pound Greco championship in an 11-0 victory. The junior-to-be, ranked No. 42 on the MatScouts big board for the Class of 2023, outscored opponents 63-0 on his way to a championship. He finished fourth in freestyle.
---