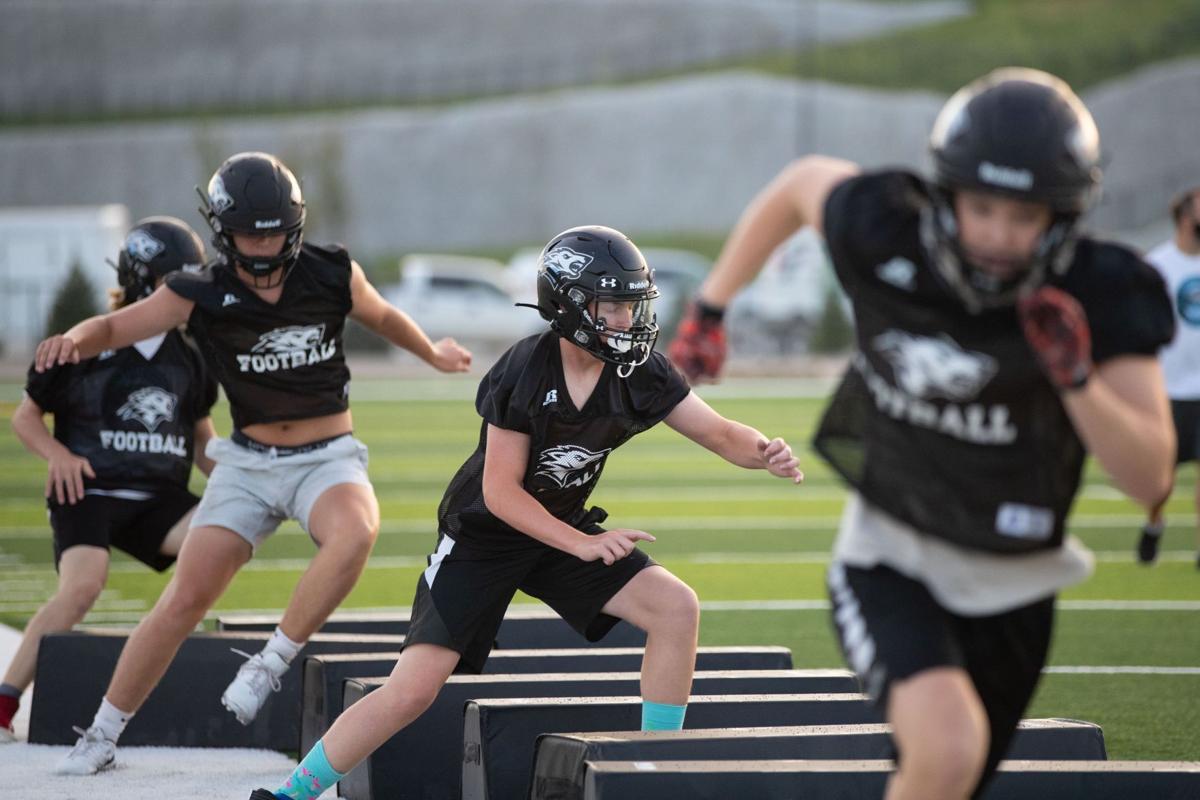 The two-tone green turf practice field was a glorious sight to Parker Mahloch and his new Elkhorn North teammates who will start the Wolves' tradition.
"It's awesome that we get to be on a brand-new field at a brand-new place,'' Mahloch said. "You know, when we were walking down, it didn't really feel like it was real because we've been waiting for this all summer and we're finally out here."
The 73 Wolves were among some 10,000 football players across the state Monday to take the field for the first day of fall workouts. Other sports that started were volleyball, softball, cross country, girls golf and boys tennis.
On the sidelines, however, were Grand Island temporarily and the seven high schools in the Omaha Public Schools for much longer. Grand Island's team is in quarantine from school until Aug. 20 and practice until Aug. 24 because of an assistant coach testing positive for COVID-19. OPS shut down extracurricular activities for the first quarter, which ends Oct. 16.
Nebraska is one of 14 states to start high school sports on time while the coronavirus pandemic, which wiped out last spring's sports season nationally, continues. Kansas, Missouri and South Dakota have no changes to their fall plans. Iowa has modified its football plans. Colorado is delaying football and volleyball, among other sports, to the spring.
Elkhorn North will be in Class B this year. It's the first new school in an Omaha-area district since Elkhorn South opened 10 years ago. In 2020-21, it will not have a senior class. Its sophomores and freshmen come over from Elkhorn High, which has spun off its second school.
Football coach Sam Stanley said Monday was a day he was anticipating, and despite everything else, it came.
"It was challenging at times, but I think that our coaches did a great job of adjusting and planning and doing the things that we needed to do to be safe,'' Stanley said. "I really commend our players, because they have just done nothing but show up and work hard every day, they haven't complained about anything.
"We've had a lot of distractions going on around us, and none of that's bothered them and they've done everything we've asked of them. They've worked incredibly hard and have been super dedicated. We have great leadership in our junior class."
Stanley has been a player at Elkhorn High (a 2007 graduate) for the dean of area coaches, Mark Wortman, and an assistant coach at Elkhorn South for Guy Rosenberg. Naturally they've been his big influences.
"I was fortunate enough to play for Coach Wortman in high school, taught with him for eight years and coached against him. I've known that I want to be a head coach for a long time,'' Stanley said. "I worked for Guy for eight years, and he was constantly working to prepare me for this, doing a lot of things that he didn't have to involving me, but it was important for him to get me ready for something like this.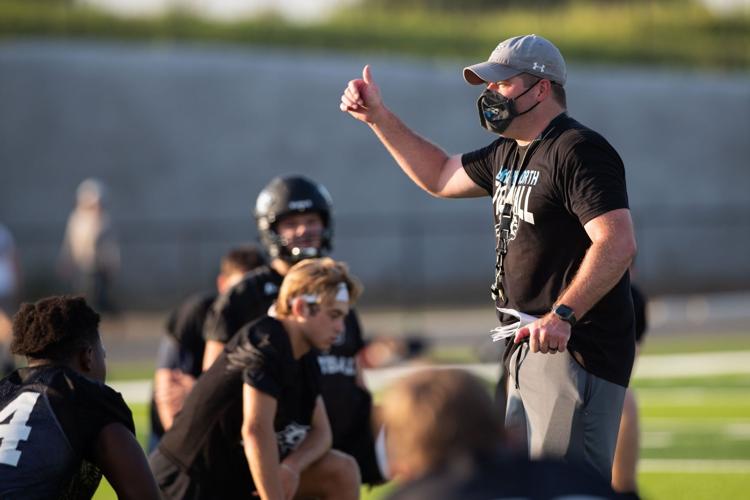 "It's something I greatly appreciate. There's no doubt I wouldn't be here but for them."
Stanley was the defensive coordinator at Elkhorn South. In that position at Elkhorn North is former Husker Mike Zeplin, who started the Omaha Skutt football program in the 1990s and went into school administration before returning to teaching and coaching. Offensive coordinator Jacob Rapp was with Stanley at Elkhorn South. Special teams coordinator Anthony Dunn, who will be the Wolves baseball coach, was a head coach at Bellevue East and an assistant at Doane University.
"It was really important to me to surround myself with guys that have that head coaching experience,'' Stanley said. "It's been great to have them as a resource, to be able to bounce ideas off of them and just kind of have all of us work together."
Mahloch, who is a 6-foot-1, 200-pound junior, plays tight end and linebacker. He likes the staff.
"We've bought in to what's going on here,'' he said. "It's done a great job with helping us stay safe with all the coronavirus stuff going around."
Changing from being in the Antler herd to the Wolves pack hasn't been "super hard,'' he said.
"It's a big change, but it's an exciting one,'' Mahloch said. "We've all known we've wanted to be a part of a brand-new team, and it's a great opportunity to start something new."
Elkhorn North's first football game is to be Aug. 28 at Waverly. Its first home game at Elkhorn Stadium is Sept. 11 against Plattsmouth, and it meets Elkhorn High on Oct. 16.
Videos: Coaches Corner with Mike Sautter
Join host Mike Sautter as he chats with high school coaches from across the state of Nebraska.