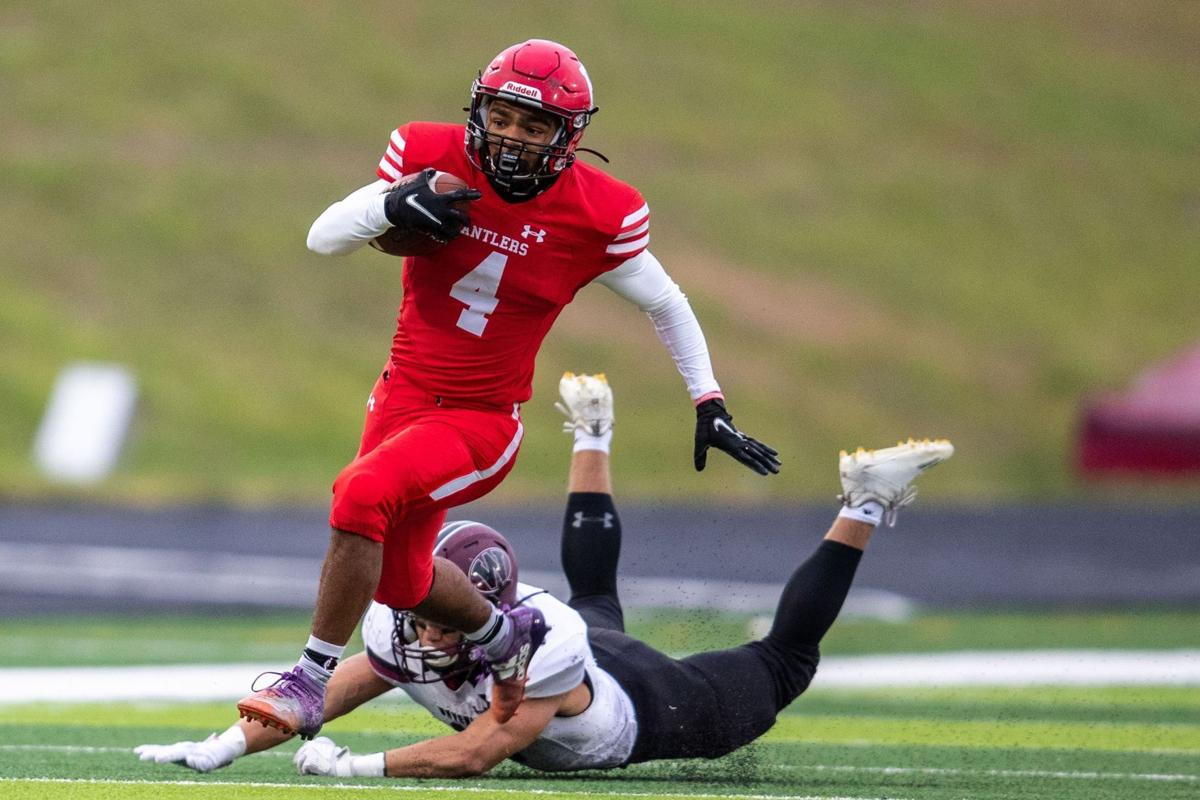 Mark Wortman knows what it's like to win a state title on his home field. He and his Elkhorn team will get the chance to do that again Friday.
The Antlers host Aurora at 6 p.m. for the Class B championship. Title games are being played at home sites instead of Lincoln's Memorial Stadium due to COVID-19 restrictions.
Wortman, who has coached at Elkhorn since 1980, led the Antlers to four finals between 1987 and 1992. His teams won at Pierce in 1989 and at home over Lexington in 1992.
"When everyone was standing on the track around the field, it was a cool feeling," Wortman said of those finals before Memorial Stadium became the host in 1996.
Elkhorn started this season No. 1 in Class B before losing its opener. Four others held the top ranking this fall — Elkhorn defeated two of them, Waverly and Hastings, in the past two rounds. Aurora, meanwhile, won at former No. 1 Norris in the quarterfinals.
"There were a lot of good Class B teams," Wortman said. "There were about six, seven, eight, nine teams that were right there. Even midseason, you knew any one of them could go to the finals, so we feel very fortunate."
Aurora started 0-2 but is 9-1 since then. Winners of the 2018 Class C-1 title, the Huskies moved back to Class B this season.
"We have high expectations every year, no matter what classification we're in," Aurora coach Kyle Peterson said. "We played a real hard schedule — eight of the nine teams we played were in the playoffs. It hardened us, it made us better. We learned what we had to do to be successful."
Peterson thinks his offense found its identity midseason, when the Huskies beat McCook and Hastings in back-to-back weeks. He said his offensive line has been good while the offense is producing more explosive plays.
Mack Owens, who took over as the team's No. 1 running back in early October, ran for four touchdowns against Hastings and has 1,104 yards this season.
"He seems to get better the more touches he gets," Peterson said.
And Ethan Shaw, in his first season as starting quarterback, has grown into that position, rushing for 1,033 yards and passing for 1,850.
Peterson said slowing down Elkhorn back Aiden Young will be one of the keys for his defense. Young has rushed for 1,376 yards and committed to walk on for Nebraska last weekend.
The Antlers are 10-2 after going 3-6 the past two seasons in Class A.
"It was a good learning experience for us," Wortman said. "I think we got a lot out of it."
The Antlers have shown this fall they can win tight contests. They finished the regular season with a goal-line stand to edge Omaha Skutt 24-21, then survived a wild finish at Hastings last Friday.
Isaac Robinson's 12-yard run gave Elkhorn a 27-21 lead with less than four minutes left before Hastings answered with a touchdown pass to move in front with 2:11 left. But Elkhorn responded with Gannon Gragert's 26-yard scoring reception with 59 seconds left for a 33-28 win.
"They don't know what the words 'give up' mean," Wortman said. "It's a team that has a lot of character."
No. 8 Aurora (9-3) at No. 4 Elkhorn (10-2)
When Aurora has the ball: Mack Owens moved up as the starting running back in midseason and has 1,104 yards with 15 touchdowns. Ethan Shaw has 1,033 yards rushing and 1,850 passing. Jameson Herzberg leads the Huskies' receivers with 44 catches for 532 yards. Hayden Stec's 81 tackles lead Elkhorn. Michael Hart has a team-high four interceptions.
When Elkhorn has the ball: The Antlers favor running the ball, but third-year starter Grant Gutschow has quality receivers in Gannon Gragert and Nebraska baseball signee Drew Christo while throwing for 1,715 yards and 15 touchdowns — eight to Gragert. Aiden Young is averaging 114 yards rushing a game with 20 total touchdowns. Aurora's Herzberg has eight interceptions and Jacob Settles four. Brady Collingham has 83 solos among his 122 tackles. Owens is next with 95 total.
History lesson: Neither team was in Class B in 2018 and 2019 — Aurora had dropped to C-1 and Elkhorn returned to A before spinning off Elkhorn North this year. And this is their first meeting. Elkhorn is 5-5 in Class B finals, with its most recent appearance in 2014 and last title in 2011. Aurora is 3-4 in finals, winning Class C-1 in 2018.
Omaha World-Herald: Nebraska Prep Zone
All the latest updates for Nebraska High School sports