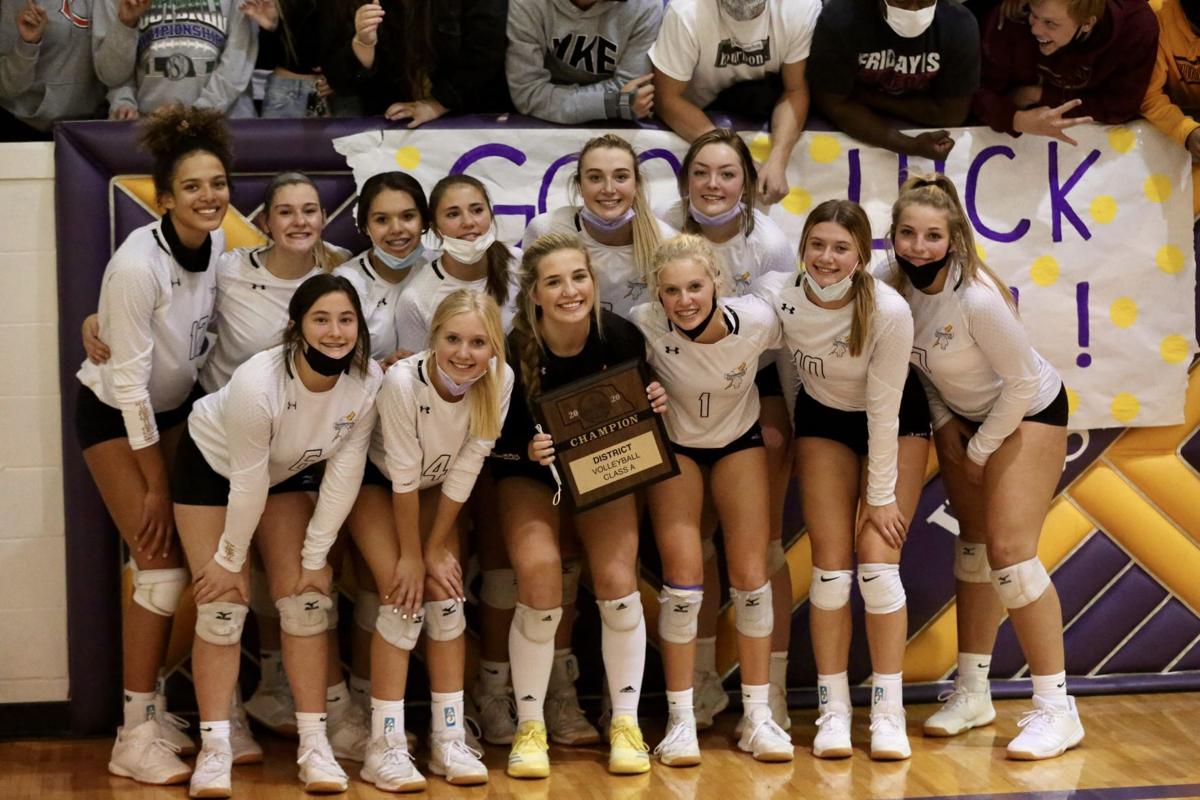 Bellevue West's 14-year hiatus from the state volleyball tournament will end next week.
The host Thunderbirds earned their ticket on Wednesday night with a 25-18, 25-18, 25-19 victory over North Platte in the District A-7 final. Bellevue West will return for the first time since 2006, when the Thunderbirds won their 12th state title — most of any Class A school.
"I'm so happy for these girls," Bellevue West coach Christina Krajicek said. "They've all put a lot of work into our program so this is pretty big for us."
Krajicek understands the work it takes to reach state. The former Christina Reicks played on Thunderbird teams that reached the tourney all four years under longtime coach Joanne Kappas.
"It feels so nice to be going back," Krajicek said. "Our staff all graduated from here so it means a lot to all of us."
The Thunderbirds were in control from the start, sprinting to early leads in all three sets. The Bulldogs struggled in part because of some jitters, coach Clancy Hammond said.
"I think we had a lot of nerves," she said. "We just couldn't get anything going."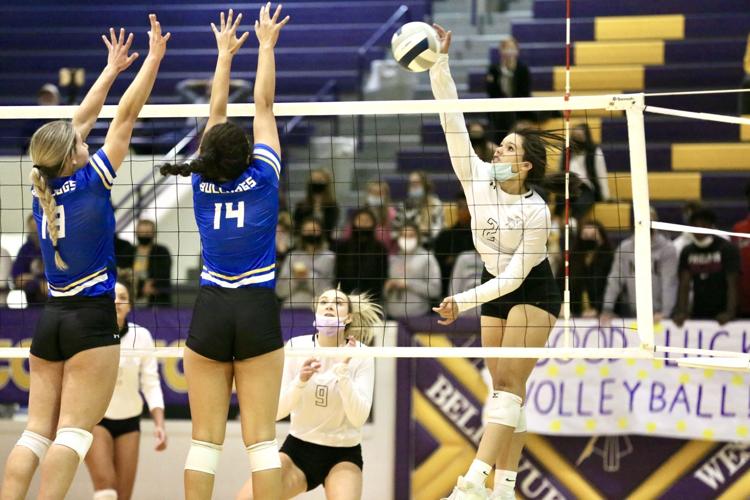 Hammond said it didn't help that North Platte didn't play its scheduled district semifinal Tuesday against Bellevue East. The Chieftains had to forfeit after a player tested positive for COVID-19.
"I wish we could have had that match," the coach said. "I think that would have helped us tonight."
Bellevue West opened a 17-7 lead in the first set and held on for the win. Destiny Ndam-Simpson had five kills and Kealy Kiviniemi added four.
The second set was closer as the Bulldogs trailed 16-13. But the Thunderbirds held that lead and took the set on a North Platte hitting error.
Bellevue West held a narrow advantage throughout the third set with the help of Kiviniemi, who had eight of her match-high 18 kills. Ndam-Simpson pounded the final kill, triggering a celebration on the Thunderbirds' side of the net.
"This feels really good," Kiviniemi said. "We stayed aggressive and I think we set the tone from the start."
She added that it was nice being part of the team that got Bellevue West back to state.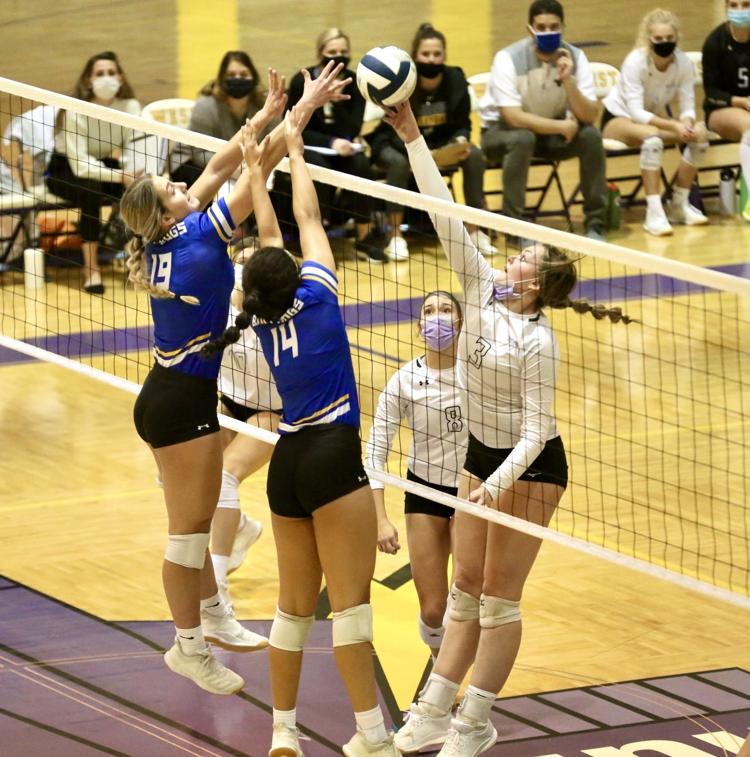 "We wanted to earn it," she said. "We knew that we had to work extra hard this year to accomplish our goal."
Ndam-Simpson finished with 14 kills while Jayna Hope and Kyla Dyrstad combined for 31 assists.
Sophomore Carly Purdy paced North Platte with 12 kills while senior Peyton Neff had 27 assists.
Despite the loss, North Platte appears to be in line for the lone Class A wild-card berth to state.
"We didn't take the foot off the throttle tonight," Krajicek said. "We really played a solid match."
North Platte (21-11)..........18  18  19
Bellevue West (19-12)......25  25  25
NP (kills-aces-blocks): Kenzie Polk 4-0-0, Peyton Neff 4-0-0, Brookelyn Griffiths 0-1-0, Sedina Hayes 1-0-0, McKenna Little 6-0-1, Kylie Harvey 5-0-0, Carly Purdy 12-1-1.
BW: Kenzie Dyrstad 0-1-0, Kayla Eggiman 3-0-0, Kenzie Keith 5-0-3, Kyla Dyrstad 0-3-0, Jayna Hope 3-1-0, Kealy Kiviniemi 18-0-1, Cara Bond 2-0-1, Destiny Ndam-Simpson 14-0-1.
Set assists: NP 29 (Neff 27, Gracelyn Cauffman 2), BW 36 (Kyla Dyrstad 17, Hope 14, Presley Liberty 2, Keith 1, Kiviniemi 1, Bond 1).
Class A district results
Elkhorn South 3, Millard North 0: Kylie Weeks had 17 kills to lead the Class A No. 1 Storm to a 25-21, 25-16, 25-19 victory. Elkhorn South returns to state for the ninth time in the past 10 years while the Mustangs will stay home for the first time since 2014.
A-2 at Papillion-La Vista South
Papio South 3, Omaha Westside 0: The Titans, the defending Class A champions, moved their record to 27-5 while sweeping the Warriors for the third time. Papio South earned its seventh straight trip to state while Westside was denied its first state tourney berth since 2002.
Pius 3, Lincoln East 0: The Thunderbolts won their district Tuesday night, sweeping the Spartans for the second time to net their 30th trip to state and fifth in a row.
A-4 at Papillion-La Vista
Papio 3, Millard South 0: The Monarchs won 25-21, 25-15, 25-22 to earn their 35th trip to state, the most of any school. The Patriots will stay home for the first time since 2017.
Millard West 3, Omaha Marian 1: The Wildcats earned their 10th consecutive trip to state while the Crusaders, who saw their 18-year state tourney string snapped in 2019, will miss the event for the second straight year.
Lincoln Southwest 3, Kearney 0: The Silver Hawks won 25-15, 25-9, 25-22 to qualify for state for the first time in three years. The Bearcats were seeking their first trip to the tourney since 1984.
---
Bellevue West volleyball defeats North Platte in district final
Omaha World-Herald: Nebraska Prep Zone
All the latest updates for Nebraska High School sports