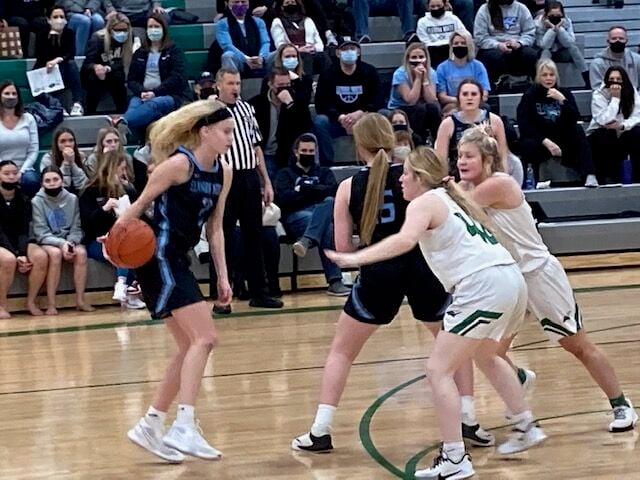 Elkhorn North coach Ann Prince has seen a lot of wins during her team's first varsity season.
She said Friday night's 68-53 road victory over Class B No. 1 Omaha Skutt was one of the best.
"It was a really good team effort," she said. "We had a lot of girls involved and I'm proud of the way they all played."
The third-ranked Wolves were led by 5-foot-10 freshman guard Britt Prince, the coach's daughter who already is drawing considerable Division I interest. She scored a team-high 21 points as Elkhorn North moved to 16-1.
The SkyHawks were playing their third game this week without senior center Lindsay Krause, who is sidelined with a bruised knee. The 6-foot-4 Nebraska volleyball recruit is averaging 13 points and 12 rebounds.
"I feel bad for their team," Ann Prince said. "You never want to see anybody get hurt."
Krause suffered the injury at a club volleyball tournament last weekend. Skutt coach Kip Colony said he is hopeful that she'll be able to return for the postseason.
"Our fingers are crossed," he said. "It's only a sprain so with a lot of rest, we hope to get her back at the end of the season."
Without Krause's presence in the paint, the Wolves jumped to an 11-point lead in the first quarter. That advantage grew to 22 late in the third with the help of Prince, who sank a long 3-pointer at the end of the period.
"She's the real deal," Colony said. "I can see why schools like Louisville and North Carolina are looking at her."
Reilly Palmer added 18 points and Grace Thompson chipped in nine for the Wolves. Molly Bruggeman scored eight points while Hannah Nadgwick had eight points and nine rebounds.
Ann Prince said it was nice to see so many players contribute. That includes her daughter, who leads Class B with a 24.4-point scoring average.
"We were scoring inside and outside," she said. "The girls did a good job of sharing the ball and finding the open player."
Senior Cece Behrens led the SkyHawks with 23 points, but it wasn't enough to stop the Wolves.
"Prince is really solid, but you've got to give a lot of credit to their other kids," Colony said. "We got behind and we couldn't catch up."
Both teams return to action Tuesday night. Elkhorn North will host ninth-ranked Blair and the SkyHawks will host second-ranked Norris.
Elkhorn North (16-1).....14  16  25  13—68
Omaha Skutt (16-3)......10  10  16  17—53
EN: Reese Booth 2, Britt Prince 21, Grace Thompson 9, Hannah Nadgwick 8, Sydney Stodden 2, Reilly Palmer 18, Molly Bruggeman 8.
OS: Macy Gordon 10, Peyton McCabe 5, Addison Burt 1, Victoria VanDyke 5, Kaelyn Reeves 3, Cece Behrens 23, Alexa Rose 5, Addy Seaman 1.
---
Celebrating past All-Nebraska basketball teams