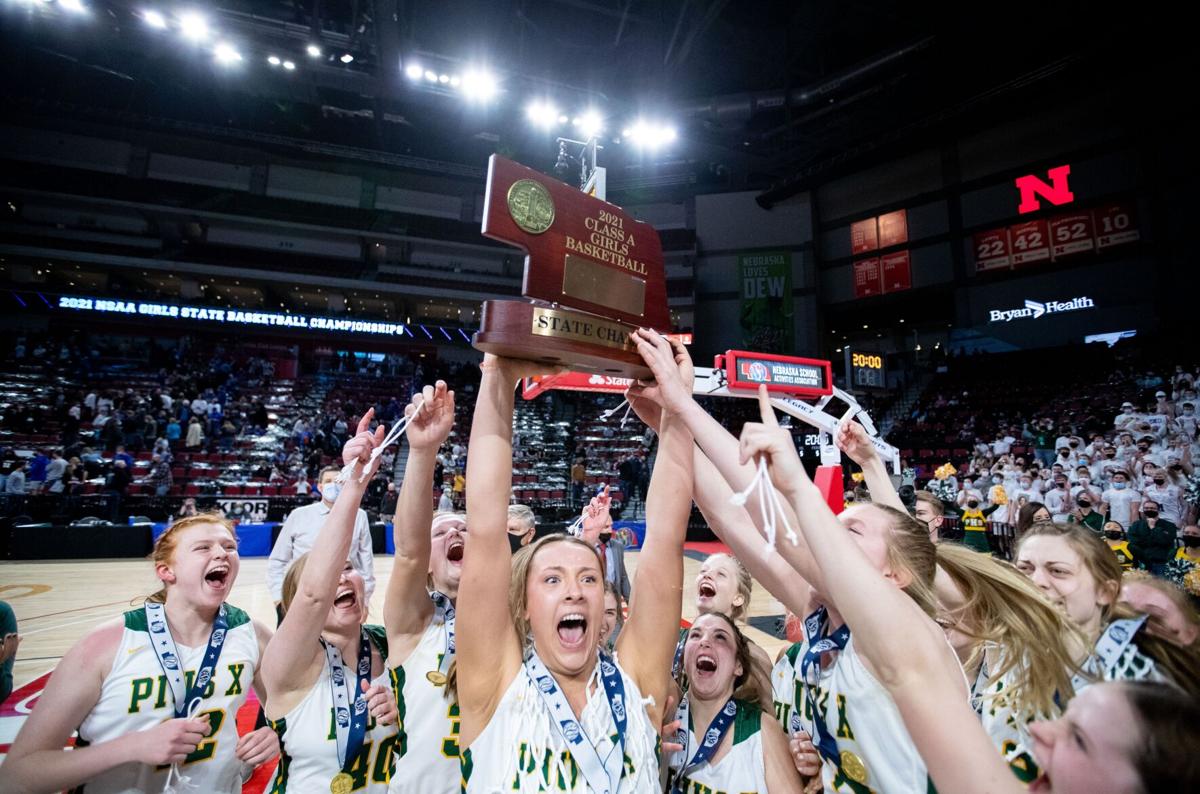 LINCOLN — It was only a matter of time Saturday night for the inevitable to happen.
Alexis Markowski took over the game for Lincoln Pius X.
The senior center had 27 points and 19 rebounds as the top-ranked Thunderbolts defeated Fremont 56-52 in the Class A final of the girls state basketball tournament. Pius finished 25-0, winning its second consecutive title and fifth overall.
"The kids have a will to win," Thunderbolts coach Ryan Psota said. "It's tough to match that."
Pius needed that will after finding itself in a strange position early in the game. The third-ranked Tigers raced to a 10-0 lead that grew to 21-7 late in the period.
"It didn't look very good at the start," Psota said. "But we've got a pretty resilient group of kids and I knew that we had a lot of time left."
Pius closed to 21-19 after a 3-pointer by Jillian Aschoff but Fremont still held a 29-24 advantage at halftime.
The third quarter belonged to the 6-foot-3 Markowski, a Nebraska pledge who had 30 points and 27 rebounds Friday night in a semifinal win over Omaha Central. She scored 13 in the third as the Thunderbolts continued to pound the ball inside.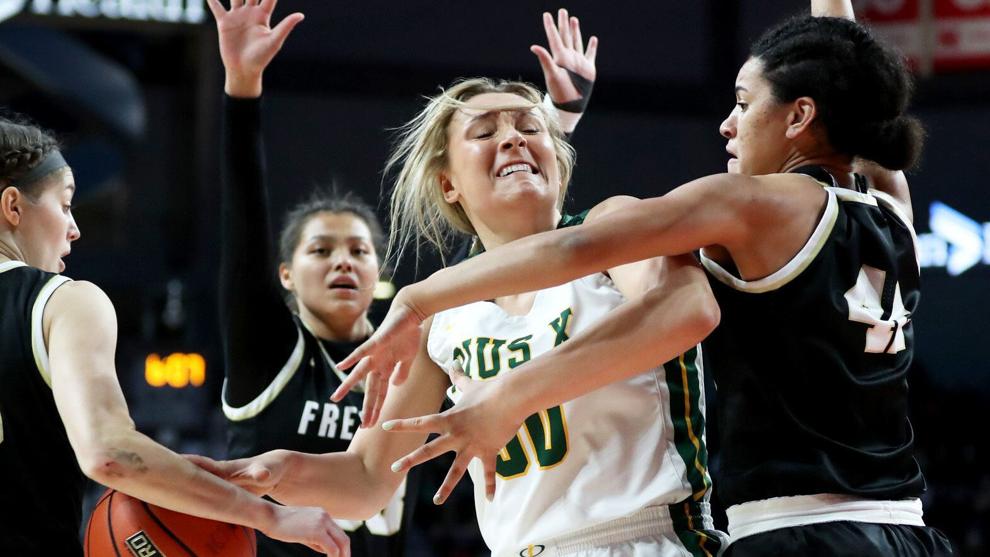 "We did our best to try to defend her," Fremont coach Kelly Flynn said. "But it's tough when 5-10 is trying to stop 6-3."
Markowski scored the final 11 points of the quarter for Pius, which grabbed a 43-37 advantage heading into the final period. The lead grew to eight late in the game but Markowski picked up her fourth foul with 2:12 left, opening the door for the Tigers.
Fremont attacked the basket as Markowski was forced to back off and closed to 52-49 with 30 seconds left on a layup by Macy Bryant.
With 12 seconds left, Markowski's sister Adison was fouled and headed to the line for the 1-and-1. But first, a little family advice.
"Alexis told me to make them both and we had the game," Adison said.
The younger Markowski, a 5-8 sophomore, did just as her sister told her. She swished both foul shots to effectively put the game out of reach.
Aschoff scored 10 points and dished out eight assists for Pius, which defeated Fremont for the third time this season.
Iowa pledge Taylor McCabe led the Tigers with 18 points. Bryant chipped in 12 and Charli Earth added 11.
Fremont sank 10 3-pointers and only committed four turnovers, but Alexis Markowski once again proved to be almost unstoppable in her final varsity game.
"I'm going to really miss wearing this Pius uniform," she said. "But I can't wait to be a Husker."
Someone else can't wait, either.
"I wish her the best on her graduation," Flynn said. "I'm glad she'll be a Husker because she'll help them."
Fremont (23-4)..................21    8    8  15—52
Lincoln Pius X (25-0)........14  10  19  13—56
F: Macy Bryant 5-10 0-0 12, Taylor McCabe 7-20 2-2 18, Bella Keaton 0-3 0-0 0, Sarah Shepard 2-6 0-0 5, Charli Earth 4-8 0-0 11, McKenna Murphy 2-4 0-0 6, Emmalee Sheppard 0-1 0-0 0.
LPX: Charlee Hagedorn 1-4 1-2 3, Alexis Markowski 12-19 3-5 27, Mirian Miller 4-9 0-0 8, Jillian Aschoff 4-7 0-0 10, Adison Markowski 1-4 2-2 5, Lillian Hodge 1-3 0-0 3.
3-point goals: F 10-30 (Bryant 2-5, McCabe 2-11, Keaton 0-2, Shepard 1-3, Eath 3-5, Murphy 2-3, Sheppard 0-1); LPX 4-14 (Al. Markowski 0-1, Miller 0-3, Aschoff 2-4, Ad. Markowski 2-2). Rebounds: F 24 (Earth 8); LPX 33 (Al. Markowski 19). Total fouls: F 11; LPX 11. Turnovers: F 4; LPX 9. Field-goal percentage: F .385; LPX .500. Free-throw percentage: F 100; LPX .667.
---
Nebraska girls basketball tournament Saturday