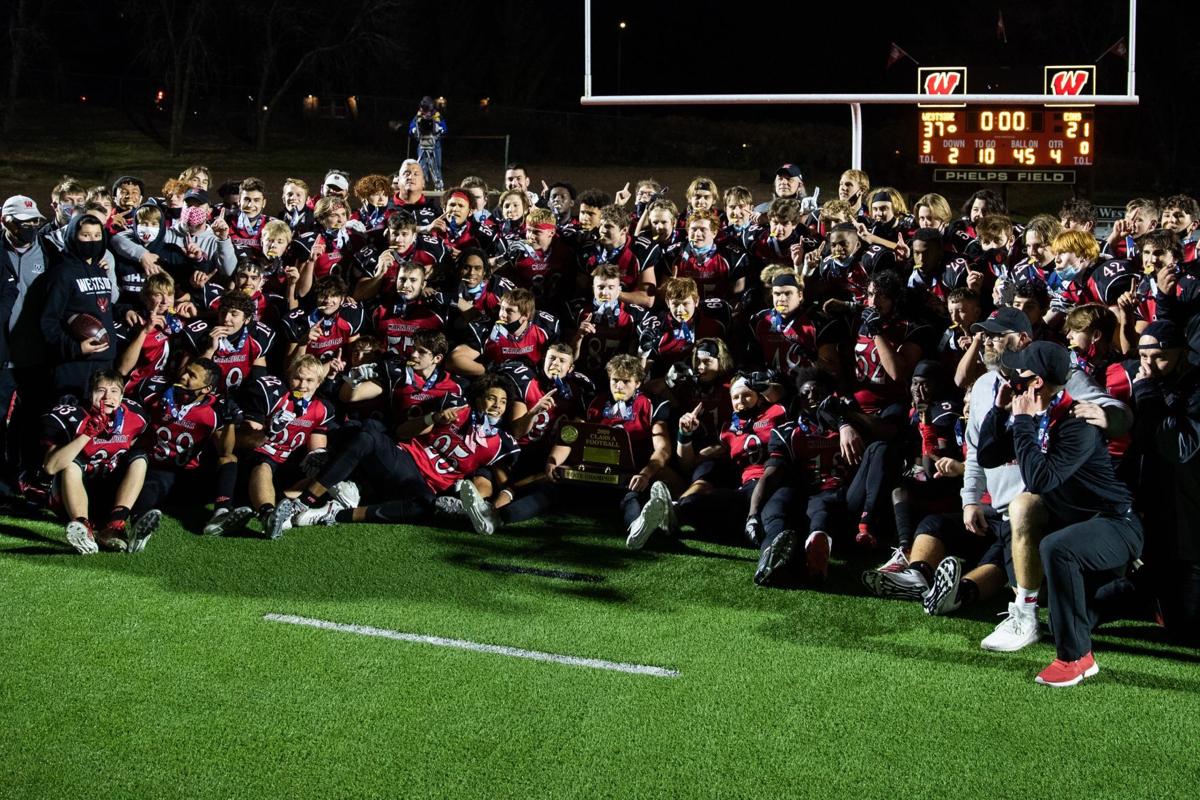 Cole Payton's determination delivered Omaha Westside a long-awaited state title.
The Warriors' quarterback was not going to be brought down Friday night. Never was that more apparent than on the tiebreaking touchdown late in the first half of the Warriors' 37-21 win over Elkhorn South in the Class A final at their Phelps Field.
It was the North Dakota State pledge's most dazzling play of many in his five-touchdown game.
Late in the first half, Elkhorn South lineman Carter Richardson, a 265-pounder, had Payton in a bear hug 10 yards behind the line on second-and-10 from the Storm 18. A sure sack. In the pros, it would have been blown dead.
But Payton's 215 pounds kept churning. He broke from Richardson's grasp and the lefty spotted Koby Bretz uncovered in the back of the end zone with 23 seconds left in the half.
"Oh, man. Cole's the best quarterback outside the pocket," Bretz said. "It's hard to bring him down. I'm glad he's on my team."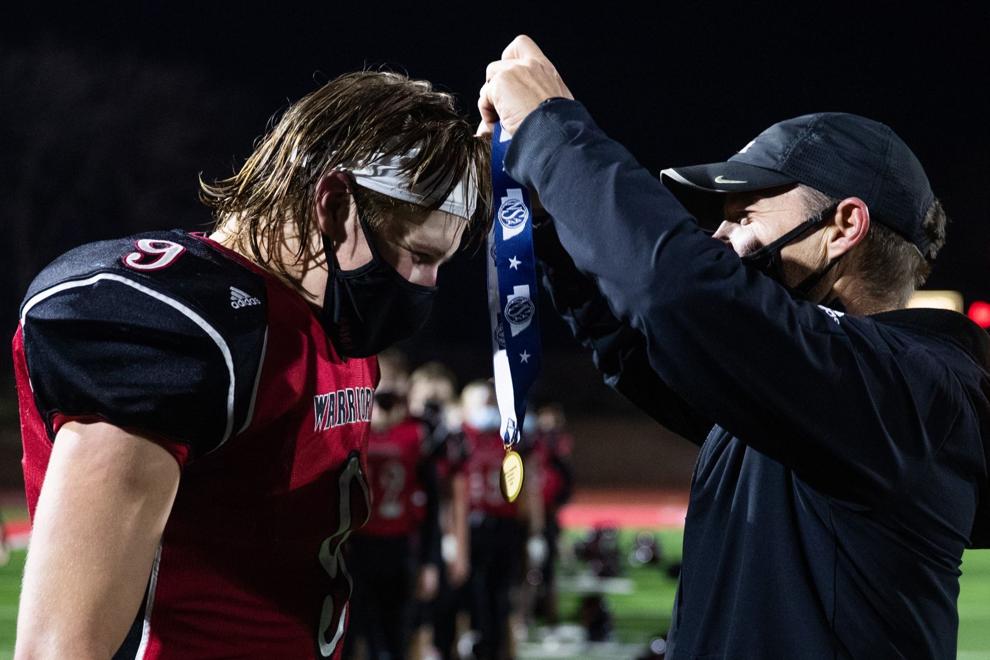 Said Westside coach Brett Froendt: "That's how strong he is, but you should see the kid train. That's how he trains every day. He's a tough kid to tackle, and that's the play we needed from him against a great team."
Elkhorn South coach Guy Rosenberg wasn't begrudging, either.
"He's a one-man gang and that was a heckuva play he made," he said.
Rosenberg's team came into the final allowing season averages of 52 yards a game rushing and 110 passing, by far the best stats in the state's largest class. Payton almost hit those targets in the first half.
He finished with 139 yards rushing and three touchdowns and threw for 218 yards and two touchdowns, the other to Anthony White in the first half.
"I knew I had to leave everything out here," Payton said. "I wasn't going down for anything this game.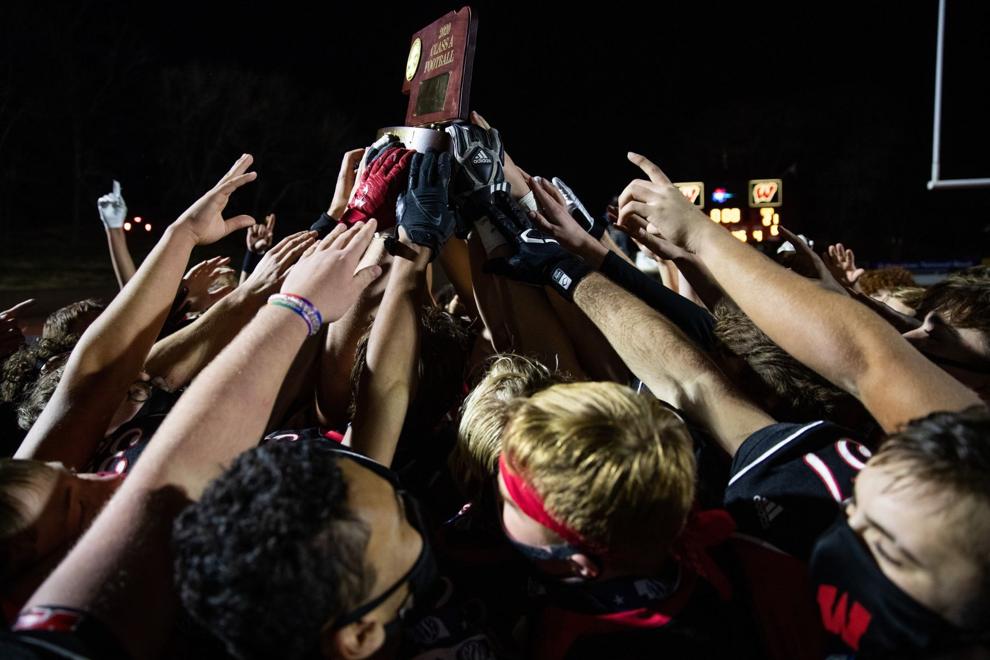 "I'm just so happy for this team. Especially this senior class. Ever since we lost the state championship (last year), this is what we marked our calendars for. We put our heads down and went to work the day after."
Westside's state championship is its first in 38 years. Not since the Jeff Taylor days of 1981 and 1982, when the Warriors went 12-0 both seasons, had they run the table. They reached the final in 2006, losing 41-21 to Kearney; 2013, losing 23-21 to Omaha North; and last year, 35-0 to Bellevue West.
This year was a throwback to the 1980s for the playoffs — home-game finals because of the pandemic. But neither of those 1980s wins was at Phelps Field.
The home-field advantage was muted, too. Westside's stadium has lights that can add color and be flashed after scores. None of that Friday. Elkhorn South's fight song played over the speakers after its scores. Each team was allotted 750 tickets.
Until Payton's great escape, Elkhorn South had been keeping pace with a pair of touchdown passes from Dilan Krause to Koy Wilke. The Storm reached Westside territory on all but one possession.
Krause was 15 of 29 for 198 yards. He threw a late touchdown to running back Cole Ballard, making it a two-score game, and had the Storm blowing toward the red zone again when intercepted by Jackson McIntyre in the final three minutes.
"I'm just very proud of how the team stuck together," Rosenberg said. "It continued to battle even when Westside was playing extremely well. They have a lot of firepower, and we were able to keep up for a while.
"But Payton was definitely a huge difference-maker. At key points he was able to get away and make a play."
Elkhorn South (10-2).............7    7    0  7—21
At Omaha Westside (12-0)....7  14  13  3—37
OW: Cole Payton 4 run (William Bauerly kick)
WS: Koy Wilke 22 pass from Dilan Krause (Carsen Crouch kick)
OW: Anthony White 8 pass from Payton(Bauerly kick)
ES: Wilke 8 pass from Krause (Crouch kick)
OW: Koby Bretz 18 pass from Payton (Bauerly kick)
OW: Payton 1 run (Bauerly kick)
OW: Payton 37 run (PAT failed)
ES: Cole Ballard 15 pass from Krause (Crouch kick)
Rushing: ES, Ballard 19-72, Krause 13-73, Warren 7-54, Trevor Winterstein 1-6, Blake Daly 1-1, Will Skradis 1-1. OW: Payton 19-138, Dominic Rezac 13-31, Avante Dickerson 1-6, Bretz 1-minus 9, team 2-minus 4.
Passing: ES, Krause 15-29-1 198, Skradis 1-1-0 13, Daly 0-1-1 0. OW, Payton 14-21-0 218.
Receiving: ES, Wilke 6-98, Ballard 1-10, Winterstein 2-31, Daly 2-20, Ben Warren 3-28, Nathan Hoesing 1-24. OW, Grant Guyett 3-46, Avante Dickerson 5-68, Bretz 3-77, Rezac 2-19, White 1-8.
---
Photos: 2020 High school state championship football games