LINCOLN — Elkhorn switched defenses and Beatrice had no timeouts left, but the ball was with a player who knew what winning state championships took.
"The first thing in my mind was just getting a shot off," Kaden Glynn said.
Had Glynn not beat the buzzer with his 3-pointer from in front of the Beatrice bench, Elkhorn would have won its first state title. Instead, Beatrice scored first in overtime, built a five-point lead then survived Antler senior Colton Uhing's 3-point try for a 36-34 Class B victory Saturday at Pinnacle Bank Arena.
Even with overtime, it was the lowest scoring Class B final since 1949.
"We just barely ended up winning the game because of free-throw shooting, but we made enough at this level," Beatrice coach Clark Ribble said. "At this time of the year, it doesn't matter how it's done. What matters is that it happened. And it's done. Our players bought into what we're doing."
Ribble, whose uncle is retired Millard South coach Larry Ribble, said the win was for the community.
"Three years ago I came to Beatrice knowing two people in town, Jim Edwards and Jalen Weeks," he said. "And in three years, we've built a lot of strong relationships, and we've developed a lot of trust with a lot of people in our community. What helped us win the game are the relationships and the trust that we built together through a lot of hours spent trying to fix this thing and this thing is Beatrice basketball. It was not in a good place when we got here."
Glynn came a year after Ribble from Johnson-Brock. There he was a sophomore starter on the Eagles' 2019 D-2 title team. Glynn said initially the move wasn't easy, but the basketball team made him part of their family.
"It just feels amazing to get titles in two different classes with two different groups of kids," said the Morningside football signee.
Ribble said Glynn's tournament experience, which his teammates hadn't had, was a calming influence.
"We had a lot of confidence in Kaden because he's been here and he's won it before. And I think that permeated through the team through me, through all of our guys, that, 'Hey, he'll do his part, you just do your part.' That's what it's about, just fulfilling your role."
Elkhorn coach Benji Hoegh, whose school has been runner-up five times without a title dating to 1927, said his bench gave little thought to fouling at the end of regulation with a three-point lead.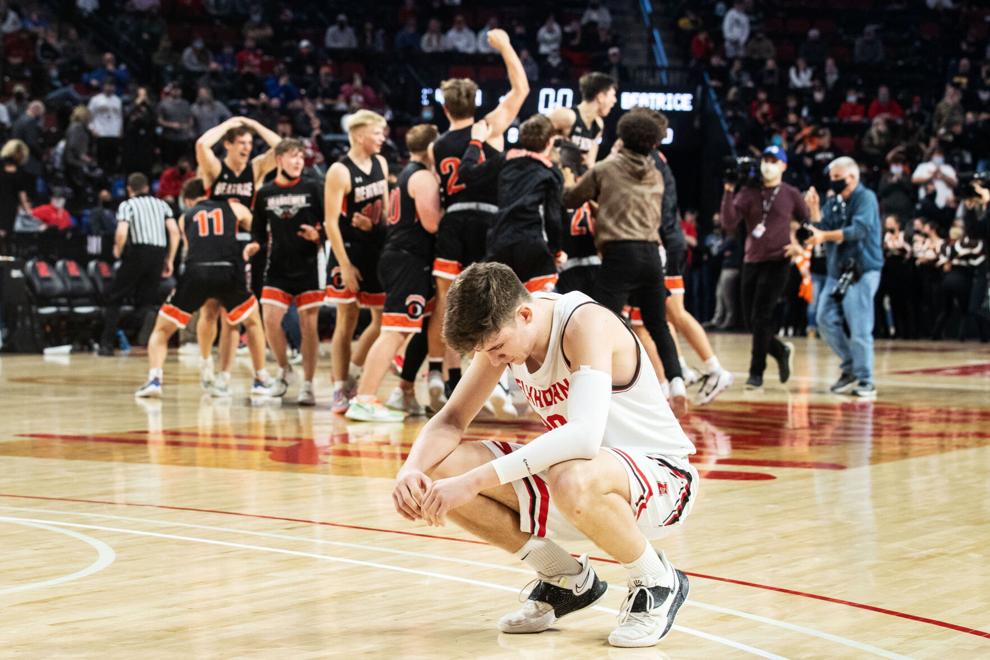 "We've been in that situation numerous times this year. What we always do is we go man (defense) and we switch everything and we force the other team to make a great play," Hoegh said. "So sometimes you got to give credit to the kid that made the play. He made a 25-footer with a hand in his face at the buzzer, so good for Kaden Glynn. He's a good player."
Elkhorn was trying for a sweep of Class B's football and basketball titles. Several of the nine senior basketball players were on both teams.
"We did everything we wanted to do," Hoegh said. "I love my guys. It was a hard-fought game and that's how the state championship game is supposed to be. It hurts to lose like that but we'll be OK."
Beatrice (19-6).....10    6  4  9  7—36
Elkhorn (19-8)........4  15  5  5  5—34
B: Bennett Crandall 3-6 4-8 10, Tucker Timmerman 0-0 2-4, 2, Elliot Jurgens 1-6 2-4 4, Devin Smith 4-11 0-0 11, Kaden Glynn 2-3 4-8 9, Jace Pethoud 0-0 0-0 0, Bryant Jurgens 0-0 0-0 0. Totals 10-26 12-24 36.
E: Gannon Gragert 3-6 1-2 10, Dane Petersen 2-6 2-4 6, Drew Christo 2-4 3-4 7, Jack Buddecke 1-1 0-0 3, Colton Uhing 1-11 0-0 3, Caden Reynolds 1-2 0-0 3, Kyler Randazzo 1-2 0-0 2, Dawson Kline 0-0 0-0 0. Totals 11-32 6-10 34.
3-point goals: B 4-13 (Jurgens 0-2, Smith 3-9, Glynn 1-2), E 6-19 (Gragert 3-5, Buddecke 1-1, Uhing 1-11, Reynolds 1-2). Total fouls: B 14, E 22. Fouled out: Gragert. Technicals: none. Turnovers: B 12, E 14. Rebounds: B 24 (Timmerman 7), E 22 (Petersen 7). Field-goal percentage: B .385, E .344. Free-throw percentage: B .500, E .600.
---
Saturday at the Nebraska boys state basketball tournament