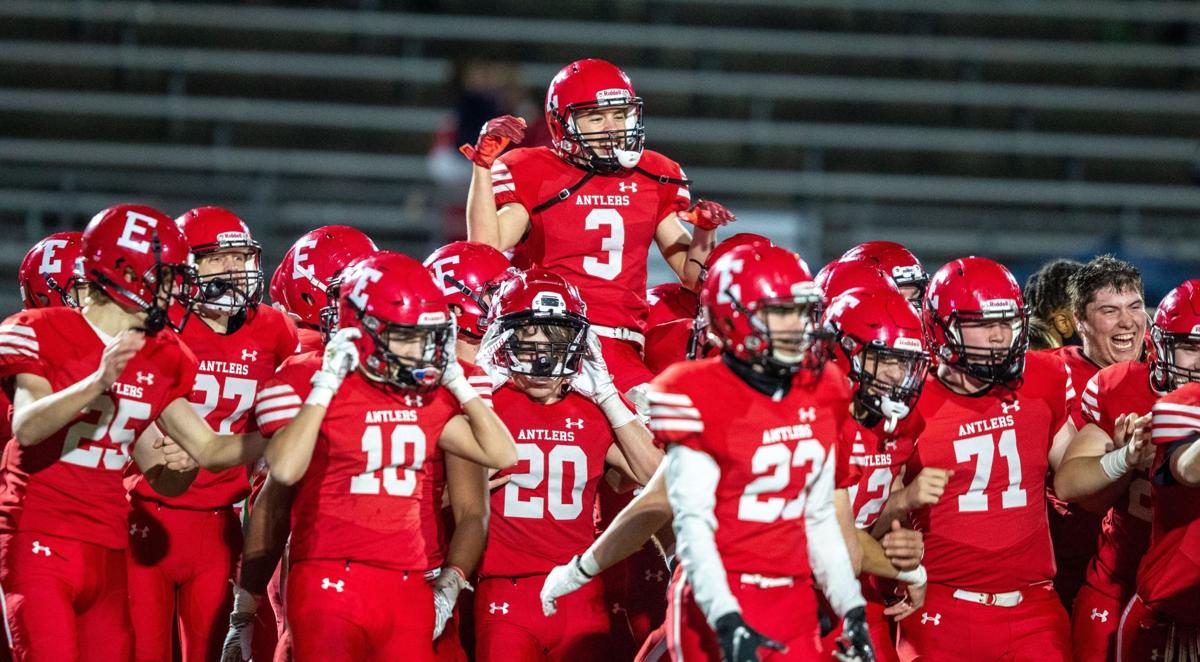 It's not often that a football team gets a standing ovation at the end of a quarter.
The Antlers broke a halftime tie with a 22-point third period that led to a 42-19 win over Aurora on Friday night in the Class B state final. It was the sixth title for the Antlers and first since 2011, all under longtime coach Mark Wortman — in his 41st year at the helm.
"This is as good as any of them," the coach said. "And to win it on our home field is really special."
Elkhorn got to host when all of the state championship games were moved from Lincoln's Memorial Stadium to home sites because of coronavirus concerns. The Antler fans were into the game from the start and rewarded their team with that rousing ovation.
Aurora dominated much of the first half, chalking up 13 first downs to Elkhorn's four. But a turnover late in the first half swung the momentum.
The Huskies were on the verge of taking the lead but fumbled at the Elkhorn 8. DJ Robinson-Long pounced on the ball for Elkhorn.
"That was one of the biggest plays of the game," Wortman said. "It was huge, and then we went on from there."
Aurora coach Kyle Peterson agreed.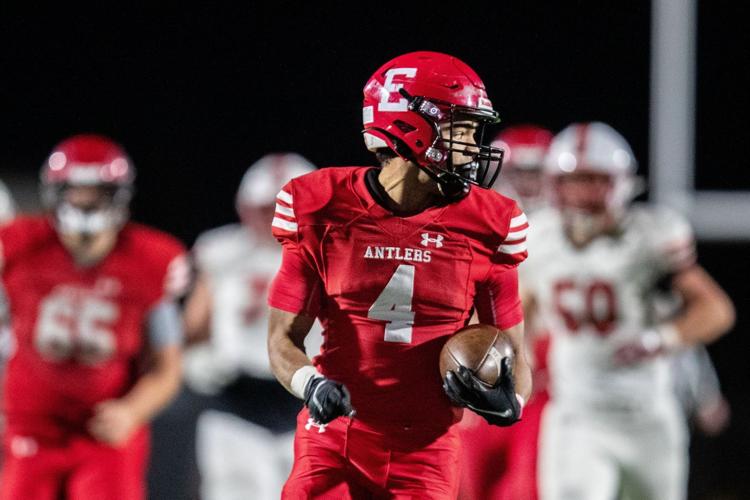 "Their third quarter actually started with that play at the end of the second," he said. "You can't have self-inflicted wounds against a team like that."
Elkhorn opened the second half with a 58-yard TD drive, capped by a 9-yard scoring run from quarterback Grant Gutschow. The senior led the attack, running for three touchdowns and throwing for another.
"At halftime, we knew that we needed to come out and set the tone," Gutschow said. "That fumble recovery was big and really got us going."
It got worse for Aurora three plays later, when Elkhorn senior Gannon Gragert intercepted a pass, setting up the Antlers at the Huskies' 15. Elkhorn converted a fourth-and-17 when Gutschow hit Gragert with a 22-yard scoring strike.
After a three-and-out for Aurora, Elkhorn took over at midfield. Three plays later, senior Aiden Young broke loose up the middle for a 46-yard TD run.
Young, who rushed for 110 yards, earlier returned a kickoff 76 yards for a score.
"I had made a couple of plays when I felt like I let the team down," he said. "It was my job to pick us up."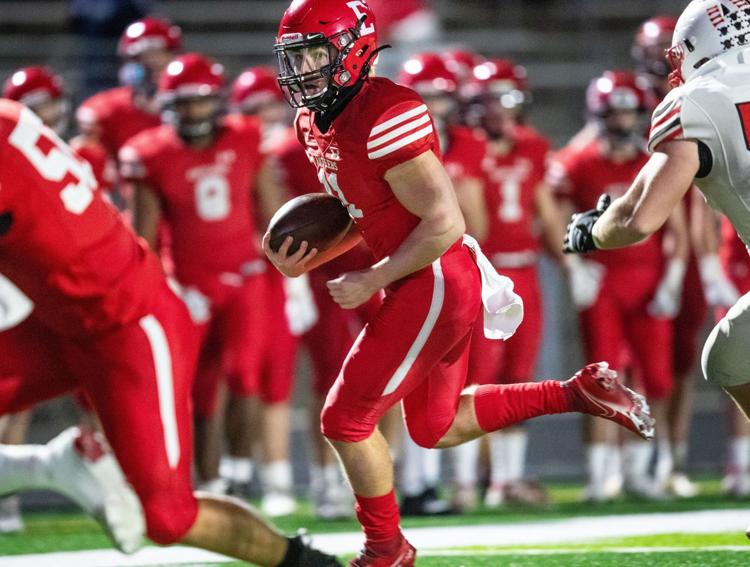 Elkhorn added to its lead early in the fourth quarter, when Gutschow crashed over from the 1. He threw for 157 yards and ran for 46.
Aurora scored the final touchdown on a 1-yard run by quarterback Ethan Shaw to make the final 42-19.
"We were able to stay close in that first half," Wortman said. "Then I think we wore them down."
Aurora put together a 17-play, 92-yard drive on its first possession. The Huskies went ahead on a 16-yard touchdown run by Shaw.
Elkhorn tied it early in the second quarter on an 8-yard scoring run by Gutschow. Aurora responded with a 3-yard scoring run from Mack Owens, but the Antlers tied it again on Young's kickoff return.
The Huskies went back to work, moving from their 28 to the Elkhorn 8. But Shaw's fumble was recovered by the Antlers, which paved the way for that big third quarter.
"It's an unbelievable feeling," Wortman said. "I feel especially good for our 20 classy seniors."
One of those seniors is Young, who perhaps said it best after the game.
"We did it for Coach," the Nebraska walk-on commit said. "And for the Elkhorn community."
Aurora (9-4)............6    7    0  6—19
At Elkhorn (11-2)....0  13  22  7—42
A: Ethan Shaw 16 run (kick failed)
E: Grant Gutschow 8 run (kick failed)
A: Mack Owens 3 run (Alex Peters kick)
E: Aiden Young 76 kickoff return (Cole Houck kick)
E: Gutschow 9 run (Young run)
E: Gannon Gragert 22 pass from Gutschow (Houck kick)
E: Young 46 run (Houck kick)
E: Gutschow 1 run (Houck kick)
A: Shaw 1 run (pass failed)
Rushing: A, Mack Owens 21-110, Ethan Shaw 21-61, Jacob Settles 1-15. E, Aiden Young 15-110, Hayden Stec 4-16, Aiden Mountain 1-0, Grant Gutschow 7-46, Isaac Robinson 1-3, Braylen Johnson 1-5, Brayden Jordan 1-2.
Passing: A, Shaw 16-28-1 148; Settles 0-1-1 0. E: Gutschow 6-12-0 157.
Receiving: A, Daniel Elge 4-38, Britton Kemling 3-22, Settles 4-52, Andrew Bell 2-15, Jeremy Oswald 1-6, Cayden Phillips 2-8, Jameson Herzberg 1-7. E, Drew Christo 3-66, Gannon Gragert 3-91.
---
Photos: 2020 High school state championship football games
Omaha World-Herald: Nebraska Prep Zone
All the latest updates for Nebraska High School sports