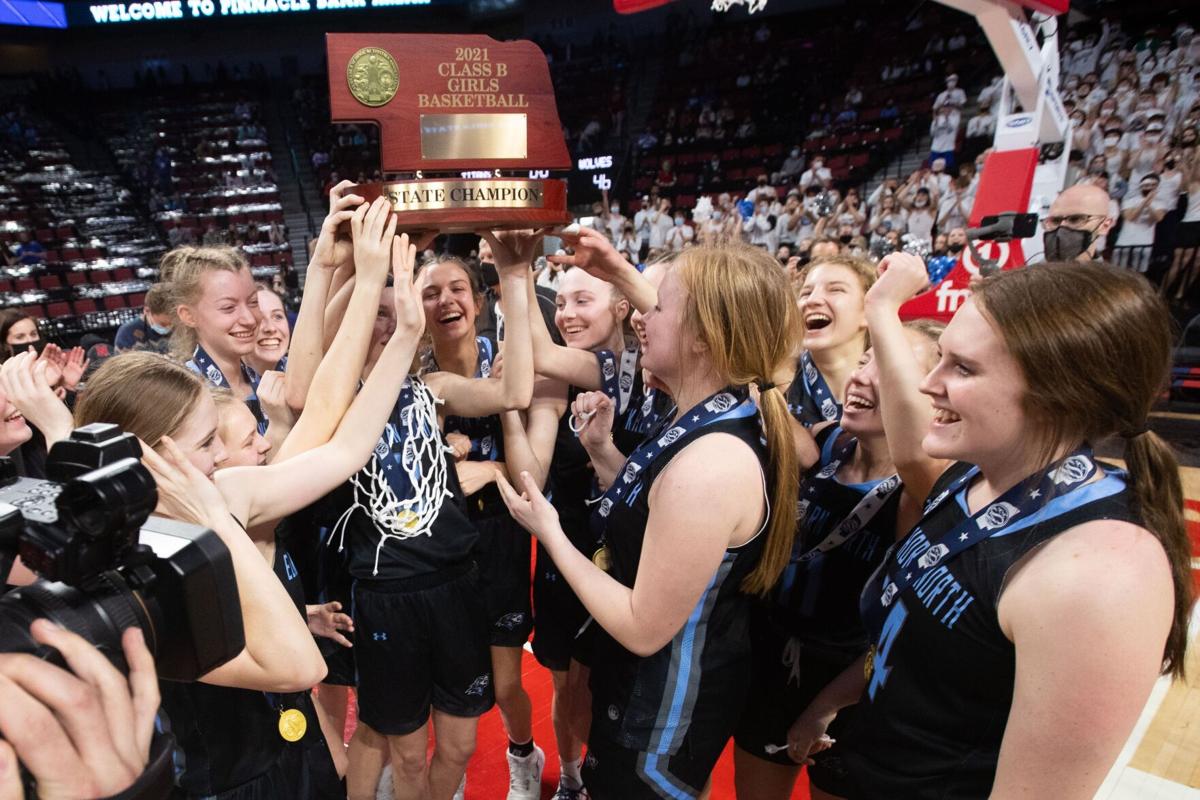 LINCOLN — Someone showed foresight at recently opened Elkhorn North by purchasing a trophy case.
Now the school has its first championship hardware to put inside.
The Wolves won the Class B title at the girls state basketball tournament Saturday with a 46-33 win over Norris. It's an improbable accomplishment for a first-year program that has no seniors.
"I'm just absolutely thrilled," coach Ann Prince said. "It's something that you definitely are not expecting in your first year as a school."
It helps that Prince's daughter Britt, a 5-foot-10 freshman guard, already is receiving several Division I college offers. She entered the tourney averaging 23.4 points, though she was held to 13 on Saturday.
She helped in other ways, pulling down 13 rebounds and dishing out six assists.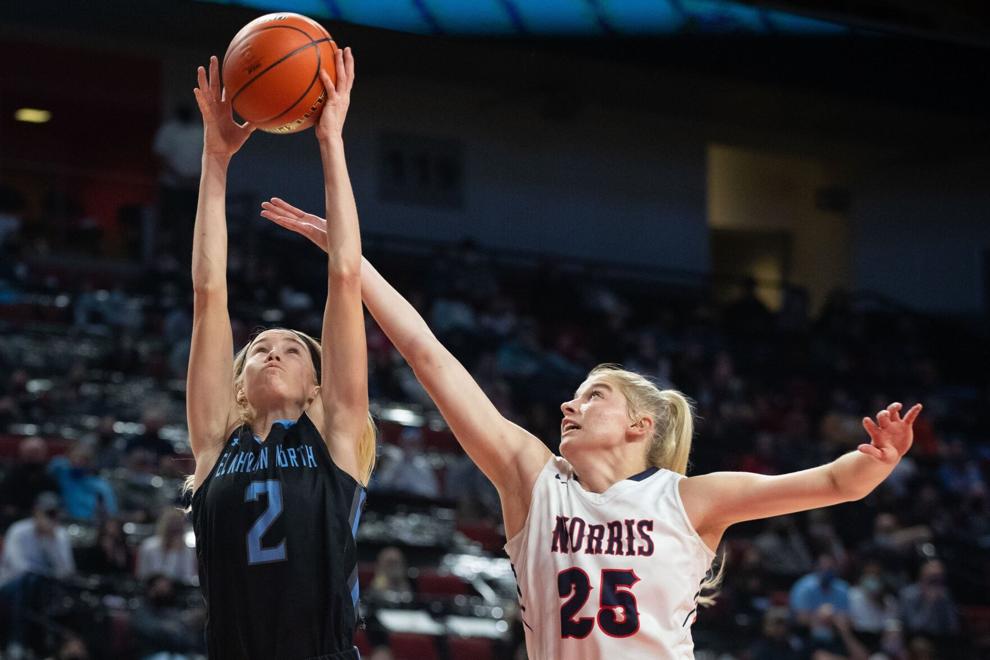 "It's so special to do it with all of my best friends," Britt said. "I've dreamed about this since I was a little kid."
Ann Prince said building a positive culture was her first order of coaching business.
"From Day One, it was going to be about hard work and teamwork," she said. "We were also going to be all about defense, because that's the way you win games."
That defense was on display against top-ranked Norris by allowing just 33 points, one of the Titans' lowest totals of the season.
Elkhorn North jumped on Norris from the start, sprinting to a 7-0 lead. Coach Mark Hagerman used a timeout 48 seconds into the game.
The pressure was squarely on the Titans, who were seeking their first state title in their 13th trip to state. Norris previously had been the runner-up in 2013, 2015 and 2017.
"We had to play with no fear because we had nothing to lose," Wolves' sophomore guard Grace Thompson said.
She certainly played that way, scoring seven points in the opening quarter and finishing with a team-high 14.
"We've got multiple girls that can get it done," Ann Prince said. "I think they're all going to get the respect they deserve."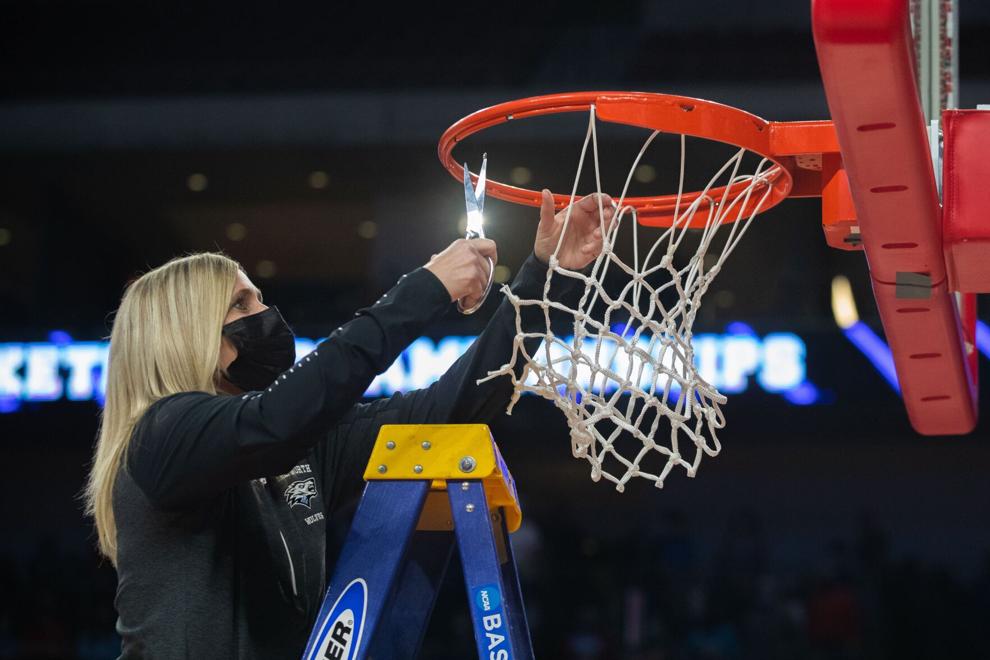 Norris went scoreless for the final five minutes of the first half and trailed 19-13 at halftime. Elkhorn North continued to extend its lead in the third quarter, opening a nine-point advantage on a layup by Hannah Nadgwick.
The lead grew to double digits in the fourth quarter as it became apparent the Titans would have to settle for runner-up honors for the fourth time. The final horn led to a dogpile near center court, which might become a regular occurrence in the future.
With the team's best player only a freshman and a winning culture established, don't bet against it.
The contribution of the Elkhorn North student section, one of the more raucous at the tournament, also deserves mention.
"The support we got was unbelievable," Ann Prince said. "It's just been the last few weeks that kids were allowed so their enthusiasm and energy gave us a big lift."
Hagerman tried to remain upbeat after the game but it wasn't easy.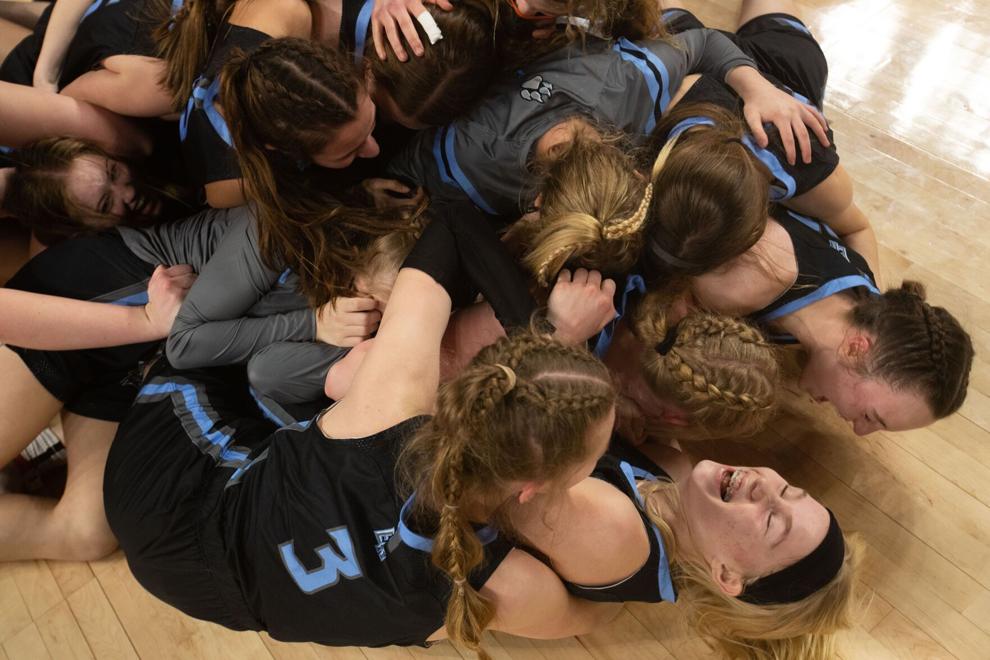 "I'm proud of the kids for the way they battled," he said. "The ball just wouldn't go in the hole for us today."
The inevitable question was asked Ann Prince at the end of the press conference: What do you do for an encore?
"The biggest thing is that we can't settle for where we're at right now," the coach said. "We've just got to keep getting better."
Bad news for opposing teams.
Good news for the trophy case caretaker.
Elkhorn North (21-2).....13  6  13  14—46
Norris (22-3)....................9  4  11    9—33
EN: Reilly Palmer 1-3 0-1 2, Molly Bruggeman 1-3 2-4 4, Hannah Nadgwick 5-6 1-1 11, Britt Prince 6-15 0-1 13, Grace Thompson 4-11 4-6 14, reese Booth 0-3 2-2 2.
N: Kalli Kroeker 0-2 1-2 1, Delaney White 0-7 0-1 0, Brianna Stai 3-10 3-7 9, Molly Ramsey 6-19 0-1 14, Maddie Collier 2-4 1-2 5, Ella Waters 0-3 0-0 0, Gracie Kircher 1-6 2-3 4.
3-point goals: EN 3-8 (Prince 1-4, Thompson 2-3, Booth 0-1); N 2-25 (Kroeker 0-1, White 0-2, Stai 0-6, Ramsey 2-9, Collier 0-1, Waters 0-3, Kircher 0-1, Talero 0-2). Rebounds: EN 40 (Prince 14); N 35 (Kroeker, Stai 10). Total fouls: EN 15; N 14. Turnovers: EN 15; N 11. Field-goal percentage: EN .415; N .222. Free-throw percentage: EN .600; N .438.
---
Nebraska girls basketball tournament Saturday