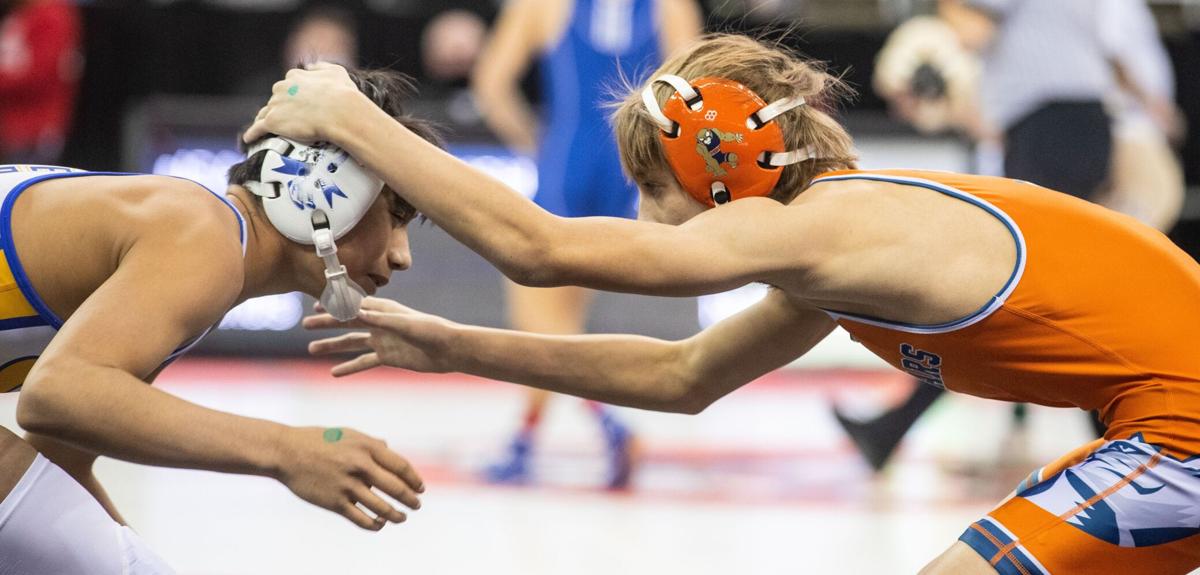 Class B's lead horse found its way to the front Friday.
Now comes a sprint to the finish.
Top-ranked Gering put six in the semifinals, the most in Class B, and took an opening-day lead in the race for a team title at the state wrestling tournament at CHI Health Center.
The Bulldogs lead defending champion Hastings 63.5-53 going into the final day.
"So far, so good," Gering coach Jarred Berger said. "About what we expected. We wrestled pretty well. Had a couple of losses that we didn't want, but it's tough. Some of those brackets are stacked."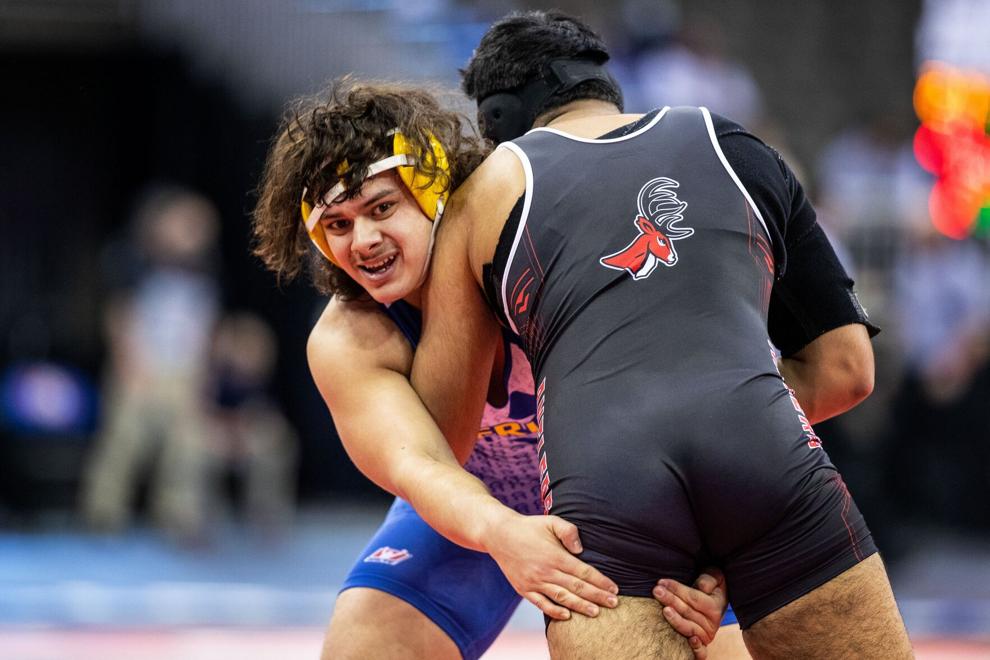 Ashton Dane (106 pounds), Quinton Chavez (120), Paul Ruff (126), Tyler Nagel (132), Nate Rocheleau (138) and Jacob Awiszus (170) each won a pair of matches Friday.
Four of the six beat top five opponents in the quarterfinals.
Ruff, Rocheleau and Awiszus earned bonus points in both of their victories, the latter two totaling four pins.
Chavez, 44-1 and ranked either first or second in each of the three polls, beat unanimous No. 3 Grady Arends of Grand Island Northwest 6-1 in the quarterfinal.
"They performed," Berger said. "There were some tough quarterfinal matches."
Berger also lauded 113-pound Jordan Shirley, who lost his first match before coming back with a pair of pins in the consolation rounds.
"He's a freshman so his eyes were pretty wide," Berger said. "He wrestled pretty well. Lost a tough first match and then battled back to get two in a row. Hopefully we can keep it going tomorrow.
"Tomorrow is where it all counts."
Hastings also has seven still in contention, but the Tigers have just three in the semifinals.
They got a scare when junior Hunter Anderson was injured during his consolation match with Shirley. Anderson laid motionless on the mat for nearly 15 minutes and was eventually wheeled out on a stretcher by medics.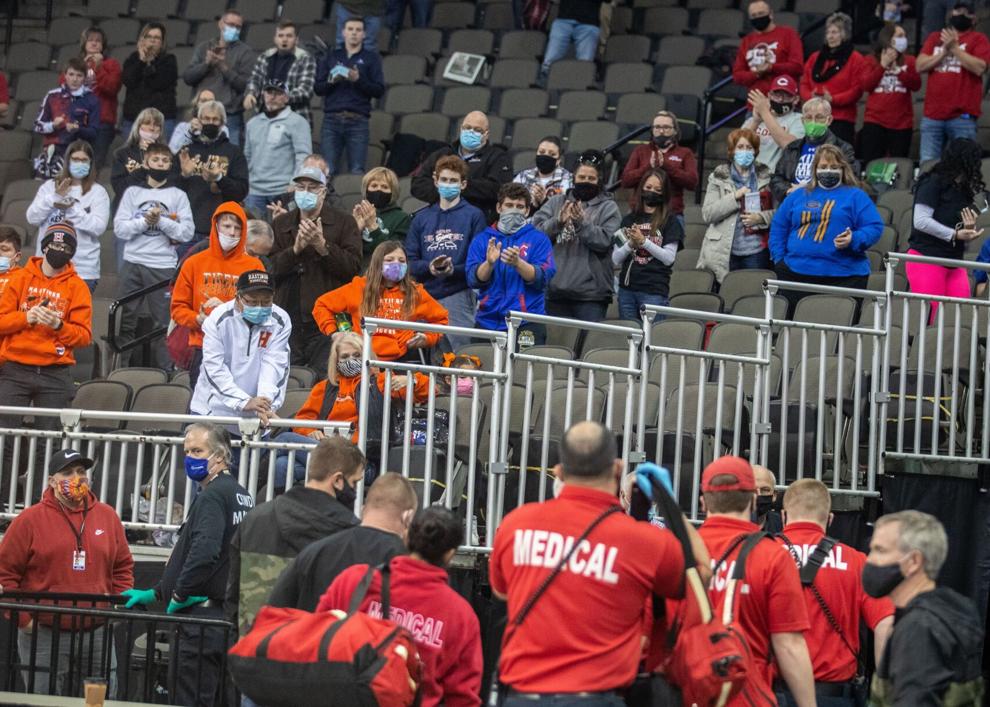 Shortly after, Hastings coach Nolan Laux said Anderson was transported to the hospital but was moving his fingers and toes.
The Tigers lead a group of three teams within a point of second place. Second-ranked Beatrice trails Hastings by half a point and will have four wrestling in Saturday morning's semifinals.
Another half a point behind the Orangemen is third-ranked Aurora. The Huskies have the second most semifinalists (five) and another on the wrestleback side.
Saturday's semifinals are slated for 9 a.m. with the medal rounds to follow. Televised championship matches are scheduled to begin at 7 p.m.
Semifinals to watch
126, Paul Ruff, Gering (44-2) vs Cyrus Wells, Broken Bow (35-6): A rematch of last weekend's district semifinal, a match Wells won 4-3. Both were state runner-ups a year ago. Winner likely gets Scottsbluff three-time champion Paul Garcia in the finals.
138, Nate Rocheleau, Gering (27-3) vs Trevor Meinke, Beatrice (40-4): The morning's top match features returning champions - and the unanimously top two ranked wrestlers in the class - with team implications as a backdrop.
170, Jacob Awiszus, Gering (40-4) vs Evan Canoyer, Waverly (40-1): The Cornell-bound Canoyer, a returning champion, is atop all three polls and seeking his third trip to the finals. Standing in the way is Awiszus, ranked as high as second.
182, Brady Robb, Sidney (35-3) vs Luke MacDonald, Bennington (31-3): A match-up of unanimous No. 1 (MacDonald) vs unanimous No. 2. All three of MacDonald's losses came to 195-pound semifinalist Dexter Larsen of Blair.
Results
Team scoring: Gering 63.5, Hastings 53, Beatrice 52.5, Aurora 52, Broken Bow 48, Blair 41.5, Pierce 39, Bennington 37.5, Waverly 35.5, Ralston 34, York 33.5, McCook 31, Ogallala 27, Plattsmouth 26, Sidney 25, Wahoo 24, Wayne 21, Norris 20, Omaha Skutt 20, Nebraska City 19.5, Scottsbluff 19.5, Columbus Lakeview 18, Seward 17, Adams Central 15, Cozad 13, Alliance 12, Ashland-Greenwood 12, Grand Island Northwest 12, Lexington 11, West Point-Beemer 11, Minden 10, Chadron 8, Omaha Concordia 7, Schuyler 7, South Sioux City 7, Crete 5, Platteview 4, Elkhorn 3, Elkhorn North 3, Elkhorn Mount Michael 3, Columbus Scotus 2, Falls City 2, Boys Town 1, Fairbury 1, Auburn 0, Holdrege 0, Gothenburg 0, Omaha Gross 0
106 pounds: First round: Ashton Dane, Gering, dec. Garrison Brehm, Waverly, 5-1. Gavin Vanover, Beatrice, pinned Hudson Holoch, York, 4:32. Garrett Schultz, Wayne, dec. Jaime Ramos, Crete, 5-0. Chauncey Watson, Broken Bow, pinned Cadyn Coyle, Bennington, 5:57. Joey Canseco, Scottsbluff, dec. Cameron Brumbaugh, Hastings, 10-3. Chance Houser, Sidney, pinned Tyler Japp, Elkhorn North, 1:03. Caden Svoboda, Aurora, pinned Edward Pena, WPB, :45. Quarterfinals: Dane pinned Vanover, 2:50. Schultz dec. Watson, 5-1. Loges dec. Canseco, 6-0. Svoboda pinned Houser, 2:44.
113 pounds: First round: Kael Lauridsen, Bennington, pinned Cooper Franks, Gross, 1:09. Isaiah Foster, Wahoo, pinned Jordan Shirley, Gering, 4:57, Dayen Naylor, Lexington, major dec. Cael Nielsen, Plattsmouth, 12-4. Cash Duncan, Seward, pinned Justin Barbee, Adams Central, 3:53. Pedro Carizales, Ogallala, pinned Caleb Alcorta, GINW, :44. Owen Bargen, Col. Lakeview, dec. Luke Frost, Blair, 5-1 SV-1. Hunder Andereson, Hastings, pinned Zach McManigal, Wayne, 3:46. Blaine Christo, Ashland-Greenwood, dec. Wilson Cucul, Broken Bow, 3-0. Quarterfinals: Lauridsen pinned Foster, :47. Naylor dec. Duncan, 8-3. Carizales dec. Bargen, 4-0. Christo dec. Anderson, 5-4.
120 pounds: First round: Quinton Chavez, Gering, dec. Connor Ritonya, Bennington, 3-2. Grady Arends, GINW, pinned Rex Floerchinger, Gross, 1:08. Jeremy Oswald, Aurora, pinned Jack Hartman, Omaha Concordia, 3:18. Braiden Kort, Adams Central, pinned Talyn Campbell, McCook, 3:14. Bryce Karlin, Beatrice, dec. Gage Ryba. Platteview, 4-2. Austin Munier, Sidney, dec. Andon Stenger, Col. Lakeview, 11-6. Connor Whiteley, Scottsbluff, major dec. Drew Moser, Waverly, 10-2. Zachary Ourada, Skutt, pinned Bradyn Anaya, 1:47. Quarterfinals: Chavez dec. Arends, 6-1. Kort major dec. Oswald, 12-3. Munier pinned Karlin, 3:03. Ourada dec. Whiteley, 5-0.
126 pounds: First round: Thomas Ivey, York, dec. Dylan Hubbard, Lexington, 5-3. Garrett Rine, Waverly, dec. Jake Harris, EMM, 7-5. Chase Eggleston, Norris, dec. Braxton Peacher, Bennington, 6-4. Paul Garcia, Scottsbluff major dec. Aiden Riha, Platteview, 23-9. Drew Cooper, Skutt, major dec. Elijah Johnson, Hastings, 15-4. Paul Ruff, Gering, major dec. Wyatt Olberding, Falls City, 12-0. Cyrus Wells, Broken Bow, pinned Ashton Munsell, Wayne, 4:59. Brock Bolling, Pierce, pinned Colton Jelinek, Beatrice, 3:21. Quarterfinals: Ivey dec. Rine, 2-1. Garcia tech. fall Eggleston, 20-5. Ruff tech. fall Cooper, 15-0. Wells dec. Bolling, 3-2.
132 pounds: First round: Reece Jaqua, Wayne, major dec. Jaxon Minnick, Alliance, 14-3. Malachi Bordovsky, Wahoo, pinned Blake Bolling, Pierce, 5:19. Kevin Dominguez, Col. Lakeview, dec. Caden Eggleston, Norris, 3-0. Tyler Nagel, Gering, pinned Reed Patera, Platteview, :59. Drew Arnold, Beatrice, pinned Devon Ackles, Adams Central, 1:22. Kaleb Eliker, York, pinned Mason Wagner, Scottsbluff, 3:19. Dreu White, Cozad, dec. Evan Smith, Minden, 5-4. AJ Parrish, Bennington, tech. fall Dominic Cherek, Plattsmouth, 18-3. Quarterfinals: Bordovsky pinned Jaqua, 5:30. Nagel dec. Dominguez, 9-2. Arnold pinned Eliker, 1:53. White dec. Parrish, 5-4.
138 pounds: First round: Cameron Schrad, Seward, dec. Logan Jaixen, Col. Lakeview, 6-4 SV-1. Adam Kruse, Skutt, dec. Abe Mendez, Gothenburg, 9-6. Sebastian Lausterer, Wahoo, dec. Trey Garey, Broken Bow, 5-1. Michael Mass, Ralston, dec. Kemper Reed, Waverly, 9-5. Nate Rocheleau, Gering, pinned Colton Ruff, 3:28. Bryar Nadrchal, Platteview, dec. Blake Kile, Hastings, 6-0. Hunter Heath, Minden, dec. Jayden Coulter, Pierce, 8-6. Trevor Reinke, Beatrice, tech. fall Jacob Janssen, Holdrege, 19-3. Quarterfinals: Kruse dec. Schrad, 3-2. Mass dec. Lausterer, 1-0. Rocheleau pinned Nadrchal, 2:41. Reinke dec. Heath 7-1.
145 pounds: First round: Gage Stokey, Ogallala, major dec. Jonathon Gonzalez, Schuyler, 10-2. Ty Kaup, WPB, pinned Cameron Detwiler, EMM, :41. Caden Corcoran, Ralston, pinned Mike Hart, Elkhorn, 1:30. Landon Weidner, Hastings, tech. fall Albert Stone, Gering, 17-2. Charlie Powers, Blair, pinned Griffin Lausterer, Wahoo, 3:35. Asa Johnson, Alliance, dec. Bayler Poston, Neb. City, 11-4. Connor Wells, Broken Bow, major dec. Hayden Johnston, Col. Lakeview, 10-2. Trevor Kluck, Aurora, tech. fall Boone Duncan, Seward, 18-3. Quarterfinals: Stokey major dec. Kaup, 15-4. Weidner pinned Corcoran, 2:46. Powers dec. Johnson, 4-3. Kluck tech. fall Wells, 21-5.
152 pounds: First round: Jeff Samuelson, Hastings, pinned Breckin Schoepf, Seward, 4:45. Cooper Spaulding, Norris, dec. Daniel Wellnitz, Chadron, 5-1. Tate Felber, McCook, major dec. Sean Stara, Elkhorn, 11-3. Noah Talmadge, Ralston, pinned Lee Hobbs, Neb. City, 1:15. Cameron Zink, Ogallala, dec. Josh Adkins, Plattsmouth, 8-2. Diego Maganda, Schuyler, major dec. Brad Hall, Auburn, 15-4. Ashton Schweitzer, Pierce, pinned Kayden Jensen, Omaha Concordia, 3:40. Mychaia Moss, Scottsbluff, dec. Cole Maschmann, Beatrice, 4-3 UTB. Quarterfinals: Samuelson major dec. Spaulding, 13-5. Talmadge pinned Felber, 1:51. Zink pinned Maganda, 7:25. Schweitzer pinned Moss, 4:42.
160 pounds: First round: Kobe Lyons, York, tech. fall Rhett Cullers, Chadron, 17-1. Chance Sjulin, Neb. City, dec. Jarrett Koch, Beatrice, 3-1 SV-1. Caleb Kriens, SSC, dec. Austin Cooley, GINW, 2-1. Alex Anthony, McCook dec. Dylan Berg, Blair, 8-3. Josh Colgrove, Plattsmouth, pinned Riley Eickmeier, Col. Scotus, 3:00. Alex Banuelos, Minden, pinned Josiah Mobley, Scottsbluff, 3:32. Philip Halstead, Alliance, pinned Eliott Steinhoff, Platteview, 3:52. Michael Kruntorad, Pierce, pinned Mason Villwok, Elkhorn, :49. Quarterfinals: Lyons dec. Sjulin 7-0. Kriens dec. Anthony, 1-0. Colgrove dec. Banuelos, 6-2 UTB. Kruntorad dec. Halstead, 10-6.
170 pounds: First round: Jacob Awiszus, Gering, pinned Ben Kamrath, Col. Scotus, :47. Cameron Aughenbaugh, Plattsmouth, pinned Brandon Cavender, Ralston, :45. Nolan Hill, Seward, pinned Brody Schmielau, Elkhorn, 1:34. Evan Canover, Waverly, pinned Sawyer Haag, Chadron, 1:09. Joao Croteau, Norris, dec. Seth Erickson, York, 6-4 SV-1. Zander Schweitzer, Pierce, pinned Jayce Wilkinson, Scottsbluff, 1:51. Jackson Phelps, Hastings, pinned Max Denson, Broken Bow, :32. Torrance Keehn, Beatrice, major dec. Carson Ross, Platteview, 14-2. Quarterfinals: Awiszus pinned Aughenbaugh, 3:44. Canoyer pinned Hill, :56. Schweitzer pinned Croteau, 4:31. Keehn dec. Phelps, 6-1.
182 pounds: First round: Kaden Lyons, York, dec. Damian Smith, Holdrege, 7-6. Mack Owens, Aurora, pinned Landon Ternus, Col. Lakeview, 3:12. Deegan Nelson, Beatrice, dec. Jay Ballard, Boys Town, 3-2. Kaleb Pohl, Cozad, major dec. Nick Horst, Platteview, 9-1. Cooper Hancock, Wahoo, pinned Edgar Diego, Schuyler, 1:21. Brady Robb, Sidney, dec. Reid Korth, Wayne, 11-5. Braden Hanson, Blair, dec. Kade Waggener, Chadron, 4-1. Luke MacDonald, Bennington, pinned Caleb Adkins, Plattsmouth, 1:30. Quarterfinals: Owens dec. Lyons, 9-3. Nelson dec. Pohl, 3-1 SV-1. Robb pinned Hancock, 2:34. MacDonald pinned Hanson, 2:46.
195 pounds: First round: Austen Smith, Col. Lakeview, major dec. Cooper Colson, WPB, 11-0. Victor Isele, GINW, dec. Fredy Vargas, Lexington, 5-2. Luke Lambert, Ashland-Greenwood, pinned Hunter Ahrendt, Sidney, 1:16. Dexter Larsen, Blair, pinned Gabriel Moyao, Schuyler, 1:57. Lathan Duda, Broken Bow, pinned Brock Ostdiek, Beatrice, 1:26. Chase Cotton, York, pinned Sam Hemberger, Adams Central, 1:35. Wyatt Fanning, Waverly, pinned Thomas Fields, Falls City, 3:19. Brekyn Papineau, Aurora, pinned Bo Edmond, Ogallala, 2:55. Quarterfinals: Isele de. Smith, 3-1. Larsen dec. Lambert, 14-7. Duda pinned Cotton, :49. Papineau dec. Fanning, 15-9.
220 pounds: First round: Alec Langan, McCook, pinned Nate Leininger, Waverly, 1:26. Joe Rodriquez, WPB, dec. Jack Allen, Aurora, 2-1 TB-1. Gabe Gaskill, Blair, dec. Nolan Bahnson, Beatrice, 7-6. Mikah Ruiz, Neb. City, major dec. Colton Donason, Ogallala, 13-3. Martin Carrillo, Wayne, dec. Hamed Syed, Elkhorn, 4-2. Blake Davis, Hastings, pinned Iziah Blanco, Gering, 2:26. Keifer Anderson, Broken Bow, pinned Aiden DeVeney, Bennington, 4:00. Dylan Meyer, Norris, pinned Leo Guenther, Platteview, 5:32. Quarterfinals: Langan pinned Rodriquez, 5:15. Ruiz major dec. Gaskill, 14-3. Davis pinned Carrillo, 3:26. Meyer pinned Anderson, 2:57.
285 pounds: First round: David Hernandez, Ralston, pinned Ethan Libich, Gothenburg, 1:54. Jake Stier, Bennington, dec. Kazz Hyson, Fairbury, 3-2 UTB. Jason Uden, Crete, dec. Gavin Bailey, Neb. City, 1-0. Sawyer Bumgarner, Broken Bow, dec. Kadence Velde, York, 3-0. Aaron Jividen, Aurora, dec. Tyler Pavelka, Adams Central, 3-2. Neil Hartman, Omaha Concordia, pinned Ryan Bickel, Chadron, 3:50. Reid Steinbeck, McCook, pinned Lance Hume, Blair, 4:00. Trevor Brown, Waverly, pinned Dane Van Cleave, Norris, :35. Quarterfinals: Hernandez pinned Stier, 3:41. Bumgarner pinned Uden, 2:34. Jividen dec. Hartman, 8-4. Brown pinned Steinbeck, 2:53.
---
2021 Nebraska State Wrestling: Day Three