LINCOLN — A stifling defense and a big game from its big man led to a state title Saturday for Omaha Skutt.
The top-ranked SkyHawks capped an undefeated season with a 59-31 win over Omaha Roncalli in the Class B final at Pinnacle Bank Arena. Skutt becomes the first school in its class to sweep football and basketball titles while going unbeaten in both.
The SkyHawks yielded 13 points in the first quarter but surrendered 18 the rest of the way. The 28-point difference in the final score was in stark contrast to the most recent game between the teams, won 45-44 by the SkyHawks.
"It was an incredible effort by our guys defensively," Skutt coach Kyle Jurgens said. "Especially in the second half."
Another reason for the dominating win was the strong play of 6-foot-6 center Luke Skar, who finished with a game-high 21 points. He was 9 for 9 from the field, pulled down six rebounds and had five blocks.
"I didn't even know about that 9 for 9," he said. "I've never had a game where I hit all my shots like that so it was pretty cool."
Jurgens said feeding the big man was part of Skutt's strategy.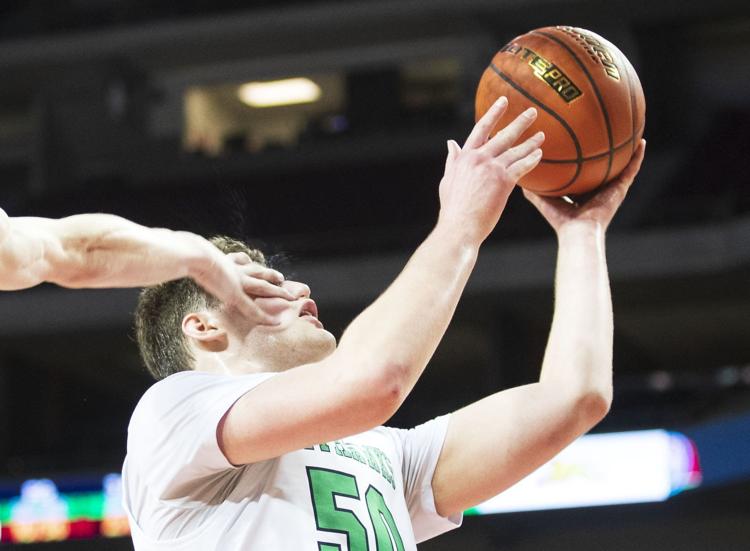 "We wanted to keep them off the line and try to go into Luke," he said. "Obviously, it paid off."
The River Cities Conference rivals fought through a close first quarter, though it ended on a positive note for Skutt. Senior guard Tyson Gordon sank a 3-pointer shortly before the buzzer that opened the SkyHawks' advantage to five.
"I told Ty to make the decision," Jurgens said. "It was a big momentum shot."
Roncalli had gone on a 9-0 run shortly before that to draw close but the SkyHawks started to pull away in the second quarter. They opened their advantage to 12 on a Gordon 3-pointer then 14 after a layup by Skar.
The Crimson Pride, who trailed by nine at half, had trouble getting open looks in the second half. They scored two baskets in the third quarter and two in the fourth.
Skutt put the game out of reach in the final period with an 11-0 run. Roncalli was forced to shoot 3-pointers in an effort to rally but none were falling.
Jurgens again credited his defense, specifically the job it did on senior guard Taiden Red. Roncalli's top 3-point threat entered the game averaging almost 15 points but was held to two.
"I thought that was a big key to the game," Jurgens said.
Roncalli coach JJ Stoffel said it was a frustrating day for his team, which had scored at least 39 points in every game prior to Saturday.
The action continues with six championship games at Pinnacle Bank Arena, and you can follow our live coverage.
"We'd get stops on the defensive end but then didn't capitalize on the offensive end," he said. "And when you do that to a really good team, it makes it tough."
Stoffel said even though the game got out of hand, the final score was somewhat misleading.
"I don't think that score is evidence of how the game went," he said. "When it gets late and you're trying to make plays, it can get away from you."
The SkyHawks held a 35-18 edge on the boards and shot 60 percent from the field.
The Crimson Pride shot 26 percent, which included a 2-of-18 performance from 3-point range.
Gordon, a North Dakota State football signee, finished with 19 points in his varsity basketball finale. He also had seven rebounds and five assists.
It was Skutt's fourth championship and first since 2014. The SkyHawks lost to York in double overtime in the 2018 final and to eventual state champion Lincoln Pius X in overtime in the semifinals last year.
"The way our season has ended the past couple of years, I'm super happy for these guys," Jurgens said.
Omaha Roncalli (23-5).….13    8  5    5—31
Omaha Skutt (26-0)..…....18  12  7  22—59
OR: Shane Orr 0-6 2-2 2, Jake Orr 3-8 0-0 6, Nolan Gorczyca 1-3 0-0 2, Taiden Red 1-8 0-0 2, Jack Dotzler 3-9 2-3 8, Mitch Hines 2-7 0-0 6, Darik Rodgers 1-3 0-0 2, Ben Schott 0-0 1-2 1, Nathan McCoy 0-1 0-0 0, Quincy Evans 1-1 0-0 2.
OS: Charlie Fletcher 2-4 1-1 5, Luke Skar 9-9 3-5 21, Andrew Merfeld 4-7 0-0 8, Tyson Gordon 7-15 3-3 19, Will McMeen 0-1 2-2 2, Brad Paragas 1-1 0-0 2, Gage Bertucci 0-0 1-2 1, Jackson Mullin 0-1 0-0 0, Sam Kudron 0-0 1-2 1.
3-point goals: OR 2-18 (S. Orr 0-4, J. Orr 0-1, Red 0-5, Dotzler 0-1, Hines 2-6, Rodgers 0-1), OS 2-10 (Fletcher 0-1, Merfeld 0-2, Gordon 2-6, McMeen 0-1). Rebounds: OR 18 (Gorczyca 5); OS 35 (Gordon 7, Fletcher 7). Total fouls: OR 13; OS 8. Turnovers: OR 7; OS 12. Field-goal percentage: OR .261; OS .605. Free-throw percentage: OR .714; OS .733.
Photos: 2020 Nebraska boys state basketball championship games