LINCOLN — The returns are in for Columbus Lakeview. The Vikings are the Class C-1 state champion.
Aided by a scoop-and-score touchdown, an interception return that was cashed in on the next play and a long kickoff return to open the game with a field goal, the Vikings dethroned 2020 champion Pierce with a 37-25 victory before 2,735 at Memorial Stadium.
Adam VanCleave had the interception and kickoff returns, Braxton Borer the dash with the fumble.
"They are very special athletes," Lakeview coach Kurt Frenzen said. "They get a little space and they can be a pain to other teams."
No. 3 Lakeview (11-2) won the first C-1 final since 1984 in which both teams had two losses. It's the Vikings' first state title in football. Pierce finishes 10-3.
The Vikings gave up 433 yards, but stopped Pierce on downs deep in their territory — at the 16 and 30 — on the Jays' first two drives.
"That was just a whole team effort on defense," VanCleave said. "Guys subbing in and out, giving their full effort every play, and that's how games are won like that. Those stops were a testament to our line."
Lakeview led 24-6 at halftime, finishing its scoring on a 16-yard pass from VanCleave to Turner Halvorsen from field-goal formation. Earlier in the second quarter, Borer's 56-yard fumble return gave the Vikings a 17-0 lead.
Their largest lead was 31-12 on VanCleave's 21-yard run with a lateral from quarterback Kolby Blaser the play after his 35-yard interception return.
"I should have gone to the house the first time on the interception," VanCleave said. "That kind of upset me, but coach saw to it to give me the ball next play. It was good blocking by our receivers, a good throw by Kolby."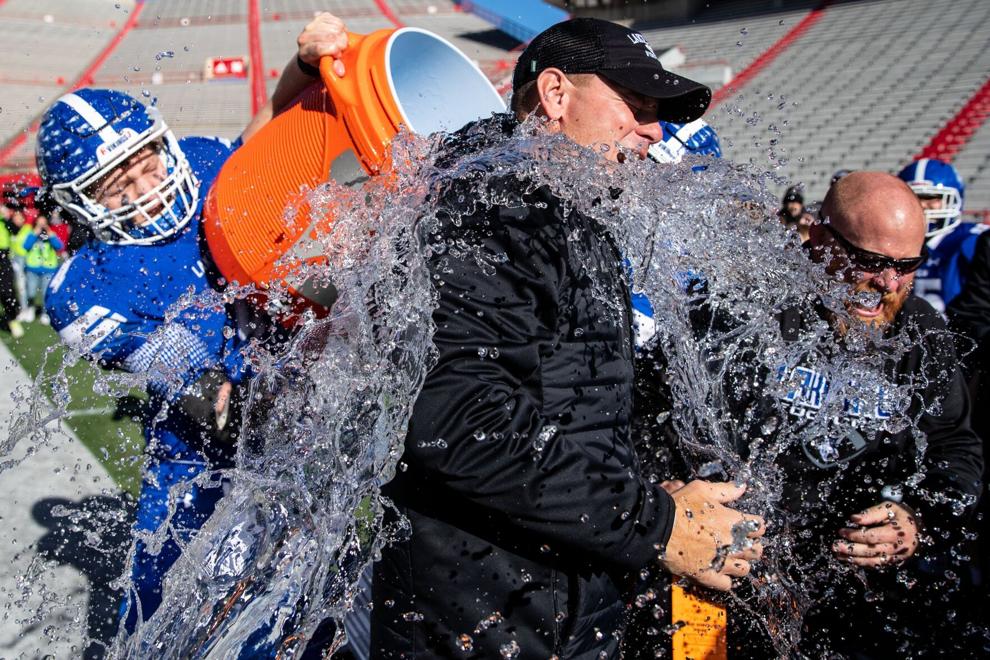 After Blaser scored with 4:07 left for a two-score lead, the Lakeview defense defused Pierce's fading hopes with back-to-back sacks.
Matthew Christensen caught two of Abram Scholting's three touchdown passes for Pierce. Scholting was 14 of 21 for 263 yards. Ben Brahmer, a junior tight end committed to Nebraska, had nine catches for 113 yards.
"Slowly but surely Lakeview has become one of the better ones in Class C-1," Pierce coach Mark Brahmer said. "I'm really proud of our guys, though, for the fight that they put up. Everything that could went against us the first half. But hats off to Lakeview. They played hard, they played well. They had a good plan. They outcoached us and outplayed us."
The final was a reversal of the regular-season game that Pierce won 28-27. Frenzen said revenge was not mentioned.
"We didn't talk at all about that. We had too much respect to these guys," he said. "We were talking about what's important, and what's important is making sure you dial in on your job against a well-coached team."
Pierce (10-3)...........................0    6  13  6—25
Columbus Lakeview (11-2)......3  14  14  6—37
CL: Mason Viergutz 52 pass from Kolby Blaser (Klug kick)
CL: Braxton Borer 56 fumble return (Klug kick)
P: Michael Kruntorad 72 pass from Abram Scholting (kick failed)
CL: Turner Halvorsen 16 pass from Adam VanCleave (Klug kick)
P: Matthew Christensen 36 pass from Scholting (pass failed)
CL: VanCleave 21 run (Klug kick)
P: Scholting 11 run (Keenan Valverde kick)
P: Christensen 25 pass from Scholting (pass failed)
CL: Blaser 10 run (run failed)
Rushing: P, Kruntorad 11-78, Christensen 18-76, Scholting 10-13, Nikolas Harvey 21-3, Evan Willits 1-2, Valverde 1-(minus 1), Trevin Larson 1-(minus 1). CL, VanCleave 14-73, Landon Ternus 9-59, Balser 5-34, Nyckili Reynoldson 1-29, Brock Mahoney 2-15, Cooper Tessendorf 8-14, team 3-(minus 3).
Passing: P, Scholting 14-21-1 273. CL: Blaser 1-8-1 52, VanCleave 1-1-0 16.
Receiving: P, Ben Brahmer 9-113, Kruntorad 3-105, Christensern 1-36, Addison Kroghan 1-9. CL, Viergutz 1-52, Halvorsen 1-16.
---