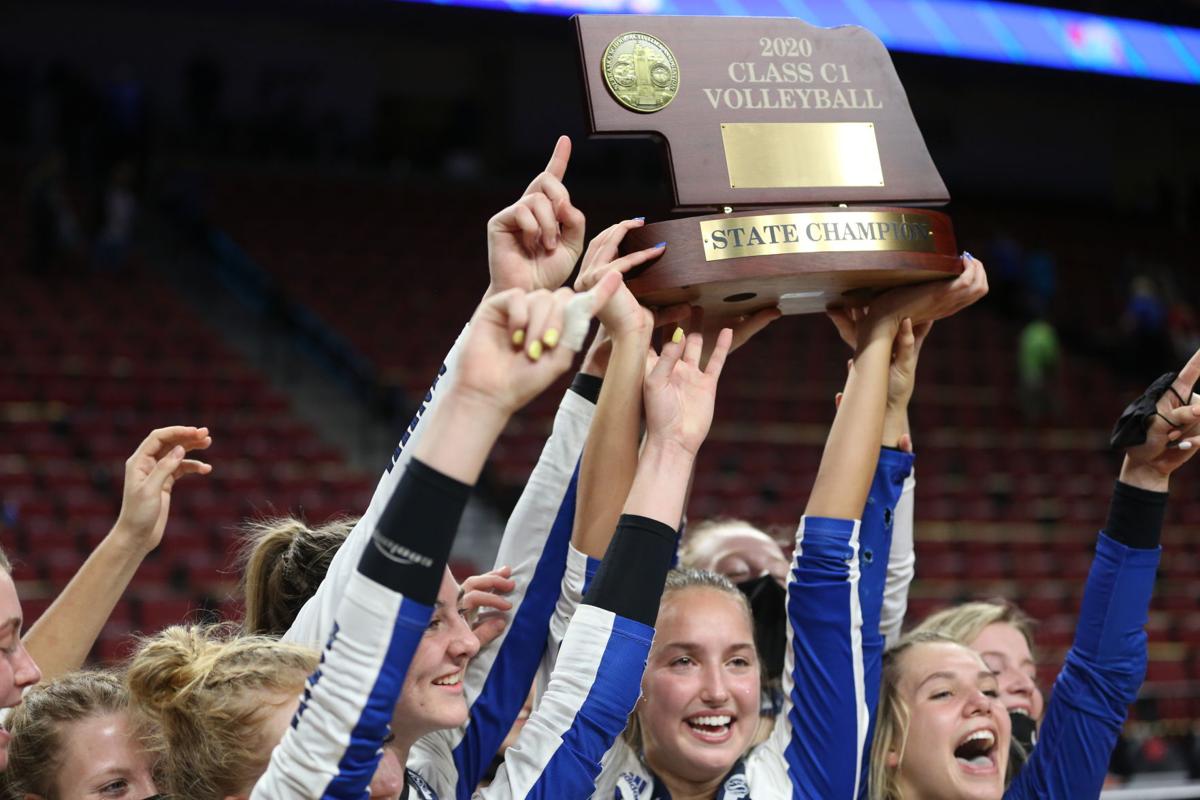 LINCOLN — It took a superstar performance from Mya Larson to help Wahoo Saturday in the Class C-1 volleyball final at Pinnacle Bank Arena.
But it was part of a team effort.
Larson led all attackers with 41 kills, but that was just part of the Warriors' Class C-1 state record 75 kills to help top-ranked Wahoo rally to defeat No. 2 St. Paul 22-25, 26-24, 20-25, 25-18, 15-12.
In a match that featured two teams that entered 34-0, Wahoo, which won its third title in four years, was down 2-1 in the match and trailed 11-7 in the fifth set before going on an 8-1 run to finish the match. Larson, who was one away from tying the C-1 state record for kills, had three during the run, including at match point.
Wahoo coach Trish Larson, Mya's mother, said while her daughter's effort was key, it took a team effort to defeat the Wildcats. Kelsie Sears, who finished with 16 kills, had three late in the second set to turn a 24-22 deficit into a set win and even the match at 1-1. She then served a 6-0 run during the 8-1 stretch in the final moments of the match. USC recruit Elle Glock connected on 62 assists, just five shy of tying the C-1 record.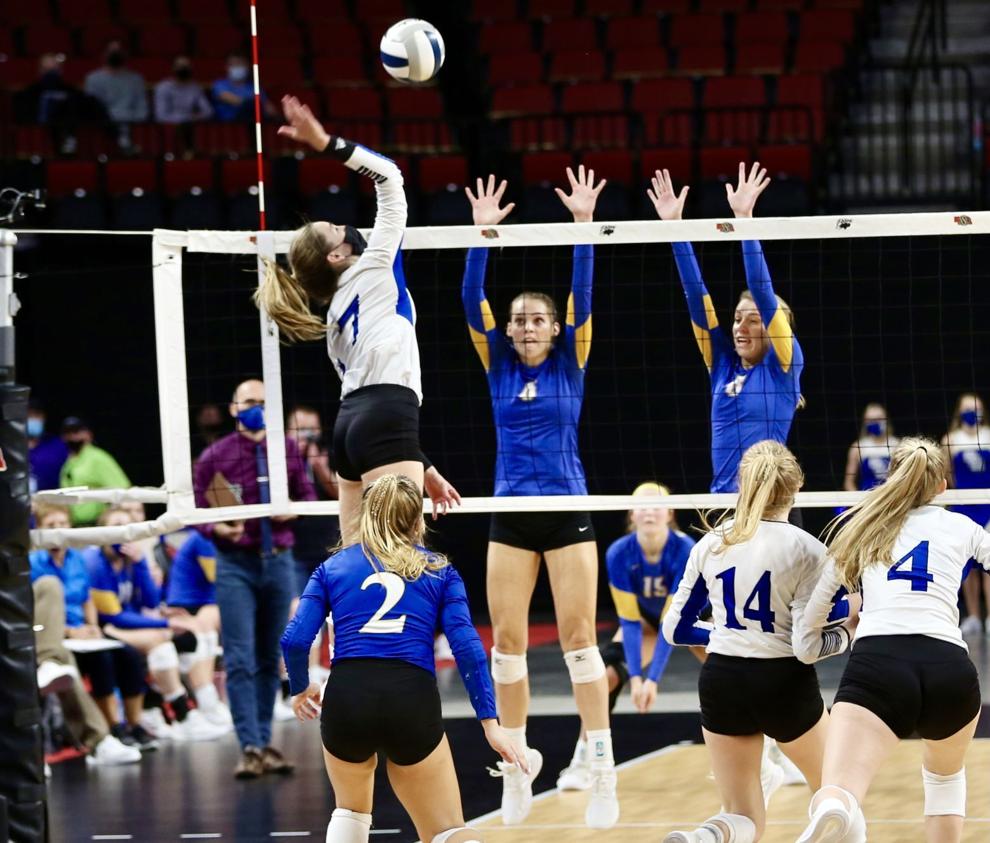 "That was hard," Trish Larson said. "I've never experienced something like that. We had different players step up for us, whether it was hitting, serving or defense. It was very gutsy, but these girls are competitors and will give it all they can."
Glock said there was never any doubt for the Warriors when they were down 11-7 in the fifth set and credited both Mya Larson and Sears for their play.
"We all just stayed confident and just went for it," Glock said. "Mya had an awesome game, but Kelsie came through. She's been serving tough for us all season long and has been very aggressive, and that's been great because it got them out of system. She just did an outstanding job."
St. Paul coach Matt Koehn-Fairbanks said Wahoo just made the plays when it had to and Mya Larson was too tough to stop.
"We tried a couple of ways to stop her, but we just couldn't do it," Koehn-Fairbanks said. "She is just an amazing player. And they have a bunch of other players that do a good job for them. We gave them a good run there, but it just wasn't enough."
Both teams went on late runs in the first two sets. St. Paul broke a 21-all tie in the first with a 4-1 run, then Sears' heroics in the second set helped Wahoo tie the match.
St. Paul gained the upper hand in the third, as Paige Lukasiewicz served a 5-0 run with three aces for a 12-4 lead, and the Wildcats never looked back.
Then the Wildcats rallied from a 10-5 deficit to take a 15-14 lead in the fourth. But Larson connected on four kills during an 11-3 run to help Wahoo force a fifth.
Josie Jakubowski, who led the Wildcats with 20 kills, had three early, while Abby Elstermeier added two and a block to help St. Paul gain the 11-7 lead in the fifth. But Sears had a kill to start her 6-0 run behind the service line to give the Warriors the victory.
Jenna Jakubowski and Teegan Hansel added 10 kills, while Elstermeier had eight. Olivia Poppert had 43 assists, and Lukasiewicz and Josie Jakubowski led the defense with 15 digs apiece.
Coach Larson said St. Paul was a tough team to beat.
"They just don't make errors. They serve tough and pass very well. They are just in system all the time and it was hard to get a kill against them. They are just great defenders," she said. "They have a great setter who is a threat offensively and you have to keep an eye on her. And they have hitters all around. They were just a great team all around."
St. Paul finished as the C-1 runner-up for the second straight season.
St. Paul (34-1)......25  24  25  18  12
Wahoo (35-0).......22  26  20  25  15
SP (Kills-aces-blocks): Paige Lukasiewicz 0-4-0, Noal Roan 0-1-0, Josie Jakubowski 20-2-3, Ashlyn Lukasiewicz 0-0-3, Abby Elstermeier 8-0-3, Jenna Jakubowski 10-0-0, Camryn Morgan 0-1-0, Olivia Poppert 4-0-0, Teegan Hansel 10-0-3, Carley Dixson 0-0-0.