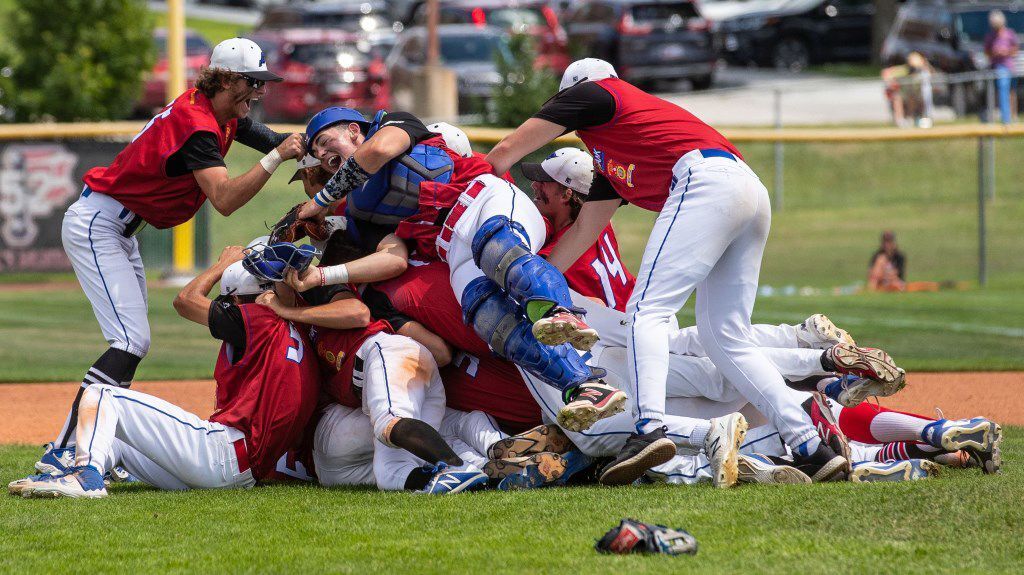 Max Sanders pitched the American Legion team from Omaha Creighton Prep into the championship of the Metro postseason tournament.
His bat helped secure that title Friday for the Junior Jays.
Sanders belted a three-run, seventh-inning homer to help Prep's Legion team, Five Points Bank, defeat KB Building Services (Omaha Westside) 6-3 in the final at Millard South. One night earlier, Sanders threw a complete-game win in the semifinals.
"It's kind of a bummer, not having a state tournament,'' he said. "But it still feels great to win this championship.''
The Warriors, who had lost to the Junior Jays twice earlier this summer, led 1-0 for much of the game Friday. Five Points grabbed a 2-1 lead in the sixth and broke the game open in the seventh on Sanders' blast over the 350-foot mark in left-center field.
"I absolutely barreled it,'' he said. "I took my time to celebrate because I was really hyped.''
Junior Jays coach Pat Mooney said the title meant a lot to his squad in the absence of any official Legion district and state tournaments, which were canceled due to COVID-19.
The spring varsity season also was wiped out for the same reason.
"It was nice, especially for our five seniors,'' he said. "They missed the spring, but we feel really blessed that we got to do something this summer.''
The Warriors went ahead 1-0 on a first-inning sacrifice fly by Johnny Reinert. KB starter Michael Finan made that run stand up through five innings, allowing three hits and striking out nine.
The Junior Jays used their speed to score twice and grab the lead in the sixth. Two of the team's seniors, Graham Lorenz and Danny Spongberg, played the key roles.
Lorenz drew a one-out walk and stole second. He advanced to third on a single by Spongberg and scored on a wild pitch to tie it.
Spongberg advanced to third base with one out and was there when Calen Protaskey struck out. The third strike wasn't caught cleanly and the KB catcher threw to first for the putout, allowing Spongberg to race home with the go-ahead run.
"Once I saw him throw to first base, I went,'' Spongberg said. "It was my decision to run, so it was kind of scary.''
Finan, who finished with 11 strikeouts in six innings, was going to be replaced by Warriors closer Harrison Kreiling in the seventh. But Kreiling had thrown 31 pitches Thursday night in KB's semifinal win, one over the Legion limit of 30 to pitch on consecutive days.
"We had him for fewer pitches last night,'' KB coach Otis Seals said. "It was unfortunate the way things turned out.''
After a short conference between the coaches and umpires, Kreiling was not allowed to pitch. The Junior Jays went on to score four in the inning with the aid of Sanders' homer.
Those runs loomed large when Cole Payton blasted a two-out, two-run homer to right in the bottom of the seventh. Reliever Ryan Bauer then got Kreiling to ground out to end the game.
"Michael pitched really well for us and gave us a chance,'' Seals said. "But we needed to add to that lead when we had it and we couldn't do it.''
Five Points starter Robert O'Malley went five innings, allowing only that first-inning run. The left-hander held KB to three hits and helped his own cause in the third by picking two runners off first.
"That could have been a big inning for us,'' Seals said. "We potentially could have had the bases loaded with none out.''
The game started at noon because Prep was holding its delayed graduation Friday night. That ceremony was to include the Junior Jays' five seniors — Lorenz, Spongberg, Protaskey, PJ Loucks and Nico Sall.
"We had a pretty young team so we had to do a lot of teaching,'' Mooney said. "Our seniors did a really nice job of helping with the younger guys, and it's great to see them go out with a win.''
Five Points Bank (17-15)..........000  002  4—6  7  0
KB Building Services (23-10)...100  000  2—3  5  0
W: O'Malley. L: Finan. S: Bauer. 2B: KB, Finan. HR: FPB, Sanders.
Get in the game with our Prep Sports Newsletter
Sent weekly directly to your inbox!