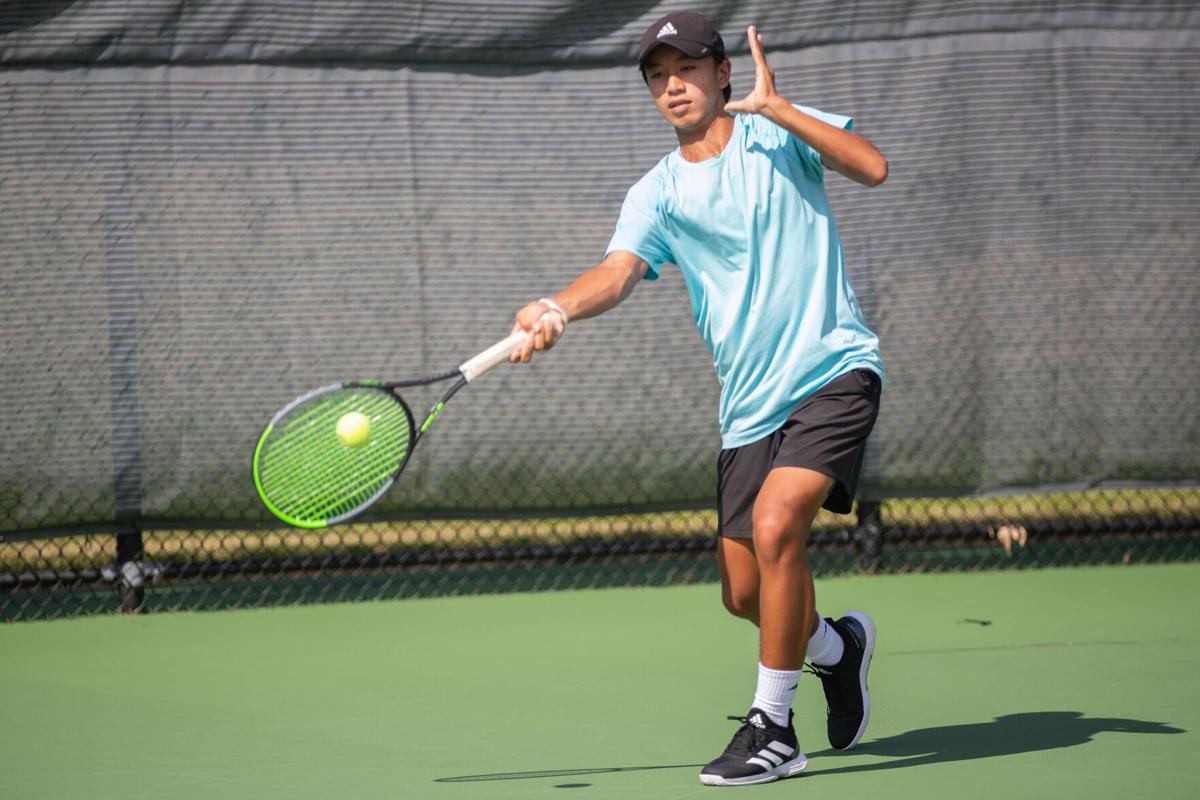 Zach Kuo returned to high school tennis for moments like these.
The last time the Omaha Creighton Prep senior was in the Class A state meet draw remains fresh in his mind.
"It's been a couple of years, but I still remember the last state tournament vividly," Kuo said. "That was one of my favorite tournaments of my tennis career."
That was the 2019 state meet. Kuo, who then was attending Elkhorn, had been the Class B No. 1 singles state runner-up as a freshman in 2018. Elkhorn moved up to Class A in '19 and Kuo was the fifth seed at state.
He knocked off fourth-seeded Garret Starman of Millard North 6-4, 6-4 in the quarterfinals, then he was on the verge of taking out defending champion Ethan Neil of Papio. In a match that lasted more than three hours, Kuo led 5-2 in the second set before Neil rallied for a 5-7, 7-5, 6-4 victory. Neil went on to win the second of his three state titles.
Kuo ended that day by outlasting Lincoln Southwest's Joe Harris 4-6, 7-5, 7-6 in the third-place match.
"Elkhorn was always a Class B school, so it was big being in Class A. And the turnout, we had so many supporters from Elkhorn watching," said Kuo, thinking back to 2019 state. "I don't know, I just liked the energy, all the cheering."
After not playing high school tennis last year, Kuo hopes to hear more cheers this week as the Class A meet will take place Thursday and Friday at Koch Tennis Center. Kuo is the top seed at No. 1 singles with his 34-0 record — he didn't lose any games in 21 of those 34 victories.
Lincoln East is the heavy favorite in the team race. The Spartans have the No. 1 seeds in the other three divisions, and their four entries have amassed a combined record of 120-1. The lone loss came against Kuo, who defeated Kirby Le in their only meeting this fall.
The Junior Jays also expect to be in the team chase. Their No. 1 doubles team of brothers Nathan and Shawn Ramachandran are seeded second.
"They'll be hard to beat," Kuo said of Lincoln East, "but we just have to control what we can control."
Kearney has the second seed at No. 2 doubles and the third seed at 1 singles, while Omaha Westside, runner-up to Prep at last week's Metro Conference meet, has the third seeds at 1 doubles and 2 singles.
---